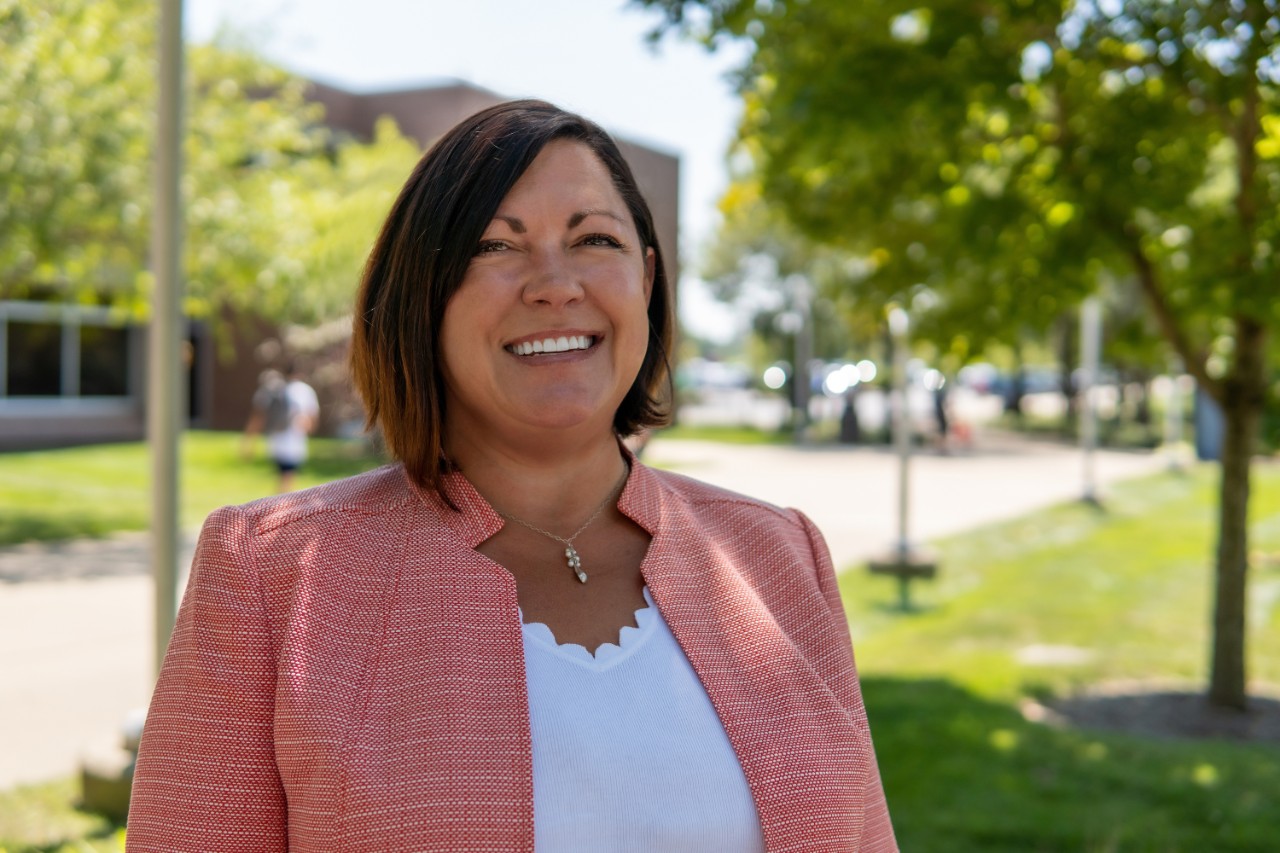 UC Clermont welcomes new associate dean
Lisa Mahle-Grisez brings leadership experience, commitment to open-access education to college
The University of Cincinnati Clermont College recently welcomed Lisa Mahle-Grisez as associate dean of academic affairs.

Mahle-Grisez has served in open admissions for 25 years with an unfaltering commitment to the mission of open-access higher education. Prior to joining UC Clermont, Mahle-Grisez served at Sinclair Community College in Dayton as dean of liberal arts, communication, and social sciences. As the incoming associate dean, she brings a deep commitment to and engagement with diversity, equity, inclusion and justice work.

"I am a first-generation college graduate, and like many of our students, I navigated that journey without a compass," said Mahle-Grisez. "The most worthwhile educational experiences occurred when faculty made a connection with me — whether to offer encouragement, understanding or even critique. I like to think that I followed in the path of those educators who made such an impact on me. My goal is to afford the same experience to students whenever possible."

Mahle-Grisez earned a bachelor's and master's degree from the University of Dayton in English and holds a Ph.D. in composition and rhetoric from Miami University in Oxford, Ohio. Her research interests include leadership in open-access colleges, feminist rhetoric and historiography, and culturally responsive pedagogies.

"We are delighted to have Dr. Mahle-Grisez join us as the chief academic officer of UC Clermont," said Dean Jeff Bauer. "Lisa's inclusive leadership and innovative approaches to preparing students for success will take the college to the next level. I look forward to the impact that she will have on the college now and in the future."

Mahle-Grisez has completed a number of leadership trainings and is also a SOCHE Teaching Excellence Award faculty winner (2012). In the community, she served on the Dayton Children's Hospital Women's Board and the Dayton Society of Natural History Community Engagement Committee. She arrived at UC Clermont in August and is ready to get started serving the campus community in Batavia, too.

"I see exciting developments in the future as we continue to serve Clermont students, and I look forward to working with the passionate and dedicated team of faculty and staff at Clermont," Mahle-Grisez said.

1
Trailblazing engineering professor honored with alumni award
January 30, 2023
Professor Awatef Hamed is a trailblazer. She came of age during a time when few women were going to college to study engineering. In 1968, she left her home in Egypt and came to the University of Cincinnati as the only female graduate student in the aerospace engineering program. She went on to get her master's and doctoral degrees from UC and then was hired as a faculty member, where she was the only female faculty member for two decades. In 2001, she became the first woman to head a college aerospace engineering department.
3
MedPage Today: Encouraging data on treatment for certain stroke...
January 24, 2023
MedPage Today highlighted comments from a recent editorial written by the University of Cincinnati's Eva Mistry analyzing the results of a new study that found that using clot-busting drugs in stroke patients who had recently also been given blood thinners did not raise the risk of bleeding complications.
Debug
Query for this