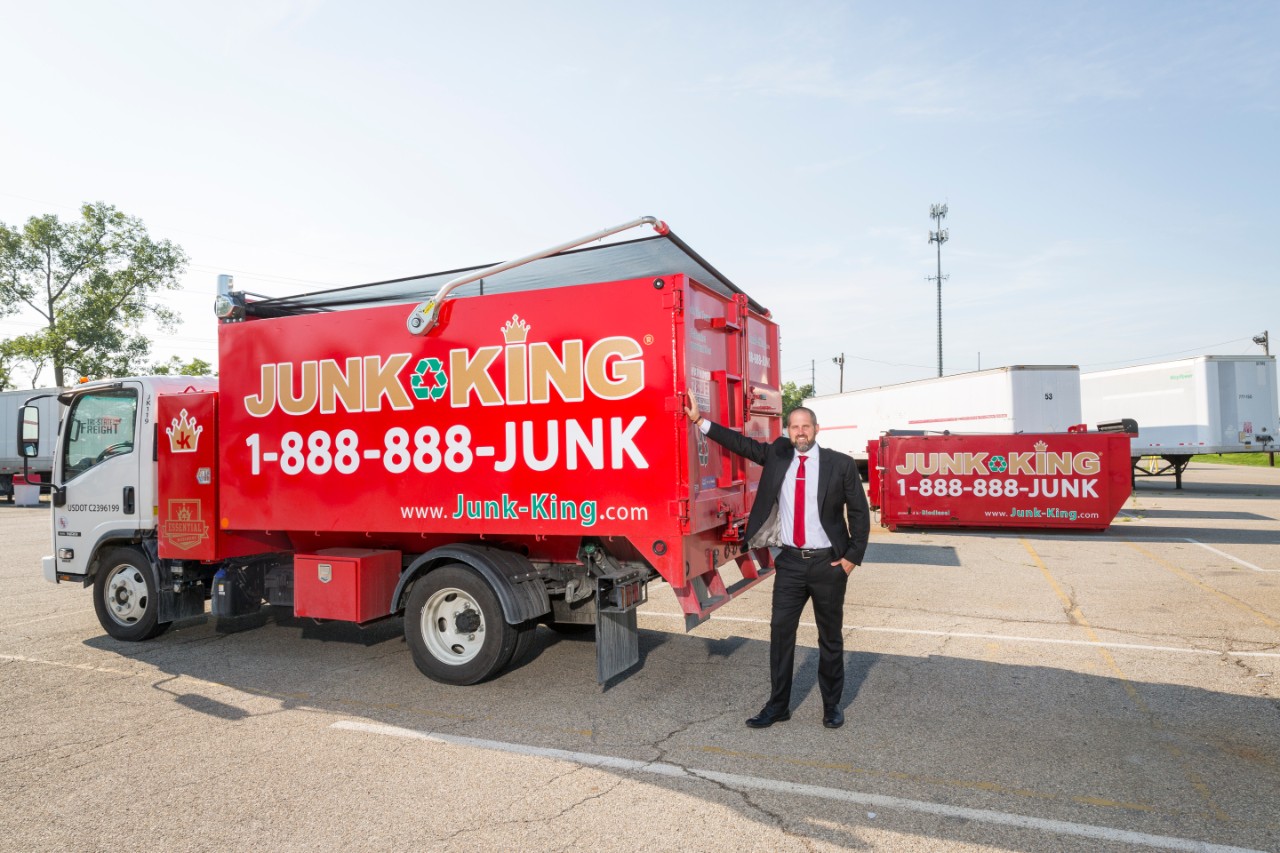 Jack Brendamour, Junk King, Named 2021 Rising Leader
By Nicole Menkhaus, Marketing Director, Goering Center for Family and Private Business
About The Award
One of a leader's key responsibilities is to identify and develop future leaders. The Goering Center demonstrates its commitment to the region's future generation of leaders by bestowing the Larry Grypp Rising Leader Award. Named for past president Larry Grypp in acknowledgement of his leadership accomplishments, this award is given to one Rising Leader, nominated by their member company, for demonstrating success at advancing one of the Goering Center's 10 Best Practices of Successful Family and Private Businesses.
Jack Brendamour was nominated for the following Best Business Practices: for Business Growth by Cody Campbell and for Giving Back by Julie Heil.
"Stepping in and stepping up" is what comes to mind when hearing Jack Brendamour's story. The 2021 Goering Center Family and Private Business Awards Rising Leader stepped in and stepped up as a leader long before COVID-19 happened. On July 13th, 2018, Pete McCreary, the owner and CEO of Junk King, passed away suddenly, leaving the 2015 Sharonville Chamber "Small Business of the Year" and multi-year "Most Outstanding Franchise" without its founder and much beloved leader. Jack stepped in to help Pete's widow, Judy McCreary, run the business, and eventually became a co-owner himself.
Junk King provides professional junk removal services to households and businesses. But there is so much more to their story. Junk King Cincinnati has a mentorship-centered culture based on integrity and the greater good first, and the idea of helping others declutter responsibly.
Less than two years later, the pandemic hit. "Jack has been faced with many challenges and has been able to continue to grow the business from both a profitability and a philanthropic/recycling standpoint," shares Cody Campbell, Junk King Cincinnati's General Manager, and one of the people who nominated Jack for the award. "Jack and his team quadrupled business and added two new branches in Kentucky, while keeping thousands of tons of junk out of the landfill and giving back to over 50 nonprofits on a regular basis."
There are many reasons why Jack has excelled in his new role as Junk King Co-Owner and CEO: his focus on maintaining the business' culture based on Faith, Honesty, and Respect, his passion for the business' contributions to the environment and the community, his willingness to seek input and support from his peers, and to intentionally work on the business versus in it.
"Jack's Performance Management and Leadership Development plans are based on positivity, communication, and SMART goal setting," explains Julie Heil, Executive Administrative Assistant at Junk King Cincinnati. "He sees his team as individuals and challenges all to rise above our education and background to try new things; expand our roles and develop as people and employees." Contingency planning is also a key priority for Jack: all management staff and employees are cross-trained and stand ready to go where they are needed at any time. "We are a family, and all are invested in the future of Junk King," continues Julie, "and Jack exemplifies his own mottos of 'do something kind for someone today' and 'do the next right thing'."
Featured image: Jack Brendamour, Co-Owner and CEO, Junk King
The Goering Center is sharing this content as part of its 2021 Family and Private Business Awards celebration.

About the Goering Center for Family & Private Business
Established in 1989, the Goering Center serves more than 400 member companies, making it North America's largest university-based educational non-profit center for family and private businesses. The Center's mission is to nurture and educate family and private businesses to drive a vibrant economy. Affiliation with the Carl H. Lindner College of Business at the University of Cincinnati provides access to a vast resource of business programing and expertise. Goering Center members receive real-world insights that enlighten, strengthen and prolong family and private business success. For more information on the Center, participation and membership visit goering.uc.edu.