Student athlete balances football and engineering
Senior Ryan Royer shares his experience as a Bearcats linebacker and mechanical engineering student
In high school, Ryan Royer was sure of two things: he wanted to play college football and he wanted to be an engineer. Undeterred by the hard work that both of his passions required, Royer is now entering his final year as a linebacker for the University of Cincinnati Bearcats and he will earn his mechanical engineering degree this spring. 
A love for football runs in the family. Royer's younger brother plays for Brown University (where he is also majoring in engineering) and his father played for Ohio State.  
Royer's interest in engineering grew from his aptitude for math and the four-year pre-engineering program offered at his high school, Hilliard Davidson, located outside of Columbus.  

"The program in my high school is top notch and I fell in love with engineering after my freshman year. I was like, alright this is pretty cool, I know I want to be an engineer at 15 years old. I don't have to worry about any of the stresses that come with picking a major in college," he said. 
And when it came time to choose a college, UC rose to the top of the list — for the football program and for the College of Engineering and Applied Science.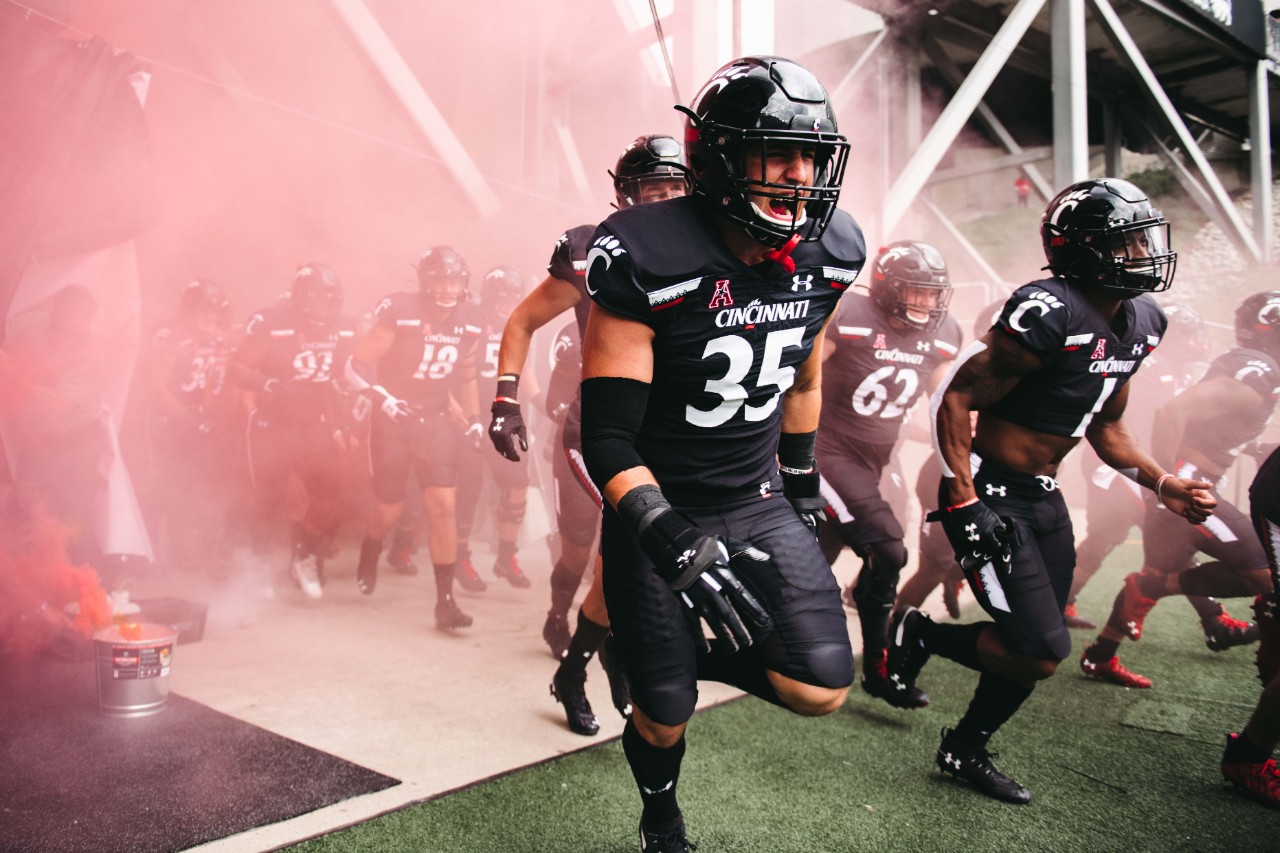 "A lot of the schools that offered me didn't have engineering, but my high school head coach knew [Bearcats'] Coach Fickell really well and so I knew all about the co-op program in engineering," Royer said. "Between the co-op program, the great engineering program and the football level, I thought it all lined up really well and UC was the best choice for me. It turned out to be a great choice. I've loved every second of it."   
Although fans watch college football for a few months out of the year, the team is training and practicing year-round. That level of time commitment presented a challenge when it came to co-op, which is typically a total of five semesters of full-time work interspersed with semesters of full-time classes across the five years of CEAS undergraduate majors. But Royer was able to complete his co-op jobs in a slightly different schedule to accommodate the time and effort involved with being a student athlete.   

Royer found a research co-op position in a UC lab where there would be more flexibility with his schedule. He joined the Micro and Nanotechnology Lab led by Murali Sundaram, UC professor of mechanical engineering and materials science.  

"I did three different research projects in four co-op rotations where I worked under Ph.D. students working on their thesis and trying to solve problems facing the nanotechnology world," Royer said.  

For his final co-op, Royer wanted to gain some experience working in industry in a business setting. He spent the summer of 2021 working at Valco Melton, an adhesives company.  

Royer said time management and utilizing resources like classmates, professors and tutors, proved critical to maneuvering a challenging major like engineering and the demands of being a student athlete.  
"I established a good mindset going into it. I knew that I was going to be busy and I was going to be in my room studying or doing homework more than most of my teammates," Royer said. "I accepted that, and I knew it was going to be hard, but I'm a hard-working person. So, I just embraced it. And then I came to find that it wasn't as bad as I thought it was going to be." 

Royer chose to major in mechanical engineering because it seemed like a broad field of engineering that would open a lot of potential career paths. With graduation approaching at the end of this school year, he said he hopes to find a job in the defense sector, either in government or for a private company. 

"UC is an amazing school and the co-op program and CEAS are awesome. They've accommodated me being an athlete so well and I can't be thankful enough for my advisers and professors and everyone in athletics that helped me make it through and do something that I was told might not be possible," Royer said. "I encourage any athletes out there that want to do engineering — you can do it." 

He has some nostalgia as he enters his final season of Bearcats football.  

"I love the game, but you're not going to remember your stats … you're going to remember the people," Royer said. "It's a special camaraderie that you have with your teammates and I'm going to have lifelong friends from football." 

Check out Ryan Royer and Alec Pierce talking about life as engineering students and football players in this Let It Fly episode, starting at 6:25.
Featured image at top: UC College of Engineering and Applied Science student Ryan Royer juggles the life of a student athlete. Photos and video/UC Athletic Communications.