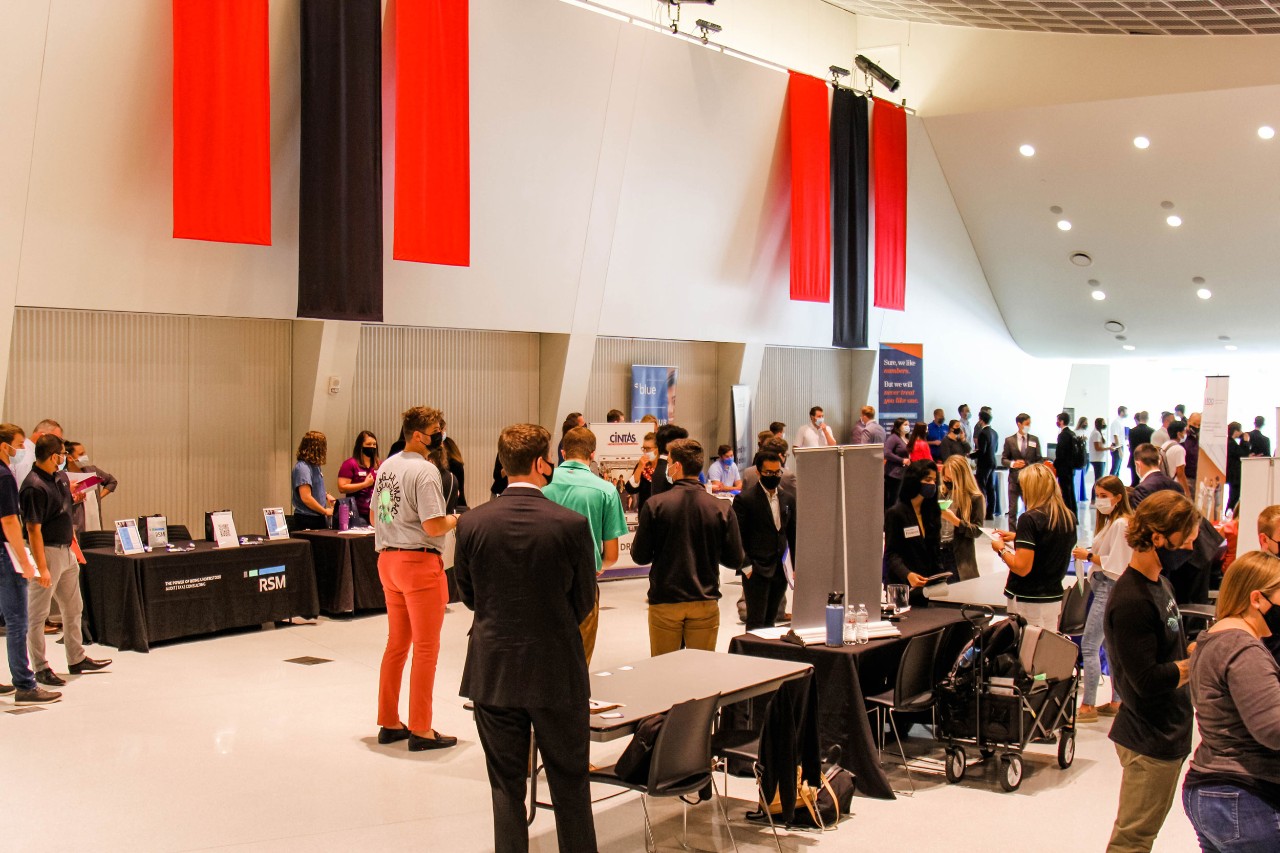 Students and companies cherish in-person interactions at Meet the Firms and Industry Night
Accounting and finance career fair attracts 200 students and 38 companies
"It's a great day to be here inside the Great Hall. It's very good to have this back in-person, even with the masks." 
Cal Gilson, a fourth-year studying accounting and information systems at the University of Cincinnati Carl H. Lindner College of Business, likely spoke for much of the crowd at Meet the Firms and Industry Night, an accounting- and finance-specific career fair held on Sept. 13 in the Tangeman University Center's Great Hall. A pair of aisles on Tangeman's third floor housed 200 professionally dressed students, resumes in hand, eager to discuss future opportunities with the representatives of 38 companies. 
"It was a bit nerve-wracking to plan a return to an in-person career fair after a year and half spent connecting students and employers in a solely virtual format," said Liz Pawley, Lindner Career Services Center director of professional development and curriculum, "but Meet the Firms and Industry Night went as well as we could have hoped post-lockdown."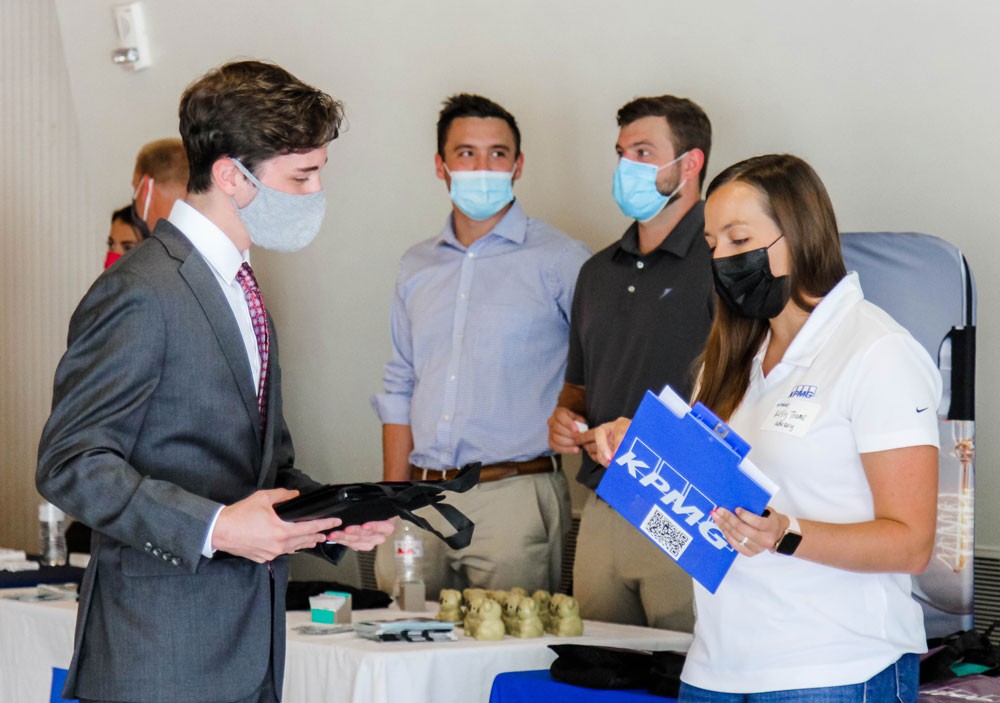 Students jump on opportunities
Presented by the Beta Alpha Psi Accounting Honorary Society and the Lindner Career Services Center, Meet the Firms provides students pursuing degrees in accounting, finance or a related business degree the chance to gain valuable insights from Fortune 500 companies, Cincinnati-area accounting firms and other employers seeking future business problem solvers. 
Henry Anhofer, a third-year accounting major, already has a position lined up for the spring. However, he attended Meet the Firms in search of opportunities for summer and next fall, as well as perspective from the on-site company representatives. "I wanted to come out here and learn a little bit more about these companies from the people that work there," Anhofer said. "It's not even coming up and trying to interview them — I know a lot of people come with a scripted plan. My main thing is talking to people and seeing what they're about." 
Gilson, too, was intent on acquiring a feel for the cultures of the companies in attendance. "Whether they approach us or we approach them, it's always a good conversation," Gilson said. "And that's what I feel like an interview is in the first place, just conversation to learn more and see if it's the right fit for us."
Meet the Firms even attracted students who would not be among the anticipated accounting- or finance-focused attendees. Nidhi Yaduvanshi, who is expecting to complete her master's in information technology and a graduate certificate in data analytics next year, researched the employers' profiles in hopes of landing a summer internship. "It was a great opportunity to meet with companies and discuss what they are looking for and their openings," Yaduvanshi said. "I really enjoyed it." 
Companies ready for qualified students
Josie Dwyer, an internal auditor for Kroger, said the return of in-person events has been "awesome" for Kroger. "[Students] get to learn about Kroger just by talking to us," Dwyer said. "Then they apply and end up with us." Dwyer added that her department predominantly hires students right out of college, and that "maybe 99%" of their students are hired from career fairs like Meet the Firms.  
Employers were happy to inform students of their new initiatives as well. For example, Medpace is piloting a finance and accounting internship program. "We can bring people in at a younger age, so they can come back from a co-op or internships to try new things," said Lauren Morris, associate director of investor relations at Medpace. "What we're finding is that our rotational aspect is important for students. You can try a bunch of new things, and that extends past entry level. We try to rotate people in and out of different departments just to be more well-rounded."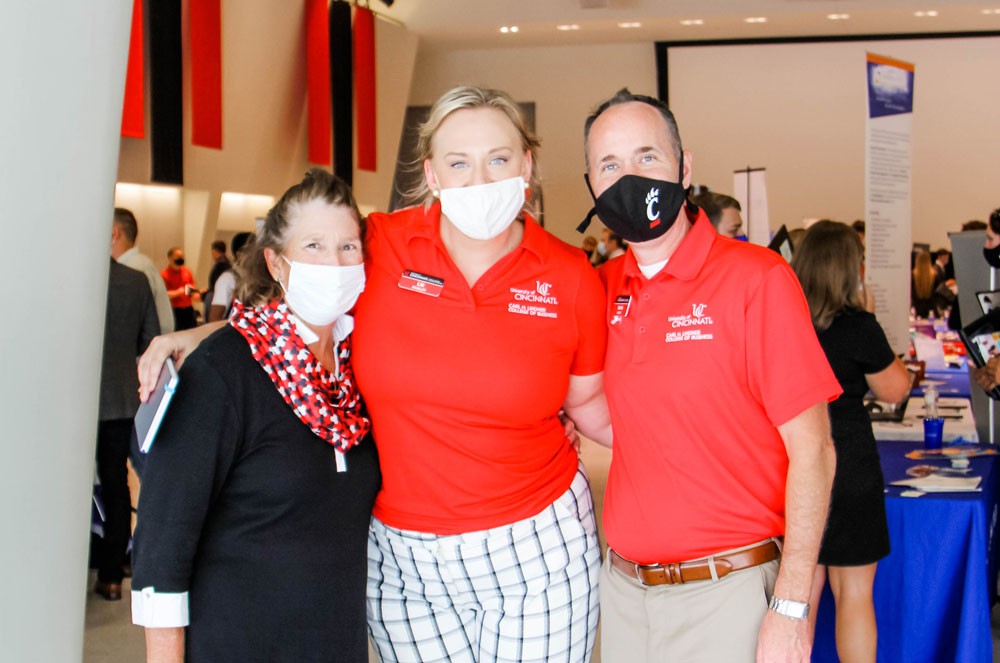 While an in-person Meet the Firms was a welcome experience for everyone involved, Pawley noted that elements of virtual recruiting are here to stay. "There are so many silver linings to [virtual recruiting], including students' accessibility to more employers at a distance," Pawley said. "However, it's so nice to see students and employers connecting in person. Students enjoy connecting with major-specific opportunities and employers at a smaller career fair setting."
About the Lindner Career Services Center
Together with faculty, staff, industry professionals and UC alumni, the mission of the Lindner Career Services Center is to enhance the professional acumen of our Lindner students and empower them to identify and attain personally rewarding careers while fostering mutually beneficial relationships with employers. 

To learn more about Lindner Career Services and how you can get involved, visit the center website or contact an LCS adviser at 513-556-5147 or lindnercareerservices@uc.edu.