UC's AACRC celebrates 30 years
A resource for students, a millennial organization comes of age at UC
The University of Cincinnati's African American Cultural and Resource Center (AACRC) has turned 30.
Nestled on the heart of the UC campus, the center opened Sept. 21, 1991, with the mission of assisting students of color, specifically Black students with matriculation through the university toward graduation. 

An identity space, such as the AACRC, helps to create places of belonging for many students. This one also helps to educate students from various backgrounds about the richness and vibrancy of Black culture. Various groups visit the center to learn about the Black experience and what it's like to be Black in America, specifically on UC's campus. The center is among the avenues that help build a more supportive climate for students of color as diversity increases at UC.
Black students make up 8.2% of the student body, while students of color, which includes Black, Latinx, Asian American, Native American, Native Alaskan, Native Hawaiian and Pacific Islander residents, account for 24.1% of the student body, creating UC's most diverse population to date.
Supporters of the AACRC remembered its opening at a birthday celebration of sorts at Tangeman University Center this week. The center's milestone was also reported by Spectrum News reporter Camri Nelson, a 2016 UC grad, for an evening segment.
Students like Bemnet Melaku, a fourth-year neuro psychology student, offered her thoughts about the value of the AACRC.
"It's been like a safe haven for me and I've been able to grow a lot as an individual," Melaku told Spectrum News. "I don't think I would have been pushed to the level that I have been if I were not involved in the center."
Bleuzette Marshall, PhD, vice president for equity, inclusion and community impact, offered some thoughts about the center during this week's AACRC anniversary celebration. Marshall was an undergraduate at UC when the center opened its doors.
"It is hard to believe that 30 years has passed since the center opened its doors," said Marshall. "This is a good time to reflect on the original purpose of the center and how it continues to evolve to meet the needs of our students and what a stable it has been for the university community over the years."
Marshall recalled meeting Georgia Beasley, among the first African Americans to graduate from UC. She obtained a degree in home economics in 1925 and was described by Marshall as being a "very proper lady," often wearing pearls and gloves. 
Celebrants of the AACRC's anniversary remembered Beasley's experience this week when UC was a very different place. Beasley, the sole African American in her class, was asked during the turn of the 20th century to walk in separately from white students for her graduation.
Beasley, who went on to get a master's degree from Columbia University and to teach in Cincinnati, is seen as a trailblazer for African Americans at the university. A scholarship for UC students carries her name. She also was present for the AACRC's opening day, recalls Marshall.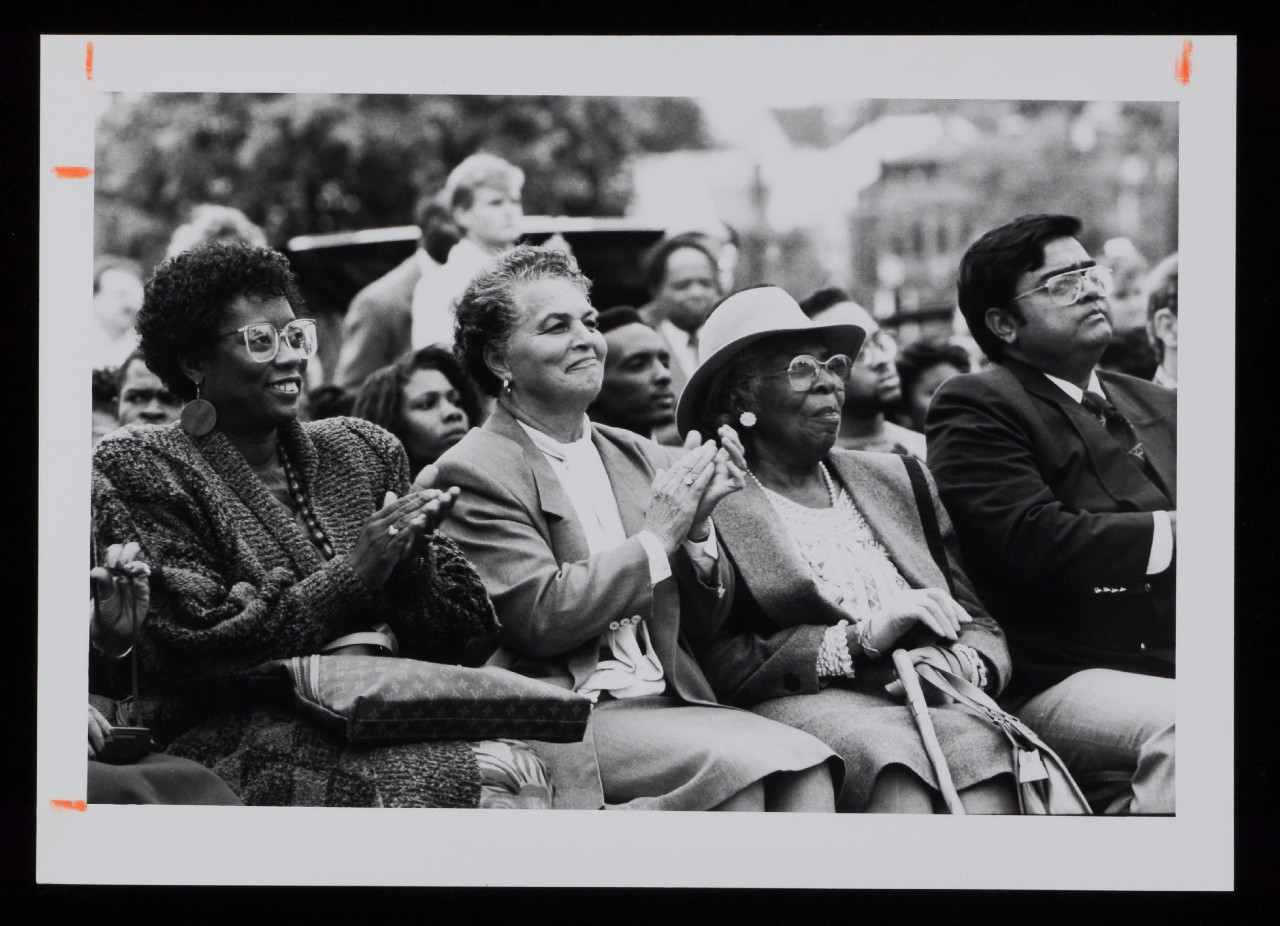 "As a student I was fortunate enough to meet Mrs. Georgia Beasley," said Marshall. "We would hang out for lunch or she would have me over for dinner and sometimes we would go out to the opera. Other times we stay at home and listen to music. We listened to classical and jazz and every now and then I would play some hip hop for her. Surprisingly, she would say 'that has a really nice rhythm, a really nice rhythm.'"
Marshall won't forget the special role Beasley had for the AACRC's first day in existence.
"It seemed like everybody from campus was there, certainly the students, many of whom were dressed in African attire, and our faculty, staff, administrators, alumni and community members witnessed the occasion," said Marshall.
"The day was a beautiful day," said Marshall. "I remember exactly where I was standing on the sidewalk near Dabney Hall and we were hugging each other and smiling and talking about what a wonderful time this was.  The program was really nice with dignitaries having their special words and comments."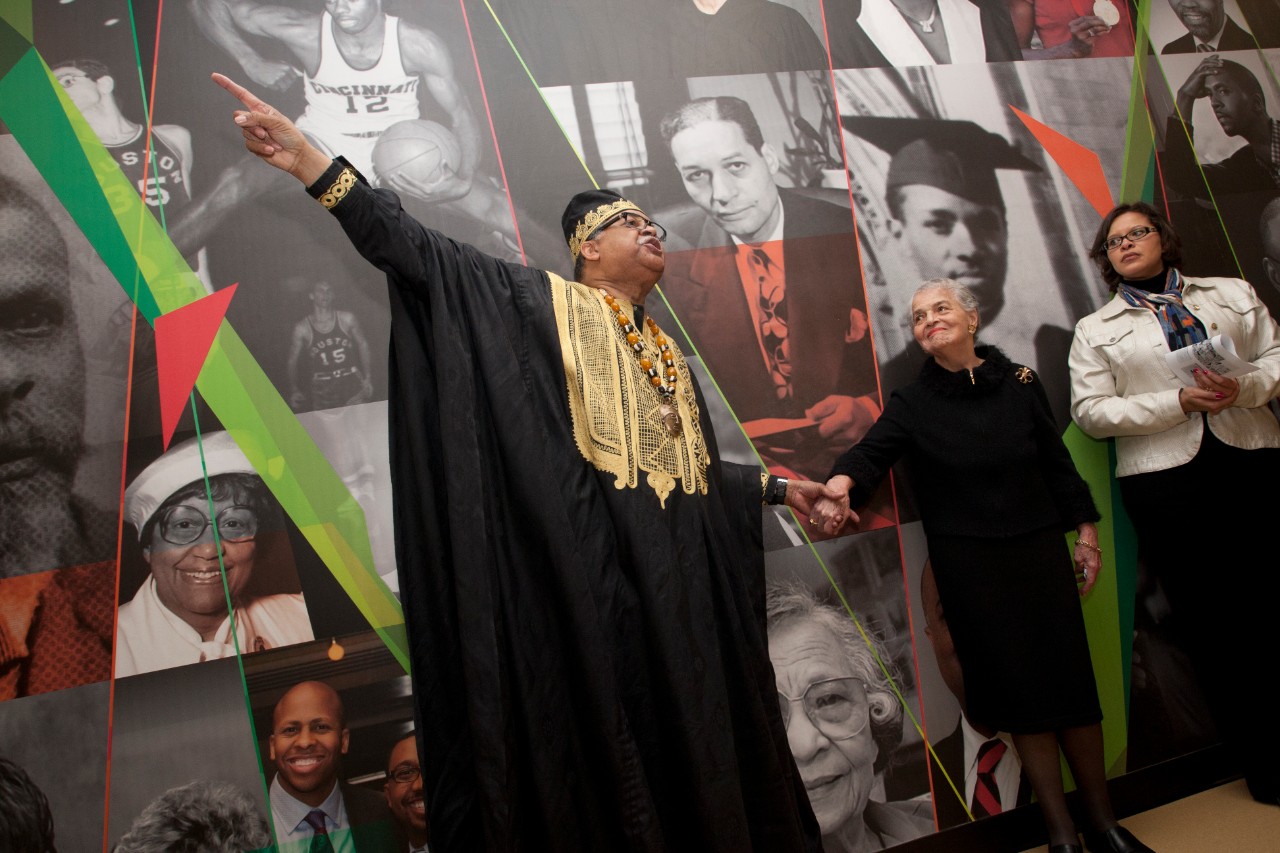 At the conclusion, Eric Abercrumbie, PhD, founding director of the AACRC, directed everyone toward the center.
"But before we could enter another ceremony had to occur," said Marshall. "It was determined that the first steps would be taken by one of our highly regarded alumni. But it was not by a city council member or UC administrator but someone who paid their dues on this campus."
Beasley was the first to enter the center.
"Standing on the shoulders of giants her first steps were not hers alone but they were for the culture and for those who came before her and those who would come after her," Marshall said. "In the words of Mrs. Beasley, 'You are an example for someone else coming along.' You have that responsibility to future generations. Take advantage of that."
Mercedes Johnson, current director of the AACRC, told well-wishers that the center won't rest on its laurels. The UC Foundation kicked off a campaign to raise funds to strengthen current programs offered by the center.
"So how do we position ourselves for after 30?" asked Johnson. "By building on the ways that got us here. We are not done yet. We are entering into a new era of excellence and student success."
She said center staff will increasingly use technology, data tracking and intentional partnerships to advance the needs and voices of the students the AACRC serves.
"We look forward to celebrating 30 more impactful years with the center still standing, reaching and building the lives of our Black students," said Johnson.
Featured image at top: Members of the UC community support the African American Cultural and Resource Center nestled near the heart of the university campus. Photo provided by the AACRC.
Impact Lives Here
The University of Cincinnati is leading public urban universities into a new era of innovation and impact. Our faculty, staff and students are saving lives, changing outcomes and bending the future in our city's direction. Next Lives Here.

Stay up to date on all UC's COVID-19 stories, or take a UC virtual visit and begin picturing yourself at an institution that inspires incredible stories.