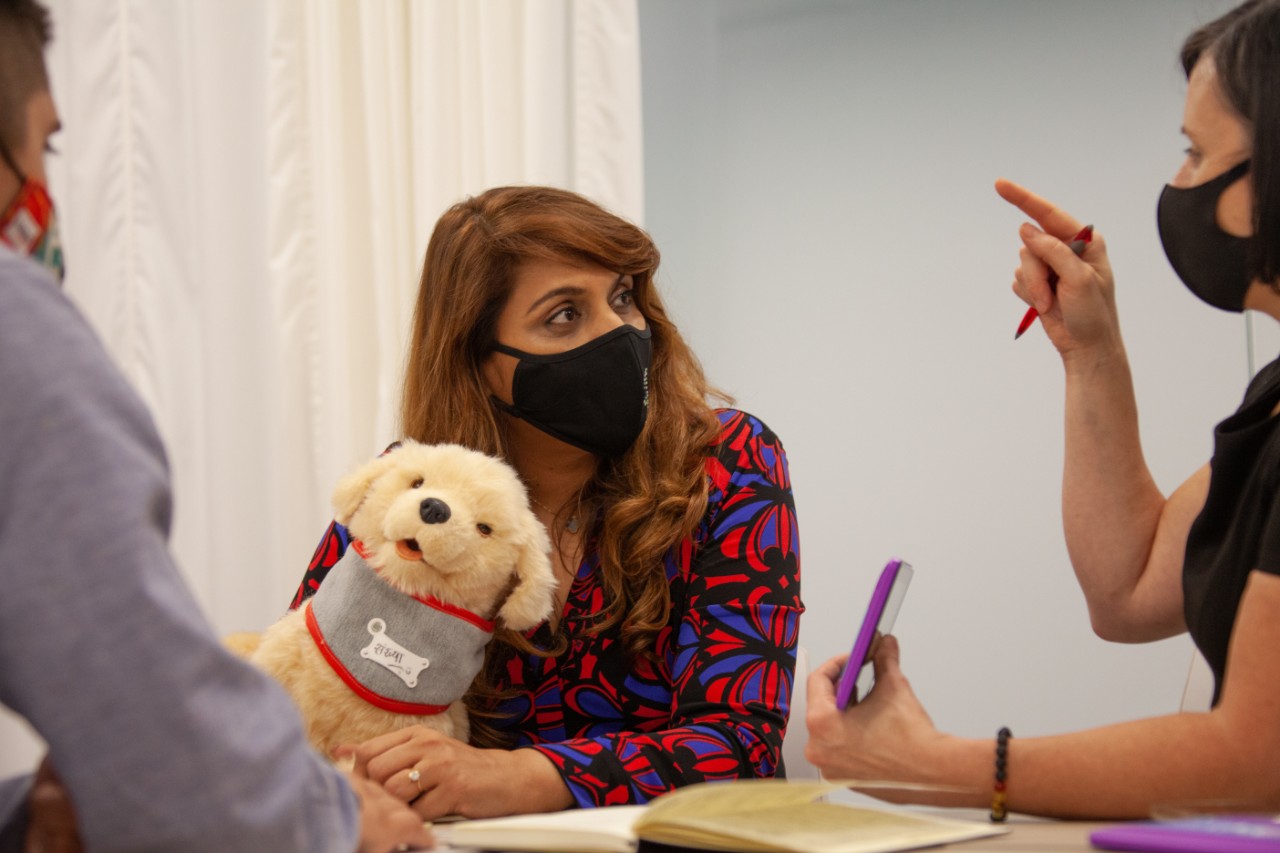 Putting patient health into their own hands
UC study examines art therapy, pet robots' effect on well-being for hearing loss patients
Art therapy and pet therapy have been shown to improve patients' mood and well-being, but what happens when patients are no longer able to access these interventions?
That was the question that has spawned a multidisciplinary collaborative study, led by University of Cincinnati researchers, that is looking into how a self-guided art therapy app and robotic pets affect the mood of patients.
UC's Soma Sengupta, MD, PhD, said the idea for the study began during shutdown periods of the COVID-19 pandemic. Certain patients — like those with brain tumors — were unable to come into medical facilities for art therapy sessions, and therapy dogs and their trainers were not permitted inside hospitals. 
"You know it's really depressing that all these people that depended on these therapies during the pandemic couldn't get anything in person," said Sengupta, associate professor and Harold C. Schott Endowed Chair of Molecular Therapeutics in the Department of Neurology. "Why don't we develop something that is independent of people physically having to be there or an animal physically having to visit a home?"
The fact that Dr. Sengupta and her team have actually thought beyond just the physical correction of the surgery but also the emotional problems that come after, I think that's the future of medicine.
Sankhya Jejurikar, patient

Specifically, Sengupta focused this research on patients with vestibular schwannoma, or acoustic neuromas, which are benign tumors on nerves leading from the inner ear to the brain. Sengupta said these patients often experience some form of hearing loss.
For example, patient Sankhya Jejurikar experiences single-sided deafness as a result of a vestibular schwannoma, which was removed by Mario Zuccarello, MD, UC Brain Tumor Center Director at the UC Gardner Neuroscience Institute, in September 2020. She said she experienced feelings of depression and isolation as a result of her single-sided deafness.

"In a big crowd when everybody's laughing at a joke and you've not heard it, you feel frustration, anger and realize that sometimes your friends forget," Jejurikar said.
To get the study started, Sengupta reached out to Claudia B. Rebola, PhD, associate dean for research, associate professor and director of the new Center for DAAP Research and Innovation (CDRI) on Health and Wellbeing in the College of Design, Architecture, Art, and Planning. 
Sengupta and Rebola had previously collaborated on projects including a music therapy app and began work on a similar art therapy app. Rebola has also done extensive work improving the capabilities of robotic pets to act as companions for populations like older adults, with work ongoing to include functions where the pets could monitor vital signs or provide other care to patients.

Meera Rastogi, PhD, a psychologist, art therapist, program coordinator for the pre-art therapy certificate program and professor at University of Cincinnati, Clermont College, was recruited into the study to help design the art therapy prompts featured in the app.
It may seem like a logical progression to bring in experts from different disciplines into a research study, but Sengupta said often researchers stay in their individual silos and do not have as great an impact as they could if they worked together. She recalled a challenge from UC President Neville Pinto for more collaboration across different colleges and departments within the university and said this research is an example of that charge in action.
Health and Wellbeing is one of the strategic areas for the CDRI, a new platform to UC designed for the intersection of disciplines and collaborative efforts to generate new information. Through these efforts, CDRI participants will also connect with partners and communities to jointly address issues concerning health and well-being.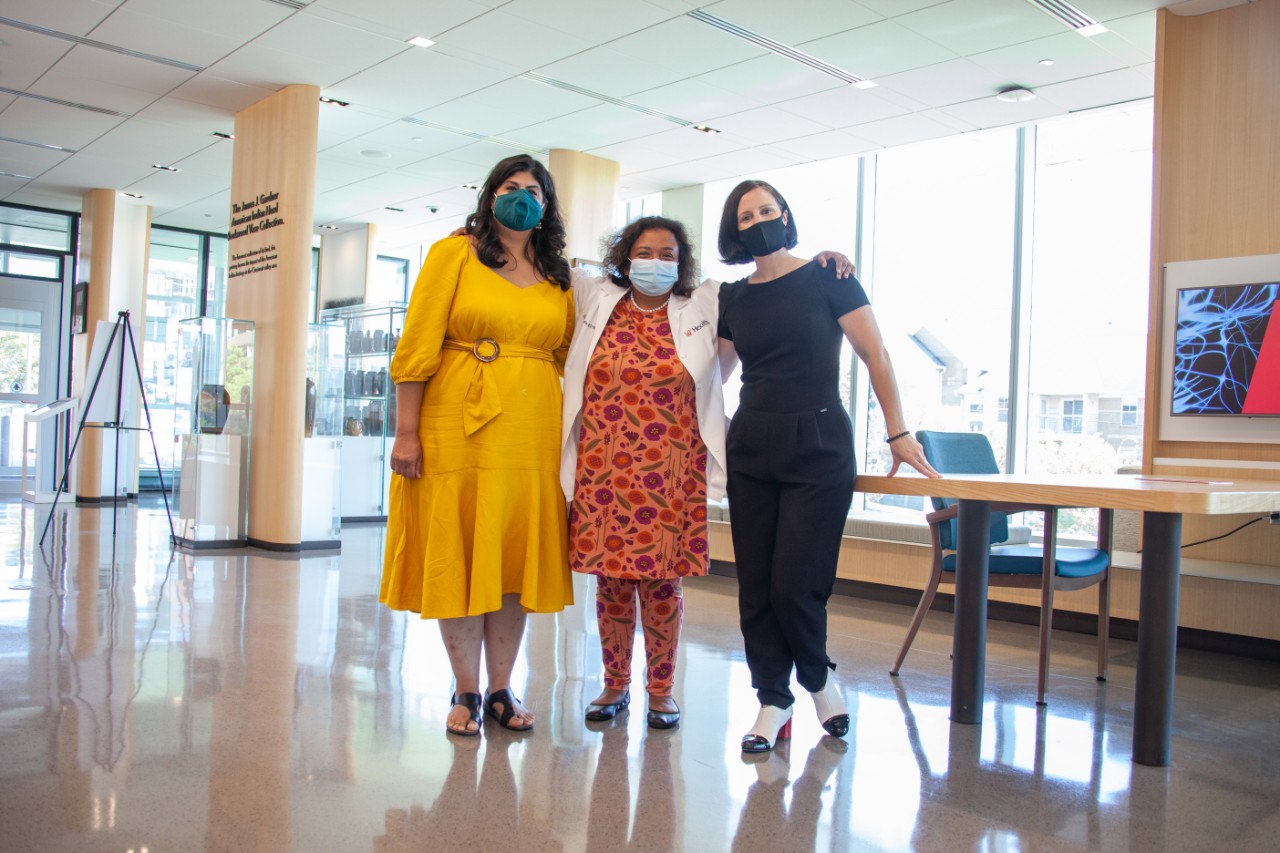 The CDRI is centered around collaboration, research and innovation, all of which are demonstrated within this research study.

"We can generate the most impact in health and well-being when integrating the creative disciplines in transdisciplinary research and innovation," Rebola said. 

Rebola said some projects focus on research and others focus on design, but this study combines into what she calls "research through design practice."

"It's not about giving patients a survey to understand what they need, but developing design interventions for impact while understanding needs," Rebola said. "We're merging research and design together. It's something we need to do more in research and the sciences."
The collaborative study also included the work of:
Diego Gomez Enriquez, DAAP master of design candidate
Iris Lachnit, visiting scholar and clinical psychologist
Abigail Koehler, clinical research professional
Jamie Denlinger, UC Brain Tumor Center nurse navigator
Yehudit Rothman, neuro-oncology physician assistant
Peirce Johnston, MD, UC Department of Psychiatry
It's not so much about cure, but treatment. How can we elevate the health and well-being of our patients through alternative interventions?
Claudia Rebola, PhD
The team developed a 12-week pilot study that will analyze how the moods of patients are affected by working through the art therapy prompts and questions on the app. The patients' mood and well-being will be measured using self-assessments analyzed both by psychologist Rastogi and Johnston.
"It's more than just interacting with art materials. They're specifically designed art activities to help people think about whatever issues they're facing in a different way," Rastogi said. "So it's interactive through the app and would be similar to the type of art activities an art therapist would ask their clients to do, as well as reflection questions to think and write about after they do the artwork."

Participants in the study will have one consultation with an art therapist to learn about how they will be using the tools they are given: a sketchbook and a 24-pack of colored pencils. The participants will also meet with medical staff to be trained on how to use the app to work through the art therapy prompts. 
Half of the patients will additionally be provided with robotic therapy dogs. 
"Each pet will have a smart bandana, with sensors that help us monitor the number and length of interactions that the user has with the pet," Rebola said. "So our hope is to quantify and correlate how much they interact with the pet and how their well-being performs through a 12-week study."
After patient Jejurikar's successful surgery, she told her medical care team that she was interested in giving back however she could. It just so happened that Jejurikar is a professional artist who previously worked as an information technology professional, so this study aligned perfectly with her expertise.
"I said that's great because as an artist I hope to be of some help to them, given the experience of going through the surgery and having acoustic neuroma and now having one-sided deafness," she said. "And the fact that it was art therapy was absolutely the cherry on top for sure."
Jejurikar worked with Rastogi and her team to compile the questions and prompts participants will use through each week of the study. She was able to fine tune the questions toward patients particularly with vestibular schwannoma, for example eliminating questions referencing cancer since these patients have benign tumors.
One prompt asked how patients see themselves as they were, as they are and as they will be in the future. Jejurikar recalled creating a piece depicting herself as a dandelion that changes forms, with each form having its own merits.
"Considering where I see myself going had a very positive impact in my thought process — making me more centered and making me feel this is my new reality but I can handle this. It's given me strength," Jejurikar said. "The process of the creation of art and then answering the questions, both these stages definitely helped me get clarity in thought and how I felt."
The importance of well-being
While ongoing work into the treatment of vestibular schwannoma is important, the researchers said it is also critical to engage in this line of research looking at patients' mental health.
"It's not so much about cure, but treatment," Rebola said. "How can we elevate the health and well-being of our patients through alternative interventions?"
Patient and artist Jejurikar said from her perspective it is exciting to see the whole patient being considered through this study.
"The fact that Dr. Sengupta and her team have actually thought beyond just the physical correction of the surgery but also the emotional problems that come after, I think that's the future of medicine," Jejurikar said. "For them to work on it and think about the patients after the surgery really made me feel like I was at the right place. I've come to the right place and the right team."
Sengupta noted the study could have wide-ranging implications for others: the hearing loss population, cancer or immunocompromised patients who can't interact with therapy dogs or attend art therapy classes, patients with neurodegenerative diseases who cannot take care of animals and members of the general public experiencing feelings of anxiety, depression or isolation.
"There are a lot of things that you can't cure, but if the quality of life is improved, then you know it makes the day-to-day lifestyle much better," she said. "I think that piloting something like this has a bigger impact on improving quality-of-life metrics."
These art and pet robot therapy interventions also are a step forward in giving patients the tools to take personal control of their well-being.

"It is important to design technologies that allow people to take care of their health with their own hands," Rebola said. "And in an indirect way, it's kind of responding to the needs of having more equitable access to health and distributing and having the users have control of their health."
Researchers are currently enrolling patients into the pilot study, with plans to publish initial findings and then apply for funding for a larger-scale study. Rebola said future studies may also look into how mood is affected when patients complete the art on tablets rather than through conventional art supplies or could include robot pets with increased capabilities.
"We're designing things as ways of understanding," Rebola said. "It's something we don't do much in the sciences. We're learning through this iteration, having an impact, generating the second generation."
The study is being funded by the Jejurikar Fund for Vestibular Schwannoma Research and the Harold C. Schott Chair.
Featured photo at top: Sankhya Jejurikar discusses the study with UC researchers. Photo/Ravenna Rutledge/University of Cincinnati
The innovation agenda is one of three central platforms tied to the University of Cincinnati's mission. In combination with academic excellence and urban impact, the innovation agenda activates the university's strategic direction, Next Lives Here.
1
How one UC med student plans to make a difference
September 25, 2023
In her heart, Keirsten White '26, knew she wanted to become a doctor. She was attracted to UC in part because of its family medicine psychiatry program, which she said will help enable her to provide whole-person healthcare to individuals who are homeless and underserved.
2
Playbill: CCM ranks in top 10 most represented colleges on...
September 25, 2023
The University of Cincinnati College-Conservatory of Music has once again been named as one of Playbill's "Big 10." Ranked as one of the top star-producing institutions in the nation, CCM was represented by at least 24 alumni performing on Broadway stages during the '22-23 season.
Debug
Query for this