CCM launches Saxophone Competition for Tri-state high school students
Up to $500 in cash prizes will be awarded to competition winners
UC's College Conservatory of Music announces the launch of a new Saxophone Competition for high school students (grades 9-12) in Indiana, Kentucky and Ohio. Up to $500 in cash prizes will be awarded to competition winners.
Co-organized by CCM's Division Head of Performance Studies and Professor of Saxophone James Bunte, and Adjunct Instructor of Saxophone Om Srivastava, the competition takes place on February 6, 2022, at CCM's Robert J. Werner Recital Hall (note this competition was rescheduled from it's originnaly announced date).
Performances will be limited to one classical work, no more than 10 minutes and must be performed with piano accompaniment. Cuts may be allowed at the performer's discretion. Transcriptions are allowed. Three copies of music must be provided for judges with measures numbered.
Performers may provide their own collaborative pianist or request one to be provided for them via CCM for a fee. Requests can be made by contacting James Bunte; please attach a copy of the piano part of your repertoire in the email.
Registration is required to participate in the competition. Early registration is open through January 9 with a $35 fee; the registration fee increases to $45 after January 9. Participants must also sign-up for a competition performance slot after completing the registration.
Please contact James Bunte for more information on the competition.
Contact CCM Prep if you have questions about registration.
*The health and safety of our community remains our top priority. Based on current conditions, performance venues will be reduced to 50% capacity and all individuals, including audience members and performers, are required to wear facial coverings indoors, following guidelines from the CDC and UC's physician-led COVID response team. Additional measures may be in place as conditions develop based on guidance from the CDC and UC's physician-led COVID response team. Visit the UC Public Health website and CCM's COVID-19 website for additional information and updates.
12:30-4:30 p.m. -  Auditions
4:30-4:45 p.m. - Judges deliberations, meet and greet, light refreshments, winners announcement
5-6 p.m. - Concert featuring the competition winner and CCM's saxophone studio including the graduate quartet, James Bunte and Om Shrivastava
About CCM Saxophone Studies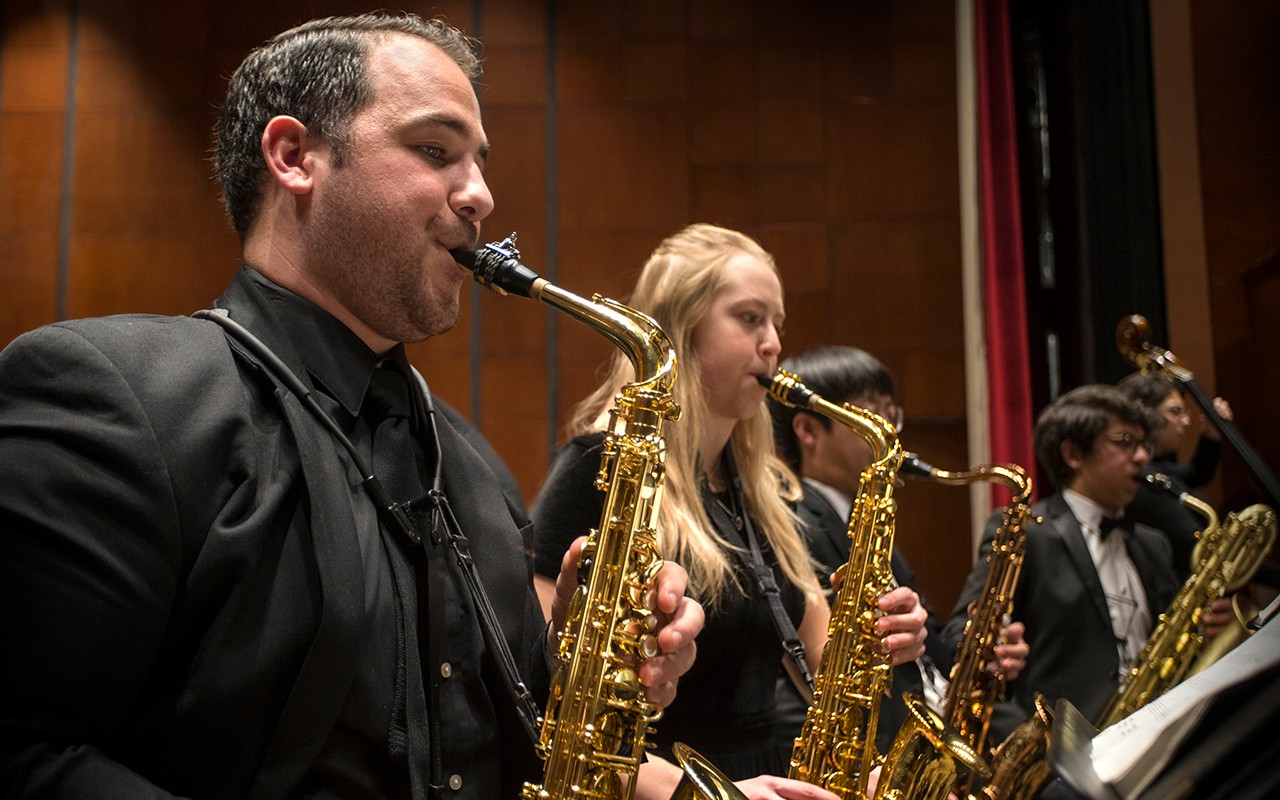 CCM offers Bachelor of Music in Jazz Studies, Bachelor of Music in Saxophone, Master of Music in Saxophone, Master of Music in Jazz Studies with a major in Saxophone and Doctor of Musical Arts in Saxophone degrees.
Saxophone majors receive ample performance opportunities with CCM's wind ensembles, jazz ensembles, saxophone quartets, jazz combos, symphonic orchestras, musical theatre orchestras and contemporary music ensembles.
If you are interested in pursuing a degree in Jazz Studies on the saxophone, please visit the Jazz Studies website.
Featured image at the top: CCM saxophone students perform on stage. Photo/Andrew Higley/UC Creative + Brand