CCM presents magical musical 'Xanadu' through Oct. 31
The Tony Award-nominated show is a hilarious, family-friendly musical adventure
The University of Cincinnati College-Conservatory of Music opens its CCMONSTAGE Musicals series with Tony Award-nominated musical Xanadu, running Oct. 21-24 and Oct. 28-31, 2021 at Patricia Corbett Theater. Audiences will experience the magic of the 1980s in this hilarious, roller skating, musical adventure about following your dreams despite the limitations others set for you.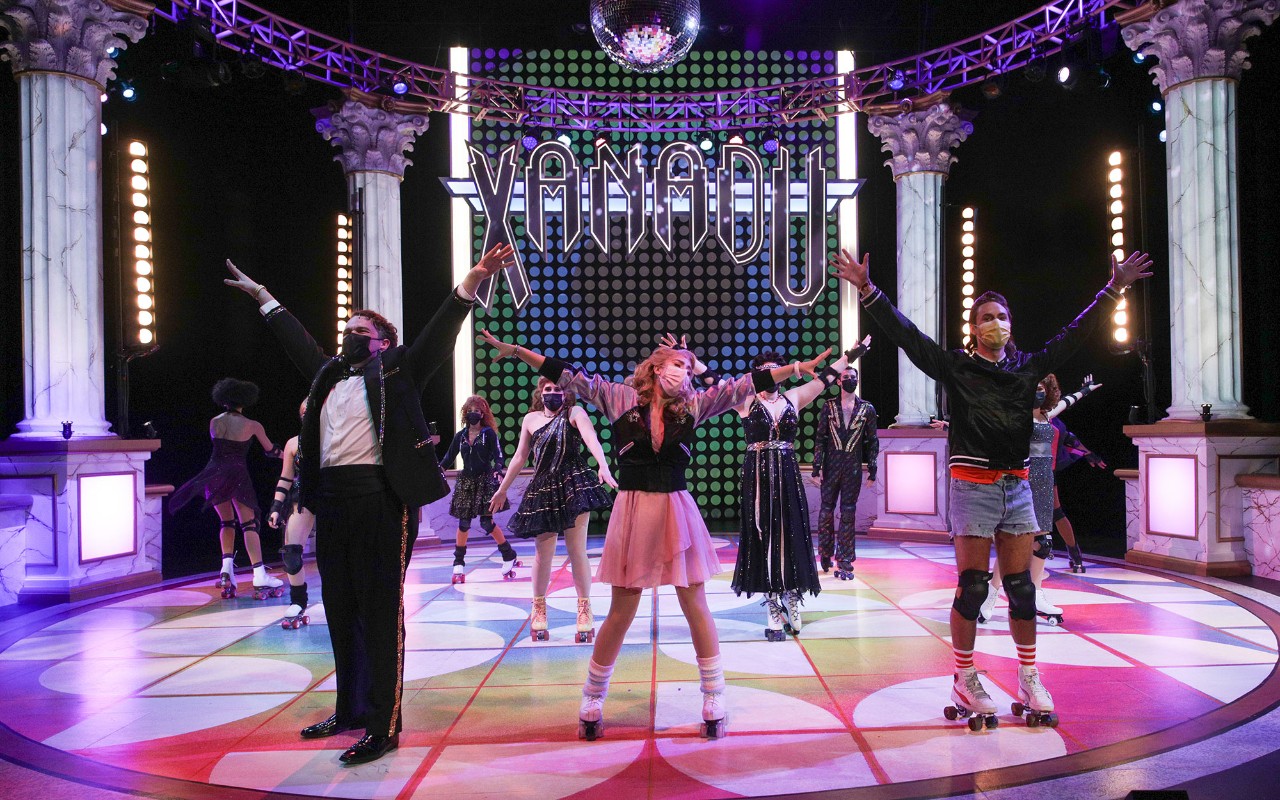 Directed and choreographed by CCM Professor of Musical Theatre Diane Lala with Musical Direction by graduate Orchestral Conducting student Ian Axness, tickets for the musical are available online.
Xanadu follows the journey of a magical and beautiful Greek muse, Kira, who descends from the heavens of Mount Olympus to Venice Beach, California in 1980 on a quest to inspire a struggling artist, Sonny, to achieve the greatest artistic creation of all time: the first roller disco! But, when Kira falls into forbidden love with the mortal Sonny, her jealous sisters take advantage of the situation and chaos abounds. 
Xanadu is hilarity on wheels for adults, children and anyone who has ever wanted to feel inspired.
The 2021-22 CCMONSTAGE Musical Series presents Xanadu on Oct. 21-24 and Oct. 28-31, 2021, at Patricia Corbett Theater. Tickets are on sale now through the CCM Box Office; student discounts are available.

The health and safety of our community remains our top priority. Based on current conditions, performance venues will be reduced to 50% capacity. All individuals, including audience members and performers, are required to wear facial coverings indoors, following guidelines from the CDC and UC's physician-led COVID response team. Additional measures may be in place as conditions develop based on guidance from the CDC and UC's physician-led COVID response team. Visit the UC Public Health website and CCM's COVID-19 website for additional information and updates.
Book by Douglas Carter Beane
Music and lyrics by Jeff Lynne & John Farrar
Based on the Universal Pictures film with a screenplay by Richard Danus & Marc Rubel

Originally produced on Broadway by Robert Ahrens, Dan Vickery, Tara Smith/B. Swibel, Sara Murchison/Dale Smith & Cari Smulyan
XANADU is presented through special arrangement with Music Theatre International (MTI). All authorized performance materials are also supplied by MTI. www.mtishows.com
Director and Choreographer Diane Lala
Musical Director Ian Axness*
Assistant Director August Bagg*
Assistant Choreographer/Dance Captain Jenn Bienvenue*
Scenic Designer Mark Halpin
Lighting Designer Alaina Pizzoferrato*
Media Designer Jason Bowden*
Costume Coordinator Brittannie Travis*
Sound Designer Alex Brock*
Wig & Make-Up Designer Kelly Yurko
Production Stage Manager Emma Heath*
Prop Masters Noam Denenberg*, Maddy Byrnes*
Dialect Coach Sarah Summerwell
*CCM student
Clio, Kira | Cassie Maurer
Sonny | Leo Carmody
Danny Maguire, Zeus | Tyler Martin
Calliope, Aphrodite | Chesney Mitchell
Melpomene, Medusa | Kassi McMillan
Thalia, Siren, Young Danny, '80s Singer, Cyclops | Eli Owens
Euterpe, Siren, '40s Singer, Thetis | Haley Root
Erato, Siren, '40s Singer, Eros, Hera | Alloria Frayser
Terpsichore, Siren, '80s Singer, Hermes, Centaur | Jamal Stone
Featured Skater | Jenna Bienvenue
Featured Skater | Madison Mosley
Cover/Swing Calliope/Euterpe | Sarah Jane Nelson
Cover/Swing Thalia/Terpsichore | Sage Lee
Cover Erato | Madison Mosley
Standby Clio/Kira | Alli Bossart
Standby Sonny/Swing Young Danny | Andrew Burke
Standby Danny | Tate McElhaney
7:30 p.m. Thursday, Oct. 21 
7:30 p.m. Friday, Oct. 22 
2 p.m. and 7:30 p.m. Saturday, Oct. 23 
2 p.m. Sunday, Oct. 24 
7:30 p.m. Thursday, Oct. 28 
7:30 p.m. Friday, Oct. 29 
2 p.m. and 7:30 p.m. Saturday, Oct. 30 
2 p.m. Sunday, Oct. 31 
Patricia Corbett Theater, CCM Village 
University of Cincinnati
CCM is located on the campus of the University of Cincinnati. Please visit ccm.uc.edu/directions for detailed driving directions to CCM Village.
Parking is available in UC's CCM Garage (located at the base of Corry Boulevard off Jefferson Avenue) and additional garages throughout the UC campus. Please visit uc.edu/parking for more information on parking rates.
For detailed maps and directions, please visit uc.edu/visitors.

Louise Dieterle Nippert Trust 
Scholarship and Resident Artist Sponsor
The Andrew W. Mellon Foundation 
CSO/CCM Diversity Fellowship Sponsor
The Corbett Endowment at CCM 
Dance Department Sponsor 
All-Steinway School Sponsor
Louise H. & David S. Ingalls Foundation, Inc. 
Community Partners
The Joseph and Frances Jones Poetker Fund of the Cambridge Charitable Foundation, Ritter & Randolph, LLC, Corporate Counsel 
Visiting Artists & Thinking About Music Sponsor
ArtsWave: Funding Arts, Fueling Community 
CCMpower: Friends and Alumni Fueling the Future of the Arts 
CCMONSTAGE ONLINE Broadcast Sponsors
Dr. & Mrs. Carl G. Fischer 
Musical Theatre Department Sponsor
Genevieve Smith 
Opera Production Sponsor
Rafael and Kimberly de Acha 
Opera D'Arte Sponsor
An Anonymous Donor 
Estate of Mr. William A. Friedlander 
Mrs. William A. Friedlander 
Dr. Randolph L. Wadsworth 
Judith Schonbach Landgren and Peter Landgren  
Mr. & Mrs. Harry H. Santen 
Elizabeth C.B. & Paul G. Sittenfeld+ 
Mr. & Mrs. Thomas E. Stegman 
Dr. & Mrs. Theodore W. Striker 
Mrs. Harry M. Hoffheimer 
Ariel Quartet Sponsors
Jan Rogers 
Willard and Jean Mulford Charitable Fund of the Cambridge Charitable Foundation 
Choral Studies Sponsors
Mr. & Mrs. Joseph W. Hirschhorn 
Orchestral Sponsor
Dorothy Richard Starling Foundation 
Starling Pre-Collegiate Sponsor 
Starling Strings Sponsor
Dr. Timothy E. and Janet L. Johnson 
Thom Miles and Roberta Gary 
Organ Department Sponsors
Louis and Susan Meisel 
Piano Department Sponsor
Richard E. Thornburgh 
Edward Donovan and Cheryl Carter 
Jeff Thomas Catering 
The Castleberry Family 
KMK Law 
Sandra & Stephen Joffe 
Paula Boggs Muething & Brian Muething 
Patti Myers & Alan Flaherty
Trish & Rick Bryan 
Prestige AV & Creative Services 
Graeter's Ice Cream 
CCMpower 
The CCM Harmony Fund: Challenging Hate & Prejudice through the Performing Arts 
Event Sponsors
Buddy Rogers Music 
LINKS Sponsor
Sponsors listed as of August 30, 2021
Feature image at the top: Promotional graphic for CCM's production of Xanadu. Graphic design by Mikki Graff.