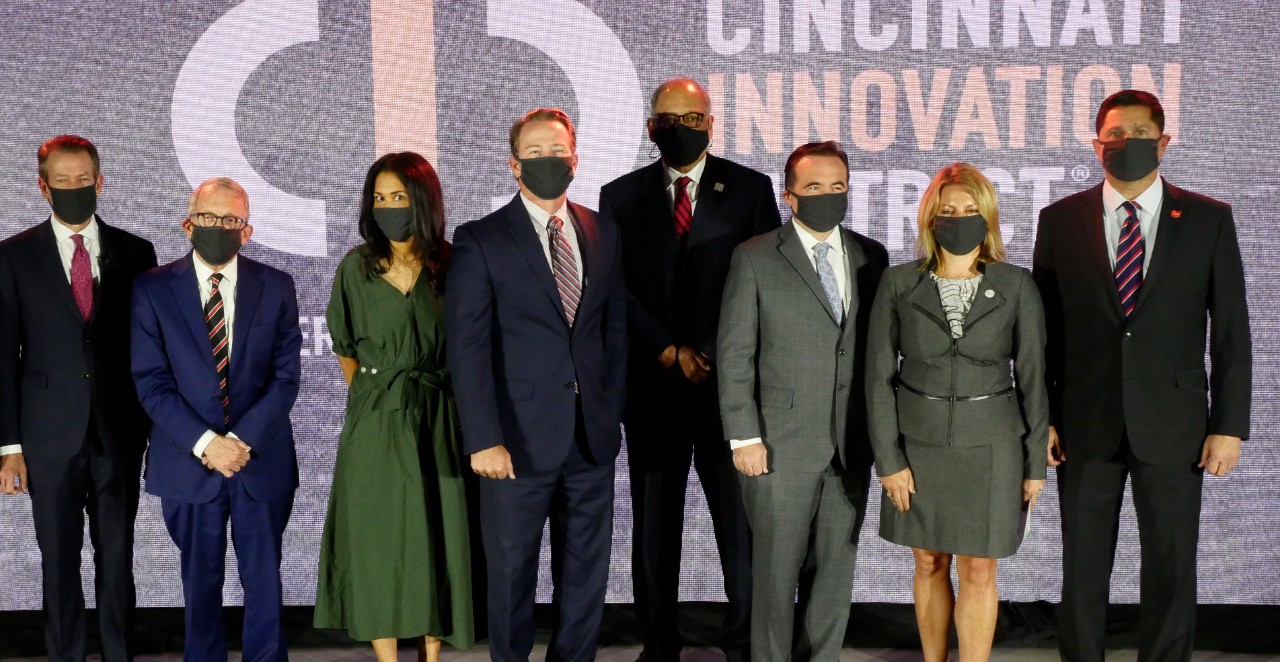 Cincinnati Innovation District announces expansion
New properties will accelerate minority-led business attraction to Ohio
Alongside Gov. Mike DeWine and Lt. Gov. Jon Husted, leaders of the Cincinnati Innovation District (CID) and JobsOhio announced the expansion of the CID on Monday, which will accelerate attracting minority-led business to Ohio.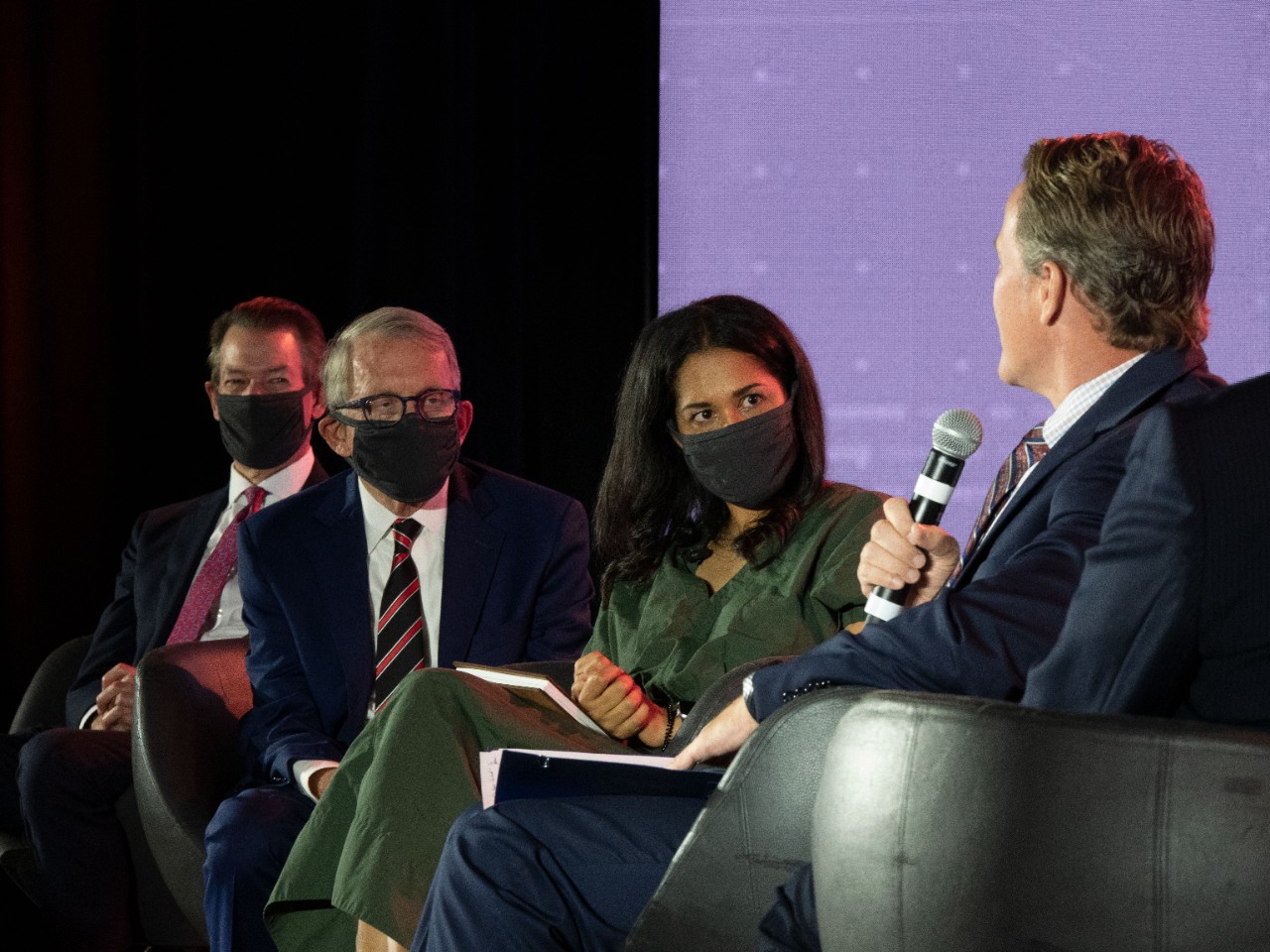 Cincinnati-based venture capital firm Lightship Capital, led by University of Cincinnati alumna Candice Matthews Brackeen, '04, will establish its headquarters in the CID and convert two properties into world-class collaborative spaces for students, artists, designers, entrepreneurs and minority-led startups.
"From our educational programming opportunities at Lightship Foundation to our funding opportunities at Lightship Capital, we're attempting to narrow the wealth gap by increasing the incomes of the entrepreneurs that we work with as well as their employees and also increasing the number of tangible investments, both working capital and venture capital, into those firms as well," Brackeen said.
The new properties will include The Beacon and Boulter House.
The Beacon, located at 121 E. McMillan St., will be a premier facility to attract minority business executives and startups to Cincinnati and the CID's innovation district. The site, made possible in partnership with UC, will be anchored by the new headquarters for Lightship Capital, a minority-led venture capital fund and a current partner embedded in CID's 1819 Innovation Hub.
The Beacon is expected to open by the end of 2022. Three companies have already relocated to Cincinnati as a result of Lightship's investment strategy.

Boulter House, a historic Frank Lloyd Wright-designed Clifton home, will serve as Lightship's "Innovators in Residence" house within the CID. Boulter House will provide space for underrepresented students, artists, architectural designers and entrepreneurs to inspire creativity, master their craft and build community through 90-day residential fellowships and programming.
"Many times, people with great ideas, people with great skill, of great potential, aren't able to move forward," DeWine said. "And the reason they're not able to move forward is because of lack of capital. That certainly happens with women, with minorities, with all different groups, but getting more people on the playing field who are creating jobs, who are making the state better is going to make all the difference."
Less than 1% of venture capital goes to black-led companies, Brackeen said, and in 2020 just 2.3% of venture capital went to women. The expanded CID will give every member of the local tech community a place to learn, grow and thrive, she said.
Brackeen's efforts exemplify UC's Next Lives Here values of innovation, impact and inclusion, UC President Neville Pinto said.
"I couldn't be prouder today about the partnership we're building here with Candice Matthews Brackeen," Pinto said. "What she's doing and the partnership and the impact this could have, it's going to truly bring to life those values."
The state's economic development agency, JobsOhio, will invest $1 million to help fund the development of The Beacon facility. UC has committed to an $11 million investment to help prepare the more than 21,000-square-foot building to be ready for companies that want to partner with UC and access talent and innovation connections in the CID.
"It's about growing, attracting and retaining the talent here in Cincinnati and here in Ohio," UC Chief Innovation Officer David J. Adams said. "We live in a time where individuals are seeking out interesting business opportunities, where there are problems to solve that matter — we call that innovation — and we know that organizations are drawn to locations that have those innovations."
The CID was created in March 2020 through a partnership among the state of Ohio, JobsOhio, UC and Cincinnati Children's Hospital Medical Center to accelerate the development of STEM talent, research and jobs inside the district. It has become the model for innovation in Ohio.
"All the research shows locating innovation with Tier 1 research and development institutions like UC is what brings growth and innovation," Cincinnati Mayor John Cranley said. "The colocation of our universities, our hospitals, the great research and development and now adding in this innovation district, in my opinion, is going to accelerate Cincinnati's growth."
Featured image at top: From left to right, University of Cincinnati Chief Innovation Officer David J. Adams, Gov. Mike DeWine, Lightship Foundation Executive Director Candice Matthews Brackeen, Lt. Gov. Jon Husted, UC President Neville Pinto, Cincinnati Mayor John Cranley, REDI Cincinnati President and CEO Kimm Lauterbach and JobsOhio President and CEO J.P. Nauseef gather for a photo as leaders of the Cincinnati Innovation District and JobsOhio announced the expansion of the CID on Monday. Photo by Gregory Glevicky, Cincinnati Innovation District.
Next Lives Here
The University of Cincinnati is classified as a Research 1 institution by the Carnegie Commission and is ranked in the National Science Foundation's Top-35 public research universities. UC's undergraduate, graduate and medical students and faculty investigate problems and innovate solutions with real-world impact. Next Lives Here.
2
UC partners with Thales on aerospace research
March 21, 2023
The University of Cincinnati signed a research agreement to work with one of the world's leading aerospace companies on national defense, space exploration and aeronautics.
3
Lookout Santa Cruz: Co-op helps UC alumna find her 'dream job'
March 20, 2023
UC alumna Elisabeth Kooi explains how cooperative education provided her with a jump start for her career as a senior industrial designer at Herbst Produkt, a Santa Cruz, California-based design agency that specializes in the design of consumer, technology, medical and life sciences products.
Debug
Query for this