Football player excels in engineering class and on the field
Bearcats Football standout Alec Pierce is set to graduate with an engineering degree in December
Alec Pierce is pretty nonchalant about all he's accomplished as a student at the University of Cincinnati. 
Completing a challenging five-year engineering degree in less than four years? Yup. Gaining national attention as a wide receiver on the Bearcats football team? Cool. Prepping for the NFL Scouting Combine after graduating this December? Nice.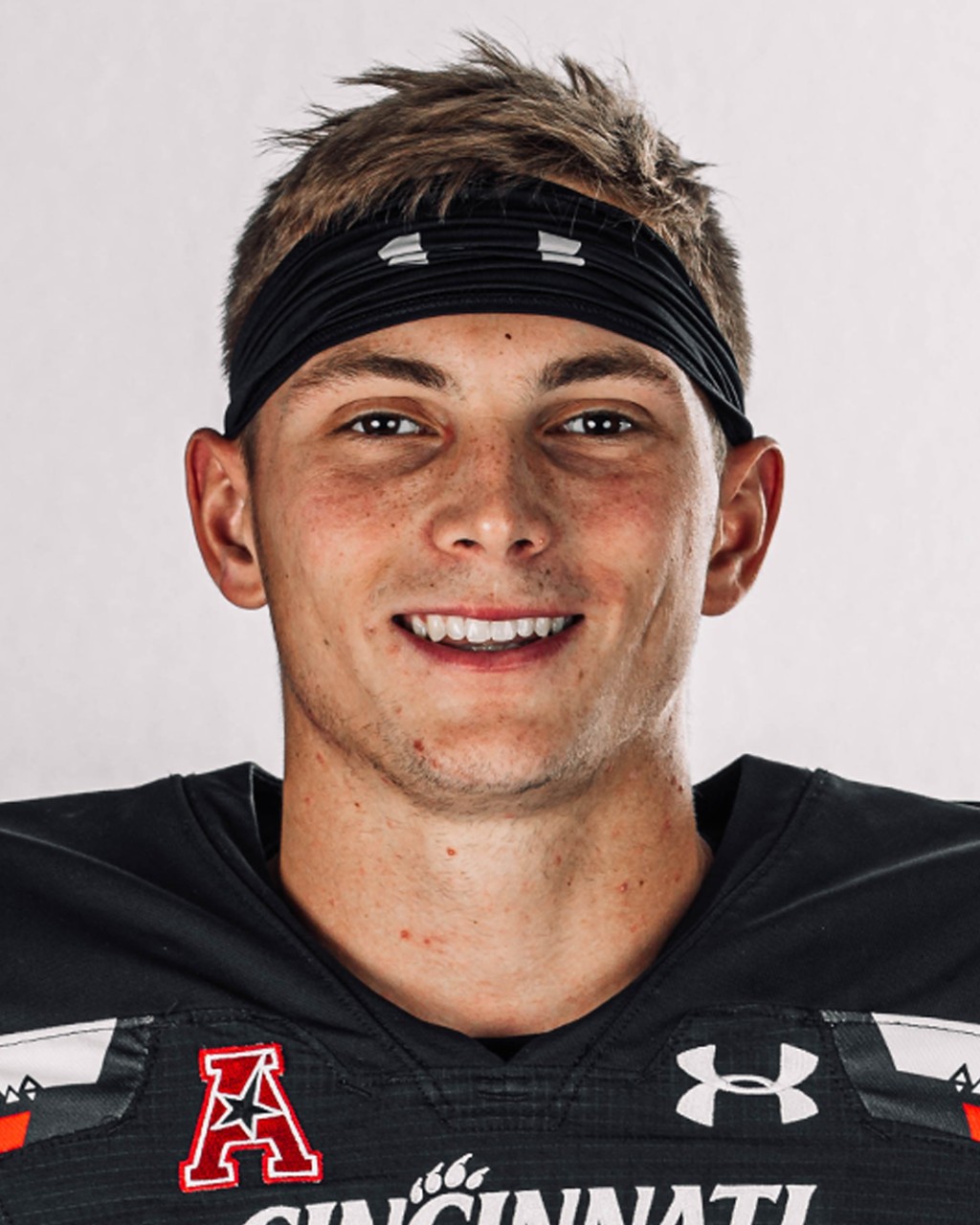 Pierce came to UC after graduating from Glenbard West High School in Glen Ellyn outside Chicago. He excelled on the football field in high school, but he also found success in other sports. His team won a state championship in volleyball and he set records in relays and the triple jump on the track team. His speed and agility — and vertical — have served him well as a wide receiver for the Bearcats. 
Pierce comes from a family of athletes. His dad played football and his mom played volleyball, both for Northwestern University. Older brother Justin played basketball for University of North Carolina and younger brother Caden is committed to play basketball at Princeton.    
Math and science always came easily to Pierce and in high school he discovered a passion for physics. He was set on studying mechanical engineering in college, so UC's highly regarded College of Engineering and Applied Science and top five-ranked co-op program  hit the mark. 
"UC offered me late in the recruiting process. I didn't know much about it until I came on an official visit," Pierce said. "It was a good atmosphere, the guys on the team are great and engineering is a great program, so UC had everything I was looking for." 
Although the college football season lasts just a few months, the team is always training. Tackling a demanding major while juggling the demands of football required Pierce to master time management — and get a little help from his friends. 
Pierce and Ryan Royer, fellow football teammate and mechanical engineering student, relied on each other to navigate through the curriculum and co-op experience. They were on the same track and took many of the same classes, often doing homework and studying together. Royer spent hours tutoring Pierce when he was having trouble with differential equations before an exam, which Pierce subsequently aced. 
Both students found co-op positions in the Micro and Nanotechnology Lab led by Murali Sundaram, UC professor of mechanical and materials engineering. And they worked together to find a company willing to work with their football schedule for the summer of 2021. 
"Ryan and I had a big push last spring to try and find co-ops in industry over the summer," Pierce said. "We wanted a chance to work at a business and we had to find someone willing to work with our football practice schedule. We worked at Valco Melton and it was a great experience to see the production and manufacturing side and see how jobs are in the real world."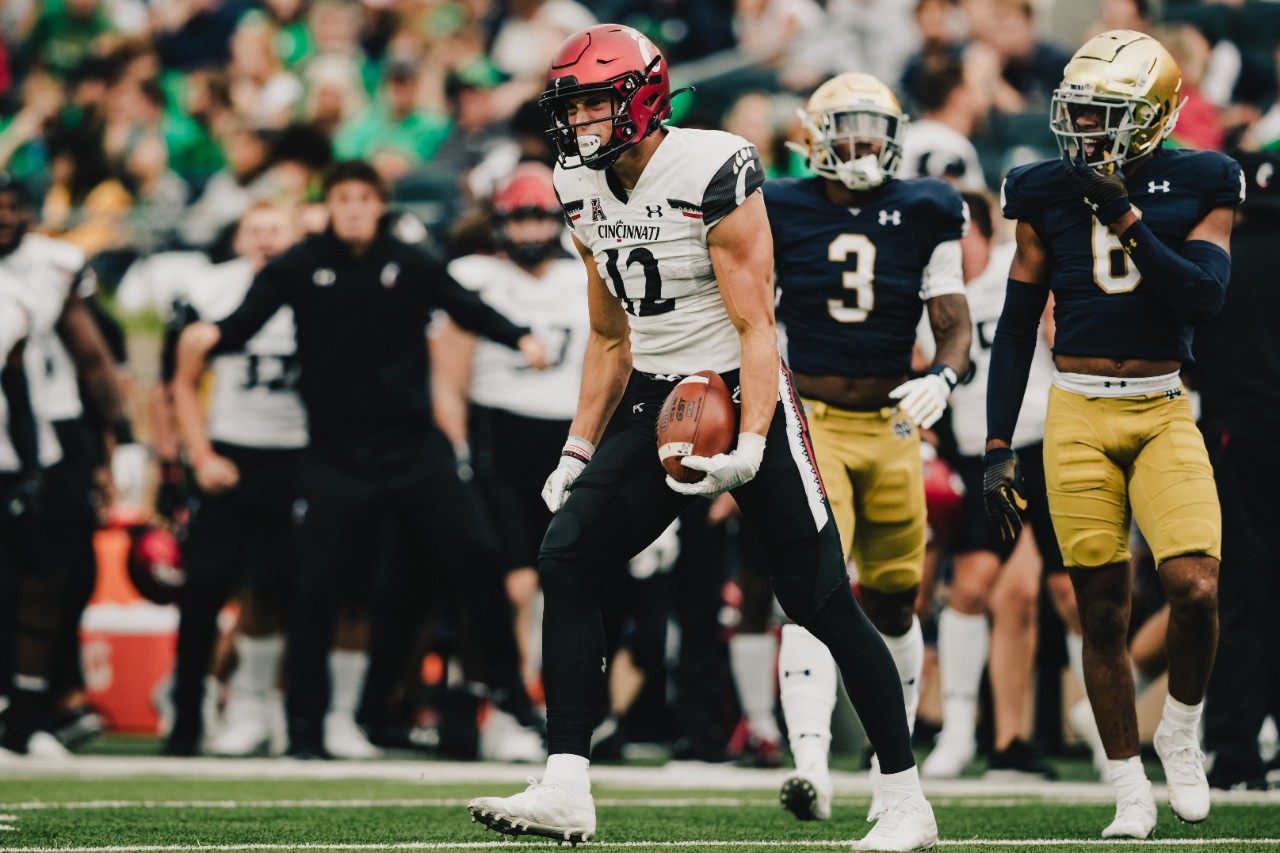 Pierce is set to graduate in December, completing the five-year engineering program in three and a half years. He came into UC having already accrued college credit while in high school, which gave him a head start. Shoulder surgery and pandemic shutdowns preempted a couple of his co-op semesters; he took classes instead. 
Being a student athlete sometimes means lifting weights at 6 a.m. and going to an 8 a.m. class before a 10 a.m. practice, but Pierce doesn't focus too much on the obvious challenges of blending football and engineering. Instead, he emphasizes the positive aspects of his college experience. 
"I've learned time management and being able to prioritize things in your life," Pierce said. "Sometimes you have to stay in and do school work and get the important things done. Sometimes you have to get up early when you don't want to, but I've learned that by getting up early you can get things done when you are fresh and focused."
In addition to his interest in working in the automotive industry some day, Pierce is intrigued by wearable technology, like the athlete tracking devices the football team wears to gather data like running speed and other performance insights. But before he enters the engineering workforce, Pierce hopes to continue playing football. 
"After graduation, if I stay healthy and have a good year, I will go train somewhere before the NFL Combine next spring," Pierce said. "Hopefully I can see how long I can play football and after that I'd like to get into something in engineering."
Featured image at top: Alec Pierce balances the rigors of football and engineering. Photo/UC Athletic Communications.
Interested in becoming an engineering Bearcat?
2
Touchdown for sustainability
October 2, 2023
In an ongoing pursuit to maintain an eco-friendlier campus and stadium, UC Sustainability is rallying as much fan support as possible to properly dispose of the mass of bottle and can recyclables too often left behind inside and around Nippert Stadium.
3
Lindner adds new embedded counselor to support students
October 2, 2023
The Carl H. Lindner College of Business welcomed LaSondra Wayne, PsyD, as the new embedded counselor serving Lindner students at the beginning of September. Wayne, who is a staff member with UC's Counseling and Psychological Services (CAPS), will provide onsite counseling services to students.
Debug
Query for this