GE to invest $5M on next generation of Cincinnati engineers
Next Engineers aims to increase diversity in engineering by reaching 3,500 local students
General Electric Co. on Wednesday announced a five-year, $5 million investment in Cincinnati to launch Next Engineers, a global college-readiness program focused on increasing the diversity of young people in engineering.
The University of Cincinnati will serve as GE's local partner to help introduce Cincinnati-area students to the world of engineering.
GE selected Cincinnati as one of four inaugural locations, aiming to inspire more than 3,500 local students ages 13 to 18, provide firsthand experiences of engineering and award financial support to pursue education in engineering. GE launched similar initiatives Wednesday in Greenville, South Carolina; Johannesburg, South Africa, and Stafford, England, as part of its goal to reach 85,000 students in 25 cities around the world over the next decade.
GE Foundation in April announced the $100 million program.
"It is an absolute thrill to welcome the Next Engineers program to the Greater Cincinnati community," said Joe Allen, chief diversity officer at GE Aviation. "With the help of our great, long-standing partners at the University of Cincinnati and our talented employees here at GE, I'm confident this program will be transformational for young people in our community."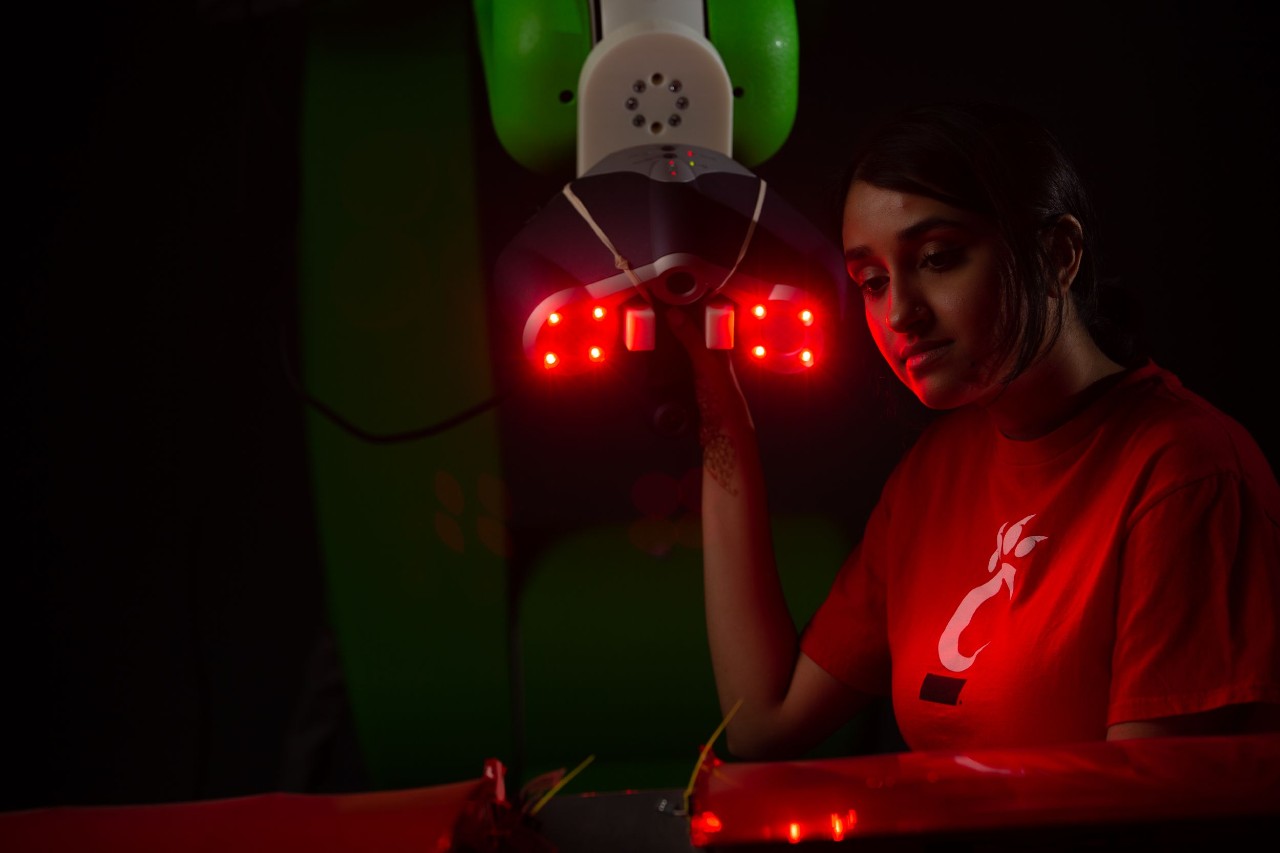 The United States will create 146,000 new engineering jobs in the next decade, according to projections by the Bureau of Labor Statistics. Today, just 20% of engineers are from underrepresented populations, Allen said.
"To build a world that works for all, we'll need diverse perspectives with a diverse vision and voices," Allen said.
GE provides co-ops and internships to more than 90 UC students each year across its divisions and employs more than 2,100 UC graduates.
UC President Neville Pinto, a chemical engineer who taught for 26 years in UC's College of Engineering and Applied Science, said UC's faculty, staff and students will be energized by the program.
"They are excited to welcome young and diverse students to our campus and assure that their time at UC leaves them engaged, amazed and inspired by the fascinating and fulfilling field of engineering. By aligning programs and services to ensure readiness, create access and foster success, we can achieve educational transformation and positively impact the future of our region and society."
Underrepresented groups have the talent but continuously lack the access to opportunity. The GE Next Engineers program will help us connect and provide the necessary access.
Whitney Gaskins, UC College of Engineering and Applied Science
Whitney Gaskins, assistant dean of inclusive excellence and community engagement for UC's College of Engineering and Applied Science, said both UC and GE recognize the challenges underrepresented students face in pursuing STEM careers.
"Underrepresented groups have the talent but continuously lack the access to opportunity," Gaskins said. "The GE Next Engineers program will help us connect and provide the necessary access. We are thrilled to have an opportunity to continue our outreach initiatives that will undoubtedly have a profound impact in the Cincinnati community."
Besides engineering, the program is expected to benefit Information Technology students who would like to apply to UC's College of Education, Criminal Justice and Human Services.
"The University of Cincinnati is committed to creating access and opportunities while at the same time maintaining high standards," Dean Lawrence Johnson said. "The GE Next Engineers program is an exemplar of this commitment."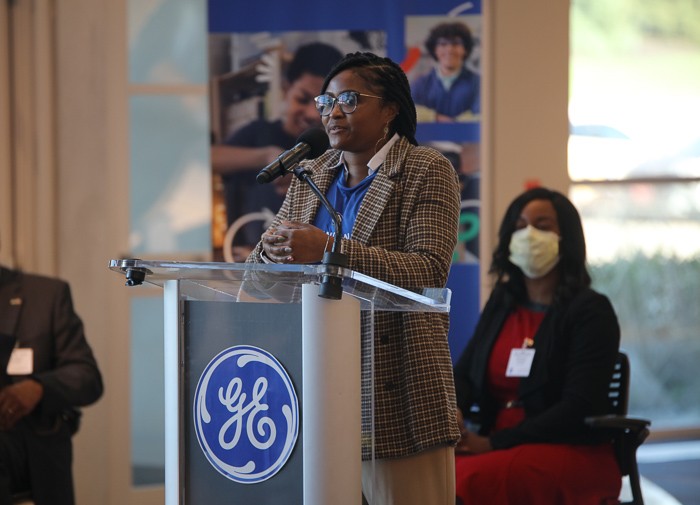 GE engineers from underrepresented communities said early exposure to the world of engineering will have a profound effect on young people.
Louisville native Alisha Davis-Kent is a first-generation college graduate who works as an industrial engineer at GE Aviation. Growing up, she had never talked to anyone in the industry, she said.
"I knew about doctors and lawyers and other professions. That's the difference Next Engineers can make — introducing students to STEM fields," she said.
Today, she works in development testing for GE's next generation of jet engines, she said.
"When I look up at the sky and see an airplane flying, I think, 'Wow, in some small way I'm attached to this industry' — something I never imagined would be part of my life story," she said.
"Next Engineers is going to be life-changing for a lot of students."
UC is promoting STEM careers through efforts such as its Biology Meets Engineering program. Video/Andrew Higley/UC Creative + Brand
Luana Iorio, a GE Aviation general manager, likewise discovered engineering by serendipity when she was inspired by a female engineering professor at a career fair. That was 30 years — and three engineering degrees — ago, Iorio said.
"I reflect with gratitude on how a young college professor in just a few brief moments was able to influence my life and livelihood with her passionate description of what it means to be an engineer, a problem solver," she said.
"As grateful as I am to be an engineer, it's disheartening that women and people of color are very underrepresented in this discipline I love," she said.
Women make up virtually the same percentage of engineering today as they did 20 years ago, she said.
"I know this program will make a huge difference in students today and take serendipity out of their choices," Iorio said.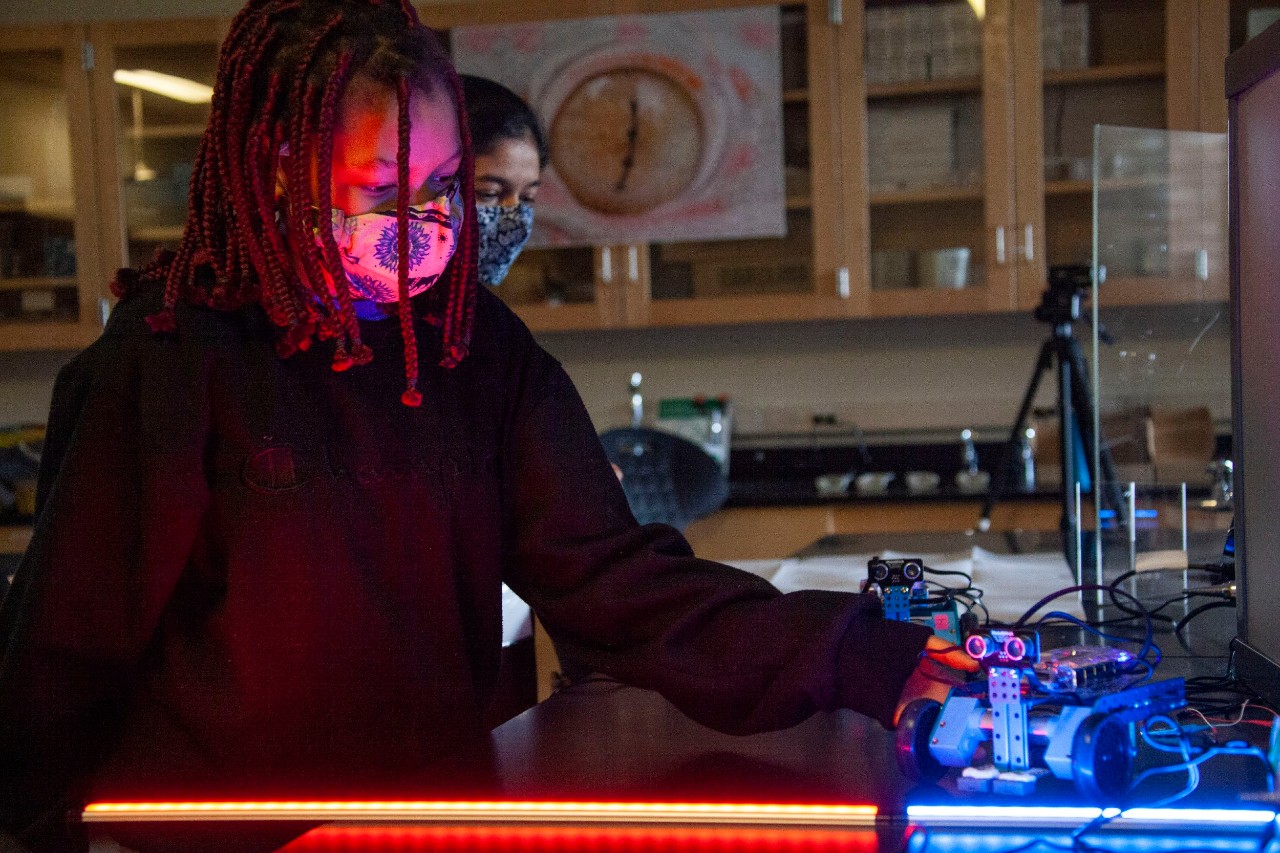 UC College of Engineering and Applied Science Dean John Weidner said the program comes at an opportune time when UC is working to expand educational opportunities to Cincinnati Public School students through efforts such as the new Marian Spencer Scholars Program.
"This partnership comes at a time when we can capitalize on our experience and ability to create change in the Cincinnati area," he said.
GE's Next Engineers offers three programs to engage students on their paths to engineering studies. Starting today, students can begin applying for the third program – Engineering Academy – at www.nextengineers.org:
Engineering Discovery for students ages 13-14 (eighth grade) and their guardians with the goal of increasing awareness through multiple, short, one-hour exploratory experiences and hand-on activities connecting students to real engineers. Sessions are delivered by volunteers in the classroom or in the community to inspire youth early and highlight the broad array of engineering careers.

Engineering Camp for students ages 14-15 (rising ninth grade) with the goal of developing engineering identities through a weeklong immersive camp experience over school break where students interact with experienced engineering faculty and staff, complete design challenges solving real-world problems and interact directly with professional engineers and business leaders

Engineering Academy for students ages 15-18 (grades nine to 12) with the goal of guiding and encouraging students to pursue engineering degrees. Engineering Academy is a three-year college readiness program for upper secondary students that helps them learn to think and act like engineers and prepare them to select and succeed at an engineering major at the university level. The program provides 80 hours per year of out-of-school programming. The program will include longer challenges and a capstone project, career coaching to expose students to different engineering pathways and college-readiness workshops. Students accepted to higher education engineering programs will also receive a scholarship from the GE Foundation.
"Engineers are critical to building a world that works, but diverse populations are woefully underrepresented in the field," said Linda Boff, vice president at GE and president of the GE Foundation. "GE employs thousands of engineers globally and we're committed to providing the resources that will inspire the next generation of engineers and innovators."
To learn more about Next Engineers and how interested students can apply for the program, visit www.nextengineers.org.
Featured image at top: High school students in UC's Biology Meets Engineering program learn about both fields while working on a robotics project in this image from 2019. Photo/Andrew Higley/UC Creative + Brand
Become a Bearcat
The University of Cincinnati is leading public urban universities into a new era of innovation and impact. Our faculty, staff and students are saving lives, changing outcomes and bending the future in our city's direction. Next Lives Here.
1
Ongoing quest for justice a life-changer for all parties
December 7, 2023
The Ohio Innocence Project and its student fellows, past and present, recently marked 20 years working to exonerate the wrongfully convicted. OIP co-founder and director Mark Godsey, as well as past OIP fellows and Cincinnati Law alumni, Eric Eckes, Law '08, and Simar Khera, Law '15, spoke about their shared experience and its life-changing impact.
3
Lindner student named to Schwarzman Scholars class of 2024-25
December 7, 2023
Carl H. Lindner College of Business student Lance Entsuah, BA '24, recently earned admission to the prestigious Schwarzman Scholars program that offers a one-year, fully funded master's degree program in global affairs from Tsinghua University's Schwarzman College in Beijing, China.
Debug
Query for this