First-gen student found opportunities in her own backyard at UC
'There is a lot of positive energy. It's just amazing at UC.'
Karrington Rainey is so grateful for her surroundings.
The third-year sociology student lives in Stratford Heights' 1MPACT House, a residential community created for first-generation college students in the Gen-1 program at the University of Cincinnati. She breaks bread with other students who are also the first in their families to go to college.

"It is an honor that I made it this far with the help of teachers, advisers and others I met along the way," says Rainey.
The 20 year old from Cincinnati wants to study law. She initially thought about medical school, but the activist in Rainey is making the legal profession seem pretty attractive.
"I am very involved in my community and I think I could be a spokesperson on some big issues that come to the forefront."
Rainey is a resident adviser (RA) at Stratford Heights and now a mentor in the Gen-1 program. "I really enjoyed my mentorship during the first year so I decided to 'pay it forward' and help a freshman get acquainted with the university."
Rainey, a graduate of Clark Montessori High School in Cincinnati, is also part of Bearcat Buddies, a volunteer tutoring program in Cincinnati Public Schools (CPS). She enjoyed her experience with third graders at an elementary school, but it got interrupted due to the COVID-19 pandemic.
"I am definitely going to do that again," says Rainey.
Rainey says mentors have long been important to her. Her family moved around a lot, living in Cincinnati's Millvale, Mount Airy and Avondale neighborhoods before residing in St. Bernard.
First-gen facts
7,992 Bearcats are first-generation college students
First-gen students represent 91 countries and 39 states
96%

of first-gen students are employed or continuing their education upon graduation



"My mother raised me and my sister and helped raise my older cousin," says Rainey. "My sister and I were nine years apart. She was diagnosed with schizophrenia when she was 15 years old. We really had to look out for each other."

The experience had an impact on Rainey who wrote a speech for a Rotary Club program while in high school about her sister's experience. A supportive high school teacher encouraged Rainey to give the speech, which netted her top honors in her high school and during a countywide competition. It also gave Rainey new found confidence.
"My sister was diagnosed with schizophrenia, but my mom also had heart failure growing up," says Rainey. "With that she was very depressed and she had really bad anxiety. I feel like now that I am older I can recognize the signs. I think it makes me a pretty good RA. I can tell when you are disconnected, sleeping too much or depressed."
Rainey saw her sister committed to a psychiatric unit. "I don't know what it looks like now, but when I was younger it looked like a jail to me. She came out with the blue uniform and bandana and it was very traumatic. But I think it taught me patience."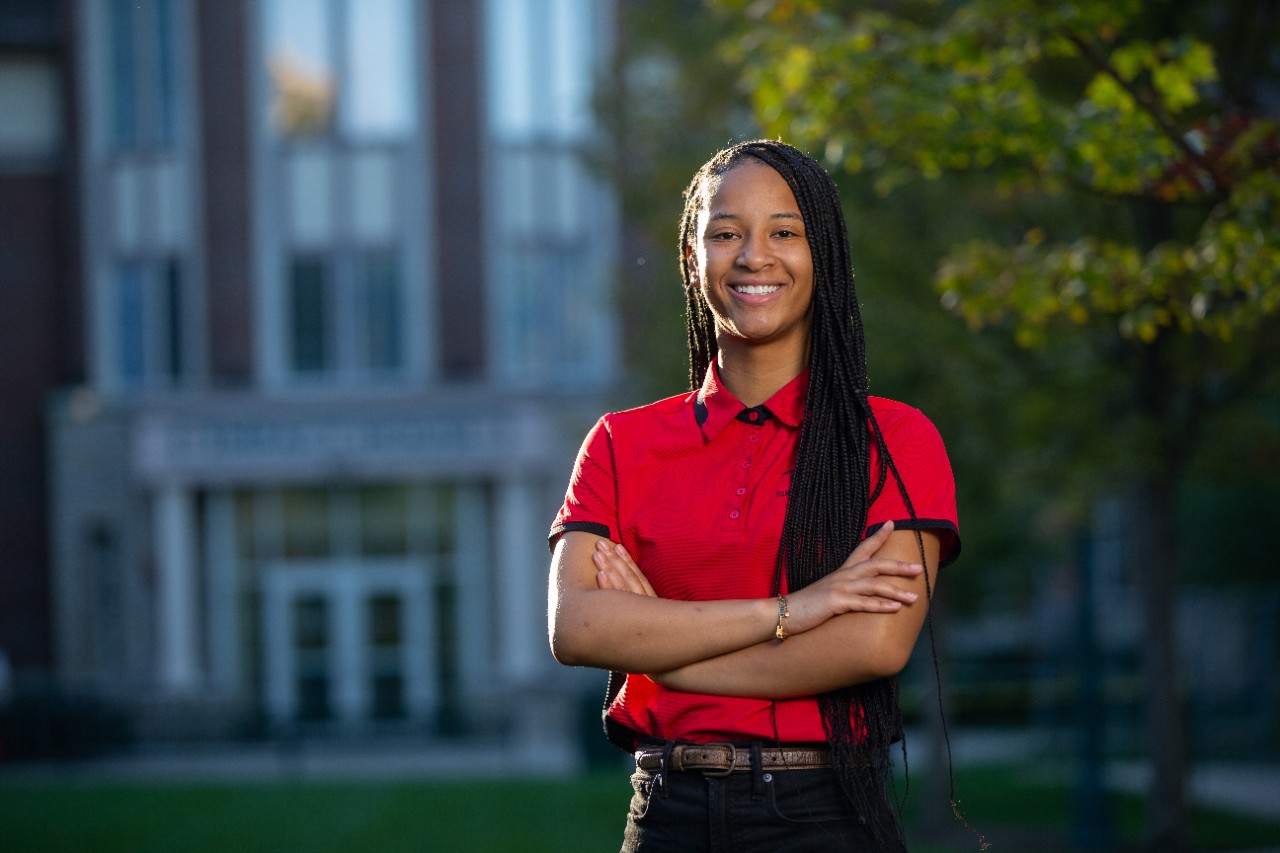 "When I was younger I didn't understand it," says Rainey. "I used to ask how can you be so happy one minute and the next second you are pissed over nothing. After I did my research I realized I was being inconsiderate because I didn't understand what she was dealing with."
Rainey saw her sister gain 100 pounds in one year after going on medication. "She had been super athletic, and people unfortunately point out when you gain a whole bunch of weight. They are not nice at all. She doesn't take her medication to this day, but I learned patience and how to listen. I learned how to talk people down off the ledge because I have been doing that since I was a kid."
Rainey says UC became a possibility when she was chosen to participate in the CPS Ambassador program as a senior. The program employs high-achieving seniors from each of CPS' high schools to serve as peer resources in the college selection and research process. It also opened Rainey's eyes to what could be part of her future.

"I didn't know there were so many scholarships and grants available," says Rainey.
You grow up in an environment and you can feel like everyone is against you. But if you can change your environment, it can really change your life.
Karrington Rainey
"I did want to leave the city initially, however I was in the CPS Ambassador program and it made me comfortable with the campus. I got a chance to get close to admissions staff and they were so helpful," says Rainey. "I got accepted into the Gen-1 program and it was my sign to stay. I love it here. I love the program. There are so many cool opportunities here. I realized we have some of the best programs. I didn't know about co-op and people come from across the country to attend UC. I lived here and didn't know that."

Rainey says one of her biggest lessons at UC is knowing the power of one's surroundings. She once felt torn between her studies at UC and trying to help out at home. An adviser reminded her the best way to be in a position to help her family is to be successful in her studies.
"You grow up in an environment and you can feel like everyone is against you," says Rainey. "But if you can change your environment, it can really change your life. That was a big lesson. 
"That nice dorm makes it easy to focus and forget about the distractions at home," says Rainey. "Between the tutoring center and advisers and I am in the Honors program — I have like three advisers. They are constantly connecting me with other people and new opportunities. I found the professors to be so helpful. I've not had any bad experiences here. There's a lot of positive energy. It's just amazing at UC."
Featured image at top of Karrington Rainey: Photo/Andrew Higley/UC Creative + Brand
You belong here
Whether you're a first-generation student or from a family of Bearcats, UC is proud to support you at every step along your journey. We want to make sure you succeed — and feel right at home.