Making an impact through medicine
UC med student gains experience through mentorship, secures grants to advance brain tumor research
From an early age, he had an interest in medicine. To him it seemed like medicine made an impact in nearly every field or topic of study. Now he is discovering that is true.
Rohan Rao, a second-year medical student at the University of Cincinnati, worked in the research lab of a nearby orthopedic surgeon while in high school in Southern California, then went to Georgetown University for his undergraduate degree. He majored in neuroscience, but said he found a connection to medicine even in his minors of theology and mathematics.
"In regard to theology, there's obviously a lot of end-of-life considerations when you go into medicine, so having that philosophical perspective helps you there," Rao said. "In the research field, an understanding of basic mathematical principles can take you a long way. Being in medicine allows you to explore those tangential fields while still being true to improving the patient experience."

Now, Rao is involved in a number of UC College of Medicine endeavors and has received grant funding for an ongoing collaborative brain tumor research project in the lab of Soma Sengupta and Daniel Pomeranz Krummel.

When applying to medical schools, Rao included UC because his dad had recently started a consulting role in the city. He said he previously didn't know much about Cincinnati, but he immediately fell in love with the "big-city amenities and small-city charm" on his first visit.
Rao was again impressed when he came to UC's campus for the first time for his interview day.

"I hadn't come to the UC campus before that and was blown away by the Medical Sciences Building, the program that they put forth on interview day and how welcoming all the med students were," he said. "From that point on, I thought this is a great place to be."

I get a ton of individual mentoring time, which has been great for my early career. They showed me the level of detail and rigor that it takes to be a successful researcher
Rohan Rao
Sengupta, MD, associate professor in neurology and the Harold C. Schott Endowed Chair of Molecular Therapeutics (Neurosurgery), recalled first connecting with Rao in December 2020.
"I gave a grand rounds for neurology on focused ultrasound," she said. "Rohan Rao immediately got in touch and articulated so much enthusiasm that both myself and Dr. Pomeranz Krummel interviewed him for a position in our laboratory."

Rao said being mentored by Sengupta and Pomeranz Krummel (as well as senior research scientists in the lab, instructor Debanjan Bhattacharya and laboratory manager Donatien Kamdem Toukam) has been essential to his own growth as a researcher and clinician.

"I get a ton of individual mentoring time, which has been great for my early career," he said. "They showed me the level of detail and rigor that it takes to be a successful researcher in terms of how to write a grant and how to make sure that all the details are accounted for. As with many things in medicine, the details matter."

With the assistance from his mentors, Rao received grant funding from the American Brain Tumor Association (ABTA) with support from the Uncle Kory Foundation, the American Academy of Neurology and internally from UC and from Cincinnati Children's Hospital Medical Center for his summer research project on treatment for glioblastomas, highly malignant and deadly brain tumors. 
"I applied to these grants and it took a lot of preparation, but obviously I wasn't expecting to get all three," Rao said. "So that was a really pleasant surprise."
Sengupta said to her knowledge Rao is the first UC medical student to receive grant funding from the ABTA.
"It is not common," Sengupta said. "It is a good indicator that the medical student is cut out for the trajectory of a clinician scientist."
Rao said patients with glioblastomas currently have an average survival time of 14 months, demonstrating a clear need for advanced therapeutics and treatments. The delivery of treatment is made more challenging by the blood-brain barrier, which typically protects the brain from bacteria or other pathogens but can also block drugs from reaching the tumors. 
Pomeranz Krummel, PhD, associate professor in the Department of Neurology and Rehabilitation Medicine, said the goal of the project is to open the blood-brain barrier and deliver stable and effective cancer-killing therapeutics to tumors.

This particular research involves a three-step process, beginning with looking for RNA molecules that have the potential to selectively kill the brain tumor cells. Pomeranz Krummel noted these RNA-based therapeutics are similar to the RNA basis of some COVID-19 vaccines. 

"We're doing that in the lab with human-derived brain cells, and we're testing a variety of compounds to see which ones have that potential to kill these glioblastoma cells," Rao said.
This aspect of research was in collaboration with Bruce Aronow, PhD, the John J. Hutton MD Professor of Biomedical Informatics, co-director of the Computational Medicine Center and professor in the Department of Pediatrics in the UC College of Medicine.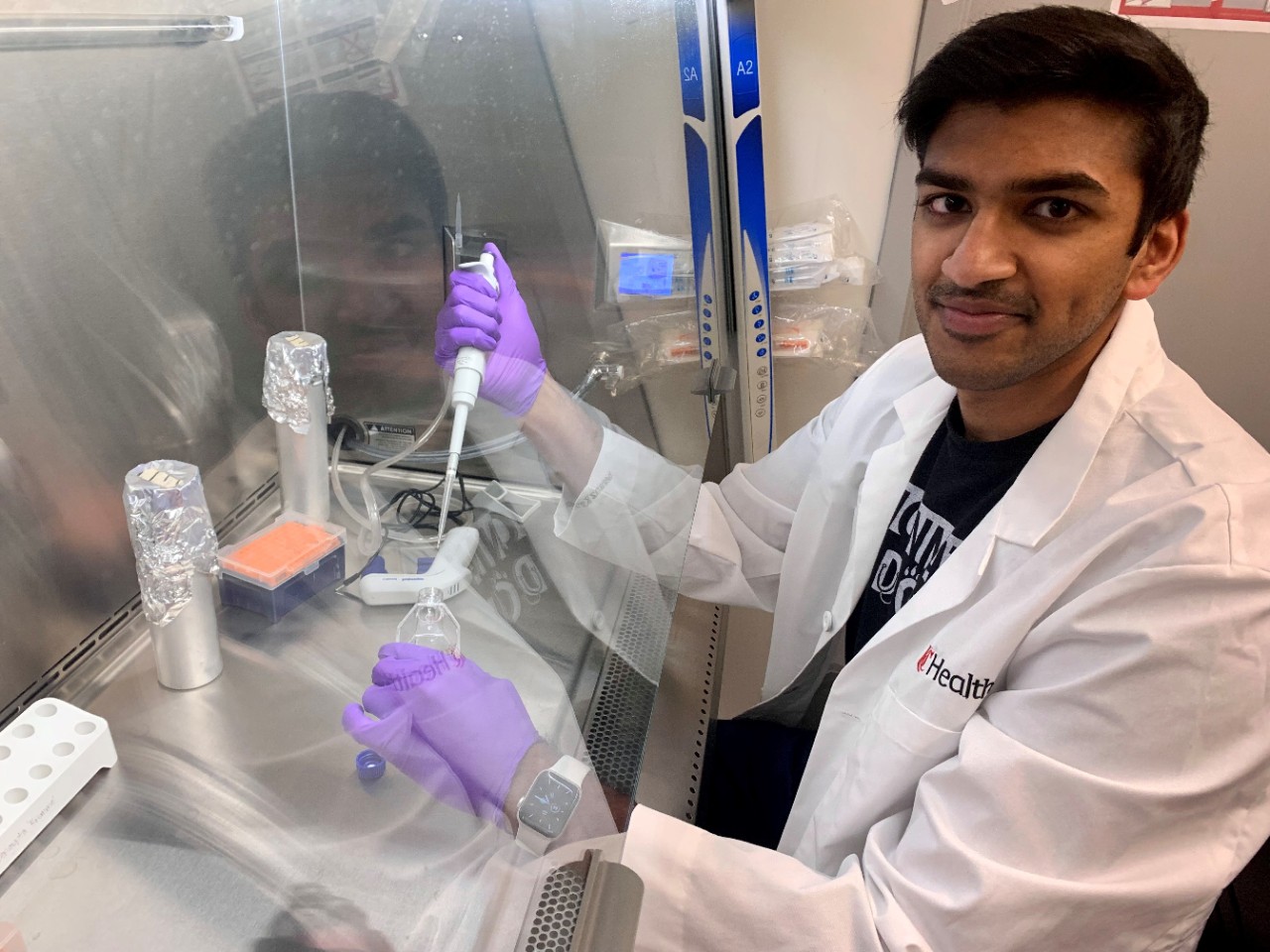 RNA molecules that have the potential to kill cancer cells are unstable, so the second step of the study is looking into how to package these molecules into a nanoparticle to deliver them to the brain intact, Rao explained. 

Andrew Steckl, PhD, distinguished university research professor, Gieringer professor and Ohio Eminent Scholar in the Department of Biomedical Engineering, is collaborating with his team in the UC College of Engineering and Applied Science on this step of the process. Encapsulating the molecules into nanocarriers should keep them stable and effective.
Rao said his summer research focused on the first two steps. The third step involves using noninvasive ultrasound technology to open the blood-brain barrier and deliver the packaged nanoparticles to the area of the brain where the tumor is. Kevin Haworth, PhD, associate professor of internal medicine in the College of Medicine, has taken the lead on this portion of the research.

"That multiteam perspective I think is what made the project interesting for people," Rao said. "It's at the heart of why an academic medical center like the University of Cincinnati is so great. You can have various teams of people working together towards this common goal, with the ultimate hopes of improving patient outcomes."

I see a bright future for Rohan as a medical scientist.
Dr. Andrew Steckl
Steckl said he has been impressed by the way Rao has learned and mastered research concepts quickly, designed a research path and acted on his plan, even continuing his research with the fall semester in full swing.
"I have had some interactions with 'summer' research projects undertaken by medical students," Steckl said. "Once they started back on their medical curriculum, they were usually unable to continue the research because of the heavy demands on their time. In Rohan's case, his discipline and determination is allowing him to continue the research while doing his medical studies. I see a bright future for Rohan as a medical scientist."
Rao said he was thankful for the opportunity to learn from and work with expert researchers, recalling a time he sat in on a conversation between Steckl and Pomeranz Krummel.  
"I was just a fly on the wall, listening to two high-level researchers bouncing ideas off each other," he said. "And that collaborative nature of science and research is what excites me and makes me want to be a part of it. At this stage in my career, being able to witness that and learn from that is invaluable."
Outside of his brain tumor research, Rao also accompanies Sengupta in clinical settings, observing how research translates to actually improving the lives of patients.
"She's been pushing the boundaries of how we can improve the patients' experiences in this unfortunate circumstance," he said. "That was critical for me to tie the pieces together, and I think that's the unique perspective Dr. Sengupta gave me."
Rao said he has assisted Sengupta in writing up clinical case reports on unique treatments and approaches, which will hopefully aid other clinicians treating similar patients. This includes case reports on a rare type of brain tumor and on the use of a plant extract to improve blood platelet levels and a book that is due to come out next summer that is aimed to educate patients and medical students on brain tumors and patient experiences.
"It has been an absolute pleasure to get to know him and nurture his progress," Sengupta said. "Rohan continues to participate in research and lab meetings, and I think that he will go very far."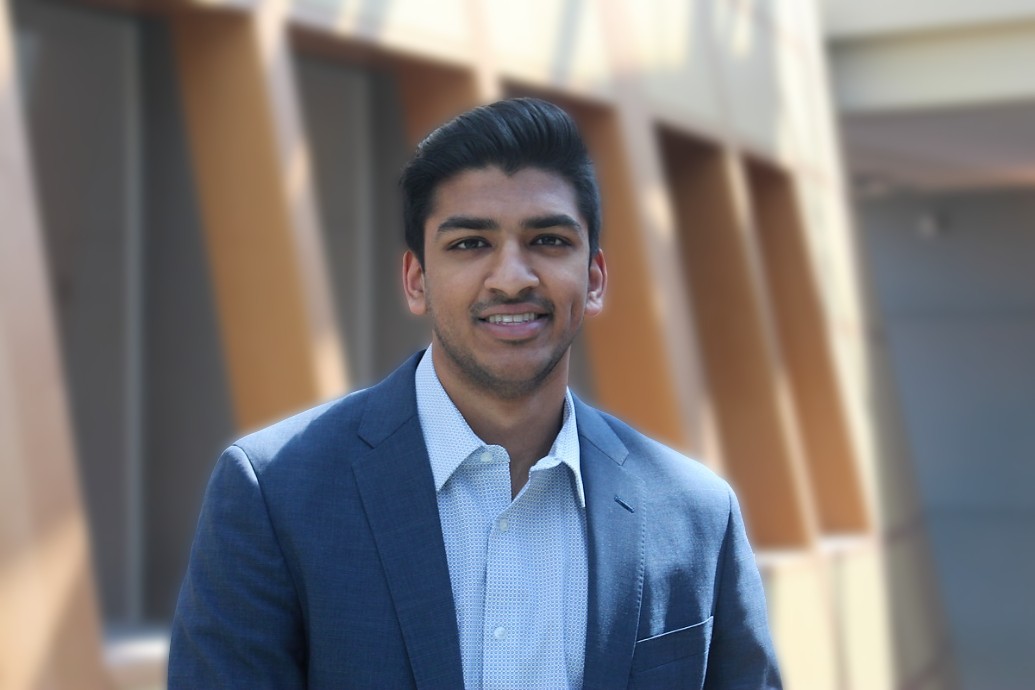 Rao also serves as the finance chair for the UC Student Run Free Clinic (UCSRFC) and is involved in other initiatives including the College of Medicine's Immigrant and Refugee Health at the Initiative on Poverty, Justice and Health and UC's chapter of the American Medical Association. He said seeing his mentors working in so many areas and seeing classmates who are passionate about a variety of issues encourages him to be involved in a range of different activities.

"We may not have the same overlap in passions, but just seeing that in somebody else makes me want to follow my own interests and passions myself," he said. "The UCSRFC is a great way to get clinical experience, and you're serving an underserved population in Cincinnati. It's an awesome experience."
Rao is continuing his glioblastoma research, but like most second-year med students, he is also beginning to narrow down the specialty he wants to pursue. While he thinks he will end up somewhere in the neuro-oncology field, he said there are still a number of possibilities.
"It's still going to take me some time to figure out how I want to be a part of this, but I know that working with patients who have brain tumors is a particularly inspiring patient population that I want to be a part of," he said. 
It has been an absolute pleasure to get to know him and nurture his progress. Rohan continues to participate in research and lab meetings, and I think that he will go very far.
Dr. Soma Sengupta
Wherever he ends up specializing, Rao said his goal is to end up as a clinician scientist at an academic medical center.
"An academic medical center like UC is amazing because you have different teams of people working on the same problem from different angles, all for the benefit of patients," Rao said. "And that at the end of the day is why medicine is great, because everyone is working toward that common goal."

Featured photo at top of Rohan Rao using microscope courtesy of Rohan Rao.
1
Spectrum News: Rover developed at UC helps clean waterways
September 25, 2023
A University of Cincinnati Venture Lab-backed startup has developed a robot that can clean garbage, an oil spill or fish kill from waterways in a way that's safer and more effective than doing it manually, Spectrum News 1 reported.
2
How one UC med student plans to make a difference
September 25, 2023
In her heart, Keirsten White '26, knew she wanted to become a doctor. She was attracted to UC in part because of its family medicine psychiatry program, which she said will help enable her to provide whole-person healthcare to individuals who are homeless and underserved.
3
Patents 101: What inventors need to know
September 25, 2023
In the world of academia, innovation is often celebrated for its potential to reshape industries and improve lives. At the University of Cincinnati, this spirit of invention is acknowledged and actively nurtured through the Office of Technology Transfer. Jill Uhl, JD, senior licensing associate, works behind the scenes on groundbreaking inventions emerging from UC faculty and staff.
Debug
Query for this