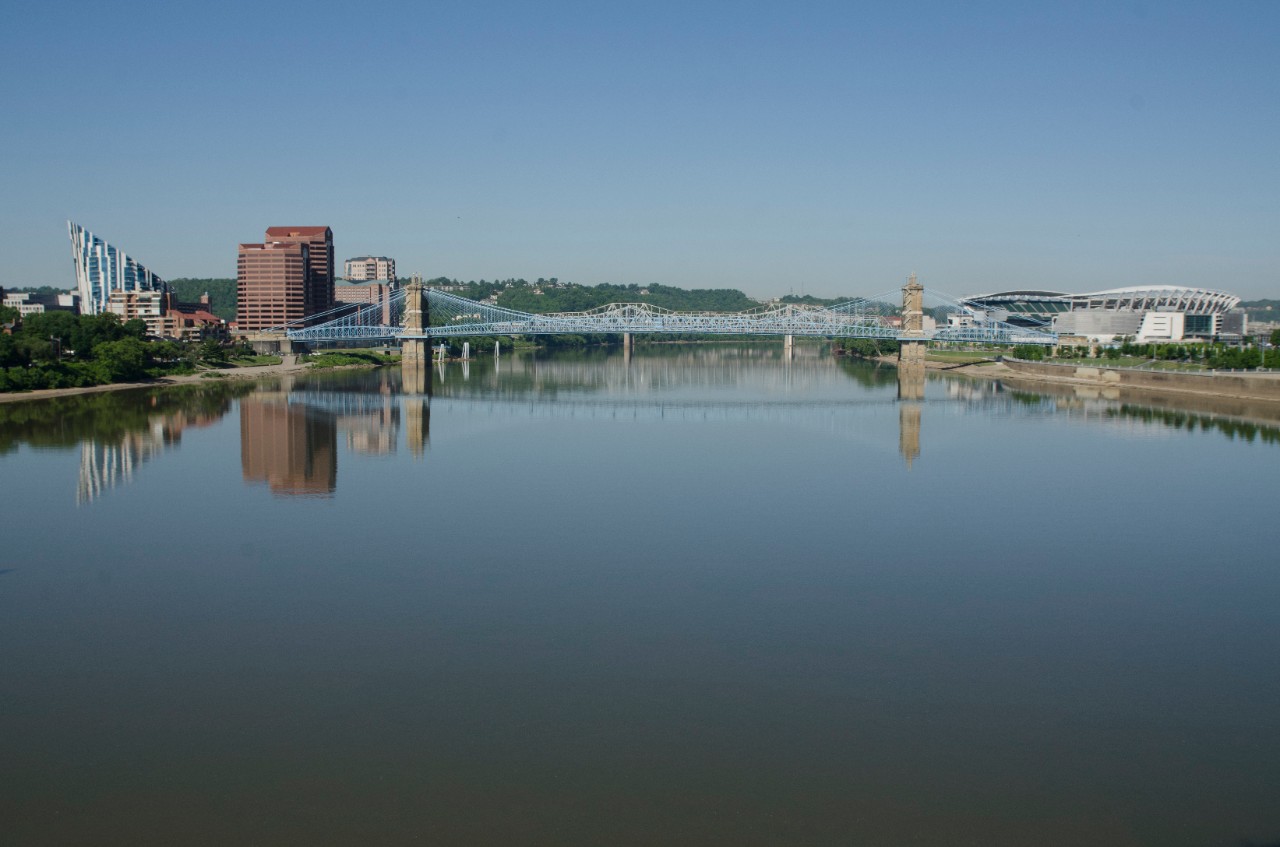 Ohio River faces growing threats
Digital Futures Flashpoint Series discusses 'State of the Ohio River'
More research is needed to maximize the Ohio River's potential for industry, agriculture, energy, recreation and drinking water, experts said Oct. 28 during the Digital Futures Flashpoint Series "State of the Ohio River" panel discussion, hosted by the University of Cincinnati.

The Ohio River faces growing threats including climate change, industrial pollution and toxic algae blooms. How to address those risks to maximize the river's potential was the focus of the first Flashpoint Series conversation of the 2021-22 academic year, part of Digital Futures' mission to "solve problems that matter."
"What we need to do for future design standards is understand are these kinds of things becoming more likely," University of Cincinnati assistant professor and water expert Patrick Ray said. "Are our historical risks, which were acceptable when somebody calculated the historical risks originally, are those risks still OK or are they changing, are they getting bigger?"
Jai Chabria, former senior adviser to Ohio Gov. John Kasich and current managing director at Mercury, a global strategy firm, moderated the panel discussion with Ray. Other participants included state Rep. Jason Stephens, representative for Ohio's 93rd District, which includes counties along the Ohio River, and former chairman of the Ohio House Energy and Natural Resources Committee; Melinda Kruyer, executive director for Confluence Water Technology Innovation Cluster, a collection of interconnected organizations that work together to promote economic growth and technological innovation based in Cincinnati; Brett Walton, a reporter for Circle of Blue, a nonprofit news agency that reports on fresh water and its connection to food, energy, politics and business; and Kyle McCune, a hydraulic engineer for the Army Corps of Engineers.
The panelists highlighted the river's importance to the region historically, presently and for the future.
"The river is what underpins our past, present and future," Kruyer said. "Cincinnati was established here because of the river."
There are 25 million Americans who live in the Ohio River basin, and 5 million people get their drinking water from the river. The Ohio River also is a source of recreation and jobs, with 230 million tons of cargo shipped along the waterway each year.
"There is something special about the Ohio River," Rep. Stephens said. "It's such an economic driver. It's such a part of our lives."
Waterways throughout the world have faced challenges including droughts, floods and pollution, but the Ohio River often is overlooked, UC's Ray said. As a water systems modeler, he's working to gather data from the National Weather Service, Environmental Protection Agency, Army Corps of Engineers and other sources to better understand the river's risks, opportunities, benefits and costs.
There also is concern that the historical data might not be as relevant as it previously was with a changing climate, as the Ohio River basin has experienced some of the worst flooding it has ever seen in the past decade, McCune said.
"We don't have a great picture of the environment we're going to be working in five years down the road, not enough to really change the way we operate," he said.
With Ray's models, he hopes to better understand the challenges facing the Ohio River basin. A better understanding would allow stakeholders along the river to prepare for future problems in the most economical manner.
"What all rivers have in common is they connect communities, and they have multiple uses," reporter Walton said. "Those uses are varied, and sometimes they are in conflict. Part of the challenge in managing rivers is to negotiate between those different uses and balance environmental protection, navigation, recreation and economic development."
In responding to the challenges facing the Ohio River and other waterways, Kruyer sees great opportunities for innovators.
"I think with these challenges that are coming so quickly, more extreme rain events and so forth, we are going to solve these with new technologies," she said. "And there's a huge economic development opportunity with this.
"The river, the water, is our liquid gold."
We don't have a great picture of the environment we're going to be working in five years down the road, not enough to really change the way we operate.
Kyle McCune Hydraulic engineer for the Army Corps of Engineers
Ray moved to Cincinnati five years ago and grew to love the Ohio River for its beauty, its economic importance and the history of innovation around it. With more active research, he thinks solutions can be found that ensure its prosperity for years to come.
"We just don't have the level of confidence yet that we would actually rewrite all the operational manuals, all the design standards to account for a climate that we still can't pinpoint," he said.
The Digital Futures Flashpoint Series will continue throughout the 2021-22 academic year with discussions about sustainability in "fast fashion," cryptocurrency and more.
Another development on the horizon: Six stories tall and 180,000-square-feet, UC's new Digital Futures building will be the first facility for interdisciplinary research in UC's 200-plus year history.
"When our doors open Aug. 11, 2022, Digital Futures will house some of UC's top talent working at the intersection of imagination and innovation," said Jennifer Krivickas, UC's associate vice president for research. "Not bound to any one college or discipline, the Digital Futures research program is intentionally inclusive, intellectually diverse and will allow UC researchers to partner and more directly act on its impetus to both serve the public good locally and have an impact globally."
Featured image of the Ohio River with the John A. Roebling Suspension Bridge. Photo/Joseph Fuqua/UC.
Next Lives Here
The University of Cincinnati is classified as a Research 1 institution by the Carnegie Commission and is ranked in the National Science Foundation's Top-35 public research universities. UC's undergraduate, graduate and medical students and faculty investigate problems and innovate solutions with real-world impact. Next Lives Here.
1
Touchdown for sustainability
October 2, 2023
In an ongoing pursuit to maintain an eco-friendlier campus and stadium, UC Sustainability is rallying as much fan support as possible to properly dispose of the mass of bottle and can recyclables too often left behind inside and around Nippert Stadium.
2
Ledger donates digital asset security to the University of...
October 2, 2023
A recent gift from Ledger, a global platform for digital assets, will benefit students and research at the University of Cincinnati. Ledger has donated the use of its Enterprise Platform, a cutting-edge digital asset security solution that will enhance the university's technological capabilities in the cryptoeconomics area. This generous donation supports student learning at the Kautz-Uible Cryptoeconomics Lab at the Digital Futures building.
3
UC Makerspace to host Maker Evenings, open house
October 2, 2023
Calling all makers and doers! The University of Cincinnati Ground Floor Makerspace, located in the 1819 Innovation Hub, is hosting a series of events to foster creativity and innovation for the UC community and beyond. On Oct. 9, Makerspace staff will host an Open House and Club Night from 4 to 7 p.m. Then, from Oct. 10-14 from 5 to 7 p.m., they'll offer Maker Evenings, with multiple make-and-take workshops each night.
Debug
Query for this