UC Family Weekend returns as parents and siblings of Bearcats drop in
Record number of parents expected to visit campus for the game, activities and school spirit
Cari'a Thacker loves the hot chocolate and apple cider at The 86, a coffee and concert hub just across the street from the University of Cincinnati. She can see the popular venue from her window in her on-campus residence Turner Hall.
It's become among her favorite spots during her first year at UC. Thacker can introduce her parents, Tawanda and Thomas Thacker, to the student hangout this weekend when they come to campus as part of UC Family Weekend, which runs Friday through Sunday, Oct. 8-10.  
So far more than 3,100 participants — nearly twice what was expected — have signed up for the weekend, which is full of events designed to introduce families to university life, explains Whitney White, director of parent and family programs at UC. Campus tours, the Temple University versus UC football game, pep rallies and a slate of activities planned Saturday morning are part of the weekend agenda.
WLWT-Channel 5 is already covering what's shaping up to be a great weekend.
On campus in Schneider Quad, family members of all ages can enjoy games, get a caricature or henna tattoo done, be creative with stations for tie-dye, rock painting and sidewalk chalk drawing and even win prizes. UC Family Weekend resumes with much enthusiasm after the tradition went on hiatus last year due to COVID-19. It's back but with some COVID-19 restrictions in place.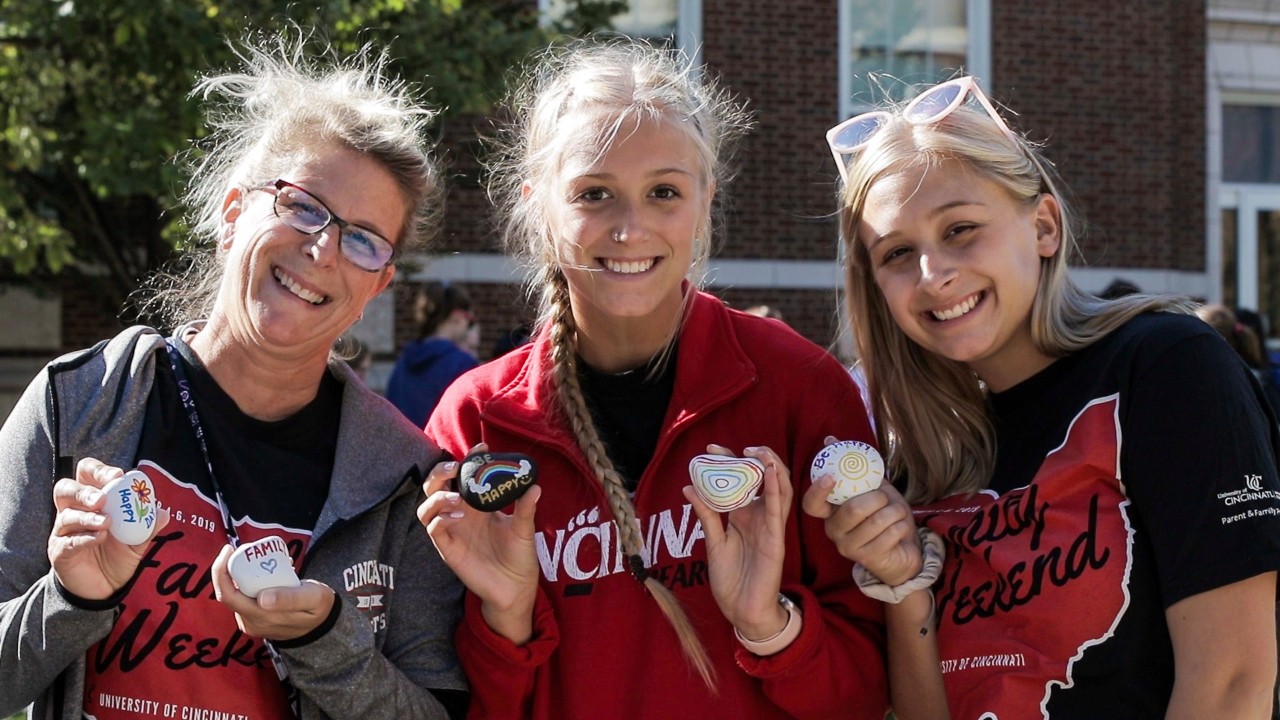 The weather is expected to be pleasant and make the day perfect for families, with temperatures to reach 80 along with a mix of sun and clouds.

"People are excited to get back to this event," says White. "Typically, it is families of first-year students who come on the weekend, but we have a group of second-year students who couldn't enjoy this when they started UC and now they can."
Thacker, who is studying mechanical engineering, is part of a living and learning community of engineering students residing at Turner Hall. She is the first in her family to attend college and wants to introduce her parents to her life as a Bearcat.
"The professors here are very welcoming and they want to make sure that I succeed in my classes," she explains. "What brought me to UC was the co-op program. It offers so many great opportunities for engineers to make good connections. Every single time I spoke to an engineering college student, I would hear, 'Have you heard about UC? It has a really great co-op program.'"
Thacker is from Mount Healthy, Ohio, and is a graduate of Cincinnati Christian Schools. She earned an honors STEM diploma and has long had a fascination with engineering.
"I love to build stuff and see how things work," she explains. "When I was younger, I would take appliances apart to see how they work and how to make things more efficient. I wondered what do people who like to build things do? I did some research and the answer was mechanical engineering."
Learn more about UC Family Weekend.
If you are a parent or family member of a Bearcat check out UC Parent and Family Programs online.
Featured top image provide by UC Parent and Family Programs.