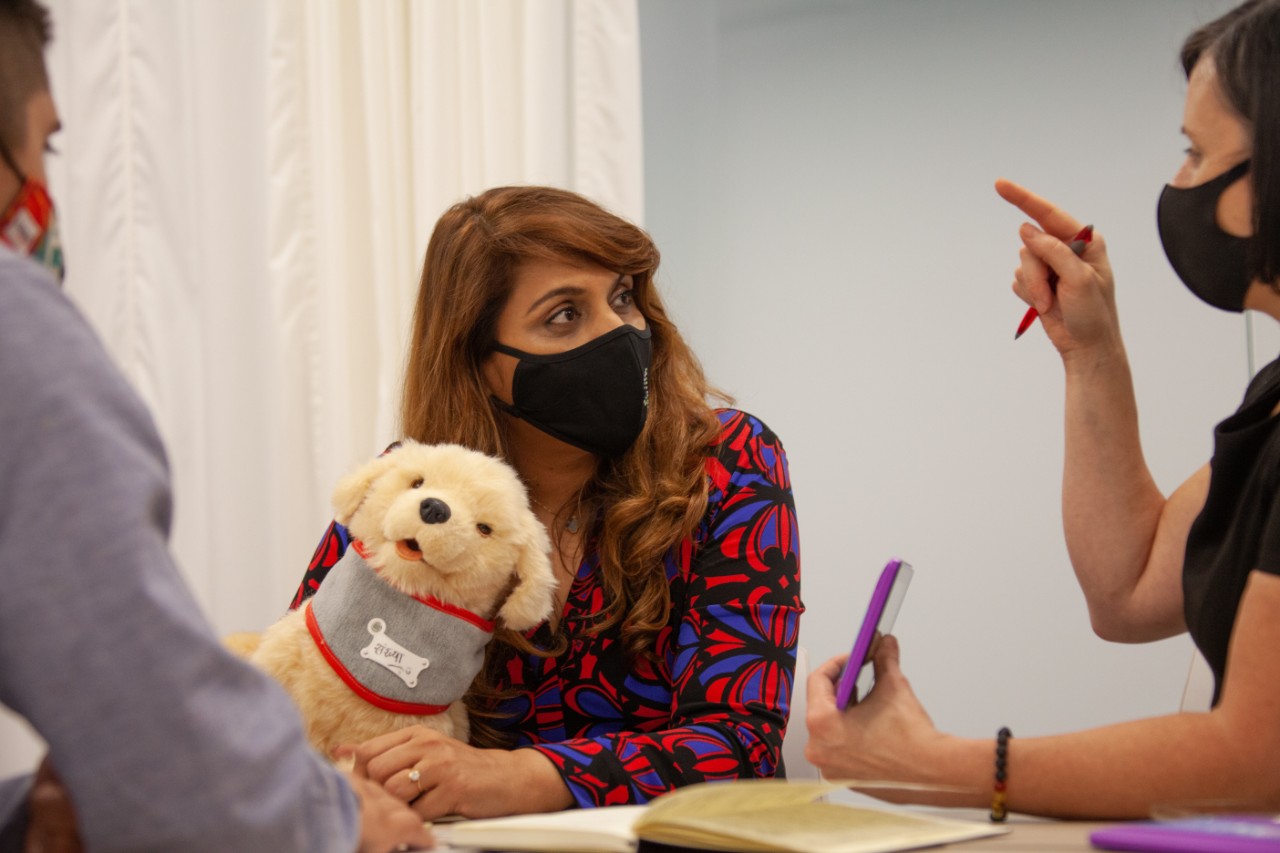 Spectrum News: Study looks at art therapy, pet robots' effect on well-being
Patient, multidisciplinary UC researchers collaborate on pilot study
University of Cincinnati researchers from across disciplines are collaborating on a pilot study researching how a self-guided art therapy app and robotic pets affect the mood of patients.
The study is led by Soma Sengupta, MD, associate professor in neurology and the Harold C. Schott Endowed Chair of Molecular Therapeutics (Neurosurgery); Claudia Rebola, PhD, associate dean for research, associate professor and director of the new Center for DAAP Research and Innovation (CDRI) on Health and Wellbeing in the College of Design, Architecture, Art, and Planning; and Meera Rastogi, a psychologist, art therapist and program coordinator for the pre-art therapy certificate program.
The research specifically targets patients with vestibular schwannoma, or acoustic neuromas, which are benign tumors on nerves leading from the inner ear to the brain. Sengupta said these patients often experience some form of hearing loss.
Sankhya Jejurikar, a vestibular schwannoma patient who experiences single-sided deafness and professional artist, worked with the researchers to make sure the study was fine-tuned to someone with her diagnosis.
Watch the Spectrum News story.
Featured photo at top: Sankhya Jejurikar discusses the study with UC researchers. Photo/Ravenna Rutledge/University of Cincinnati
1
Spectrum News: Rover developed at UC helps clean waterways
September 25, 2023
A University of Cincinnati Venture Lab-backed startup has developed a robot that can clean garbage, an oil spill or fish kill from waterways in a way that's safer and more effective than doing it manually, Spectrum News 1 reported.
2
How one UC med student plans to make a difference
September 25, 2023
In her heart, Keirsten White '26, knew she wanted to become a doctor. She was attracted to UC in part because of its family medicine psychiatry program, which she said will help enable her to provide whole-person healthcare to individuals who are homeless and underserved.
3
Playbill: CCM ranks in top 10 most represented colleges on...
September 25, 2023
The University of Cincinnati College-Conservatory of Music has once again been named as one of Playbill's "Big 10." Ranked as one of the top star-producing institutions in the nation, CCM was represented by at least 24 alumni performing on Broadway stages during the '22-23 season.
Debug
Query for this