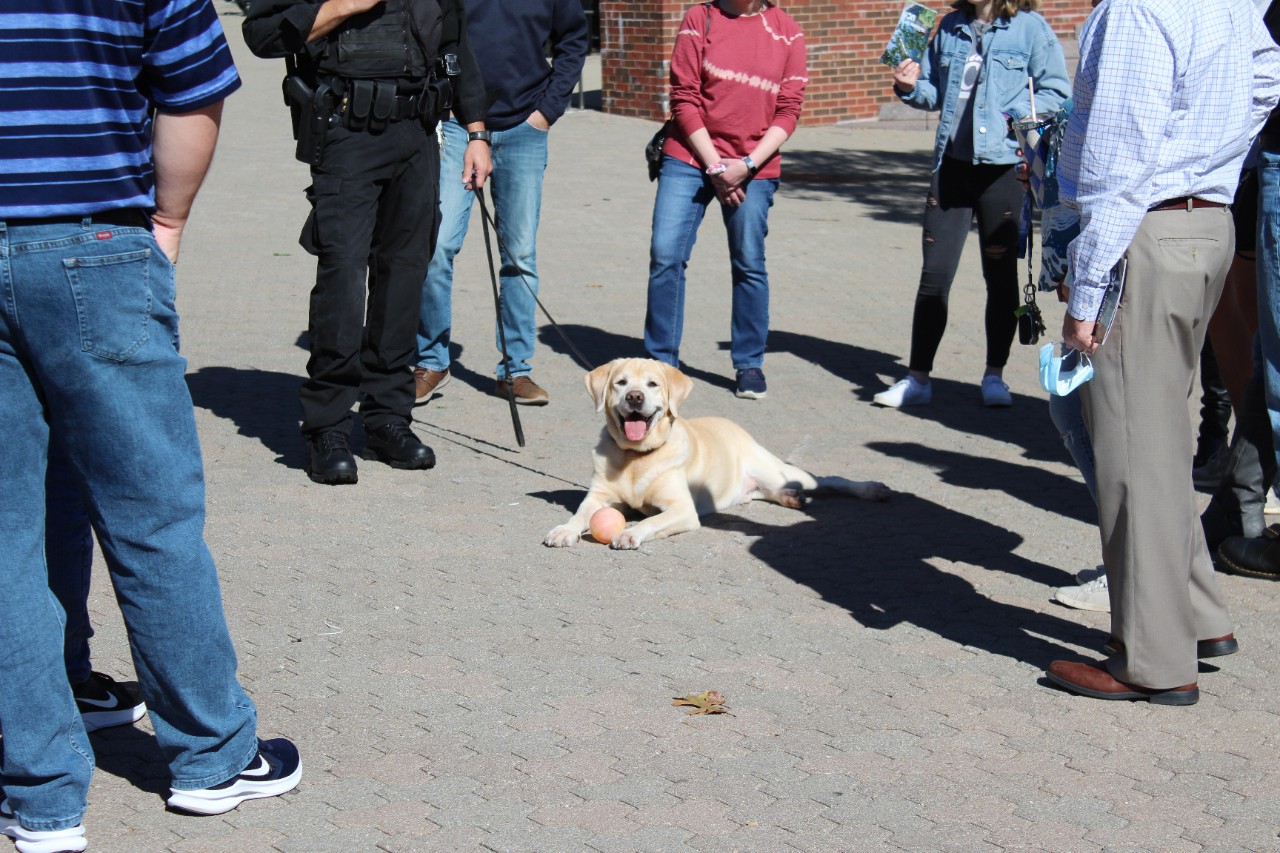 UC Public Safety celebrates retirement of K-9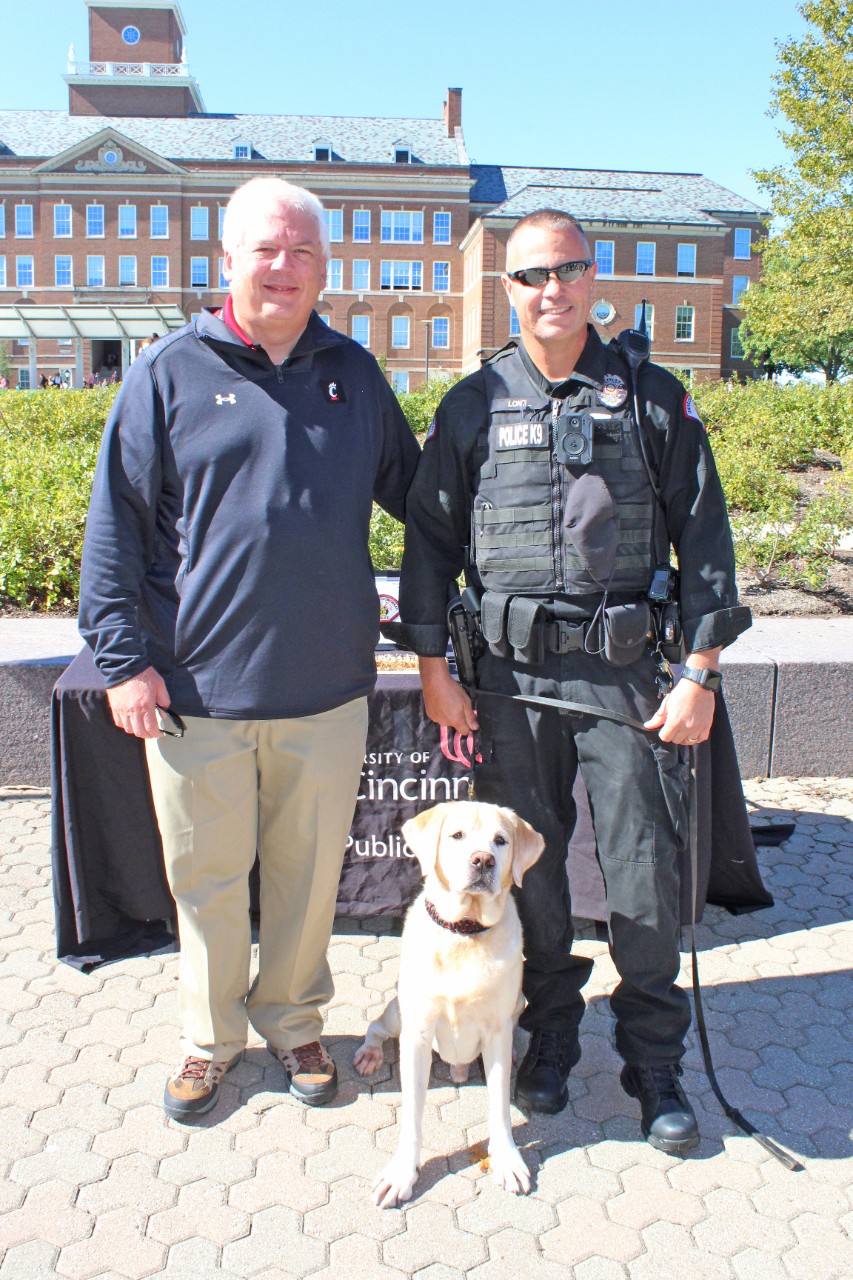 The University of Cincinnati Public Safety Department recently celebrated the retirement of the department's first K-9, Dozer.
Dozer began his role with the UC Police Division in August 2015 with his partner, Officer Lance Long. He is a yellow Lab, who was born in 2014 in Ireland, and is a single purpose explosive detection K-9.
In his six years with the department, Dozer and Officer Long have responded to 170 calls for service, which have included suspicious packages, bomb threats and large events and dignitary visits both on campus and throughout the region. In addition, Dozer and Officer Long have attended 130 demonstrations, both on campus and throughout the region, and have worked 250 details on campus, such as sporting events.
"Dozer has been a huge asset to our department. We are grateful for his years of service, and especially grateful to the Matt Haverkamp Foundation for making this possible," said James Whalen, UC Public Safety Director and Chief of Police.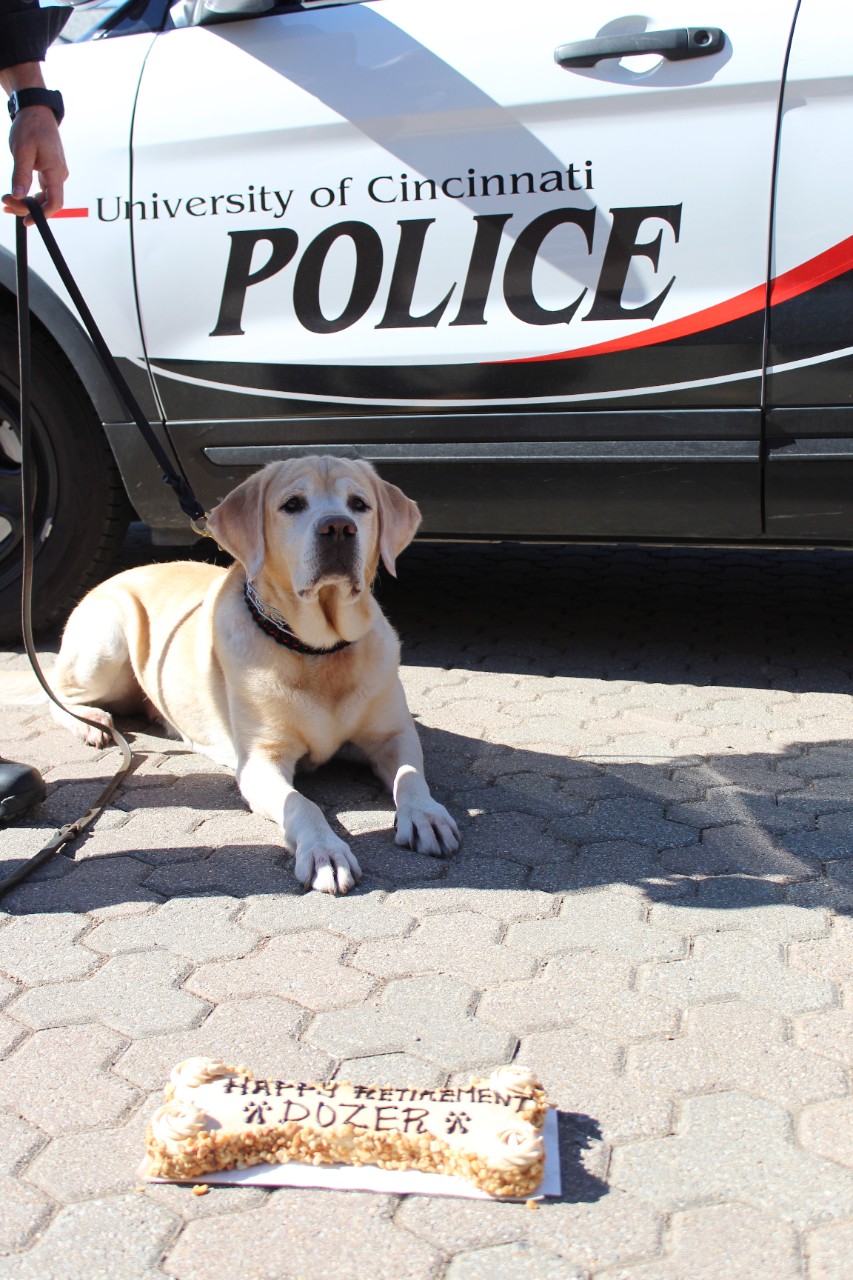 Officer Long spoke to how grateful he is to have worked with Dozer for the last six years.

"Dozer is an incredible dog. He was the perfect fit for the UCPD, and has been well-loved by students, faculty and staff during his time at UC," Officer Long said, then joking that most people on campus do not know his name, but they both recognize and know Dozer's name.
Dozer will spend his retirement with Officer Long and his family on their farm.
Featured image at top: K-9 Dozer lays in the middle of a circle of people during his retirement party.
1
Accreditation assessment team invites public to comment
October 27, 2023
A team of assessors from the International Association of Campus Law Enforcement Administrators will start on Nov. 5 an assessment to examine all aspects of the University of Cincinnati Police Division and procedures, management, operation, and support services. University members, agency employees and the public are invited to offer comments on Nov. 6.
2
Plan ahead for UC Homecoming activities
October 6, 2023
Around the University of Cincinnati campus, some streets will close during the early-morning hours on Saturday, Oct. 14, while traffic and parking on other nearby streets will be restricted.
3
UC Serves 2023 underscores university's commitment to Cincinnati...
April 27, 2023
This year, the university is celebrating the return of UC Serves – a day for staff and faculty to share the experience of intentional, focused service to the communities surrounding the University of Cincinnati campuses and beyond. The day of service helps connect UC with community neighbors and build stronger connections among university employees. UC Serves brings staff and faculty to the front lines in supporting UC's institutional commitment to service and community impact in support of our local non-profit partners.
Debug
Query for this