NREF awards UC medical student neurosurgery research fellowship
One-year award to further research into a cure for specific glioma
The Neurosurgery Research and Education Foundation partnered with the Brain Tumor Foundation Medical Student Summer Research Fellowship and awarded second-year University of Cincinnati medical student Troy Carnwath a $2,500 fellowship.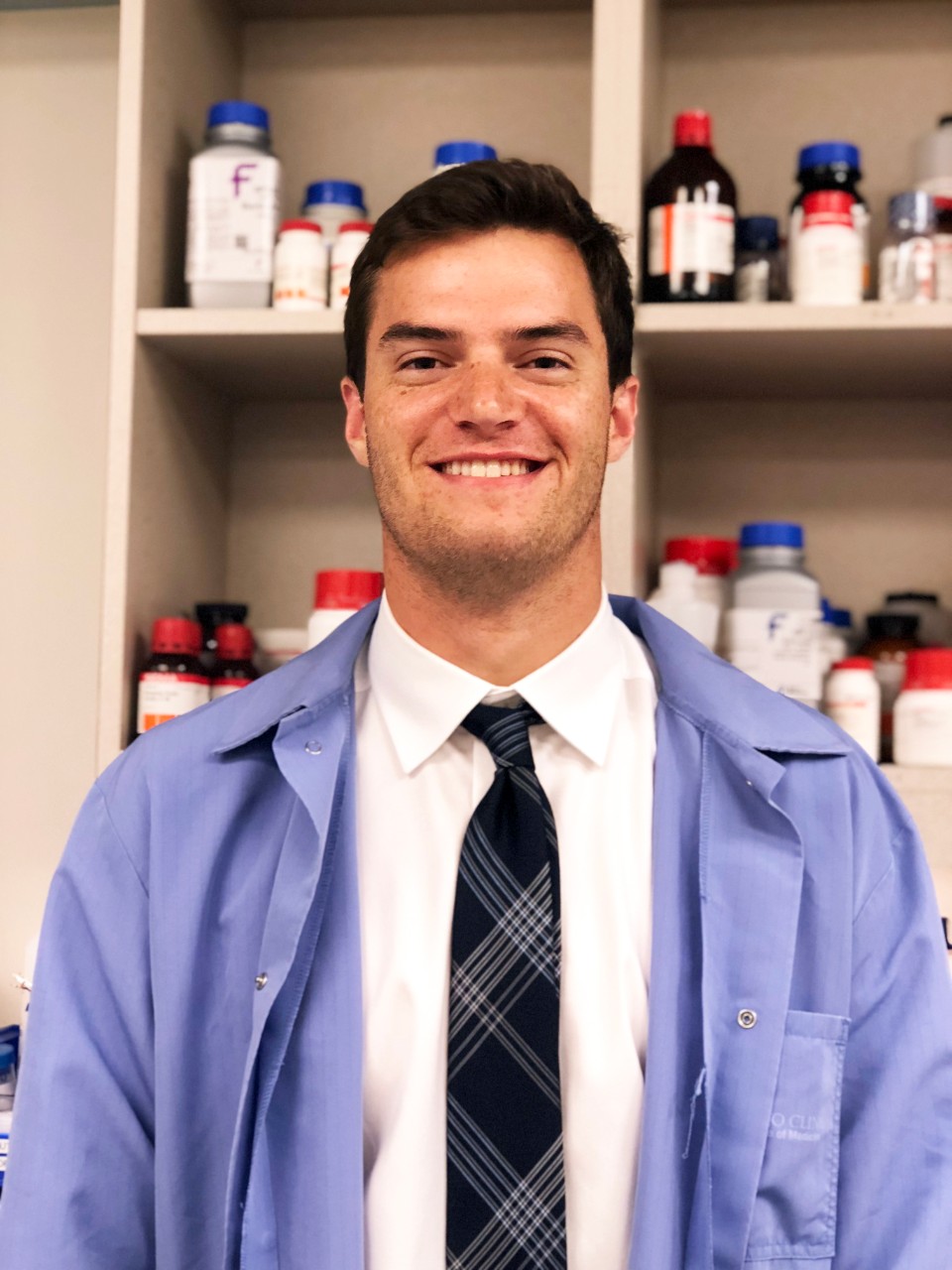 "I was ecstatic," says Carnwath, "actually that's an understatement." He embarrassedly admitted he was running around his apartment shouting with excitement. 
That one-year fellowship allowed Carnwath to assist Matthew Garrett, MD, PhD, in a research project focused on a particular type of brain cancer called IDH1 mutant glioma. "These particular gliomas behave a little bit differently," Carnwath explains, "at least at the molecular level."  

Through a drug screen, Garrett and Carnwath identified inhibitors of histone deacetylase, or the HDAC family of enzyme, as specifically effective in stopping these tumors. "The problem is though," says Carnwath, "there is not just one HDAC enzyme, there are actually 18."
They had to eliminate each enzyme one-by-one, which brought in Carnwath's computer-coding skills. "I was able to do the sequencing analysis," he explains, "which is pretty complex." 
Garrett was impressed by Troy's work. "It takes many people years if not decades to learn the coding skills that Troy acquired during his undergraduate experience and during this fellowship," he said. "They have multiple applications and will make Troy a highly sought-after collaborator throughout his career."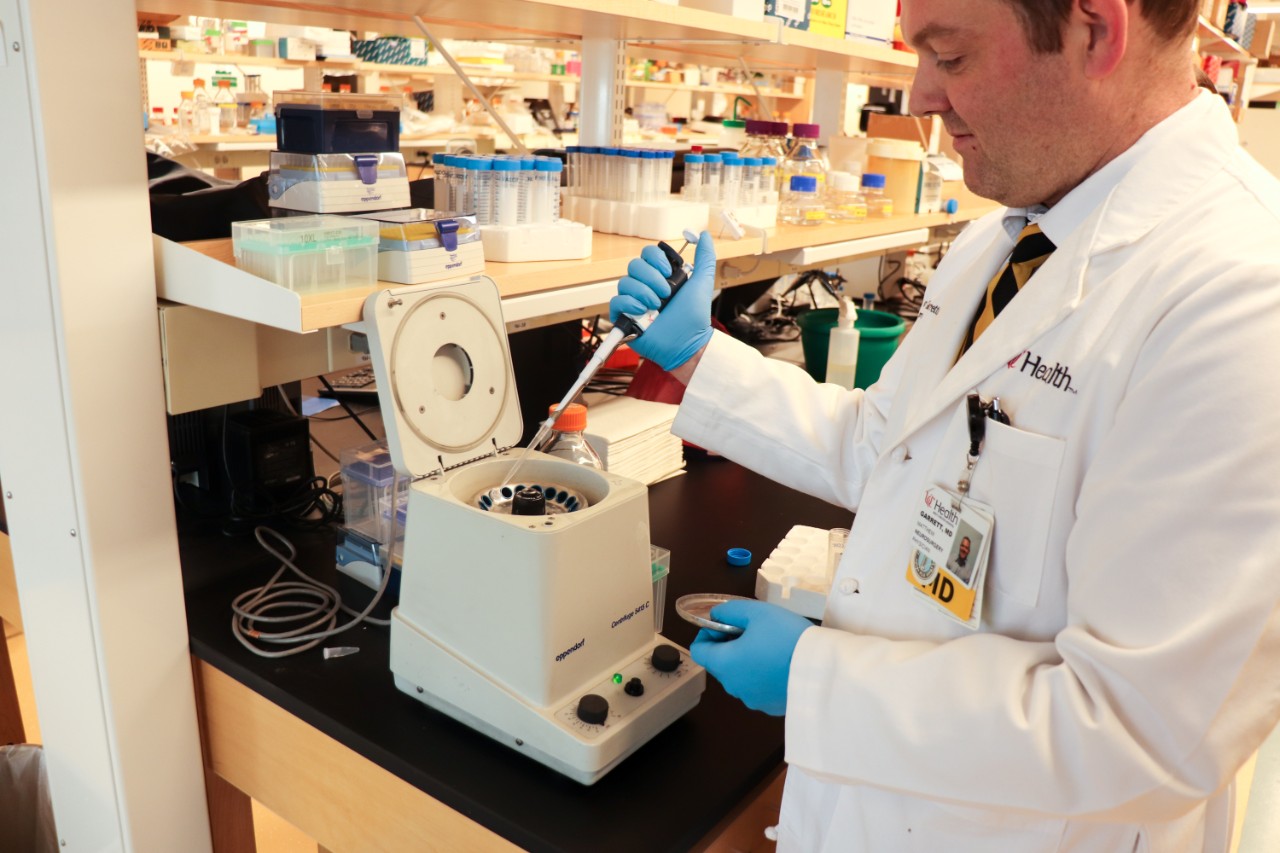 They were able to single out each enzyme and analyze how it impacted cancer progression. Through this study, they were able to identify HDAC1 as the most critical member of the HDAC family. Garrett and Carnwath predict that the loss of the HDAC1 gene in these tumors will significantly extend survival in a mouse model of these tumors.
Carnwath has a strong interest in going into neurosurgery residency after medical school, specifically with a focus on neuro-oncology.  

This is the first year that the Southeastern Brain Tumor Fund partnered with NREF to provide this fellowship and a representative said the organization was greatly moved by Carnwath's application and are honored to provide the support. 
Featured photo at top of laboratory. Photo/Julie Forbes/University of Cincinnati.
1
WLWT: Hospital systems working through multiple viruses spiking
December 2, 2022
Hospitals in the Cincinnati area are dealing with what some are calling a 'tripledemic' of RSV, COVID-19 and the flu. WLWT reported that according to the Health Collaborative, COVID-19 hospitalizations across Ohio counties in greater Cincinnati are at 176 patients. That's 41 more than Friday. About 180 people are hospitalized with the flu. It's a major spike from the week before. One of the experts cited by WLWT is Carl Fichtenbaum, MD, of the Division of Infectious Diseases at the UC College of Medicine.
2
UC research seeks to protect athletes from brain injuries
December 1, 2022
Former football players worry about the effects of concussions suffered during their playing careers and hope research from the University of Cincinnati will help them and future generations avoid the worst consequences of brain injuries. UC's Office of Research hosted a panel discussion in the Flashpoint Series, "Brain Injuries in Sports: How we can help our athletes," which addressed the effects of brain injuries and how research aims to develop solutions to protect athletes.
3
CCM Dance Works presents classical ballet and modern dance Dec....
Event: December 1, 2022 8:00 PM
UC College-Conservatory of Music presents Dance Works, featuring a variety of styles to showcase the school's many talented ballet majors, on Dec. 1-4 in Patricia Corbett Theater. More than 43 students come together to perform four different pieces excerpts from Gazunov's Raymonda, Tchaikovsky's "Waltz of the Flowers" from The Nutcracker, and two premieres choreographed by CCM faculty artists — Who We Are and Mozart Mix.
Debug
Query for this