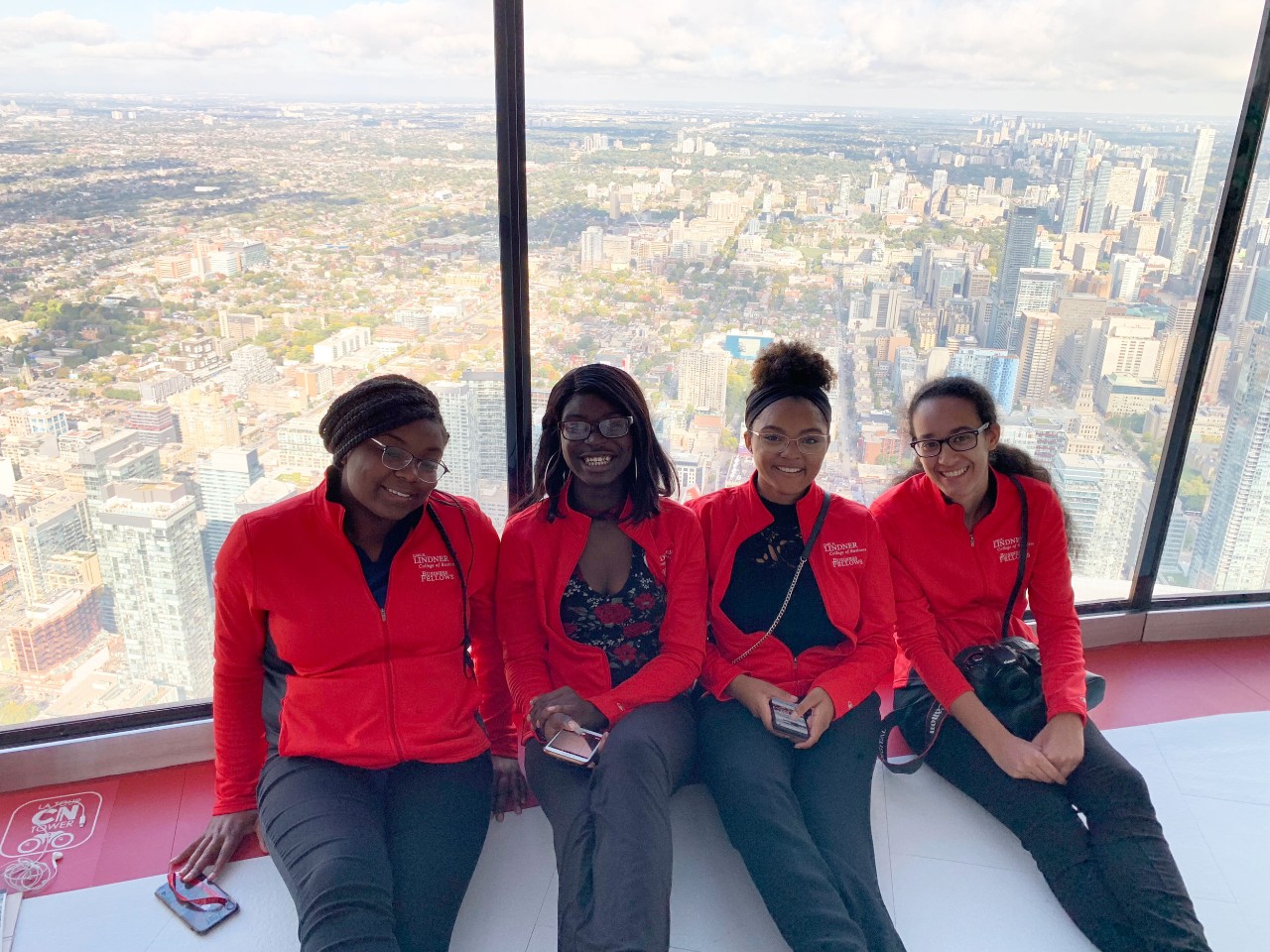 First-gen student Hailey Bell flourishing at Lindner
Marketing major is involved with Business Fellows, already boasts an impressive resume
"I feel incredibly lucky and blessed that I am the first in my family to attend college, and I will continue to work hard to ensure that I am not the last."
Hailey Bell, a native of Anderson Township and the daughter of a Jamaican immigrant, possesses a full grasp of the sacrifices her father made to ensure she had the opportunity to attend college and the resources available to her at the Carl H. Lindner College of Business.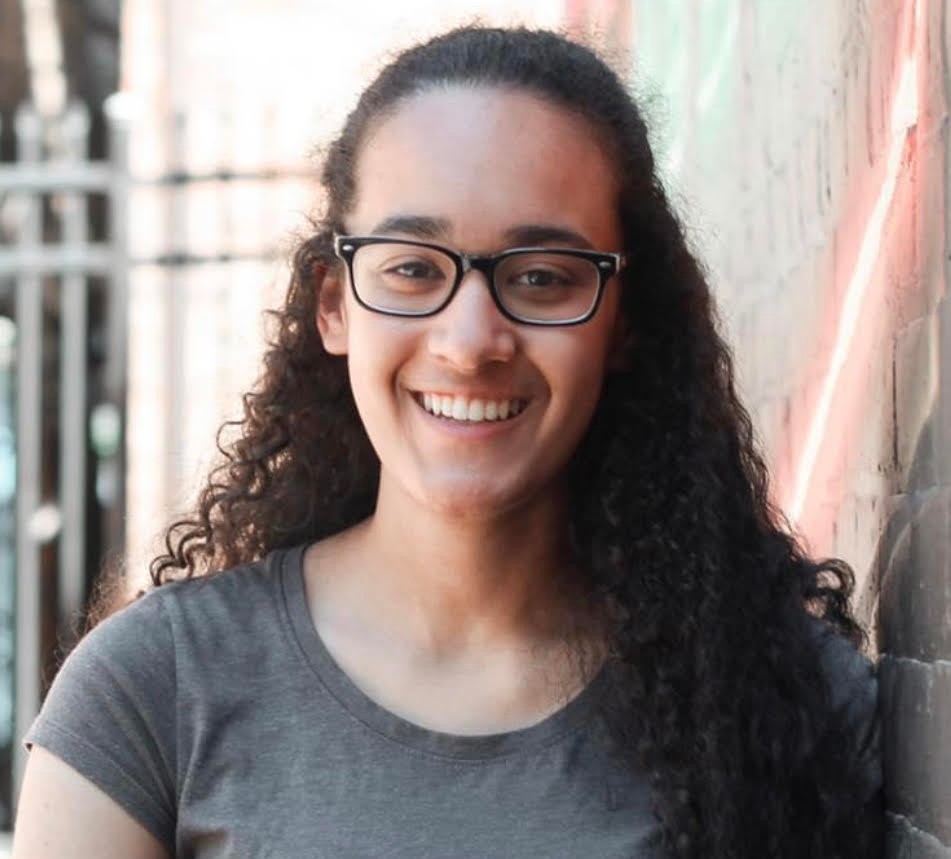 "When deciding on a college, I knew that I had to stay closer to home in order to help out, so that narrowed down my search. I also knew that I wanted a school with a good business program," said Bell, BBA '23. "Coincidentally, UC was constructing a brand-new business building that would open fall of my freshman year. The new Lindner building and the co-op program were definitely my deciding factors in choosing to attend UC."

Bell's father grew up in Montego Bay, Jamaica, and immigrated to the United States in the 1980s, eventually settling in Cincinnati. He has two cousins in the U.S., but the rest of his family is still in Jamaica. Hailey Bell noted that being a first-generation college student is "a lot of pressure" for her, stating her father has been "working tirelessly since he was a teenager to get to the United States and have a chance at building a successful life."
"He was never able to afford postsecondary education but has worked extremely hard to make sure that my sister and I are able to attend. I must take advantage of every single resource that UC provides and make sure to make the most out of my education," Bell said. "There is a huge weight on my shoulders knowing that many of my family members in Jamaica would do anything to have the kind of opportunities that are available to me."
First-gen facts
Out of the 737 first-year Lindner students enrolled in the current fall semester, 137 are first-generation students

There are 775 first-gen students at Lindner

7,992 Bearcats are first-gen college students across UC
First-gen students represent 91 countries and 39 states
96% of first-gen students are employed or continuing their education upon graduation
Business Fellows has been Bell's favorite Lindner experience so far, specifically citing a study abroad experience in Toronto during the first semester of her first year and that Business Fellows "surrounds me with students that have a similar background as me, which is not something I had growing up."
The marketing major credits Business Fellows faculty and staff, as well as those within Lindner's Office of Inclusive Excellence, for their "incredible support" and said without Business Fellows, her family may not have been able to afford college tuition. Scholarship opportunities within Business Fellows have enabled Bell, who is minoring in electronic media, to continue her education "worry-free."
"They have always made me feel like they care about me as a person and want to see me succeed," Bell said. "Having staff members that understand the significance and pressure that comes with being a first-generation college student, as well as a child of an immigrant, has been instrumental to my success thus far."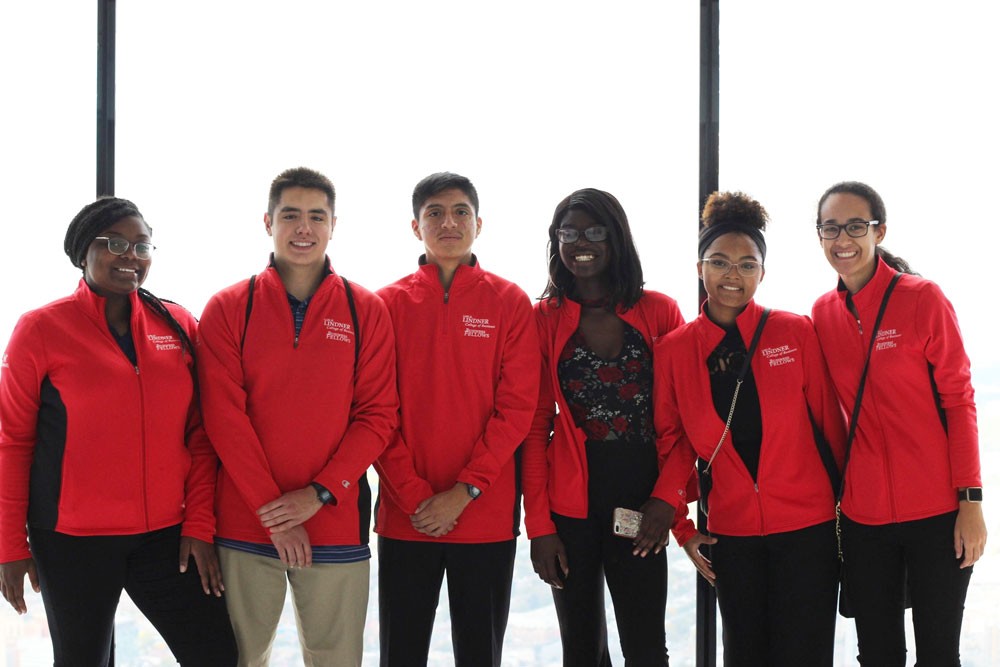 Bell has flourished at Lindner and UC, surely making her family at home and abroad very proud. A snapshot of Bell's accomplishments to date: 
Junior graphic design internship with Evil Geniuses, one of the oldest brands in professional gaming
Member of Bearcat Fellows' marketing committee
Graphic designer for fashion label CreateSupply
Music producer and manager for rapper Lil Blondie
Co-host and producer for the podcast "NOWUCME" on Bearcast Media, UC's student-run media outlet and radio station
As far as postgraduate and career plans, Bell is currently "heavily focused" in the video game and esports industry but said she has also been working with numerous content creators for the past year.
"I am looking to continue on this route throughout the remainder of my undergraduate career," Bell said. "I have a couple of opportunities lined up for post-graduation, but I will just have to wait and see where life takes me!"
Featured image: From left: Azaria Blair, Precious Adugyamfi, LaDawn McCalister and Hailey Bell during the Business Fellows trip to Toronto. Photo courtesy Hailey Bell.
You belong here
Whether you're a first-generation student or from a family of Bearcats, UC is proud to support you at every step along your journey. We want to make sure you succeed — and feel right at home.

Submit your application by Nov. 14 at no cost.
1
UC students visit Ghana and learn how engineering crosses...
May 30, 2023
Each year, the University of Cincinnati sends more than 1,000 students to countries around the world. Over spring break, UC international facilitated a trip for 13 students — 11 from the College of Engineering and Applied Science (CEAS) one from the Lindner College of Business and one from the School of Information Technology — to explore Ghana, be immersed in the culture and venture outside of their comfort zones. Students were led by Cedrick Kwuimy and co-led by Nora Honken, faculty in UC's Department of Engineering and Computing Education.
3
UC student reveals insight into pandemic's effects on nonprofits
May 24, 2023
Analysis conducted by a University of Cincinnati economics and marketing student has provided a better understanding of the COVID-19 pandemic's effects on the nonprofit industry. Annie Hugenberg, Carl H. Lindner College of Business senior and Kautz-Uible Amanda Wait Research Fellow, spent the past semester conducting an in-depth analysis of the economic landscape of Cincinnati's nonprofit sector, culminating with her presentation at the first-ever installment of Better Together — a workshop series for the local nonprofit community made possible by OneSource Center for Nonprofit Excellence, the Leadership Council for Nonprofits, the Cincinnati chapter of the Association for Fundraising Professionals, Interact for Health, and Pro Bono Partnership of Ohio.
Debug
Query for this