Major renovation begins in December; new dining options added for spring semester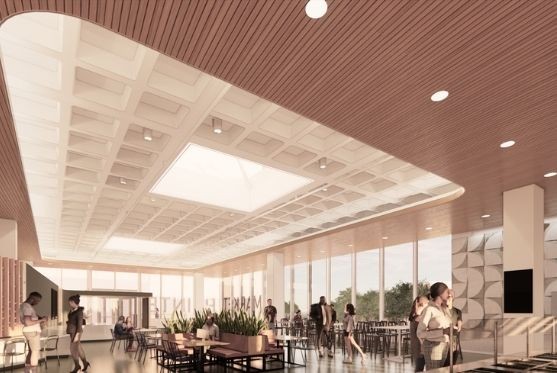 A year-long renovation will soon begin on the MarketPointe dining center. The location is now closed.
When the 37,000 square-foot facility reopens by the spring of 2023, customers will find new meal options, increased seating capacity, new food service equipment, and a more modern environment.
The renovation also includes a new entrance and work to upgrade and maintain essential utility infrastructure elements on campus. A preliminary sketch of the renovated facility is pictured above.

"When MarketPointe re-opens, the food service stations will be in line with current dining trends that address many of the most common menu requests we receive," says Katy Wahlke, Director of Food Services. "We'll have a smoothie bar, build-your-own burrito bar and an allergen-free station, which will allow us to better serve those with special dietary needs." 

A convenience store, open to the public, will also be added near the entrance to MarketPointe. 

Located between Calhoun and Siddall Residence Halls, MarketPointe was last renovated more than 20 years ago. The timing of the dining center renovation coincides with the Calhoun Hall renovation. "We've seen a nearly 40% reduction in the number of students utilizing MarketPointe this fall because of the renovation on Calhoun Hall," says Wahlke. 
Spring semester dining service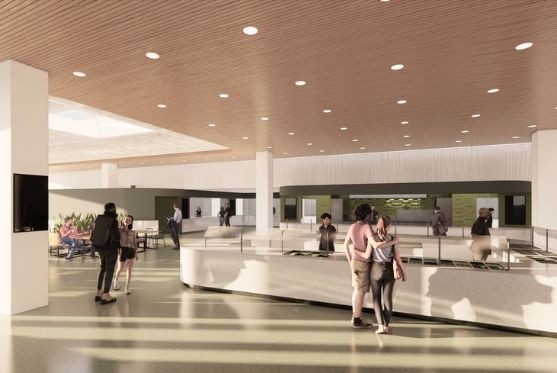 In order to supplement food service during the renovation, a new carryout location will open spring semester in Catskeller, located on the lower level of Tangeman University Center. 
This new location will provide both hot buffet options including grill, entrée, and pizza as well as Grab & Go meals. Catskeller will also offer to-go breakfast options. Hours of operation at the new location will be the same as MarketPointe: 

7 a.m.-9 p.m., Monday-Thursday
 7 a.m.-2 p.m., Friday
Many of the popular daily lunch specials and stations from MarketPointe will relocate to CenterCourt.  

Boneless Wing Mondays, Tender Tuesdays and Wing Wednesdays are all moving to the Grill station at CenterCourt. 
An all-day made-to-order omelet station will open at CenterCourt, located between the Soup and World Series stations.
New specials and features will be added to our menus, including Steak Night on Thursday evenings at the CenterCourt grill station. 
Follow UofCincyDining on Instagram or Twitter for the latest updates. Questions? Contact Food Services at ucfood@uc.edu.