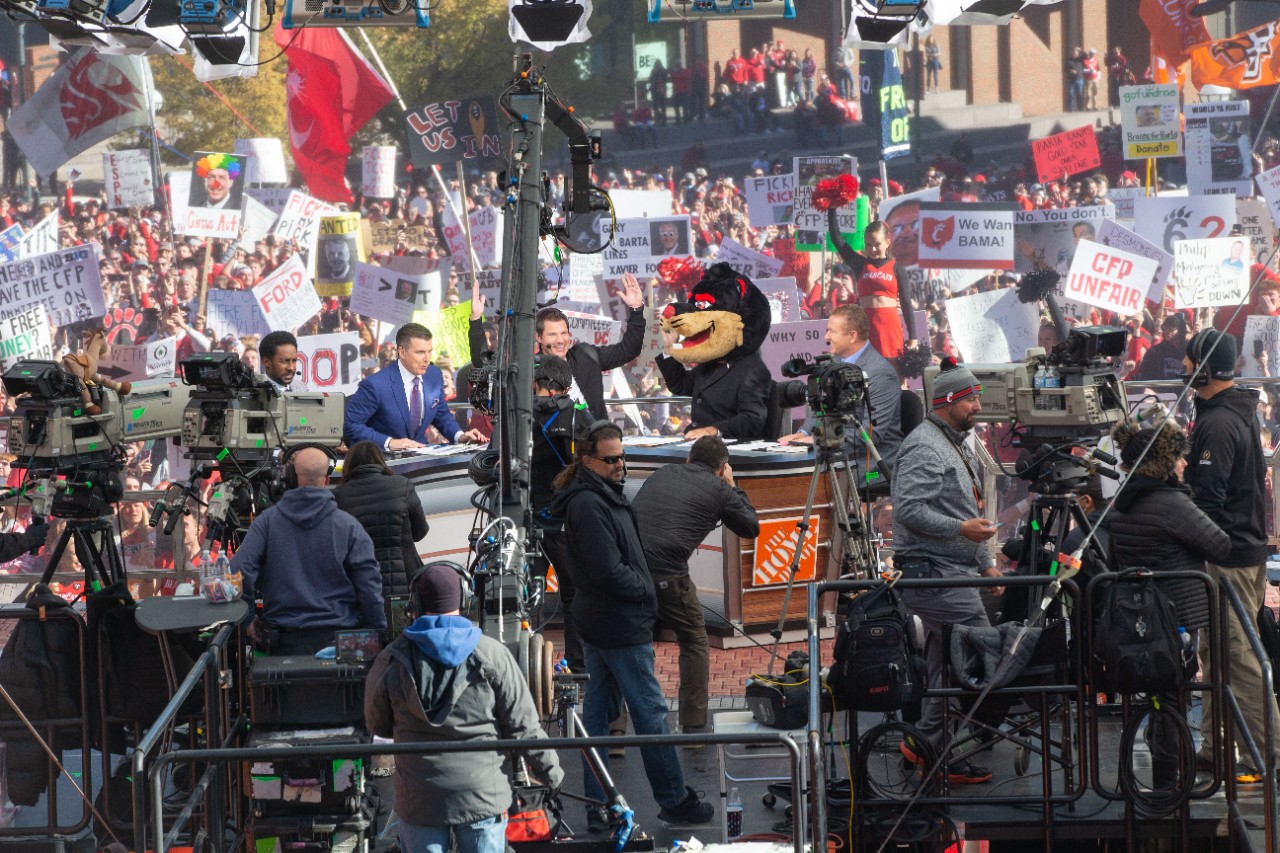 'Unforgettable weekend': GameDay, Homecoming help Bearcats make memories
UC campus receives national attention and overflows with spirited students, supporters
One of the biggest days in University of Cincinnati football actually started the night before for many.
UC Bearcats football fans braved frigid temperatures to camp out late Friday night and snag front and center viewing for ESPN's "College GameDay," which set up shop on campus in "The Commons." The pregame show shone a national spotlight on UC as the Bearcats took on the University of Tulsa for Saturday's Homecoming game.

"Good Morning America" also broadcast live from the campus for the second time to capture the excitement surrounding the GameDay crowd; GMA hosts made their first appearance on Friday with the UC Cheer and Dance teams and, of course, the UC Bearcat.
Hundreds of students, alumni and UC supporters were already in the heart of campus when parent Sharon Adolph arrived around 5 a.m. She came to Cincinnati on Friday to visit her daughter Lauren, a first-year UC student, but then wanted to experience Saturday's "GameDay" and cheer on the Bearcats.
"I am a sports fan, and my family has been following football forever," said Adolph. "This is a spectacular year for Lauren because she is a big football fan, too. She loves it at UC; she loves her professors and classes, and that's the important thing for me."
As others like Adolph filed onto campus, the hundreds of fans, a growing sea of red and all waving signs, turned into thousands.
The three-hour "GameDay" broadcast by ESPN attracted approximately 15,000 people to the UC campus. ESPN commentators remarked that it was the largest turnout they had ever seen.
Fans had one goal in mind: to celebrate a Bearcat football victory and celebrate the team's latest accolades. Recently, the Associated Press poll placed UC second in the nation, while the College Football Playoff ranking gave the Bearcats a No. 6 nod — a fact seen on  many of the signs. 
Guy Schmitz, a Tristate resident, said signs are an important part of the ESPN "GameDay" experience. Schmitz and his wife Joan put their craft abilities to work and made a few signs of their own to show off in "The Pit," a limited-capacity area directly behind the "GameDay" set that gets shown on TV most often.
"I've always wanted to be part of a 'GameDay' broadcast," said Schmitz. "I've been watching it for years. All of a sudden we hear there is a 'GameDay' within 10 miles of our house, and we thought, 'We have got to go.'"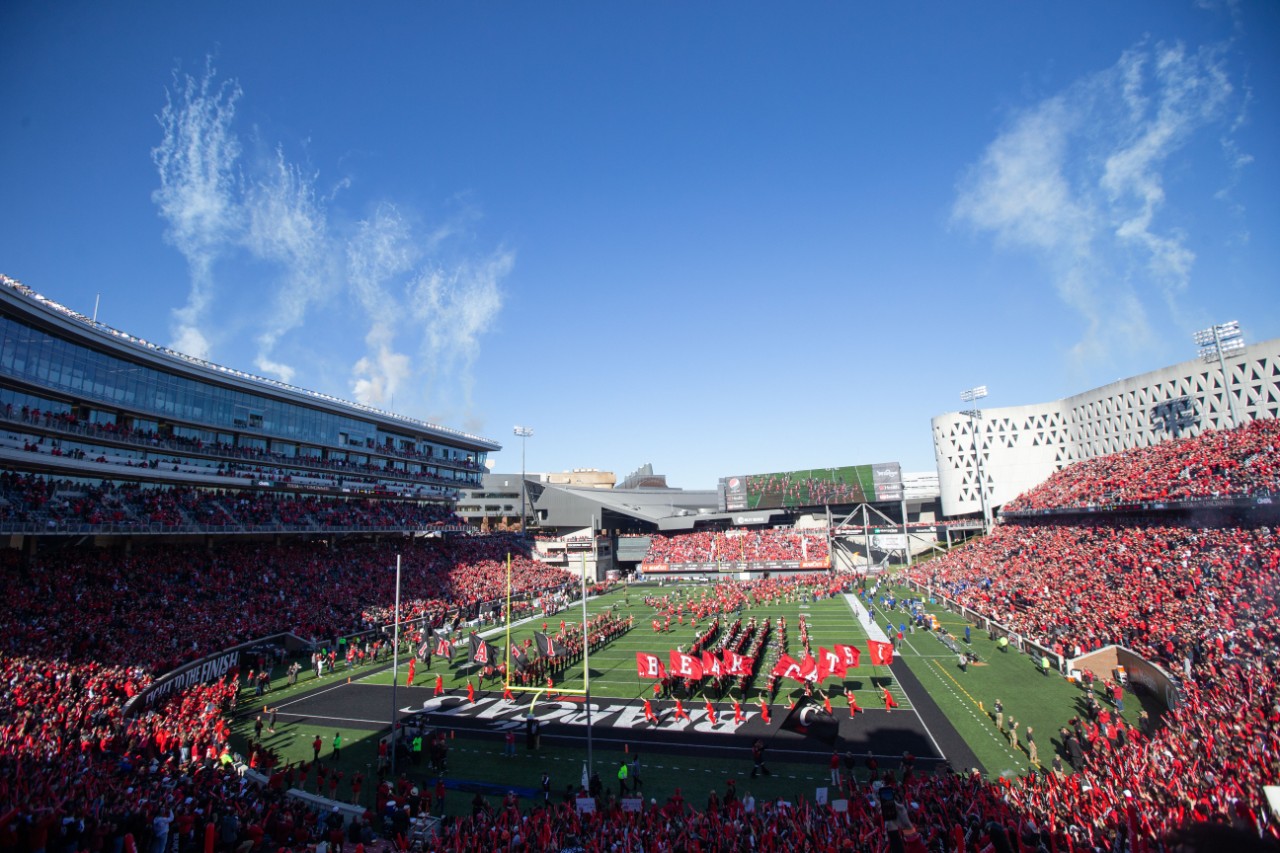 The Bearcats went on to defeat the University of Tulsa 28-20 before a sold-out crowd at Nippert Stadium and remain ranked the nation's No. 2 team by the AP.
It was a nailbiter for many fans. The Bearcats were heavily favored going into the game.
"We were ahead, but we certainly weren't beating them like we were supposed to," says Alex van Haaren, a third-year engineering student, who attended the game and Homecoming. "I was a little nervous there for a while. I thought we would pull it off with all the hype around campus, and we came out with a win. That's all that really matters at the end of day."
News coverage of GameDay at UC:
A great day for Homecoming
After the sun had long come up and the "GameDay" broadcast had ended, but before the official kickoff, first-year student Ashleigh Fischer met her best friend and wandered over to the Homecoming parade. The parade route went from Calhoun Street to Clifton Avenue and eventually onto Martin Luther King Jr. Drive. About 70 floats, cars and walking groups from student, alumni and community organizations were featured as part of the event.
"So many people of every age were in the parade, even alumni, and then, I saw President Pinto, and it was super cool," said Fischer, a Cincinnati Public Schools graduate, who attended Walnut Hills High School. 
The parade's grand marshall was Jeff Wyler, Bus '65, Hon '11, UC Alumni Association's 2020-21 William Howard Taft Medal for Notable Achievement honoree.
First prize for the best float went to Delta Tau Delta fraternity and Pi Beta Phi sorority.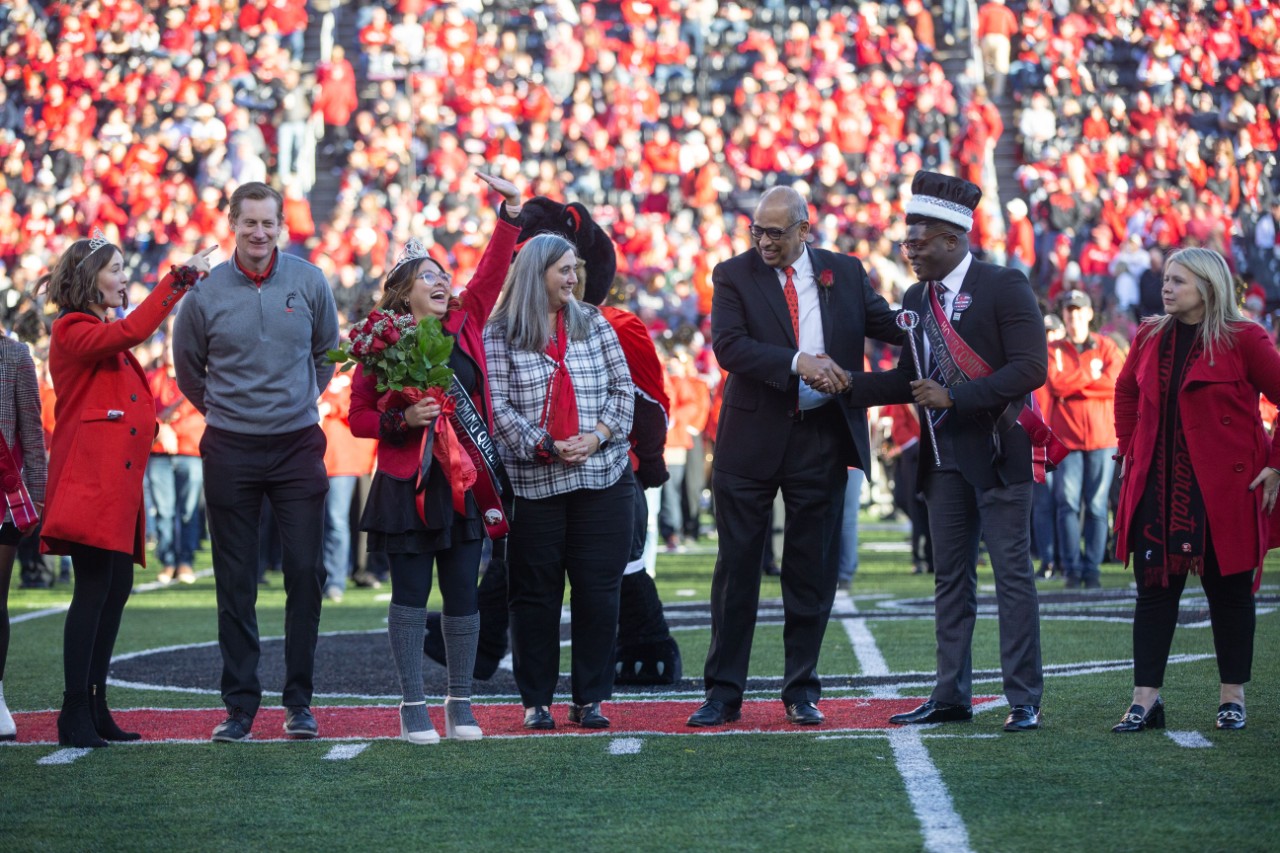 This year's Homecoming king and queen were Lance Entsuah, a third-year business student, and Yulia Martinez, a fourth-year computer science student, who was also recently named a University Innovation Fellow. Homecoming prince and princess were Derek Walton II, a fourth-year medical sciences student, and Neha Chawla, a fourth-year student, studying computer science and earning her master's in business administration.
"I would say it was an unforgettable weekend," said van Haaren, who as part of the College of Engineering and Applied Science Tribunal helped build a homecoming float. That float included a miniature replica of UC's iconic Crosley Tower.
"This beats the bicentennial Homecoming, and that was an incredible celebration of being a UC Bearcat," said van Haaren.
See Spectrum News coverage of the Homecoming parade
Featured image of the ESPN College GameDay stage by Andrew Higley/UC Creative + Brand. All photos by Higley/UC Creative + Brand, except where noted.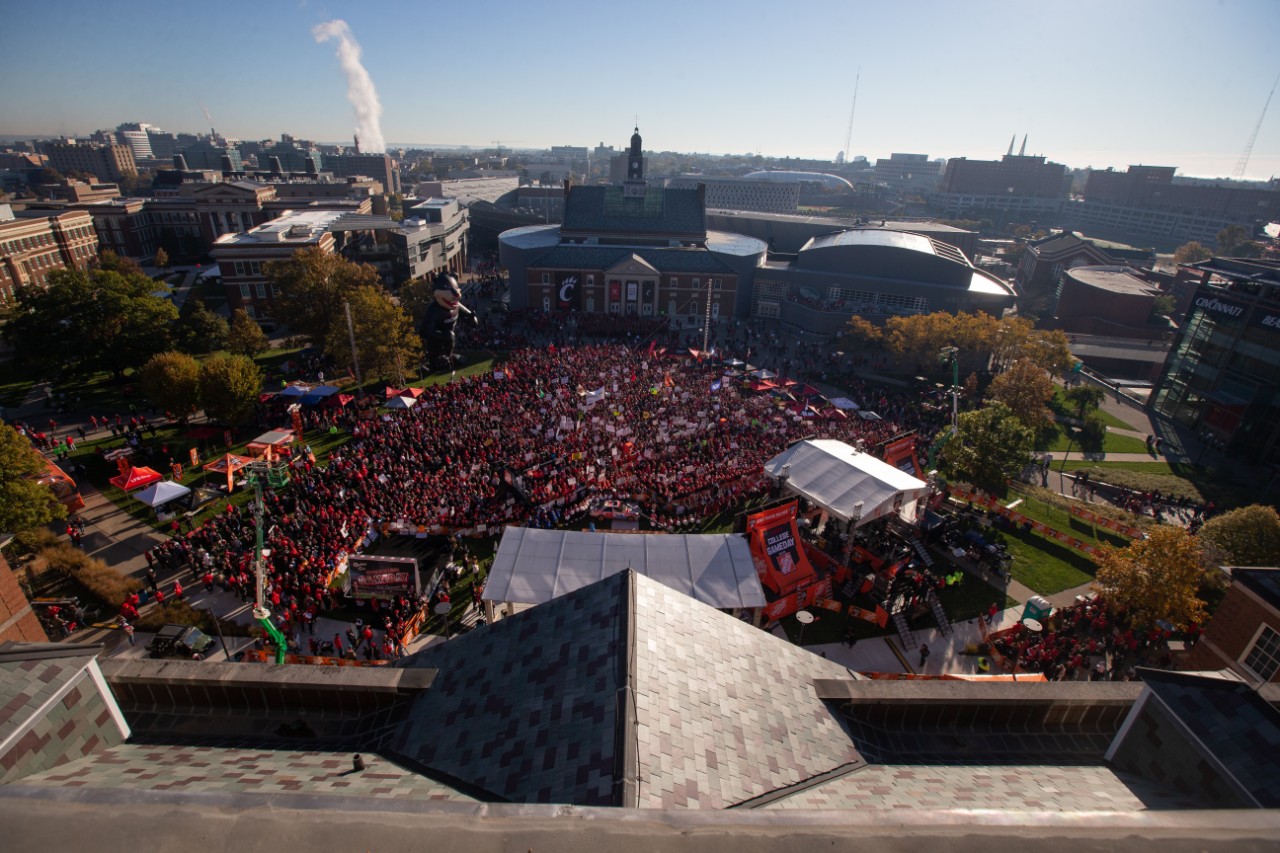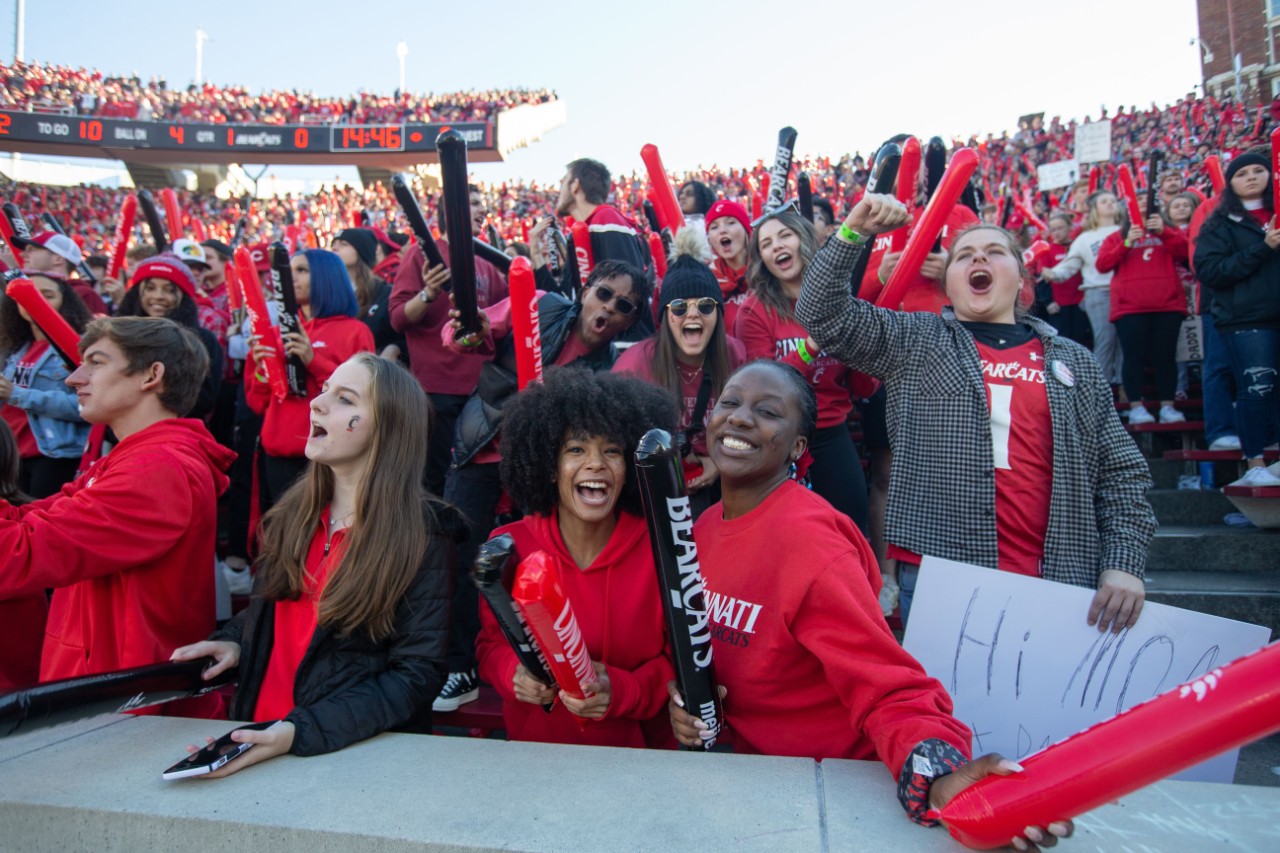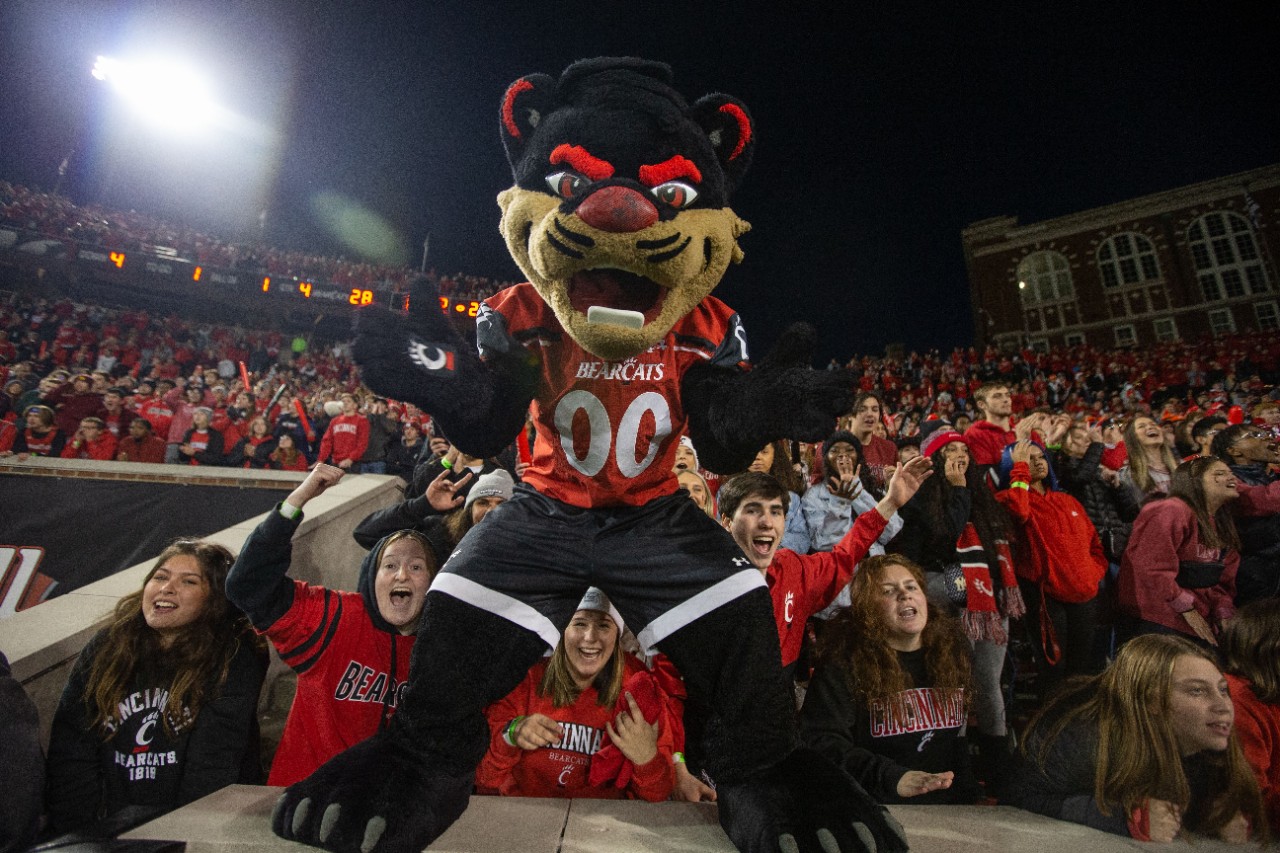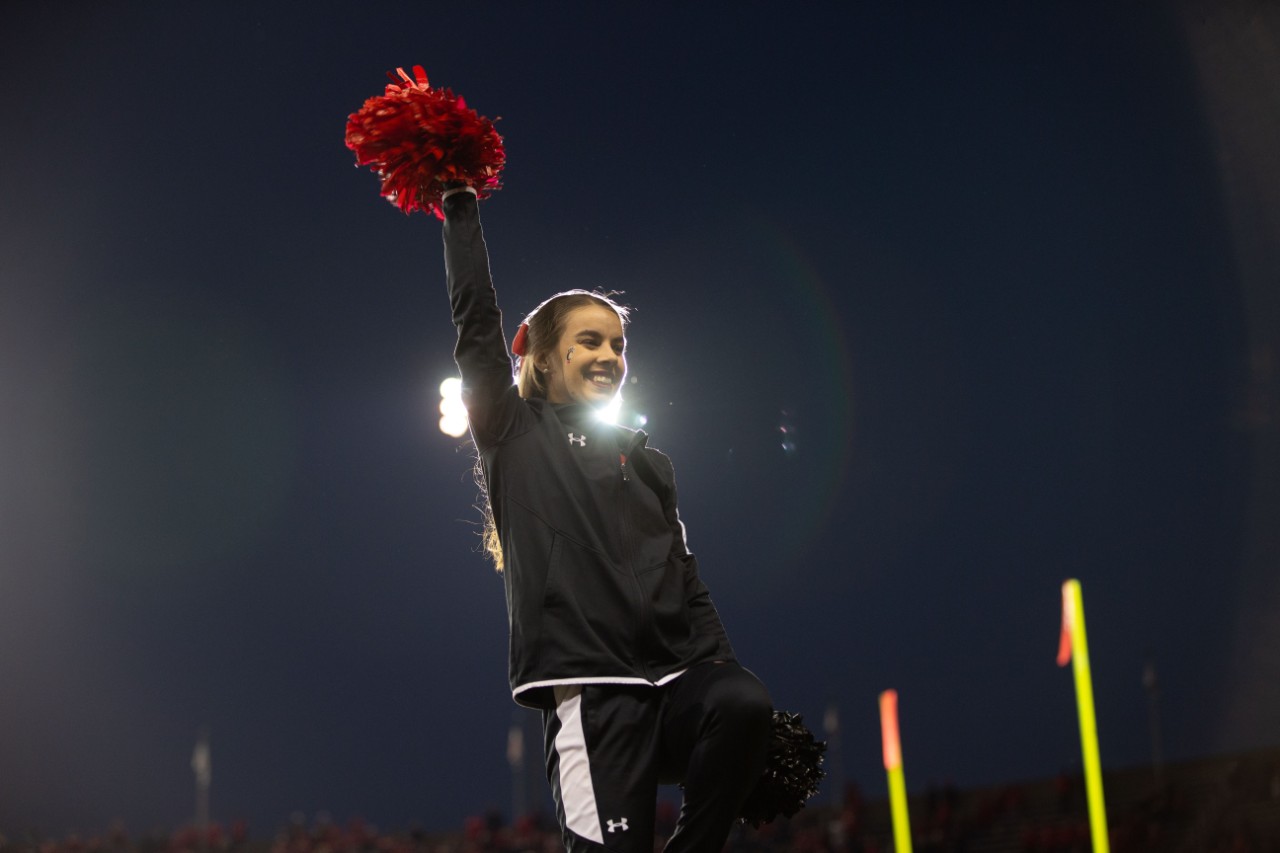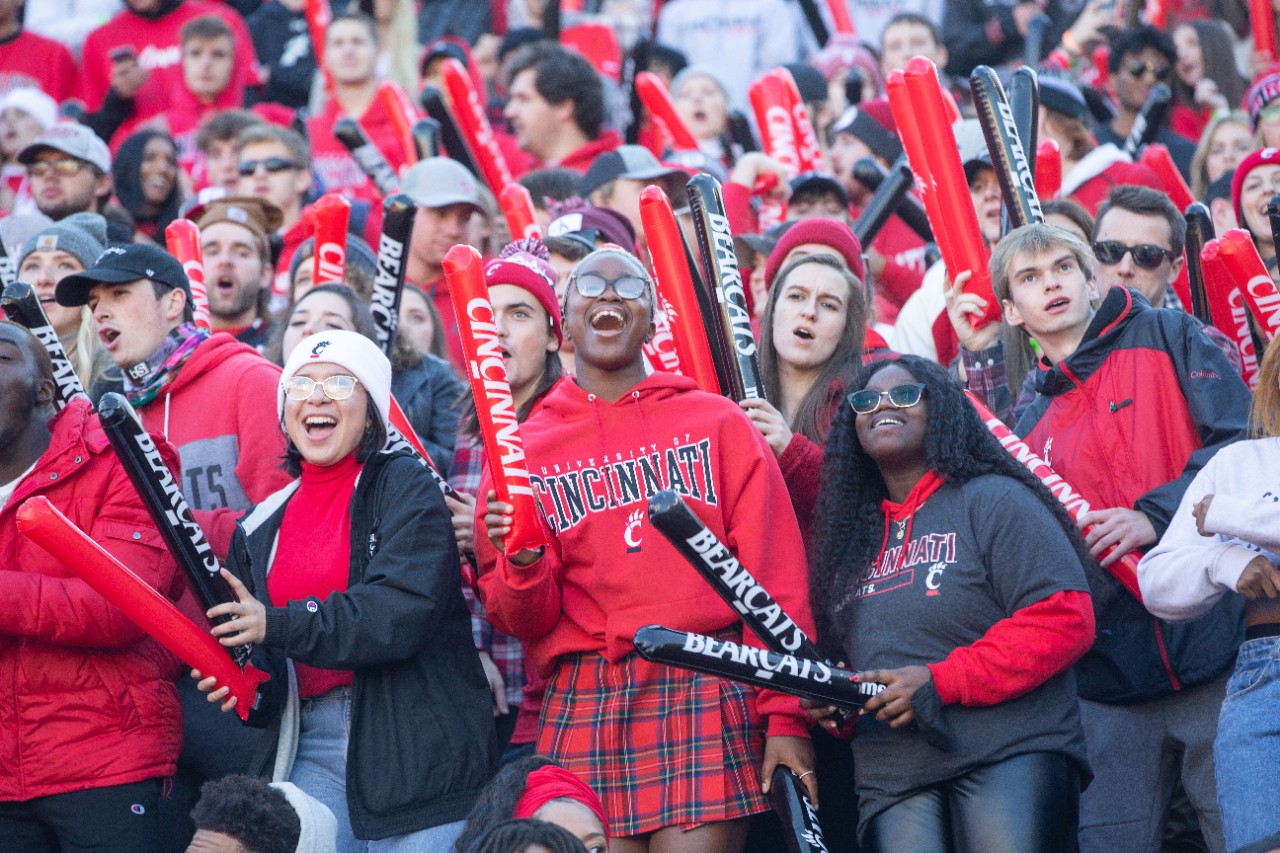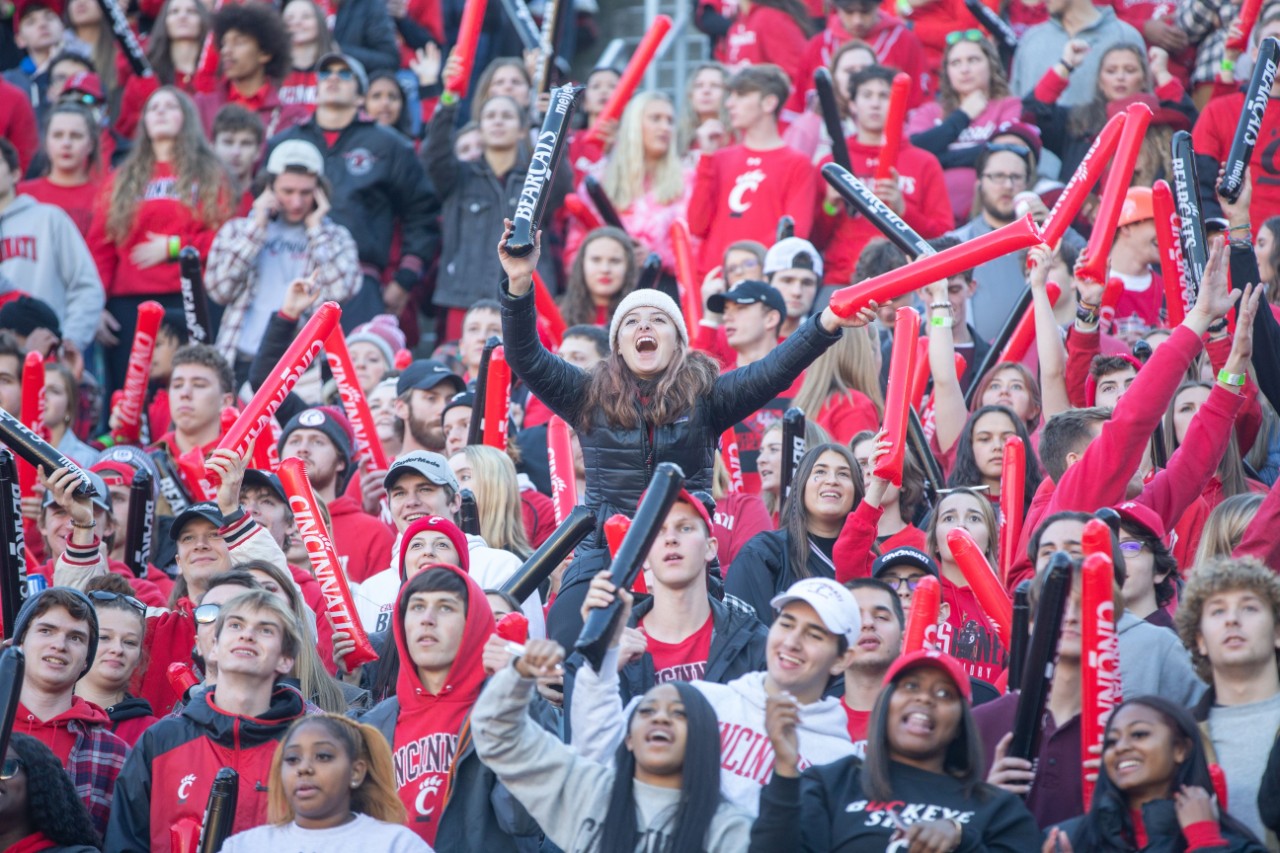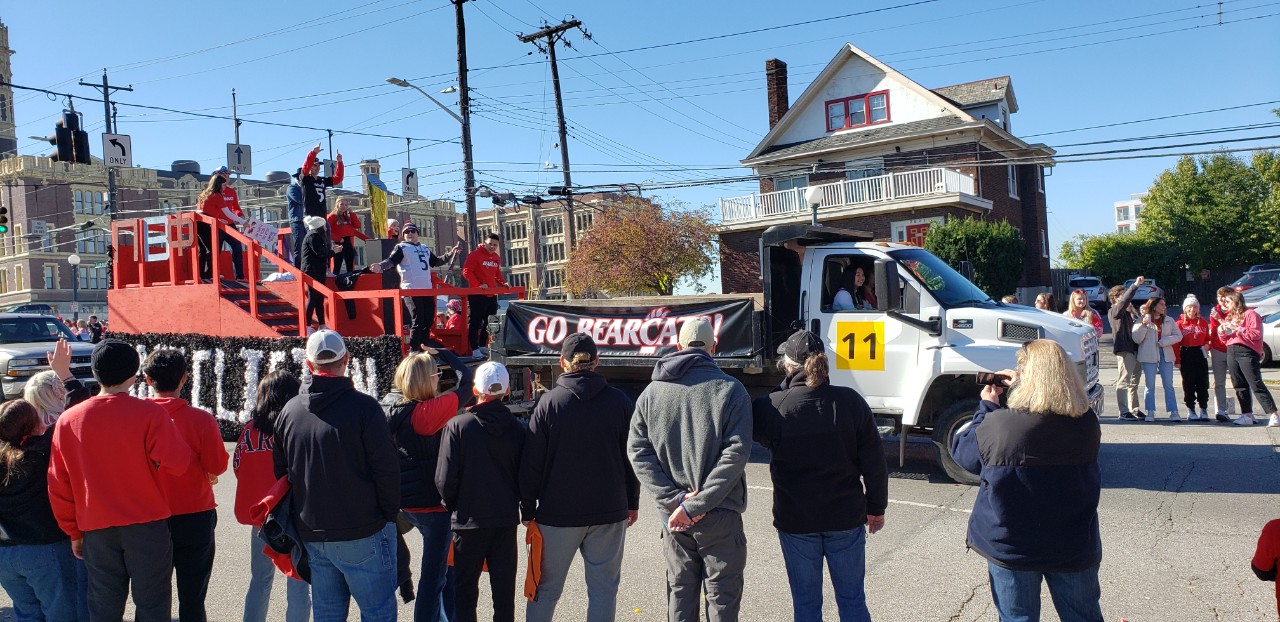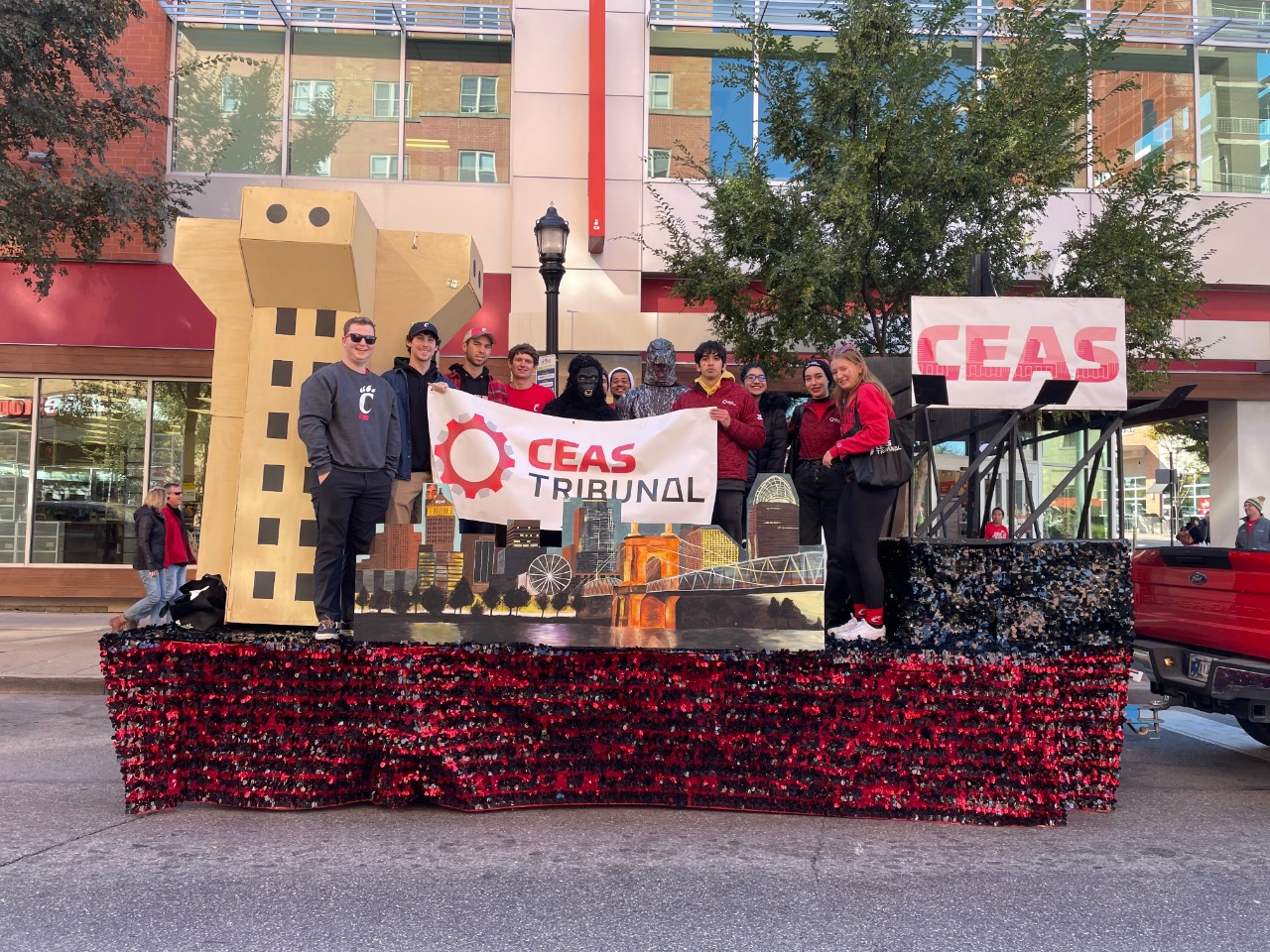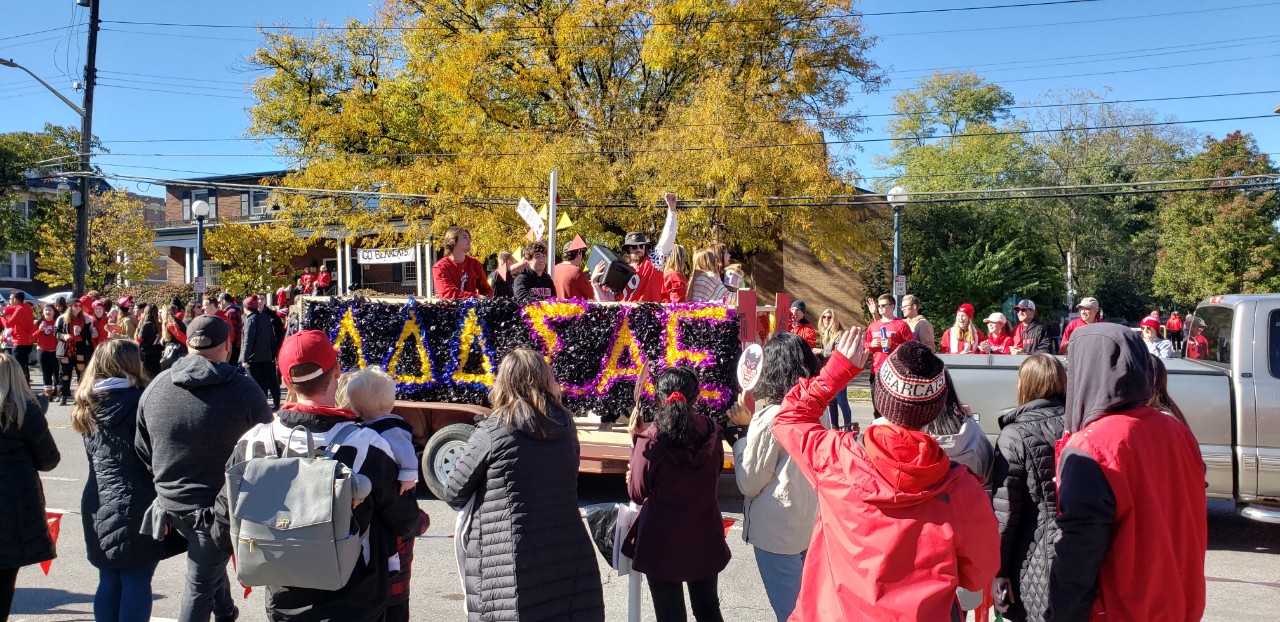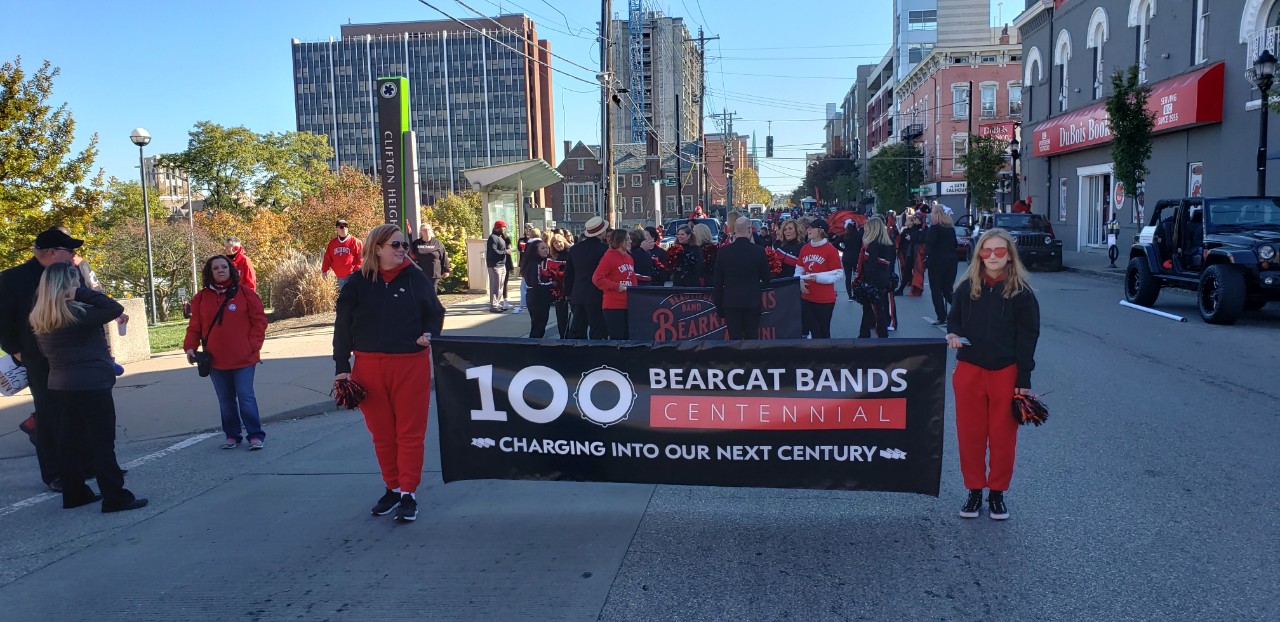 Become a Bearcat
Whether you're a first-generation student or from a family of Bearcats, UC is proud to support you at every step along your journey. We want to make sure you succeed — and feel right at home.
1
Ambassadors represent interests of full-time MBA students
December 4, 2023
The Carl H. Lindner College of Business full-time MBA class of 2024 elected three students to serve as program ambassadors to represent their interests and serve as a conduit between the cohort and the graduate programs office (GPO).
2
WVXU: Health benefits and risks to recreational marijuana
December 1, 2023
The University of Cincinnati's LaTrice Montgomery joined WVXU's Cincinnati Edition to discuss the potential health benefits and harms associated with expanded cannabis access after Ohio voters approved legalizing recreational marijuana in the November election.
3
Public gardens contribute to invasives problem
December 1, 2023
University of Cincinnati botanists found that plants at arboretums and public gardens inadvertently can seed wild areas with nonnative plants. Their study was published in the journal Ecological Restoration.
Debug
Query for this