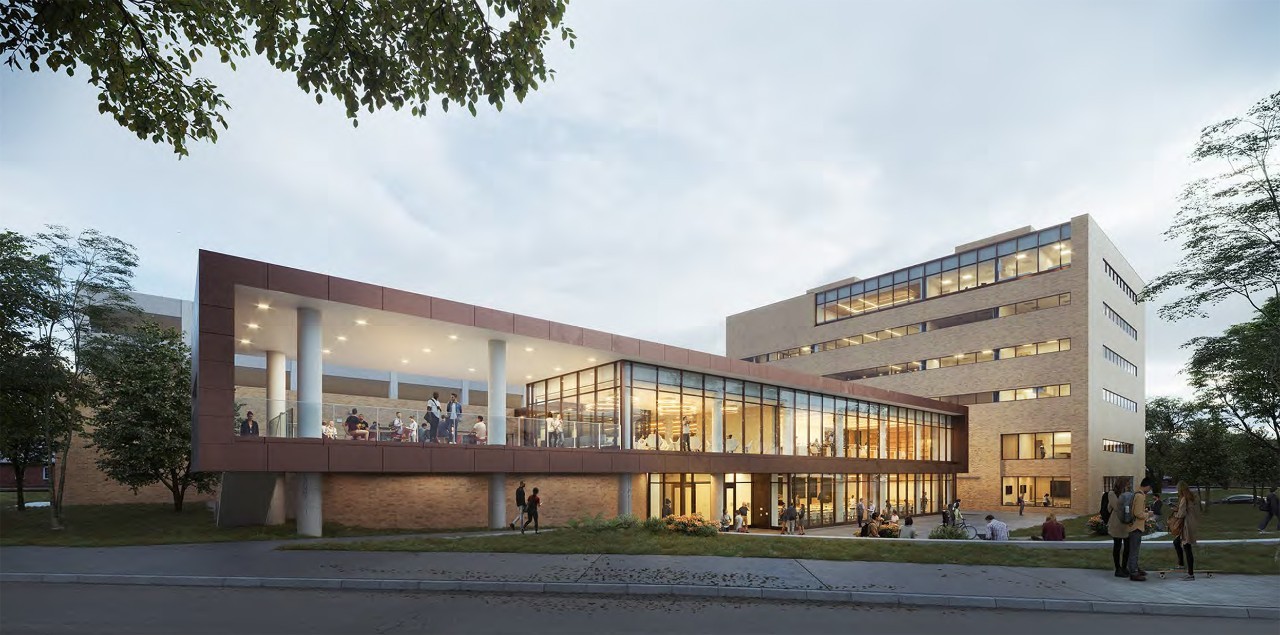 UC College of Law holds beam signing for $45.6 million newly renovated digs
Guests got a chance to sneak a peek at the up-and-coming structure
The University of Cincinnati College of Law hosted a beam signing ceremony for its new home, a $45.6 million renovation of the former Lindner College of Business building.
"Today, Cincinnati Law, the nation's fourth oldest continuously operating law school, reaches another milestone," said UC College of Law Dean Verna Williams. "From our start in 1833, the first law school west of the Appalachians, this College of Law has launched a U.S. president, several United States Supreme Court justices and countless leaders of global, national and local prominence. Today, several years in the making, we are just months away from moving into our new building."
An audience of 70 guests gathered under a nearby tent Wednesday evening to listen to remarks from Williams and from Peter Landgren, president of the University of Cincinnati Foundation. Guests also got a chance to tour the structure which is about 50% complete. The project's contractor is Skanska USA while global design firm Perkins & Will is leading the project as signature architect.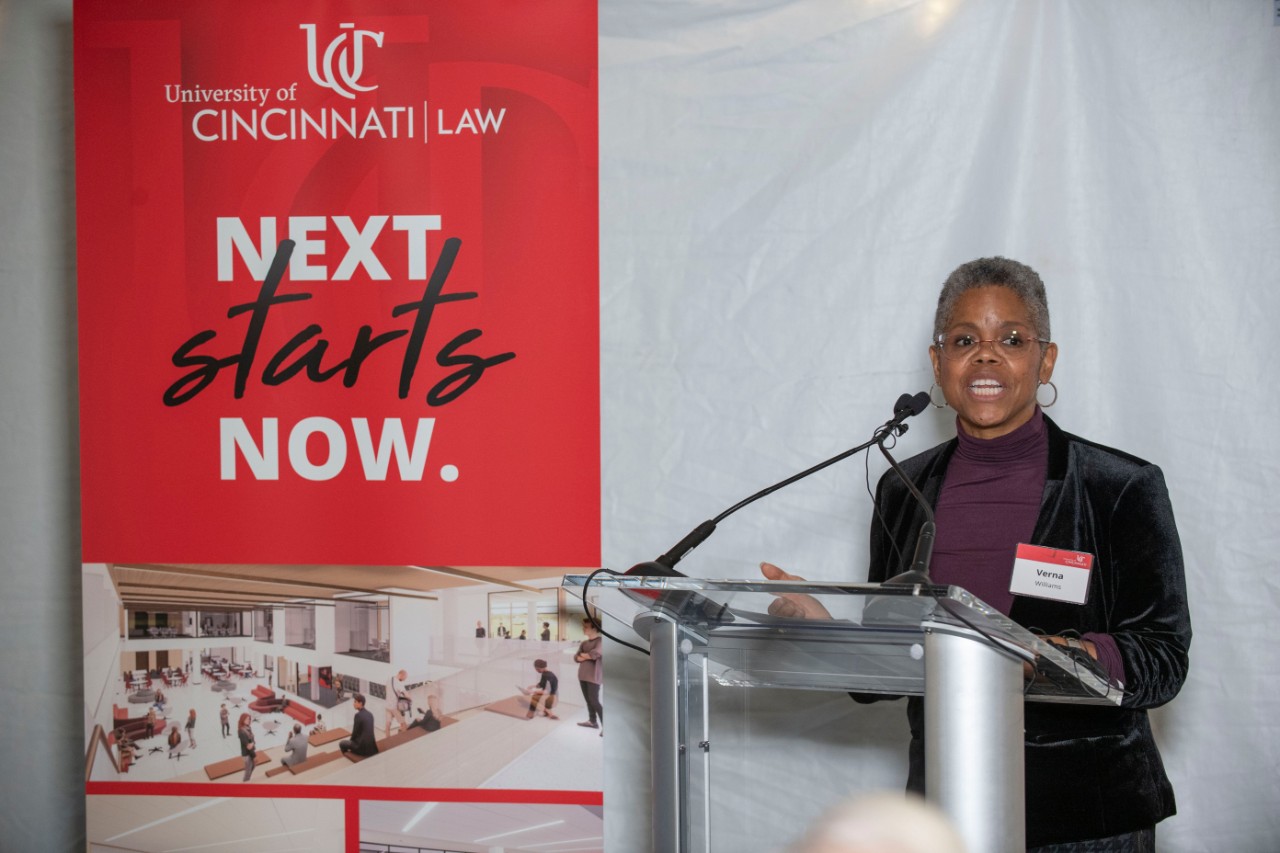 The 116,635-square-foot structure is located in the heart of campus and replaces the former Lindner College of Business building. Planners have reinvented and completely reconfigured the existing building to create a state-of-the-art law school designed to meet the technological and specialized needs for 412 law students and 78 faculty and staff in the UC College of Law.
The newly renovated structure is expected to be ready for classes starting August 2022. 
"With this new home, we leave the corner of Clifton and Calhoun, which we've occupied since 1925, to be in the center of campus," said Williams. "This location alone will herald greater involvement with other colleges, particularly the Lindner College of Business only a few steps away, as well as with the 1819 Innovation Hub and Digital Futures. Working across disciplines and communities to solve the pressing issues of the day is deep in our DNA; our new home will nurture that spirit — the same one that forged the Urban Morgan Institute for Human Rights and the Ohio Innocence Project."
The new structure has the following features:
Six stories

23 classrooms and seminar and private study rooms
Flexible classroom layouts, furnishings and technology
Multiple individual and student group study spaces throughout
Two-story lobby atrium and second-floor terrace
The Honorable Sandra S. Beckwith Courtroom, which will serve as the primary mock trial courtroom for the College of Law – Judge Beckwith is a 1968 graduate of the UC College of Law and first woman to sit on the U.S. District Court for Southern District of Ohio.
"At the building's core will be student success," said Williams. "As I look at the atrium taking shape, I can visualize students scattered on the grand staircase checking their notes. As I look up the stairs, I see more on the terrace, taking a coffee break and enjoying the fleeting sunshine on a fall day. Back inside the atrium, looking up I can see structured study groups learning about the commerce clause; while downstairs, in the multipurpose room, there's a panel of alums and visiting practitioners discussing careers in cybersecurity."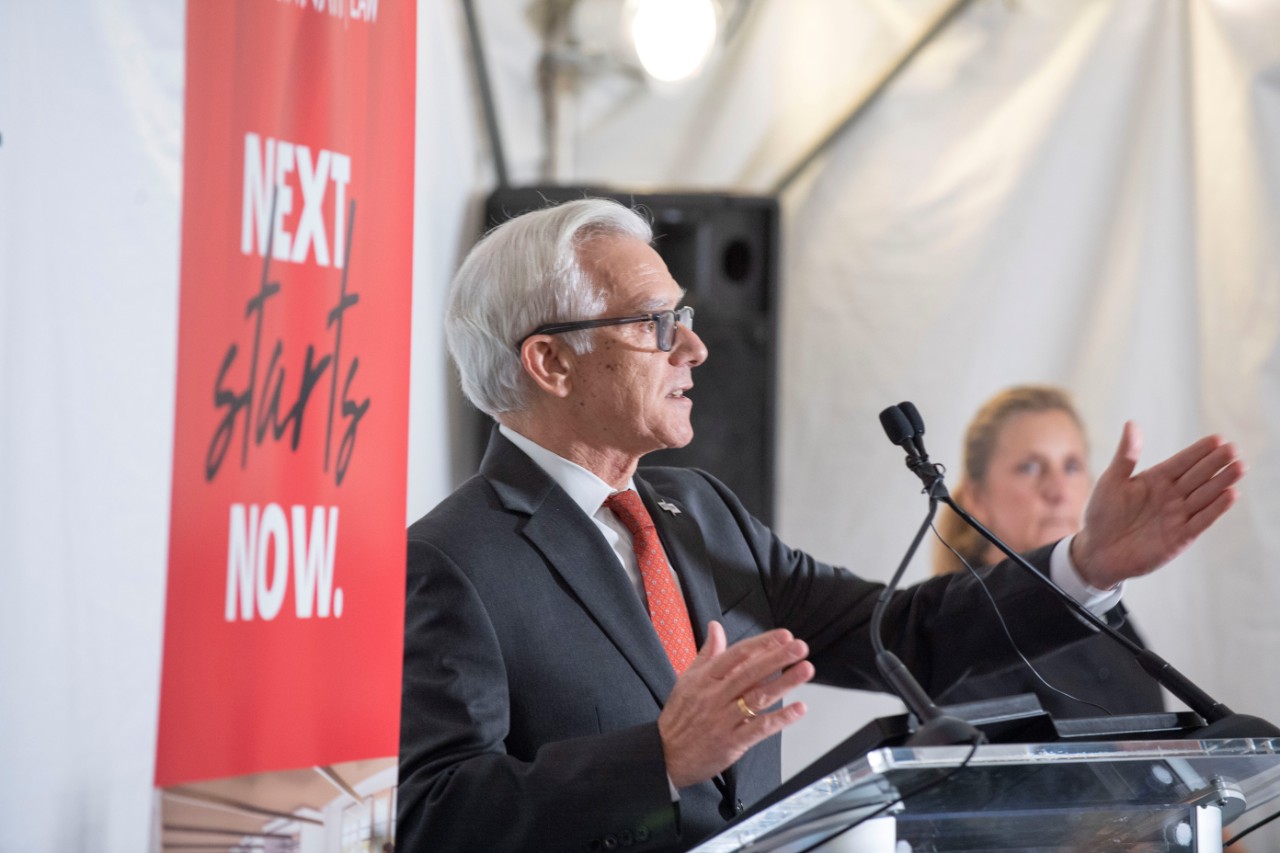 Landgren said the new building for the UC College of Law couldn't have happened without alumni and community partners stepping up to make this vision a reality. He highlighted two impactful gifts that contributed to the building campaign.
He said the College of Law received its largest gift to date and the largest to any Innocence Program in the nation from Richard Rosenthal for the Lois and Richard Rosenthal Institute for Justice at the College of Law. Landgren said this transformational gift boosted vital programming at the Ohio Innocence Project, has provided additional faculty and created a Rosenthal Student Fellows Program. The gift also established designated space for the Ohio Innocence Project within the new building. 
"The generosity of the Rosenthal Family and their commitment to legal justice has changed countless lives," said Landgren.
Another gift will make a primary mock trial courtroom a possibility in the new College of Law. It will be named after the Honorable Sandra S. Beckwith and is the result of fellow alumni of Beckwith donating more than $500,000 for the project.
"Your gifts are empowering our leaders of today and empowering our leaders of tomorrow," said Landgren.
Featured image is an architectural rendering of the new UC College of Law building.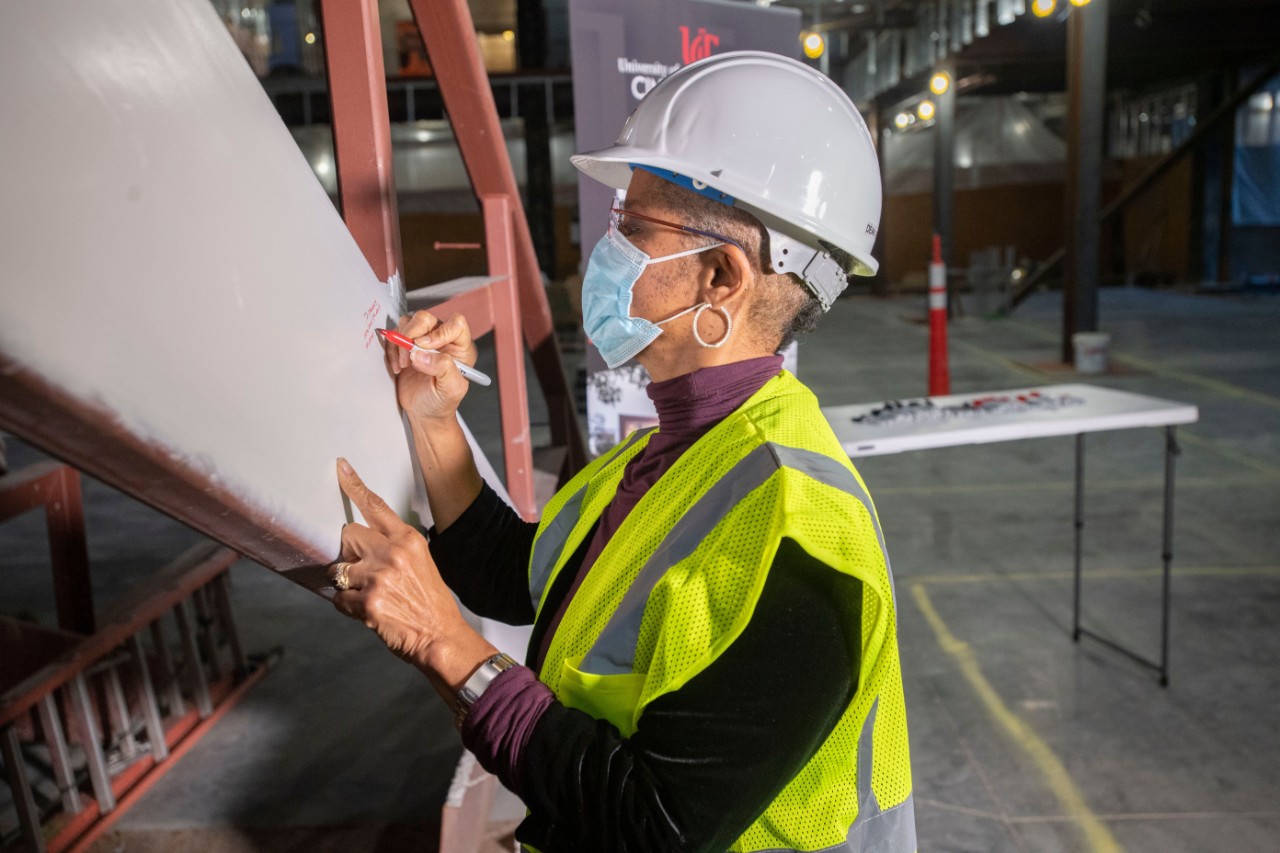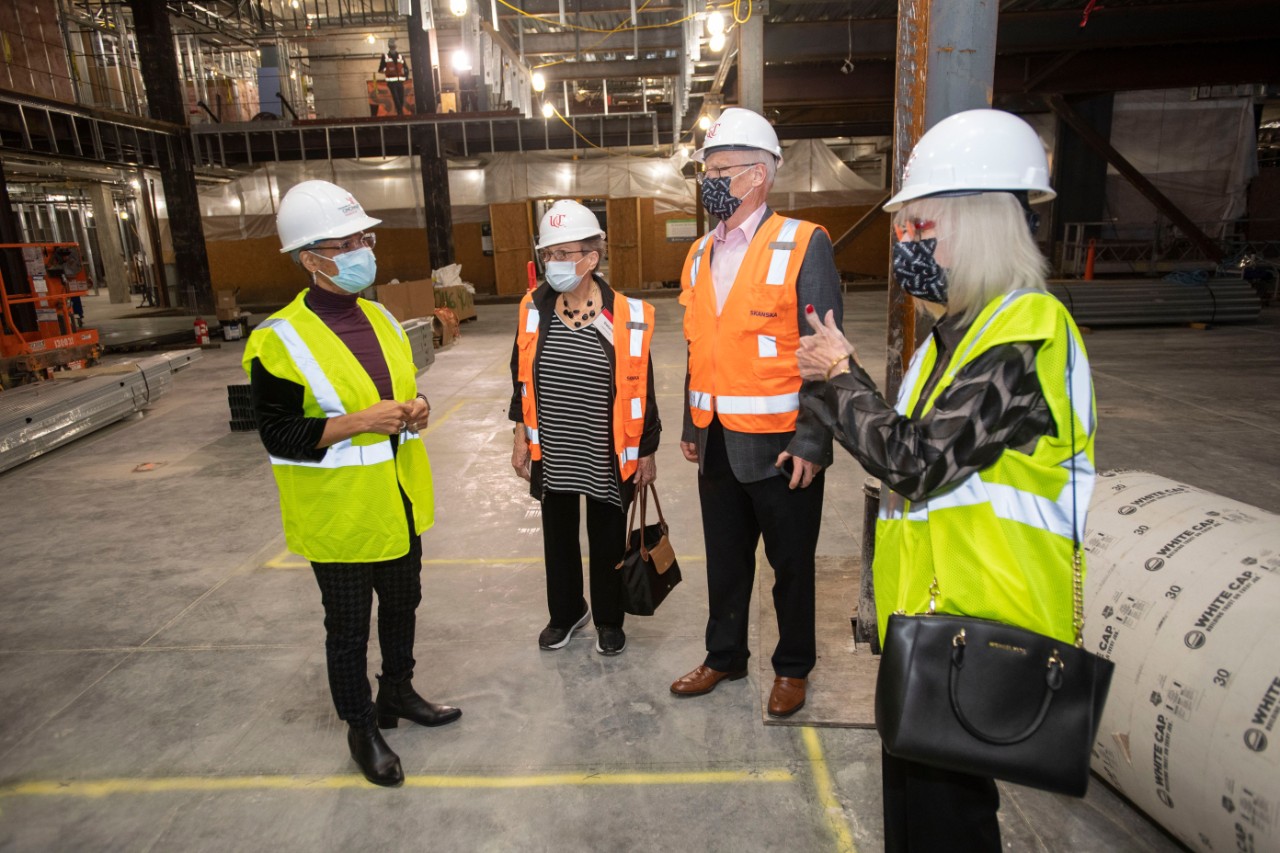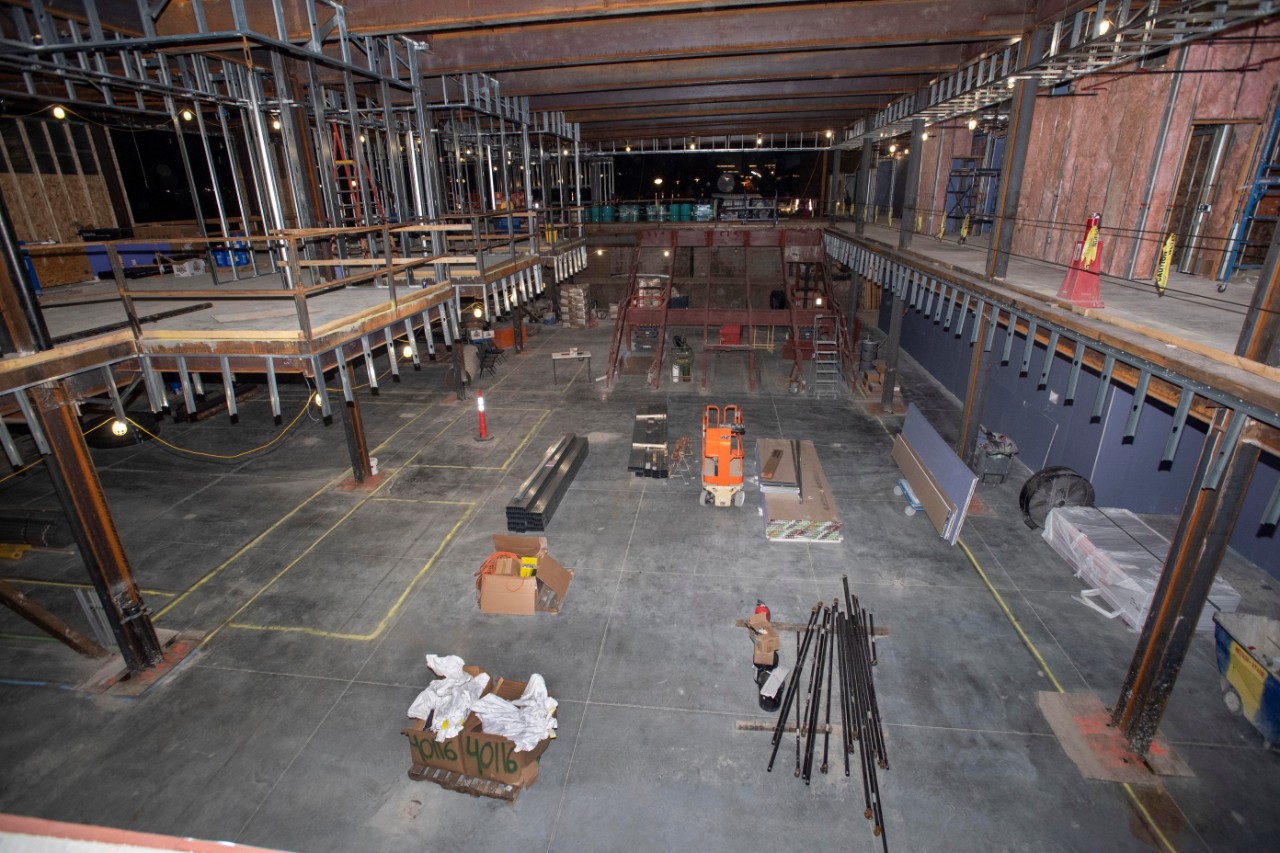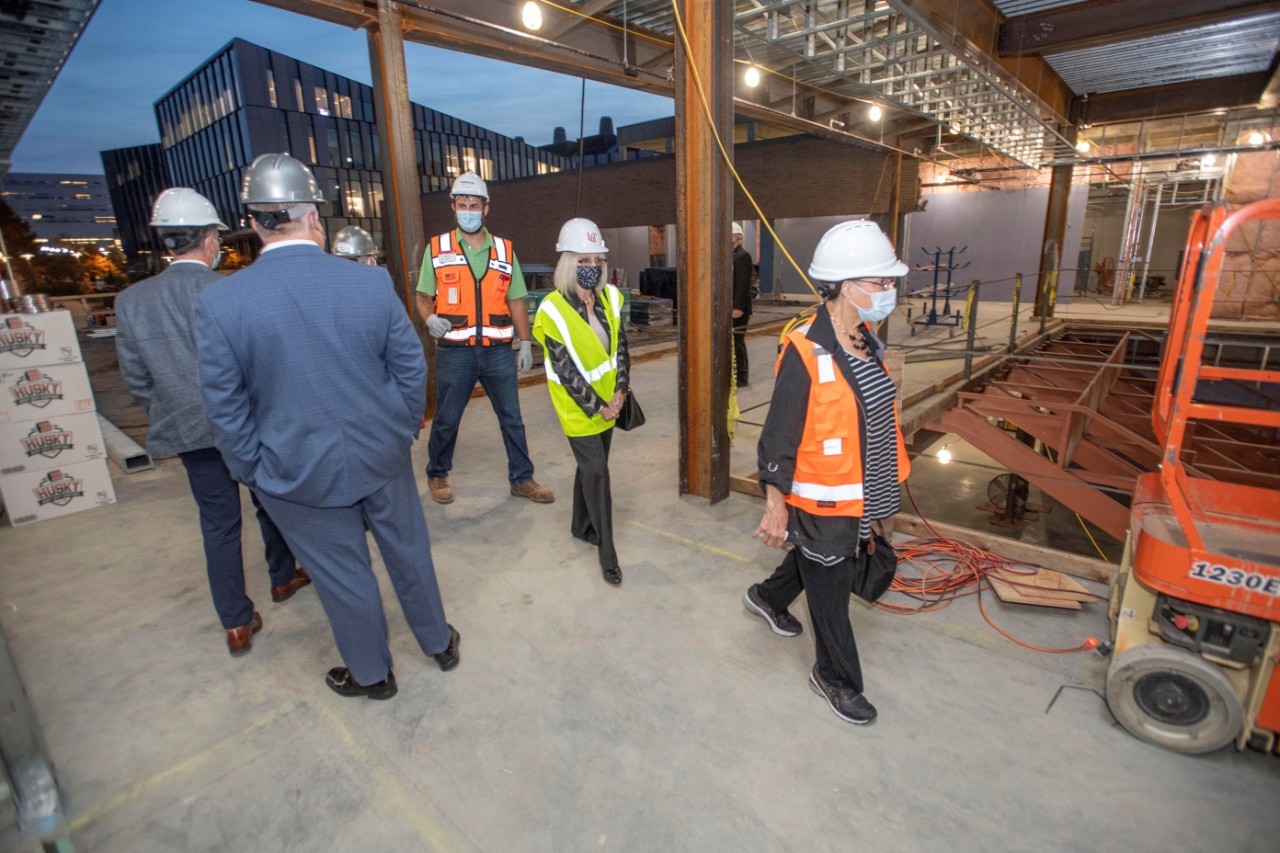 Impact Lives Here
The University of Cincinnati is leading public urban universities into a new era of innovation and impact. Our faculty, staff and students are saving lives, changing outcomes and bending the future in our city's direction. Next Lives Here.

Learn more about UC's new College of Law building or take a UC virtual visit and begin picturing yourself at an institution that inspires incredible stories.
1
WLWT: How one of Ohio's newest lawyers went from federal prison...
May 30, 2023
UC Law alum Damon Davis spoke with WLWT-TV about his journey from former federal prison inmate to accomplished attorney. Davis spent four-and-a-half years behind bars after being convicted of federal drug and gun charges in 2017. This month he took the Ohio Bar Admissions and is now a public defender in Hamilton County.
2
Newsweek: Conservative justices deal a blow to Ivermectin in...
May 29, 2023
The Wisconsin Supreme Court ruled earlier this month that hospitals can't be forced to issue Ivermectin to patients. It backed an earlier appeals court decision. Jennifer Bard, PhD, professor at the University of Cincinnati College of Law, weighed in on the decision during an interview with Newsweek.
3
WCPO: Asian American and Pacific Islander Heritage Month series
May 28, 2023
Two faculty members and one student have been profiled by WCPO-TV as part of a series celebrating May as Asian American and Pacific Islander Heritage Month (AAPI). These segments feature the stories of UC Law's Dr. Jenn Dye, CCM's Dr. Thomas Gamboa and fourth-year student Aashka Raval.
Debug
Query for this