UC, CPS partner for first Marian Spencer Scholarship awards
Donated funds will give 10 students entering in fall 2022 full tuition to UC, other opportunities
The University of Cincinnati continues its dedicated partnership with Cincinnati Public Schools (CPS) and commitment to underrepresented students with the launch of the Marian Spencer Scholars Program for high-achieving CPS students.
An investment of $6 million — made possible by a gift from UC alumnus and venture capitalist Jim Goetz and university matching funds — will allow 10 CPS students a year to receive full tuition, room and board scholarships and other opportunities. The first 10 Spencer Scholars will enroll in fall 2022, and by 2023, the program will include at least one student from each of the 18 high schools within CPS. 
"The Spencer Scholarship builds a runway for underrepresented students at UC who will have an incredible opportunity to launch their academic and professional careers from our campus," said UC President Neville Pinto at the Sept. 10 ceremonies announcing major investments and initiatives tied to inclusion efforts.

"The Marian Spencer Scholarship represents our collective commitment to ensuring that students excel by inspiring, challenging and supporting them to reach their greatest academic, social and personal potential," said CPS' Interim Superintendent Tianay Amat. "We are grateful to the University of Cincinnati for its continued partnership and aiding our students who are eager to pursue a postsecondary education."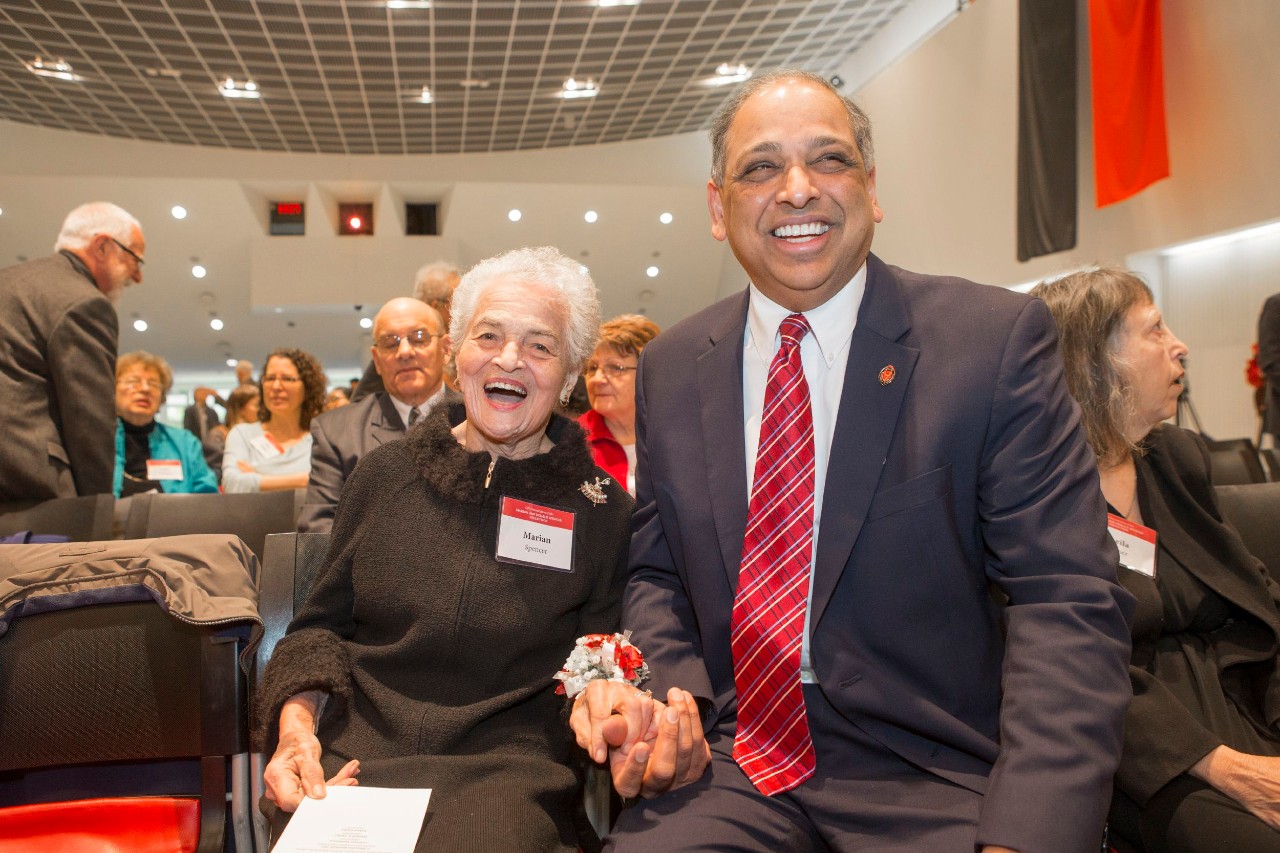 The scholarship will cover students' undergraduate financial need and include mentoring and career coaching, an international service abroad trip to Tanzania in partnership with UC-based nonprofit Village Life Outreach Project, participation in a service project to benefit CPS and more. The students will form a living-learning community, housed together in Marian Spencer Hall.
"This scholarship will be transformational, not just for the individual students but for the entire community," said Jack Miner, vice provost of enrollment management at UC. "Students will have unparalleled experiences and connections to the business community and will bring those experiences back to their community and to their high school."

Spencer Scholars will be perfect examples of Marian Spencer's leadership and legacy. A civil rights icon, UC alumna Spencer was instrumental in desegregating Cincinnati's Coney Island as well as Cincinnati Public Schools. She went on to become the first African American woman elected to Cincinnati City Council in 1983.
Marian Spencer's legacy is one of service toward social change. This scholarship will identify and strengthen those future leaders.
Jack Miner Vice Provost of Enrollment Management at UC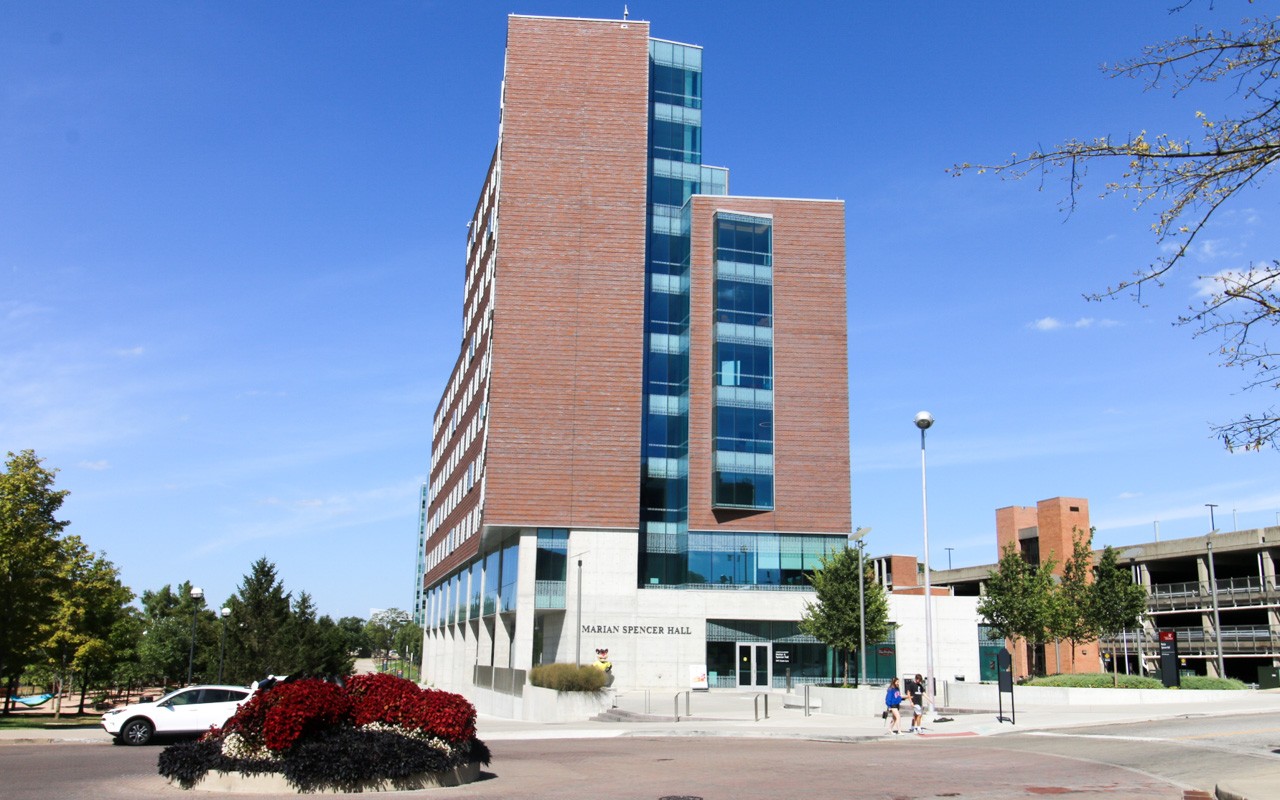 As a Black student in the late 1930s and early 1940s, Spencer wasn't permitted to live in a dorm on UC's campus. That makes an honor she later received all the more fitting:  In 2018, a new high-rise residence hall on Campus Green was christened Marian Spencer Hall to honor her activism and her many contributions to the university. A former board of trustees member at UC, she later donated 80 years of Cincinnati civil rights history to the university in forms as diverse as music and official memoranda to comprise the "Marian and Donald Spencer Collection."
"Marian Spencer's legacy is one of service toward social change," said Miner. "This scholarship will identify and strengthen those future leaders."
"As a public university, we must prepare a way for an exciting and equitable future for all," President Pinto adds. "That means opening our doors wide and allowing more people to be educated in the tradition of excellence for which UC is known. Increasing our diversity strengthens the quality of the experience on our campus for all.
"We must be a place where every member of our community can work, learn, grow and thrive in a safe and supportive environment." 
Featured photo of Marian Spencer by Joe Fuqua. 
Become a Bearcat
Whether you're a first-generation student or from a family of Bearcats, UC is proud to support you at every step along your journey. We want to make sure you succeed — and feel right at home.
1
Lindner student named to Schwarzman Scholars class of 2024-25
December 7, 2023
Carl H. Lindner College of Business student Lance Entsuah, BA '24, recently earned admission to the prestigious Schwarzman Scholars program that offers a one-year, fully funded master's degree program in global affairs from Tsinghua University's Schwarzman College in Beijing, China.
3
Photo essay: Two weeks in Tanzania
December 6, 2023
In May 2023, a team of 34 University of Cincinnati faculty, staff, students, alumni and supporters traveled to Tanzania as part of a two-week service-learning trip with UC-affiliated nonprofit Village Life Outreach Project. UC journalism student and photographer Frank Bowen, along with Educator Professor of Journalism Sean Hughes, joined the group for the photo assignment of a lifetime, capturing the people, places and unforgettable moments across East Africa.
Debug
Query for this