First TAP student to intern at UCPD also becomes new hire
Collaborative innovation changes lives and creates a career opportunity for Brennan Eve
Graduation is a time to celebrate achievements, milestones and new chapters in life. For some students, graduation also brings feelings of uncertainty of what the future might hold.
This was all true for University of Cincinnati student Brennan Eve. Eve graduated from UC in 2021 with a Transition and Access Program (TAP) certificate. TAP is a four-year college education for students with intellectual or developmental disabilities. They live on campus, engage in paid or unpaid internships, enroll in UC electives and take specialized program courses focused on developing self-determination, career skills and increasing social capital. TAP is one of three programs in UC's Advancement and Transition Services (ATS) that provide meaningful, life-changing experiences for teens and adults with intellectual and developmental disabilities.
Eve had much to celebrate at graduation, including making the Dean's List several semesters. With the help from TAP staff and faculty, she took courses, worked in internships and made community connections to achieve her goal of having a career as an office assistant post-graduation. "I liked staying busy, obtaining more office skills and communicating with my co-workers," Eve shared.
One significant internship where she was able to work towards her goal was with the University of Cincinnati Police Division (UCPD).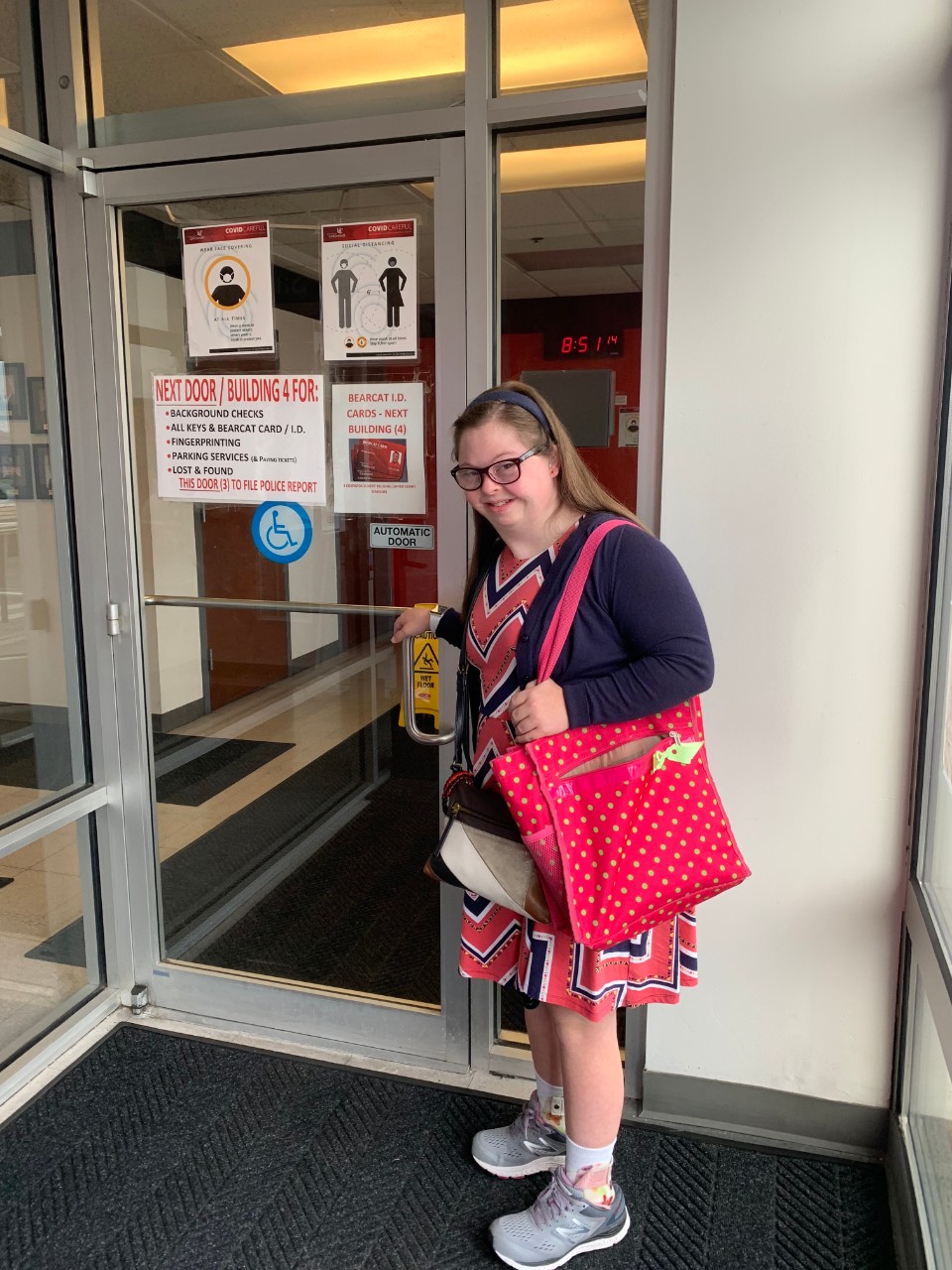 In fall 2019, the director of job development for ATS, Diane Weinbrandt, cultivated a partnership with UCPD with the assistance of Lt. Dave Brinker, investigation and crime prevention supervisor, and Dawn Moore, training consultant for UCPD.  They were very enthusiastic about providing TAP student internship opportunities.
Eve was the first TAP intern and she thrived in this environment mastering clerical tasks and becoming part of the team. "I wasn't exactly sure what I could expect, but [Eve] was amazing. She was such a hard worker and got so much done," says Moore.
Eve advocated for herself and expressed her hope to continue her internship with UCPD; however, due to COVID-19, the student worker position was not available during Eve's senior year. This left her with feelings of uncertainty post-graduation, "I just felt a little disappointed and a little worried about my future."
I saw this as an opportunity to do something we have not done before to benefit a fellow Bearcat.
James Whalen Director of public safety and chief of police with UCPD
During the spring of 2021, Weinbrandt contacted Moore as well as James Whalen, director of public safety and chief of police with UCPD, about future internships and the potential of creating a staff position to hire Eve full-time after graduation. They loved this idea and could not wait to welcome her back to the UCPD team.
"I just saw it as an opportunity. We've gone through a tremendous transition here throughout the public safety department over the last five years or so and I saw this as an opportunity to do something we have not done before to benefit a fellow Bearcat," says Whalen. 
Christie Joslin, Eve's supervisor and director of business affairs for the Public Safety Department, and her team have created a supportive and nurturing environment for Eve. "It was a good opportunity to be able to create a full-time position to do those tasks that are needed constantly and consistently. She has done an amazing job," says Joslin. "She's part of the family now."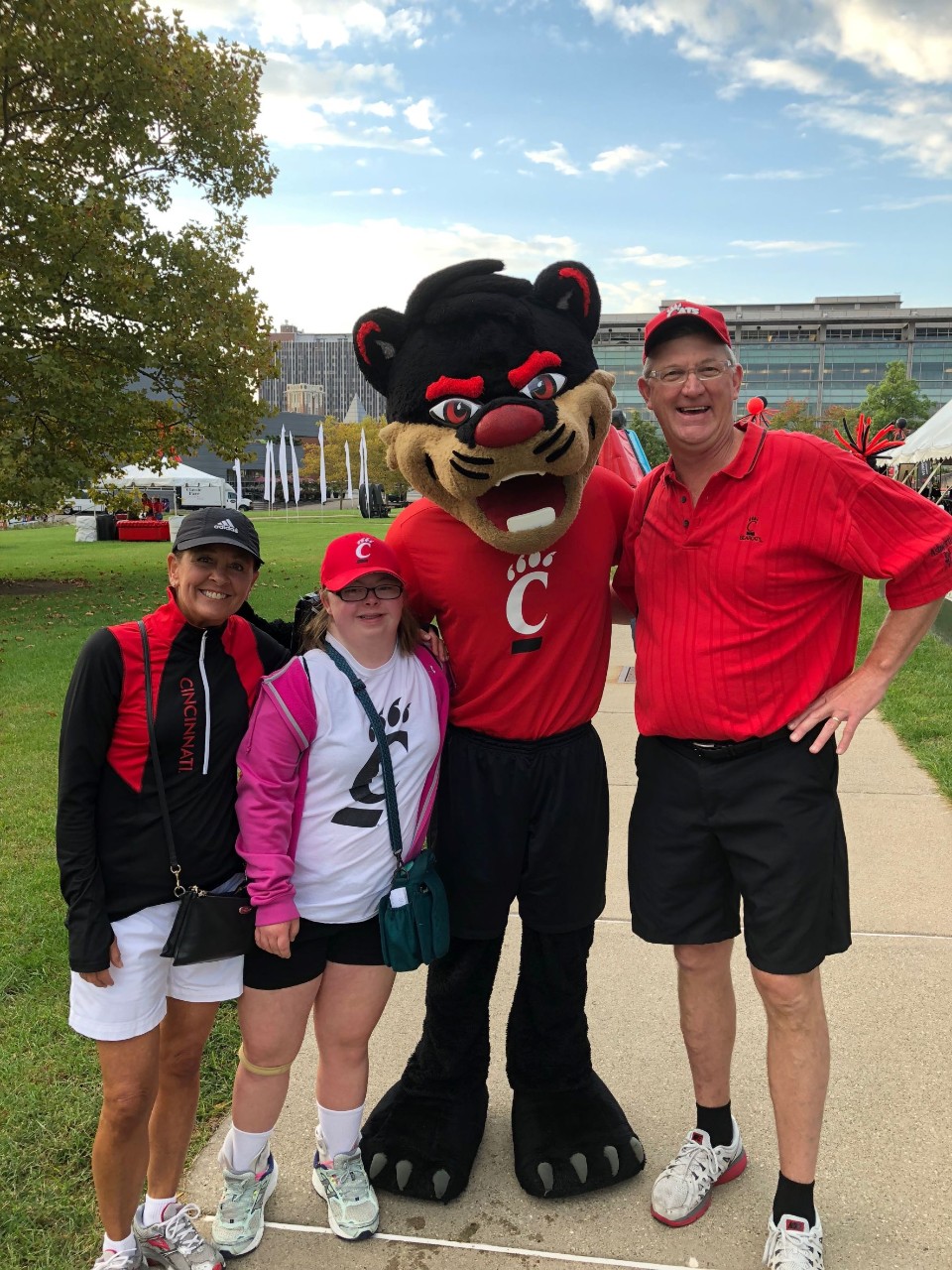 ATS relies on strong community partnerships to collaborate and create innovative ways to break down barriers and provide access to competitive employment opportunities so that their participants can become independent, contributing members of the community. "We don't have to be exclusive here. We can open our doors and we can expand our perspectives a little bit and make room for everyone," Whalen expressed.
The collaboration and dedication from UCPD and ATS embodies the University of Cincinnati's strategic direction of Next Lives Here and upholds the Bearcat Promise, demonstrating inclusive excellence and proactively assisting students in creating a personalized path to achieving success.
The importance of upholding the mission and vision of UC is critically important to Whalen and the UCPD staff. "You have to show it," says Whalen.
"Just saying the words doesn't get it done, you actually have to do it," he says. 
Featured image at top of Bennan Eve on TAP graduation day: Photo/ Sadie Everett.
Become a Bearcat
Whether you're a first-generation student or from a family of Bearcats, UC is proud to support you at every step along your journey. We want to make sure you succeed — and feel right at home.