UC graduates celebrate together
Fall commencement recognizes 2,284 graduates at Fifth Third Arena
University of Cincinnati biology major Audrey Knowles took photos with family in front of Fifth Third Arena to celebrate her graduation from UC's College of Arts and Sciences.
"I had to be here. She's my little girl," said Knowles' grandmother, Myra Mitchell, who drove in from Elyria, Ohio, for the occasion. "It's a big deal. She's the first in the family to graduate from college."

UC celebrated fall commencement for 2,284 graduates Friday in two ceremonies at Fifth Third Arena. 
And while the specter of the COVID-19 pandemic still hovers over public events, graduates said they were grateful to celebrate together. Friday's ceremonies for fall graduates offered a semblance of normalcy after a second year of precautions UC is taking to protect students and faculty.
"After nearly two calendar years that have often been defined by the times we have spent apart, I'd like to focus on the incredible value of being together as we are today," UC President Neville Pinto said in his commencement address.
Miss the ceremony? Watch it here
UC's 2021 fall commencement ceremonies complete with family shout-outs and Bearcat "Grad-itude" messages are available to watch here.
Pinto's speech touched on all the ways students have sacrificed for the benefit of others during the pandemic through missed events, social distancing, limited travel and adherence to health protocols.
"Thank you for caring for one another and putting others first," Pinto said.
Pinto spoke of UC alumnus Jim Goetz's generous $25 million gift to the university this year. Goetz credited his mentor, UC electrical engineering professor emeritus Thomas Mantei, for guiding him through an important time in his life. Inspired by Goetz, UC renamed the Engineering Research Center the Mantei Center.
"I hope each of you graduates can look back on your career and recall a special connection with a UC faculty member — someone who inspired confidence in you, someone who challenged you to aspire to your full potential," Pinto said.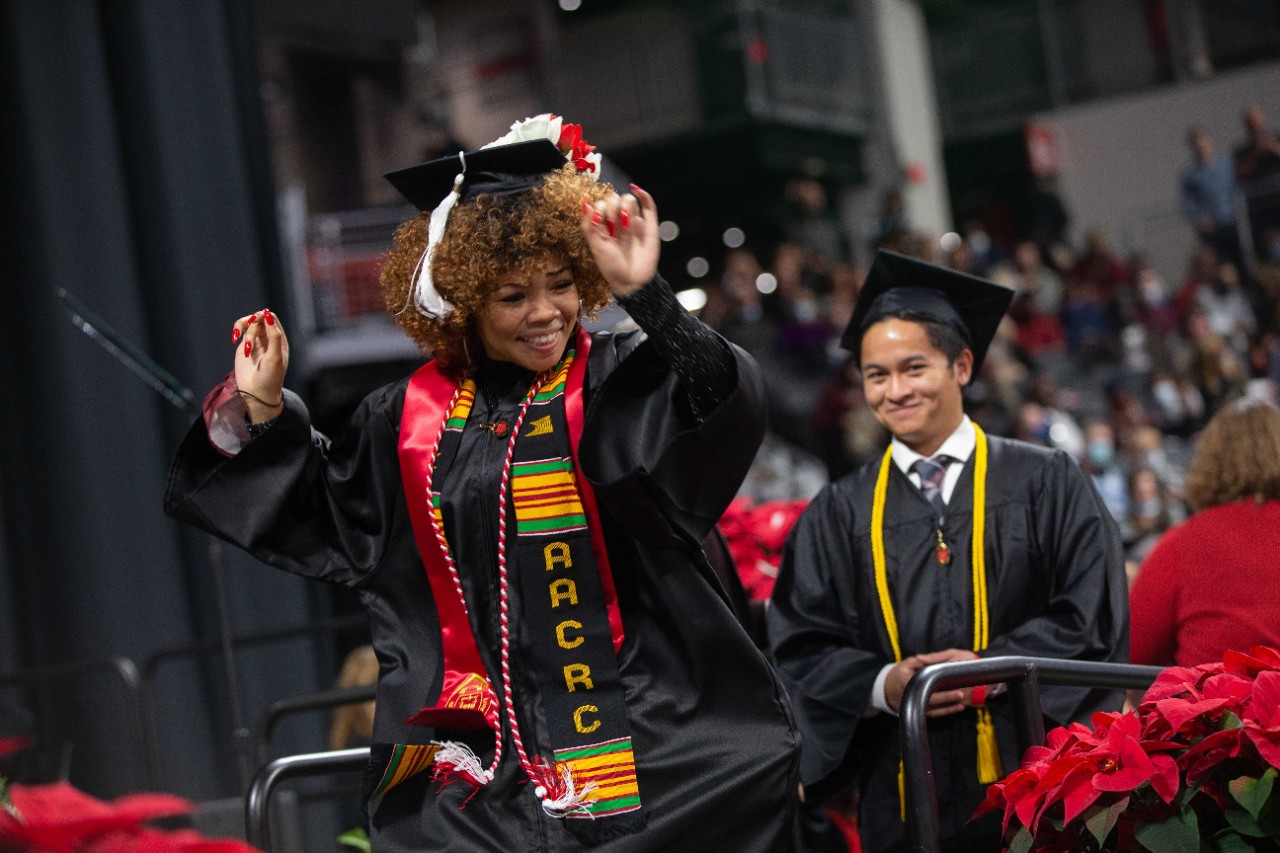 Board of Trustees Chairman Ronald Brown recalled the two most memorable days he spent at UC as a student: the day he met his wife and the day he graduated.
"Being the first in my family to graduate from college gave me a real sense of pride. But it was seeing my parents beaming with pride that made me realize I had accomplished something very special," Brown said.
"Much has changed in the many years since my commencement. But one thing has not: the outstanding value a degree from the University of Cincinnati provides and the fact that you should all be proud of what you have accomplished," Brown said. "It is my pleasure to welcome you into the family of over 300,000 alumni. Congratulations and go Bearcats!"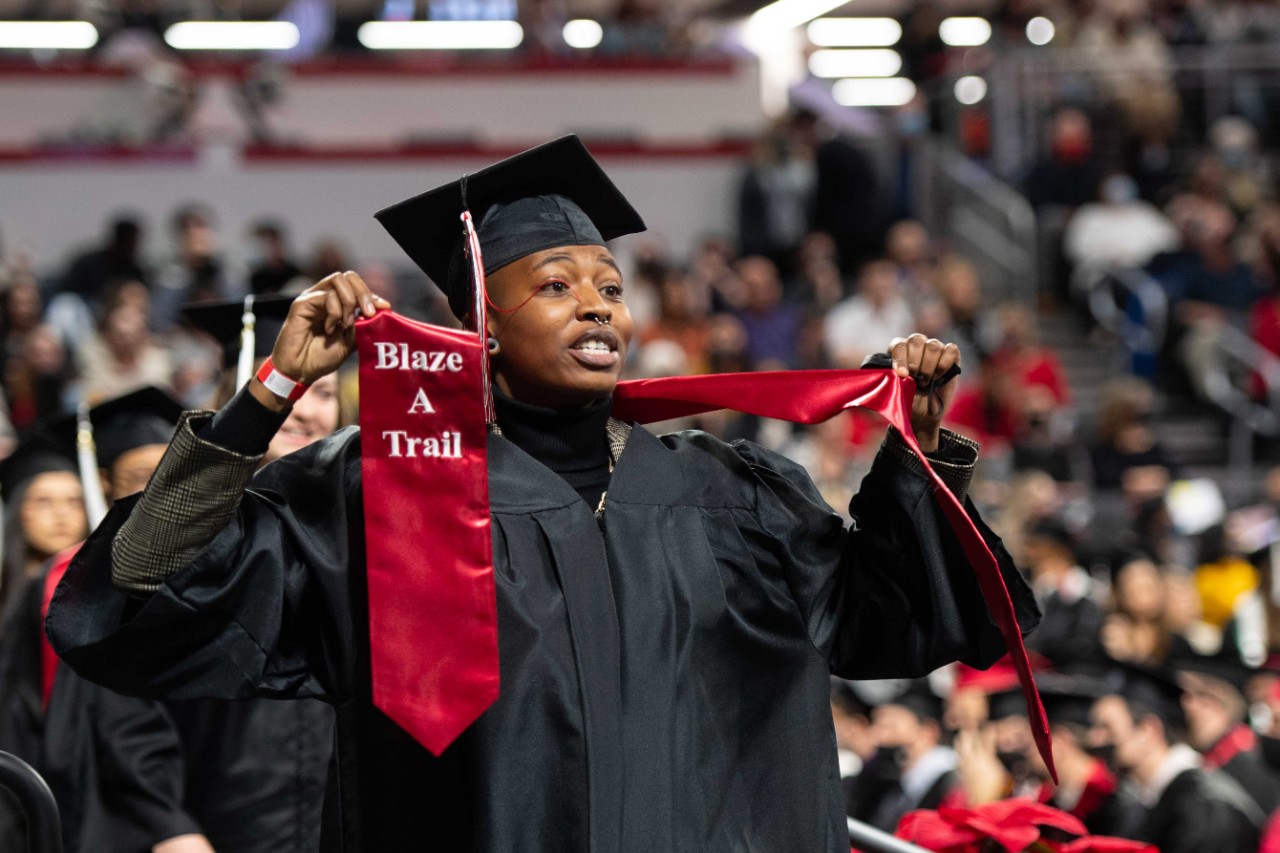 Paying tribute to class of 2021
Azaria Pittman-Carter, a 2021 graduate of UC's College of Arts and Sciences, read an original poem she wrote for commencement that included this encouragement:
Remember to do things with great care, understanding and no fear.
Look in the mirror each day and affirm thyself.
The days to come will surely be a test. 
But just as you got to the finish line this time, you again will.
Congratulations to all my Bearcats.
Christina Stewart gave the student commencement address as a graduate of UC's College of Education, Criminal Justice, and Human Services.
Stewart spoke of the long journey that a college degree requires, particularly during a pandemic. But her peers demonstrated grit and persistence, she said.
"You guys have overcome so much," she said. "The tenacity we have shown to persevere and to not give up on our dreams is what we are celebrating today."
Stewart is a nontraditional student as a married mother of four who owns a small business, a childcare program.
Stewart urged her fellow graduates to take a deep breath and reflect on their accomplishments.
"We can now release the worries of the what-ifs and we can inhale a breath of completion," she said. "Though some trials and hardships may have discouraged you, you have shown that nothing could stop you from getting to this day."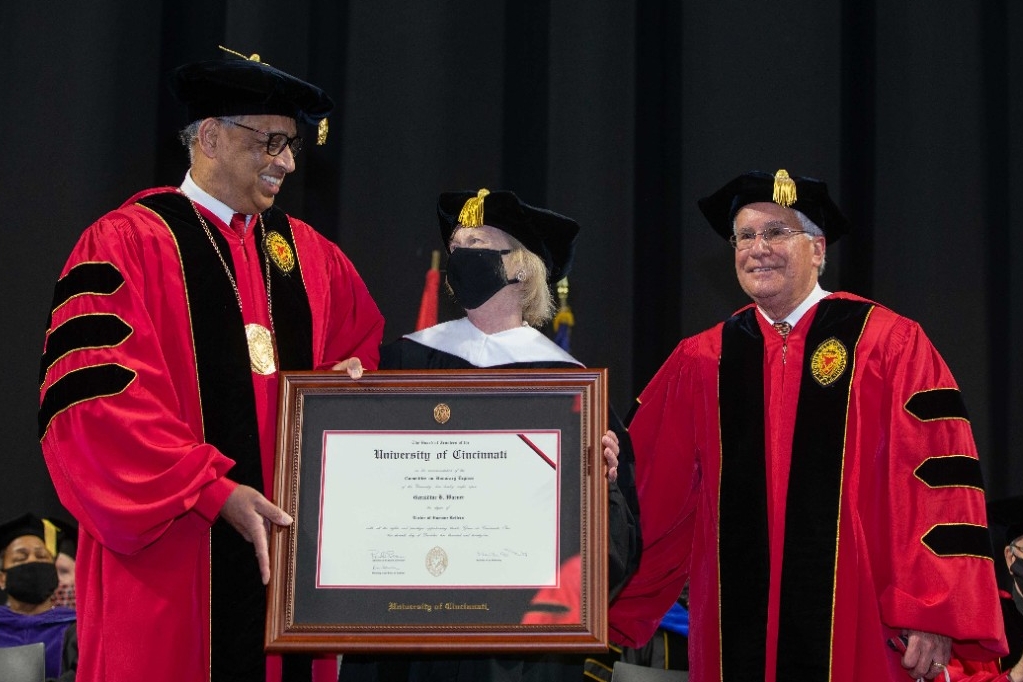 UC presented an honorary doctorate to Board of Trustees member Geraldine "Ginger" Warner in recognition of her loyalty, support and true affection for the University of Cincinnati.
Warner served on the board from 2012 to 2021. She is a retired attorney who practiced both private and corporate law in New York, Maryland, California and the District of Columbia. She is a graduate of Cornell University and the New York University of Law.
Since moving to Ohio in 1983, Warner has dedicated her time and skill to groups such as the Ohio Arts Council, the Cincinnati Symphony, Seven Hills School, the Cincinnati Opera and the Taft Museum of Arts, among many others.
She has served on boards including the Cleveland Orchestra, the National First Ladies Library, Greenacres Foundation and Ohio Citizens for the Arts and as a commissioner for the Hamilton County Park District.
She was named Woman of the Year by the Cincinnati Enquirer and was recognized by the Ohio Alliance for Arts Education for her contribution to the arts in Ohio.
Pinto presented Warner with a doctor of humane letters, honoris causa. In his award letter, Pinto praised her devotion to UC students.
"Ginger, you have made a career out of bringing out the best in others," Pinto said in his presentation. "You have given a lifetime of hope to more individuals and institutions than you know. While others feel good in saying the right thing, you don't rest until the doing is done Promise kept. Difference made. Life changed."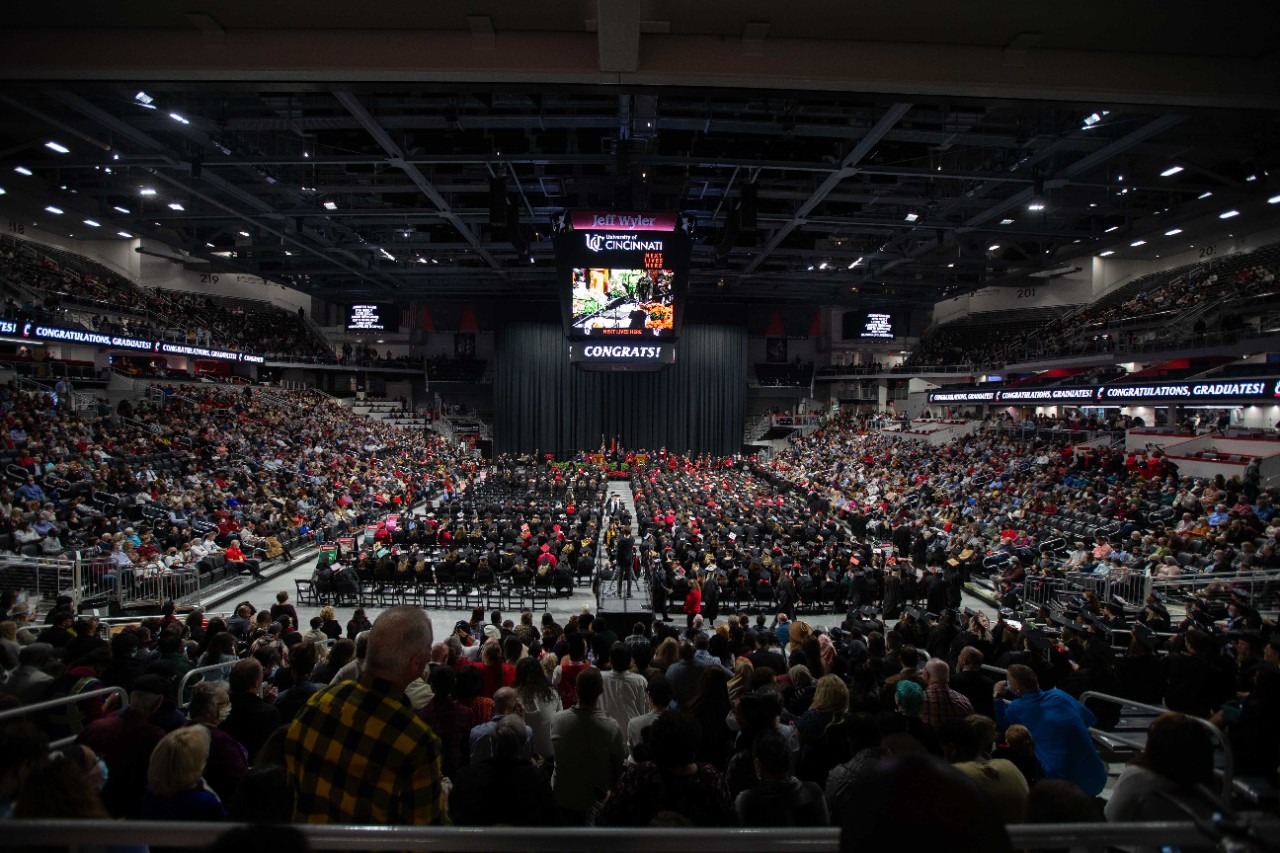 About the fall class of 2021
UC conferred 2,305 degrees to 2,284 graduates, based on preliminary applications. (Some grads earned multiple degrees.) UC presented 199 associate degrees, 1,216 bachelor's degrees, 788 master's degrees, 97 doctoral degrees and five professional degrees.
More than 18% of this year's class are the first in their families to graduate from college. Another 22% transferred from another university.
They hail from 58 countries across five continents. The fall class features students from 48 states. (What's up, South Dakota and Vermont?) And in Ohio, the class represents 71 of Ohio's 88 counties.
The average age of a student earning a bachelor's degree this year is 25. About 58% of fall graduates are women. And 103 students are U.S. military veterans or the dependents of veterans. The fall class includes 81 students who graduated from Cincinnati Public Schools.
UC's class of 2021 celebrated historic milestones for the university. 
UC rose to No. 4 nationally in the annual U.S. News & World Report rankings for cooperative education, the model in which students divide their time between dedicated instruction and employment with one of 2,200 international partners to earn real-world experience in their field. UC launched the nation's first co-ops in 1906. Today, this model is copied around the world. 

Five UC students or alumni from four nations represented their countries this year at the Summer Olympics in Tokyo. UC graduate Vanessa Gilles, one of the most decorated athletes in UC women's soccer history, helped Team Canada win its first gold medal.
The UC Bearcats football team went undefeated, in October ranking No. 2 in the nation on the AP's Top 25 and No. 3 in the College Football Playoffs rankings, both school records. ESPN's College GameDay covered UC's Homecoming, providing live coverage as thousands of students turned McMicken Commons into a Saturday morning party that was the envy of college football.
UC College of Pharmacy student Nicole Wess won Miss Ohio USA, representing the state in the Miss USA pageant.
UC partnered with General Electric Co. Aviation to launch GE Next Engineers, a program designed to recruit students from underrepresented groups to pursue careers in engineering.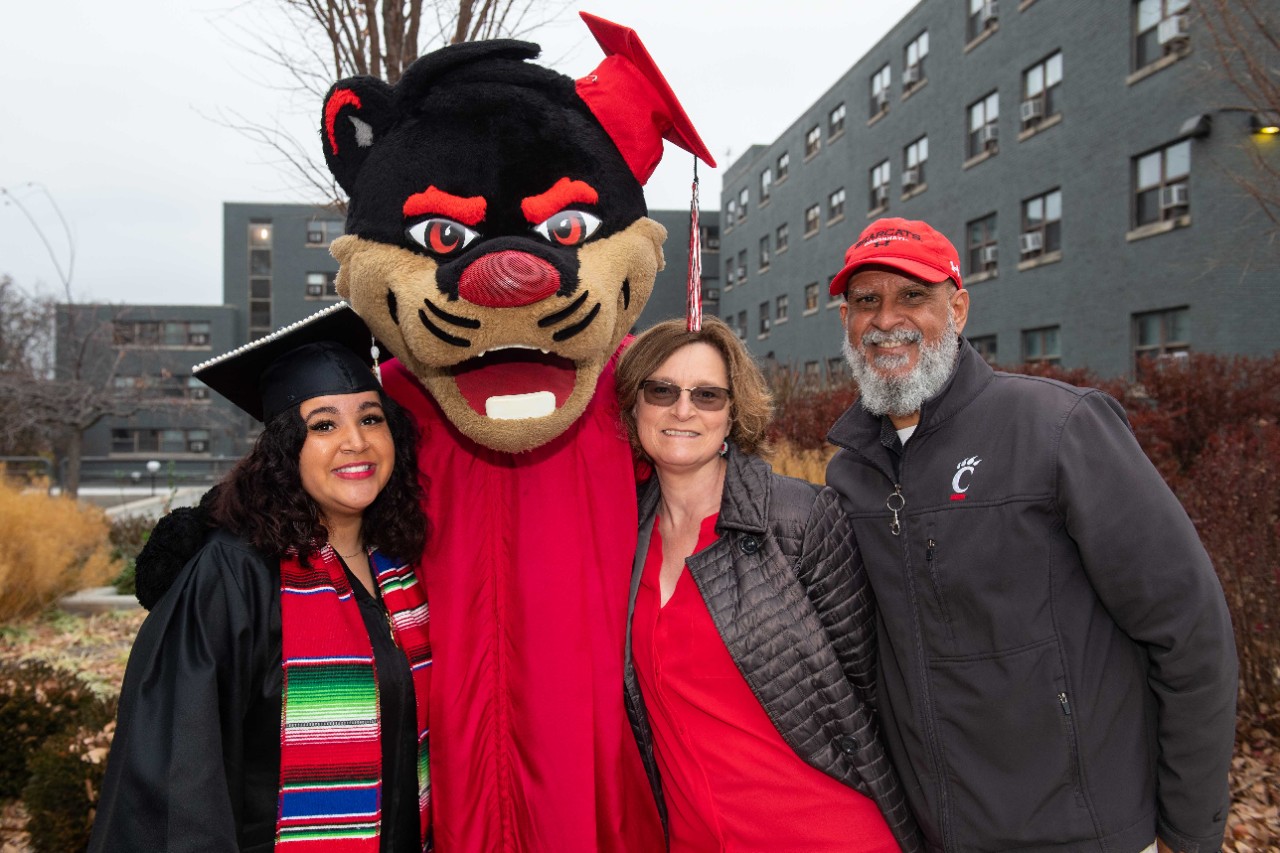 Students share personal triumphs
UC College of Arts and Sciences graduate Elena Velez was a transfer student at UC.
"It was the best decision of my life. It gave me so many opportunities. I had three internships and I'm graduating with a full-time position," she said.
The pandemic posed challenges, Velez said, but UC faculty helped students manage them. 
"I had so many incredible professors who stepped up and were very accommodating," she said.
She took photos outside Fifth Third Arena with the UC Bearcat and her father, Wilson Velez, an adjunct professor in UC's Lindner College of Business.
"It's very important. College provides not only an education but life experience — leaving home and getting new skills and tools," he said. "We're very excited and very proud of her."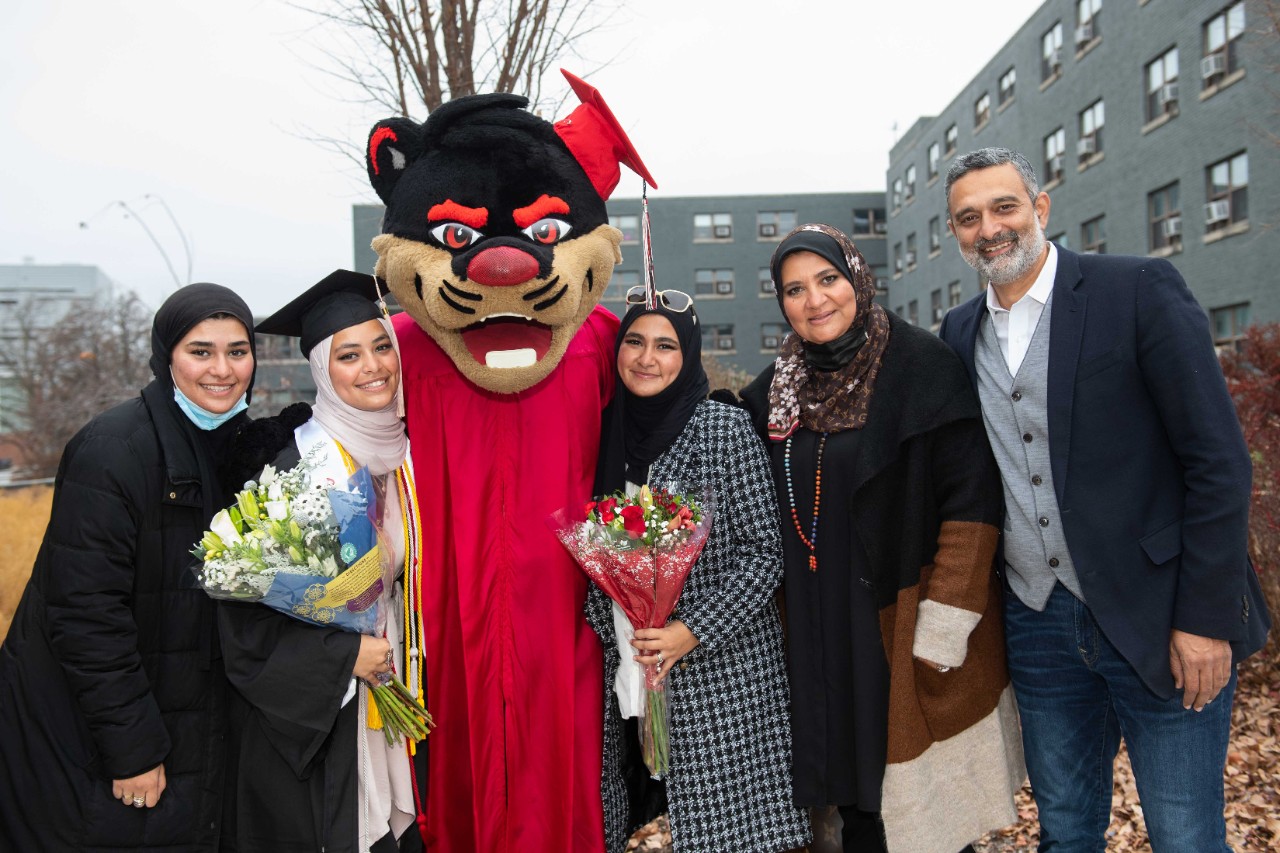 UC Lindner College of Business double major Sherifah Shehata, who graduated magna cum laude, credited UC with helping her get co-ops at Procter & Gamble Co. Now she is considering job offers.
"My dad's been such an inspiration to me. He's a businessman. I felt the need to follow in his footsteps," she said.
Shehata said it was important to share the milestone with her family. She took pictures with her mom on the plaza outside Fifth Third Arena.
"I keep getting flashbacks of her as a baby. TIme really does fly," her mom said. "One minute they still need your help and the next, they're ready to go off and face the world."
Grandparents Richard and Audie Kiplinger drove in from Cleveland to celebrate the graduation of their grandson Jaret Kiplinger from UC's Lindner College of Business. He is their youngest of their four grandchildren, all college graduates.
"We just hope Jaret has good opportunities to have a nice career. I look forward to seeing him become very successful," Kiplinger said.
Richard Kiplinger graduated from Baldwin Wallace University in 1958.
"It was 63 years ago, but I still remember it," he said.
Featured image at top: UC recognized more than 2,280 graduate at its fall commencement at Fifth Third Arena. Photo/Andrew Higley/UC Creative + Brand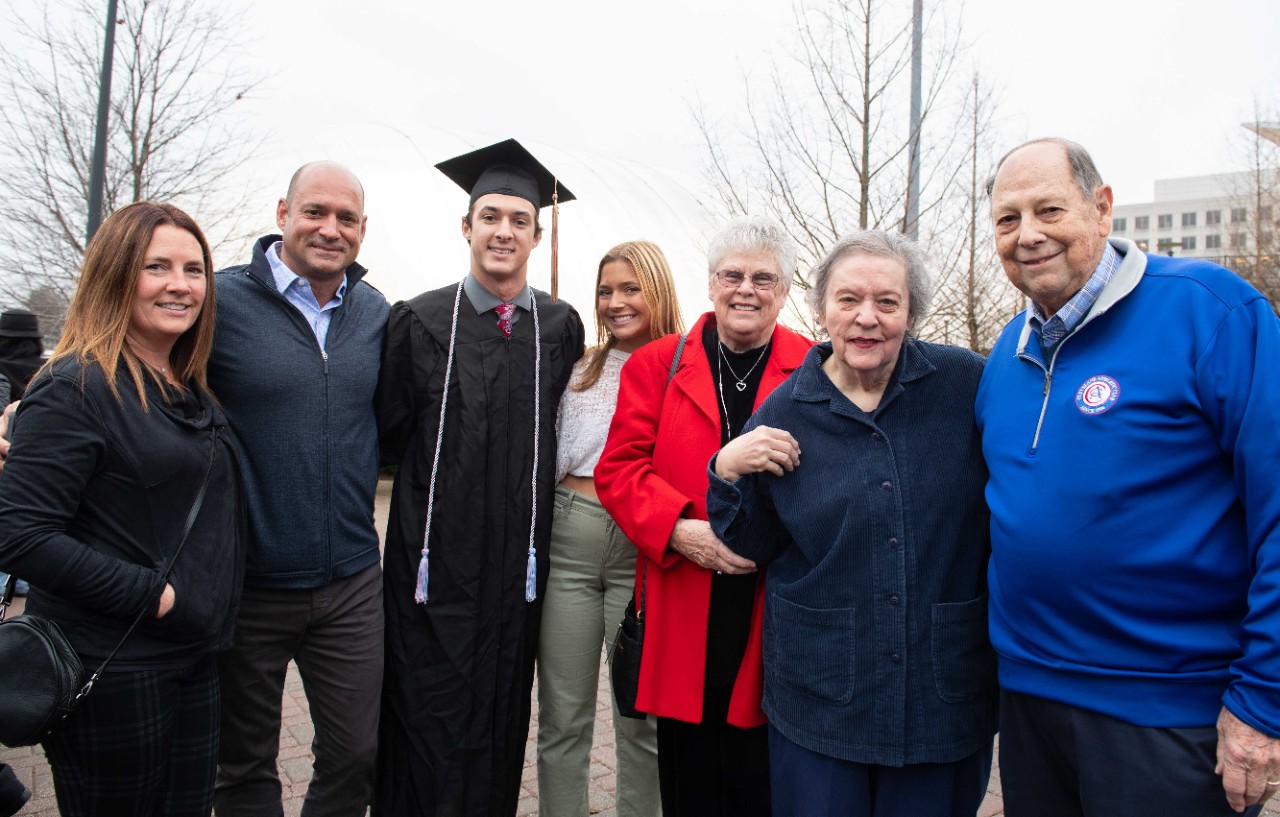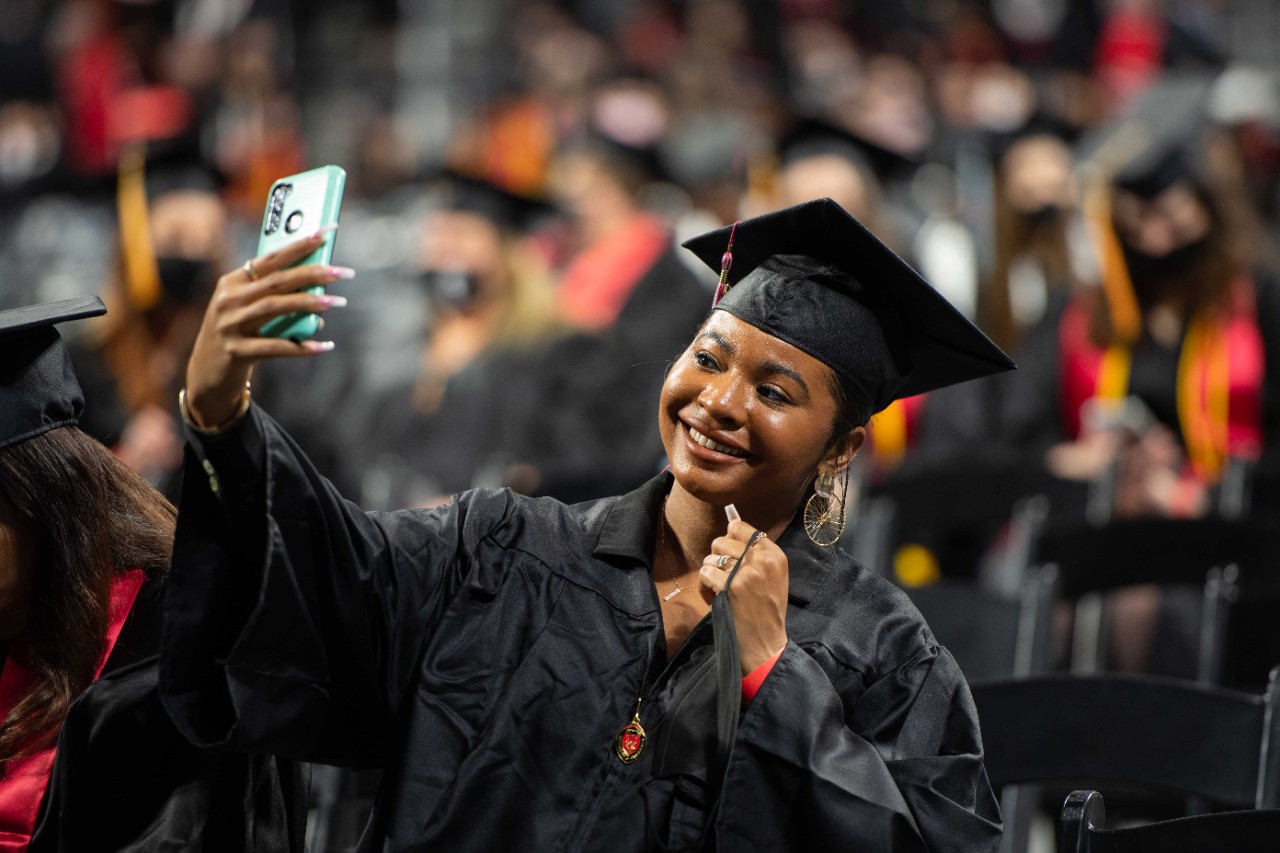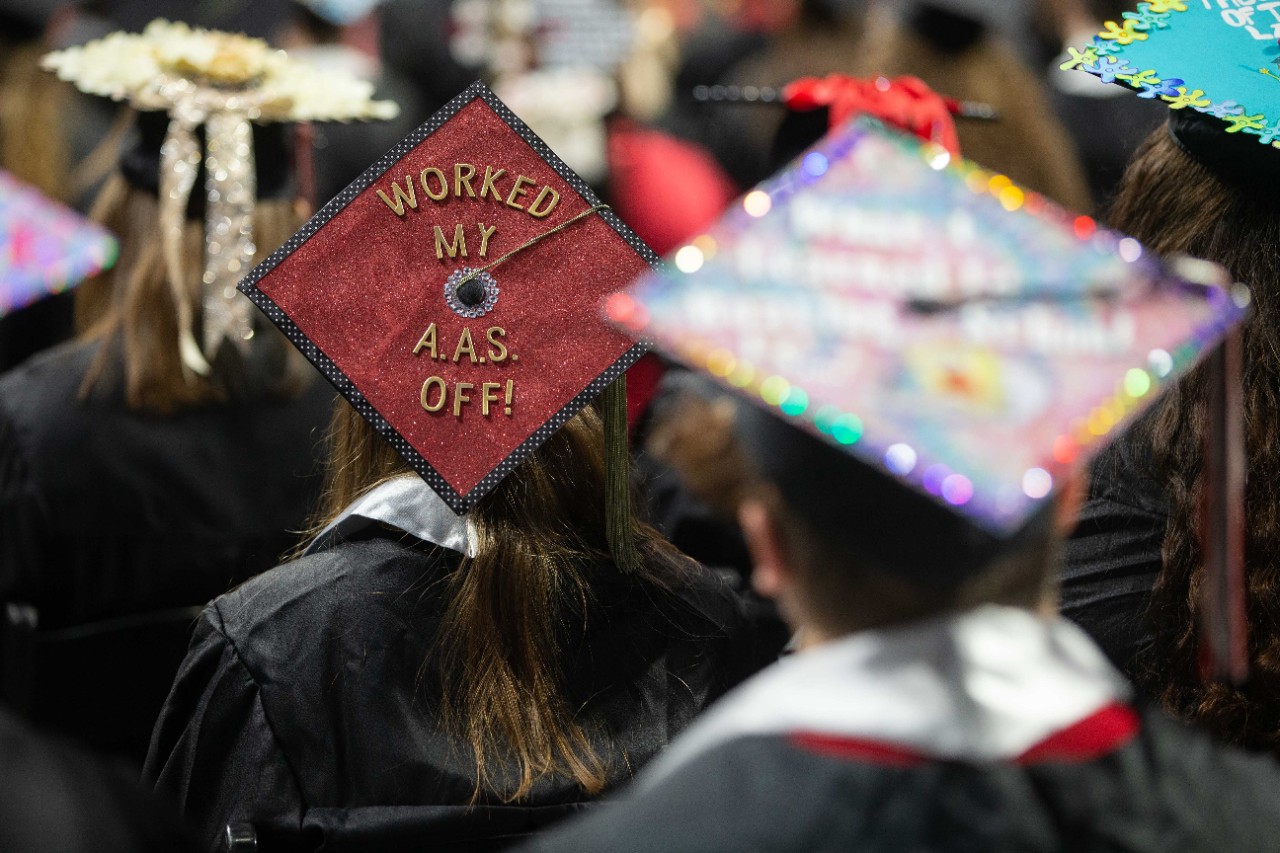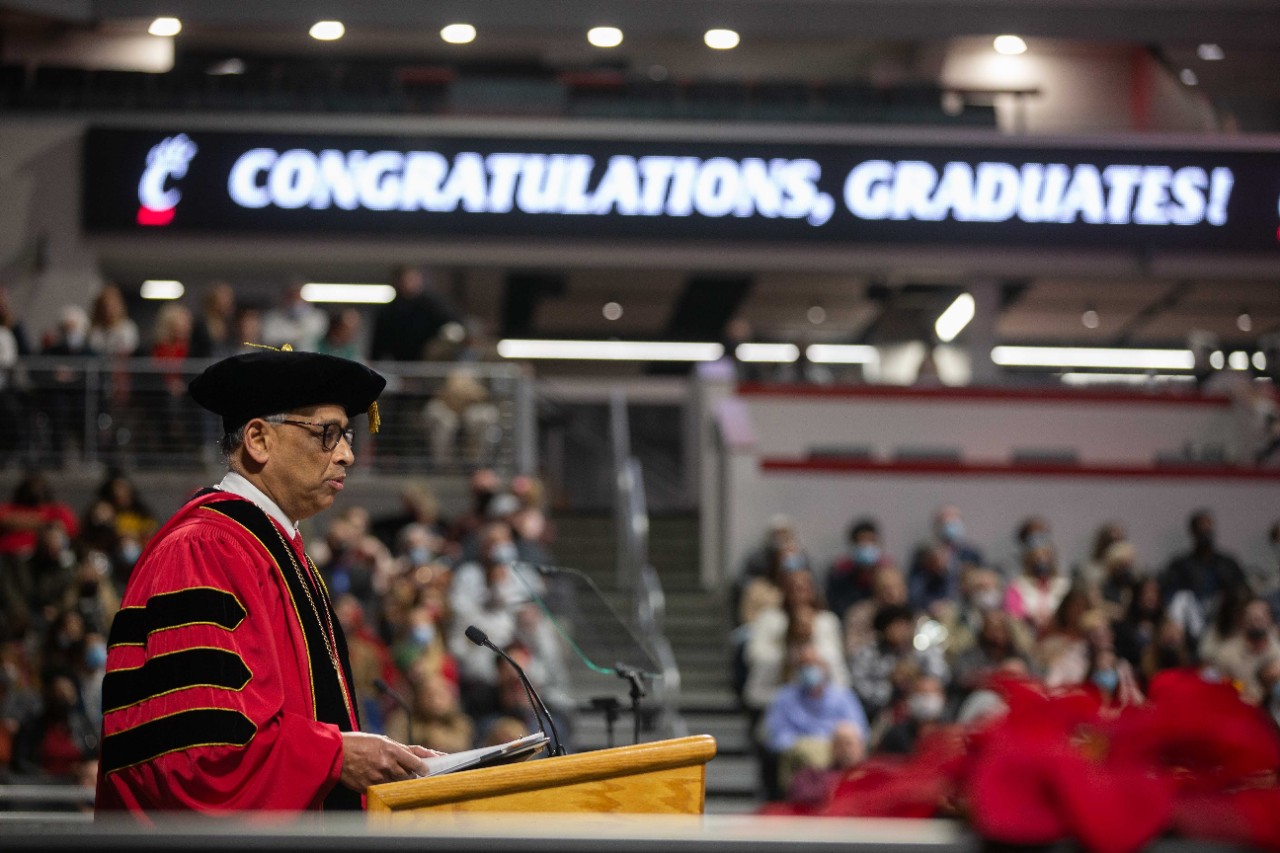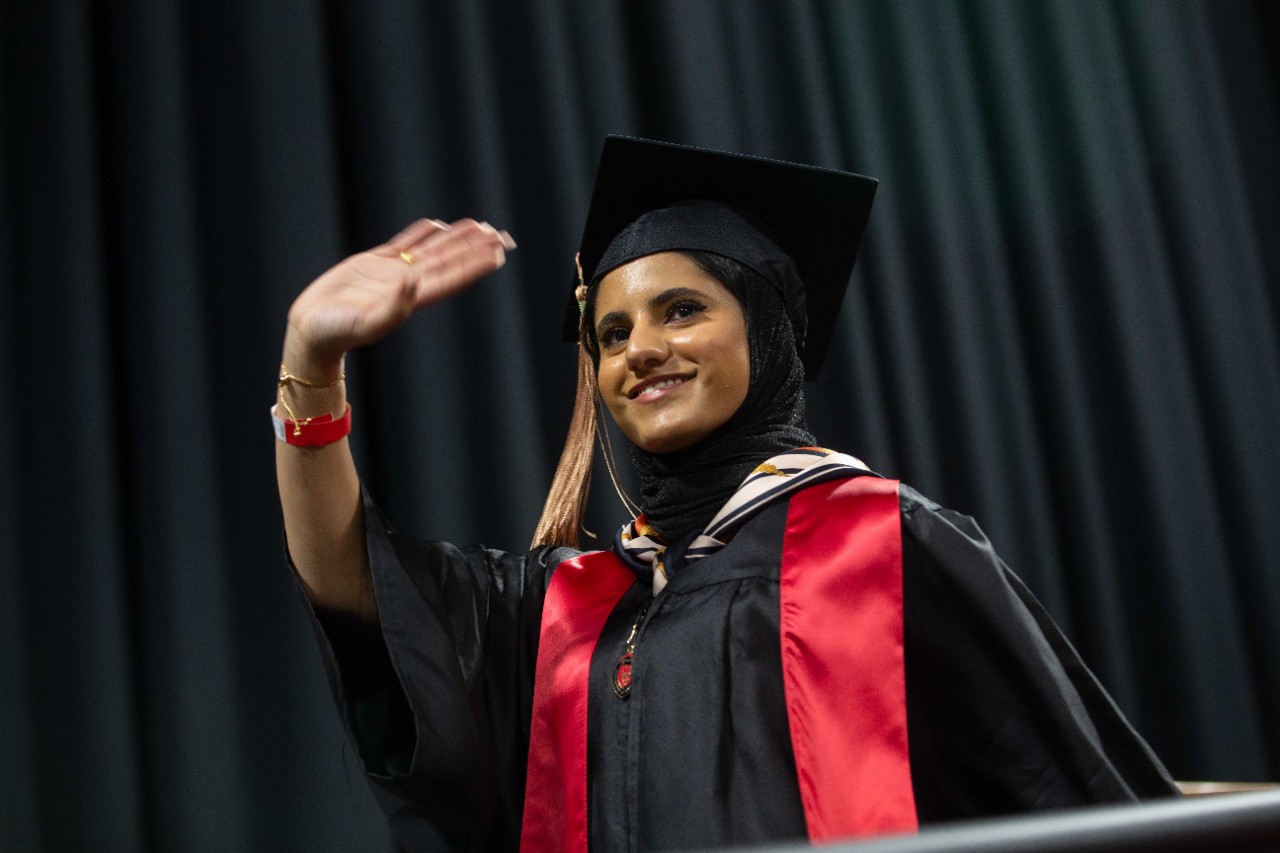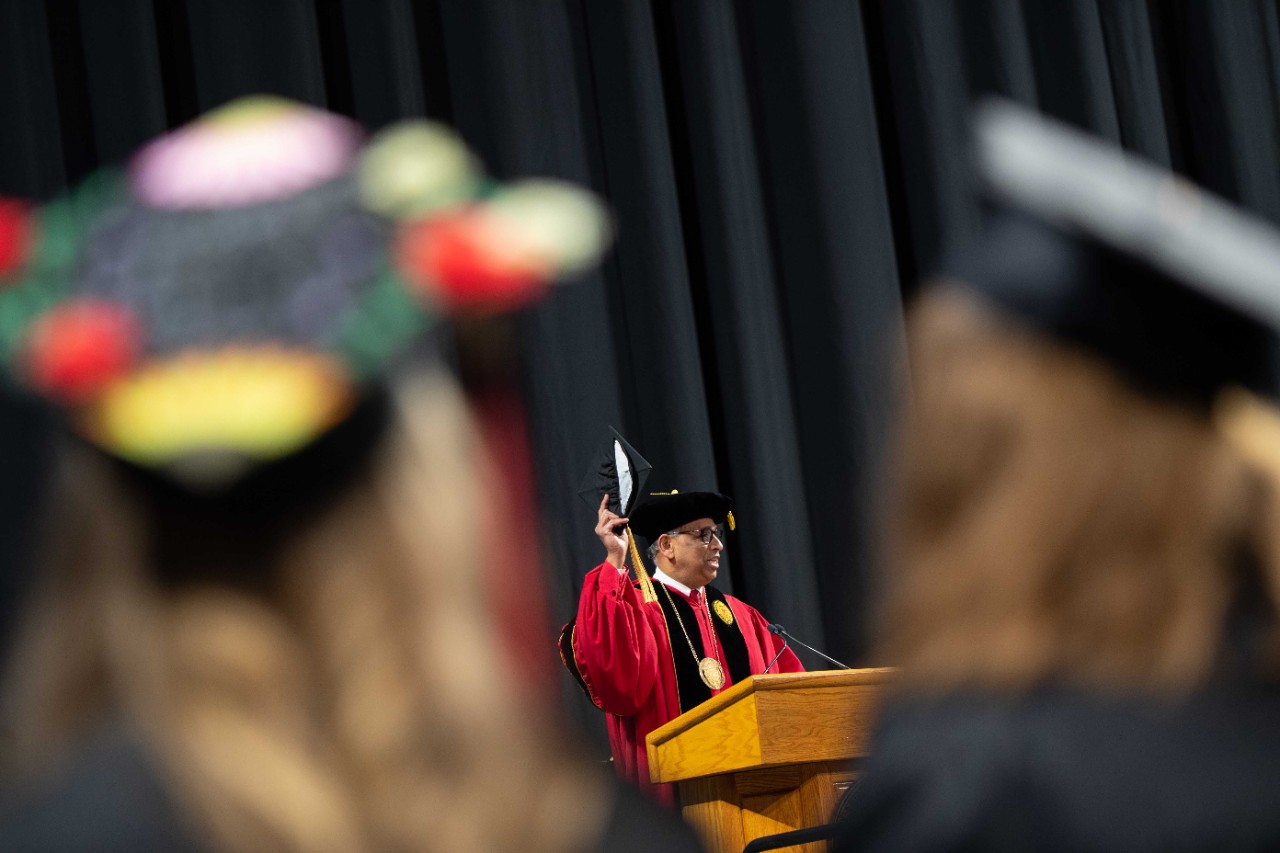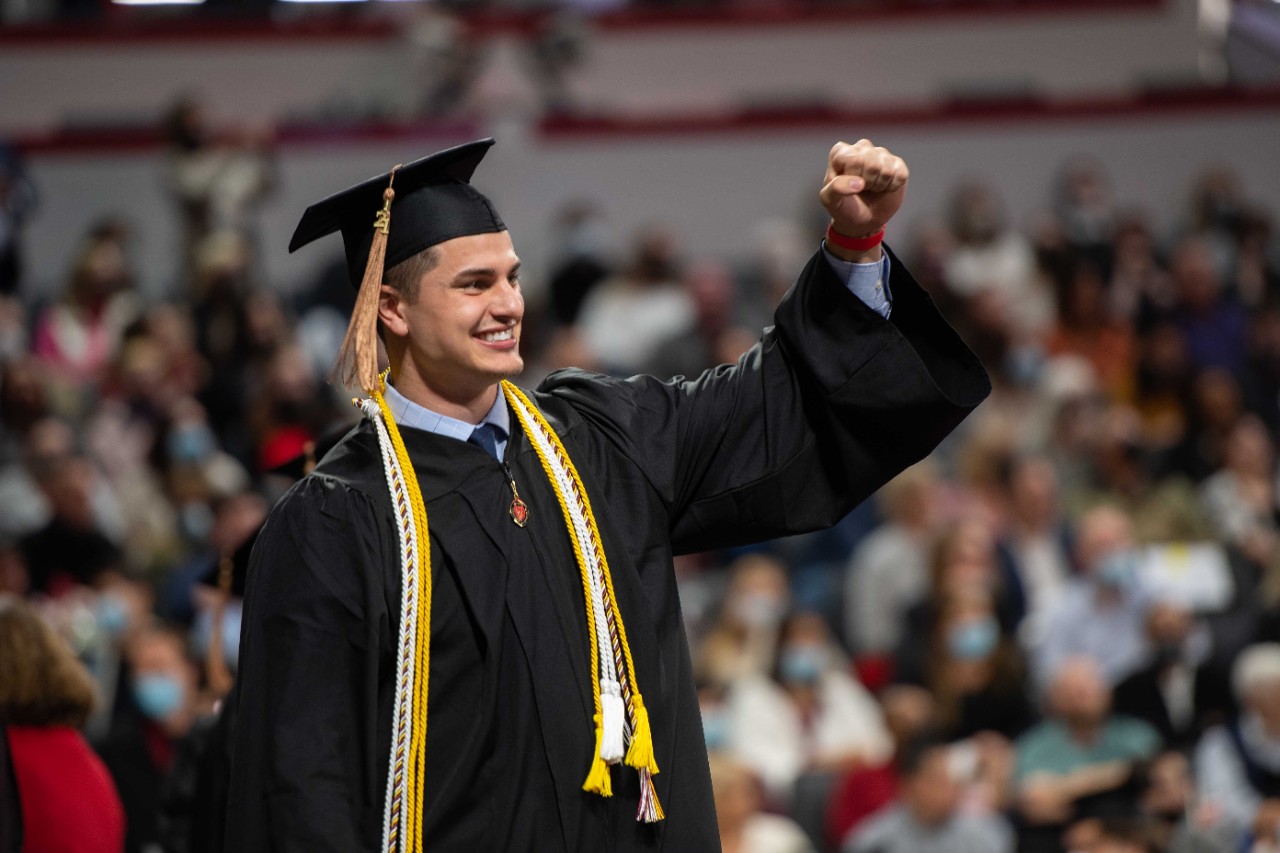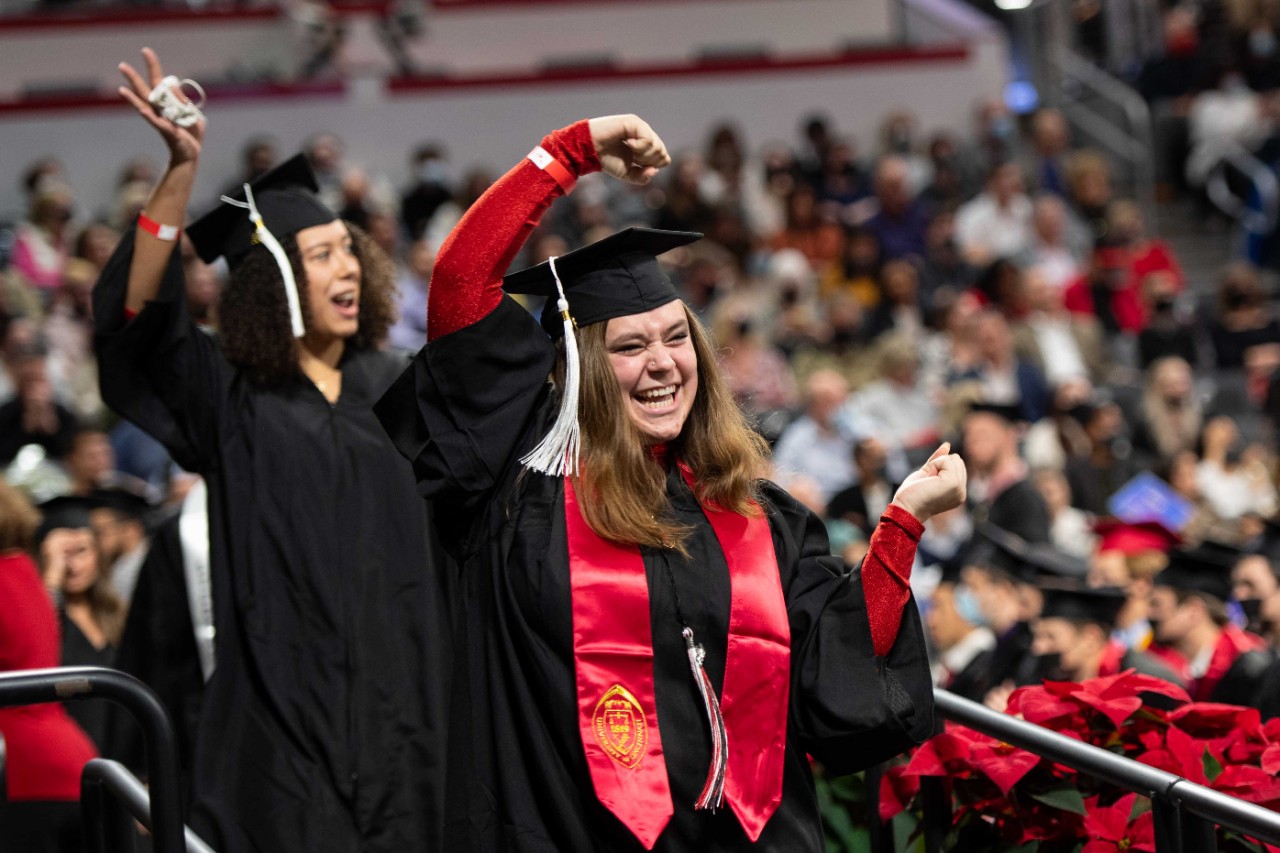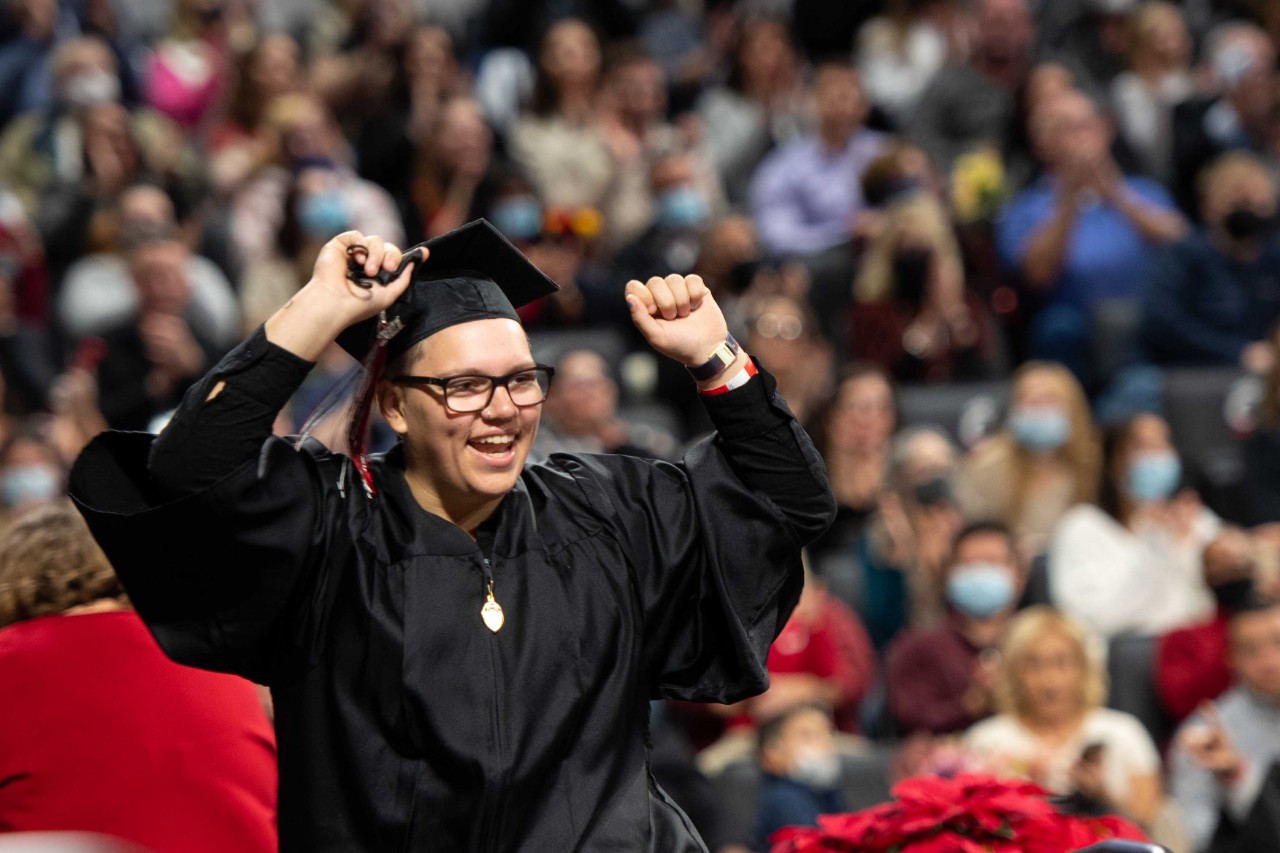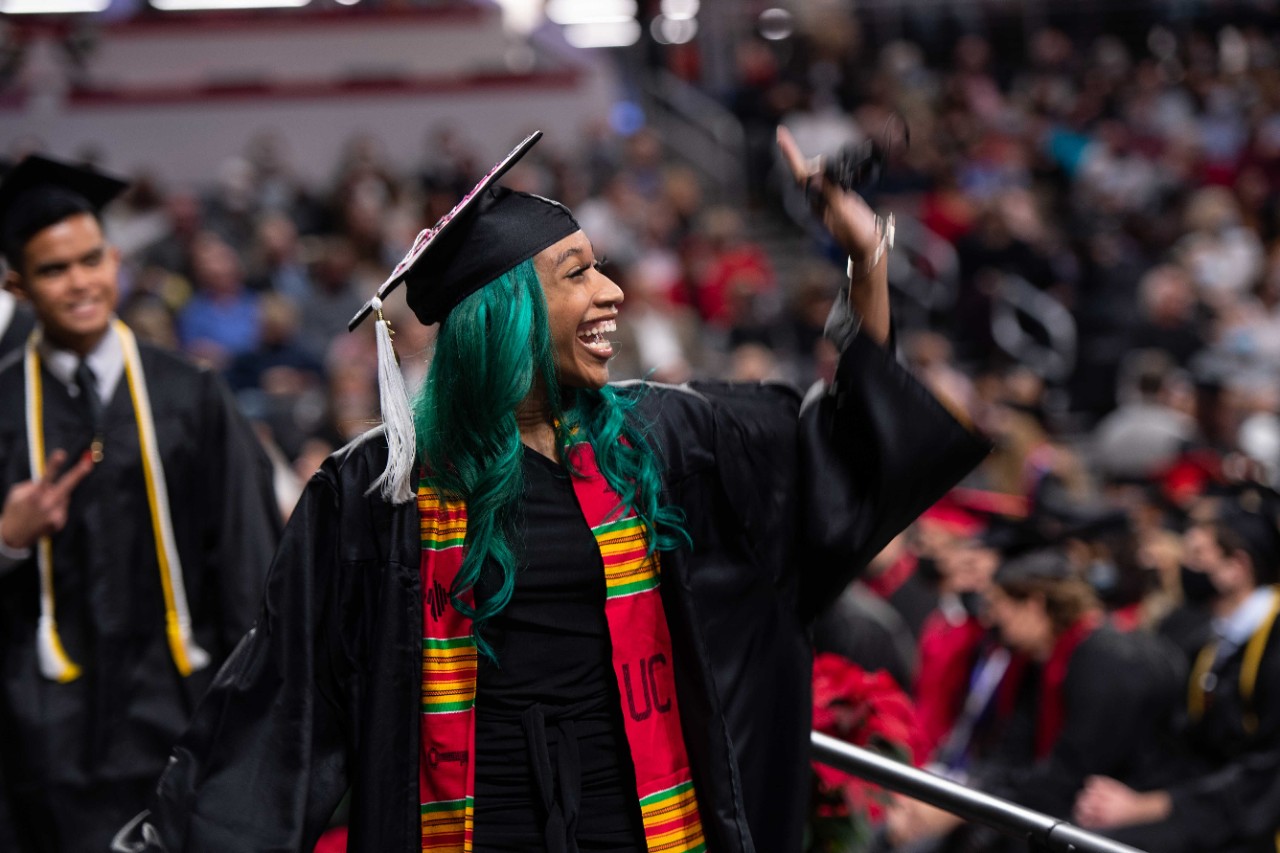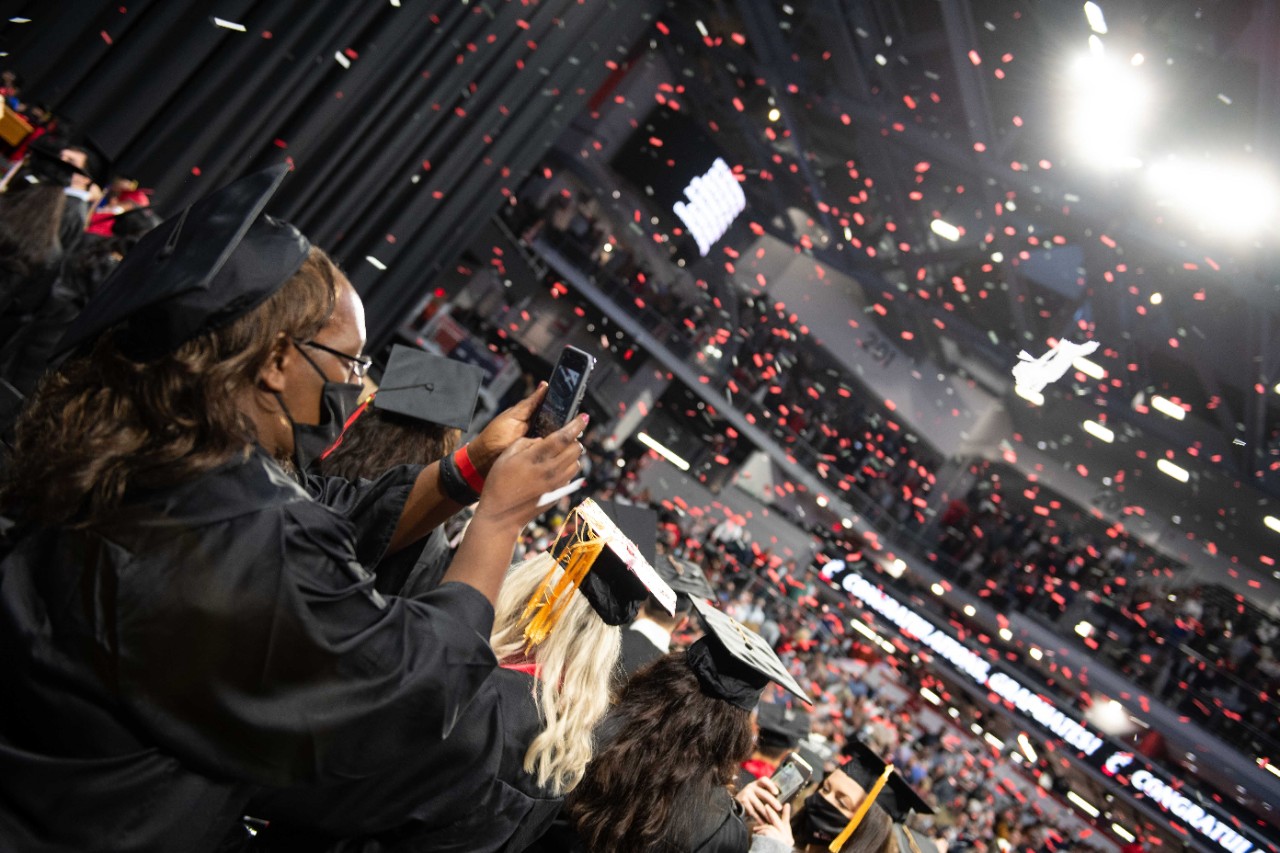 Next Lives Here
Whether you're a first-generation student or from a family of Bearcats, UC is proud to support you at every step along your journey. We want to make sure you succeed — and feel right at home.
1
Venture Lab, Center for Entrepreneurship merge to boost...
December 1, 2022
The UC Venture Lab and the UC Center for Entrepreneurship will merge into a single unit. The newly integrated team will be led by Kate Harmon, executive director of the Center for Entrepreneurship and the El and Elaine Bourgraf Director of Entrepreneurship.
2
UC research seeks to protect athletes from brain injuries
December 1, 2022
Former football players worry about the effects of concussions suffered during their playing careers and hope research from the University of Cincinnati will help them and future generations avoid the worst consequences of brain injuries. UC's Office of Research hosted a panel discussion in the Flashpoint Series, "Brain Injuries in Sports: How we can help our athletes," which addressed the effects of brain injuries and how research aims to develop solutions to protect athletes.
3
The future of work: How can employers engage employees?
December 1, 2022
With unemployment rates throughout the United States near 50-year lows, American companies have reported difficulties in hiring and retaining employees. Three professors and a staff member from the University of Cincinnati's Carl H. Lindner College of Business discuss how employees can attract potential employees, how they can keep their current employees engaged with their work and shifts in employee engagement trends.
Debug
Query for this