UC's 2021 graduates prepare to celebrate
Fall commencement will recognize 2,284 graduates at Fifth Third Arena
Commencement marks an academic finish line — a time for optimism about the future and saluting the past.
The University of Cincinnati will celebrate fall commencement for 2,284 graduates on Friday, Dec. 10, in two ceremonies at Fifth Third Arena. UC will host its doctoral hooding and master's degree recognition ceremony at 9 a.m. followed by the undergraduate commencement at 2 p.m. Doors to the arena open 90 minutes before the ceremonies.
No proof of vaccination is required for guests, but everyone is asked to wear a facial covering while indoors. Face masks will be provided for those who do not have one. In keeping with guidance from the Centers for Disease Control and Prevention, if you are exhibiting symptoms of COVID-19, please stay home. The ceremony will be livestreamed here on UC's Commencement website.
Graduating students are asked to show a green pass on UC's COVID Check App, implemented in September 2020 that includes a daily health check and self-reporting features to identify symptomatic individuals and assist the university's contact tracing efforts to limit transmission. Those who have not been fully vaccinated should submit proof of a negative COVID-19 PCR test 72 hours prior to their assigned ceremony. Test results can be submitted via the UC COVID Check App or via email at uccovidcheck@ucmail.uc.edu.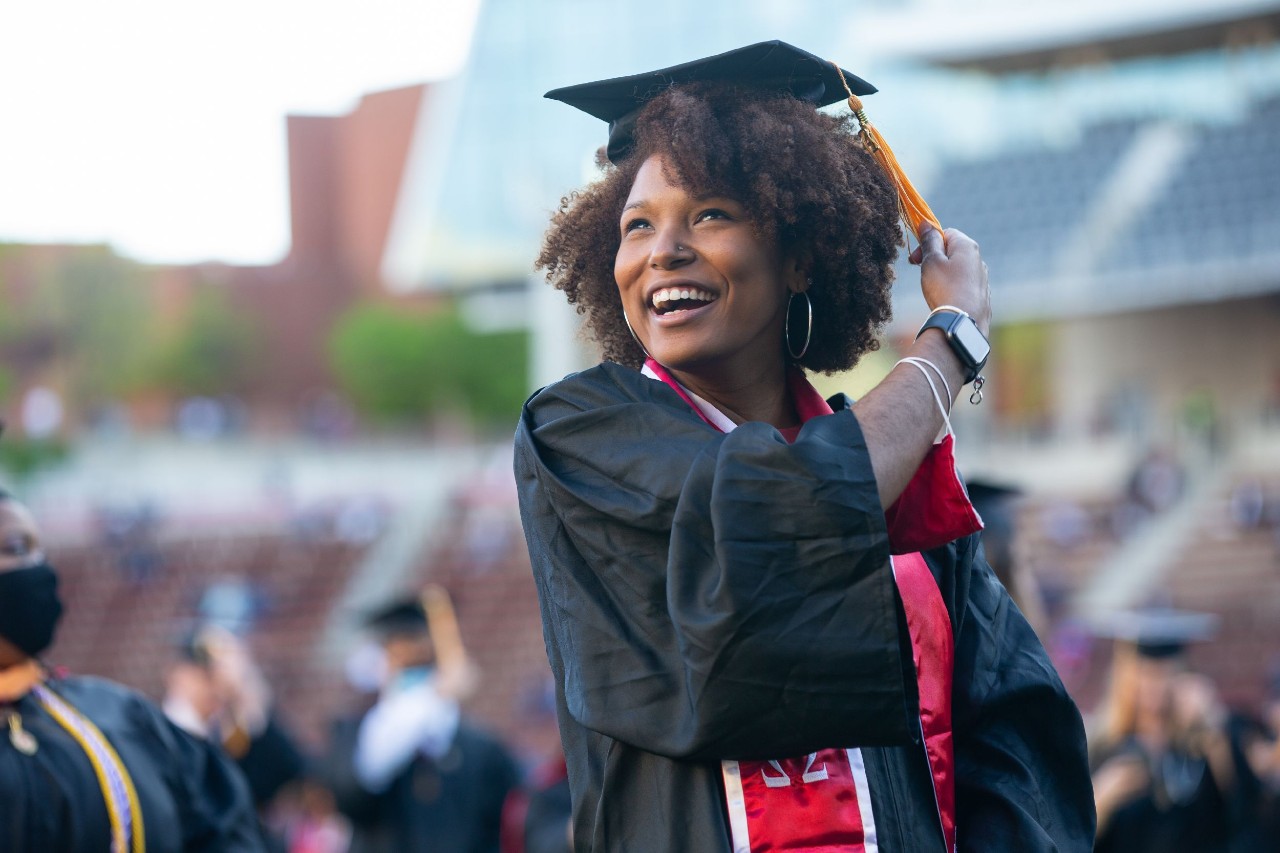 About the fall class of 2021
UC will confer 2,305 degrees to 2,284 graduates, based on preliminary applications. (Some grads have earned multiple degrees.) UC will present 199 associate degrees, 1,216 bachelor's degrees, 788 master's degrees, 97 doctoral degrees and five professional degrees.
More than 18% of this year's class are the first in their families to graduate from college. Another 22% transferred from another university.
They hail from 58 countries across five continents. The fall class features students from 48 states. (What's up, South Dakota and Vermont?) And in Ohio, the class represents 71 of Ohio's 88 counties.
The average age of a student earning a bachelor's degree this year is 25. About 58% of fall graduates are women. And 103 students are U.S. military veterans or the dependents of veterans. The fall class includes 81 students who graduated from Cincinnati Public Schools.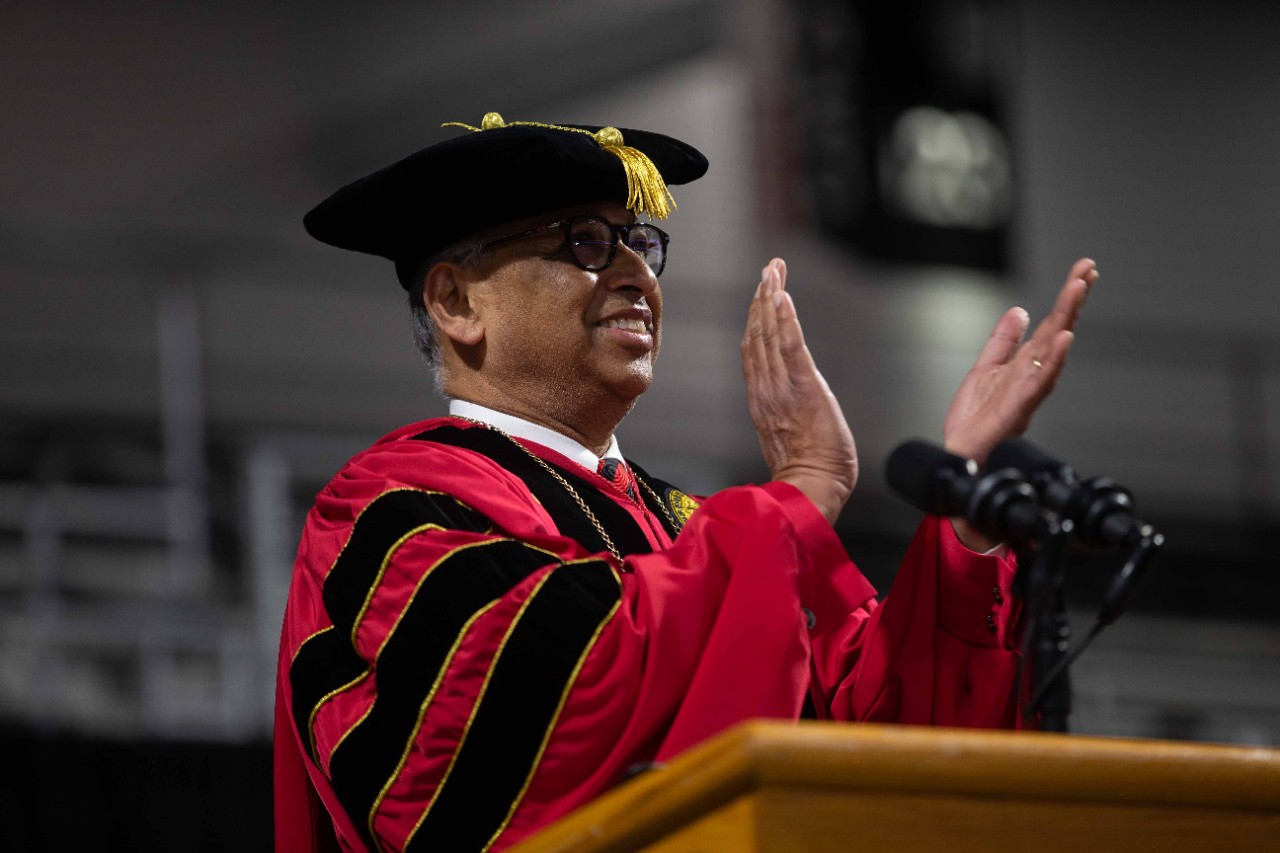 UC's class of 2021 celebrated historic milestones for the university. 
UC rose to No. 4 nationally in the annual U.S. News & World Report rankings for cooperative education, the model in which students divide their time between dedicated instruction and employment with one of 2,200 international partners to earn real-world experience in their field. UC launched the nation's first co-ops in 1906. Today, this model is copied around the world. 

Five UC students or alumni from four nations represented their countries this year at the Summer Olympics in Tokyo. UC graduate Vanessa Gilles, one of the most decorated athletes in UC women's soccer history, helped Team Canada win its first gold medal.
The UC Bearcats football team went undefeated, in October ranking No. 2 in the nation on the AP's Top 25 and No. 3 in the College Football Playoffs rankings, both school records. ESPN's College GameDay covered UC's Homecoming, providing live coverage as thousands of students turned McMicken Commons into a Saturday morning party that was the envy of college football.
UC College of Pharmacy student Nicole Wess won Miss Ohio USA, representing the state in the Miss USA pageant.
UC partnered with General Electric Co. Aviation to launch GE Next Engineers, a program designed to recruit students from underrepresented groups to pursue careers in engineering.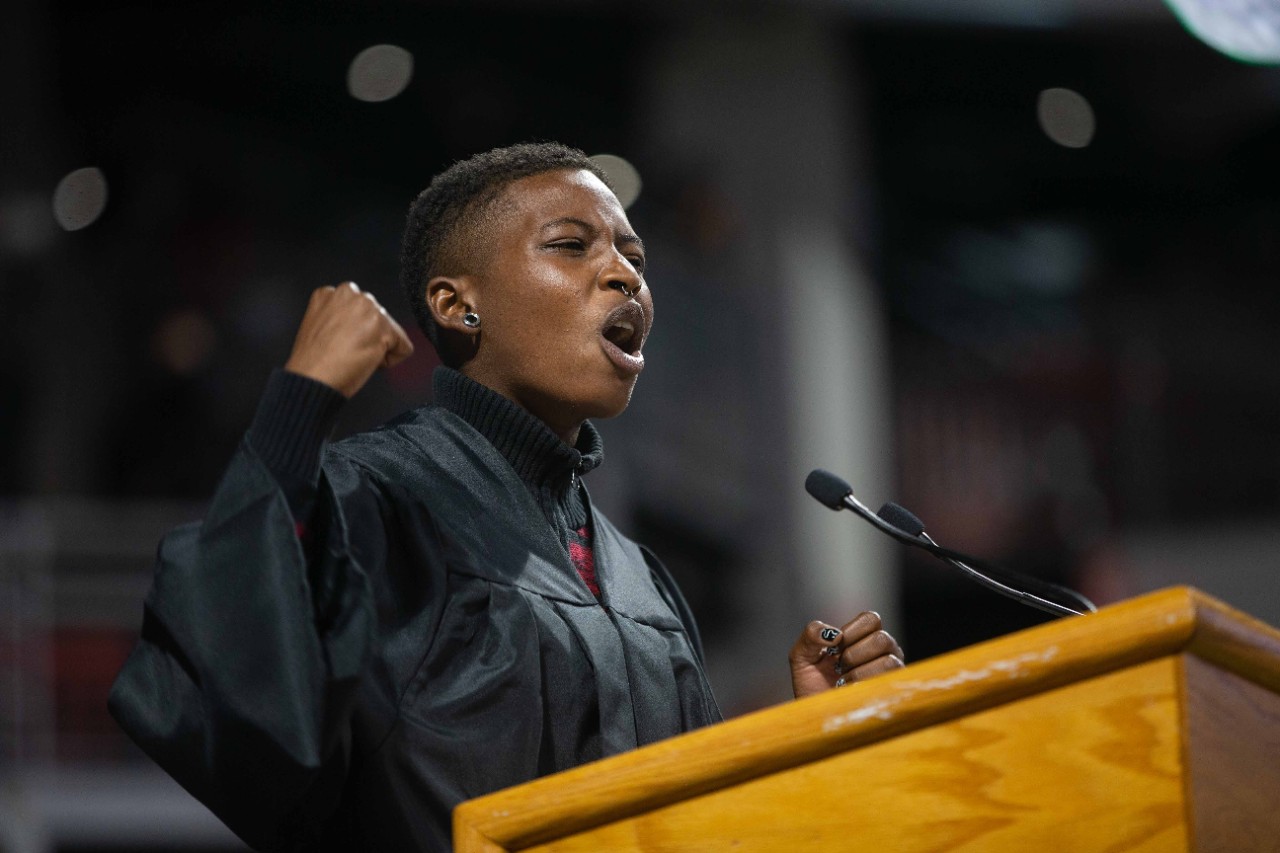 Rylee Penn's experience in UC's College of Education, Criminal Justice, and Human Services changed the trajectory of her career.
Penn, a native of Corona, California, began studying physical therapy at UC when she attended a career talk where an FBI special agent spoke about working in federal law enforcement. The speech spurred Penn to consider criminal justice as a degree option.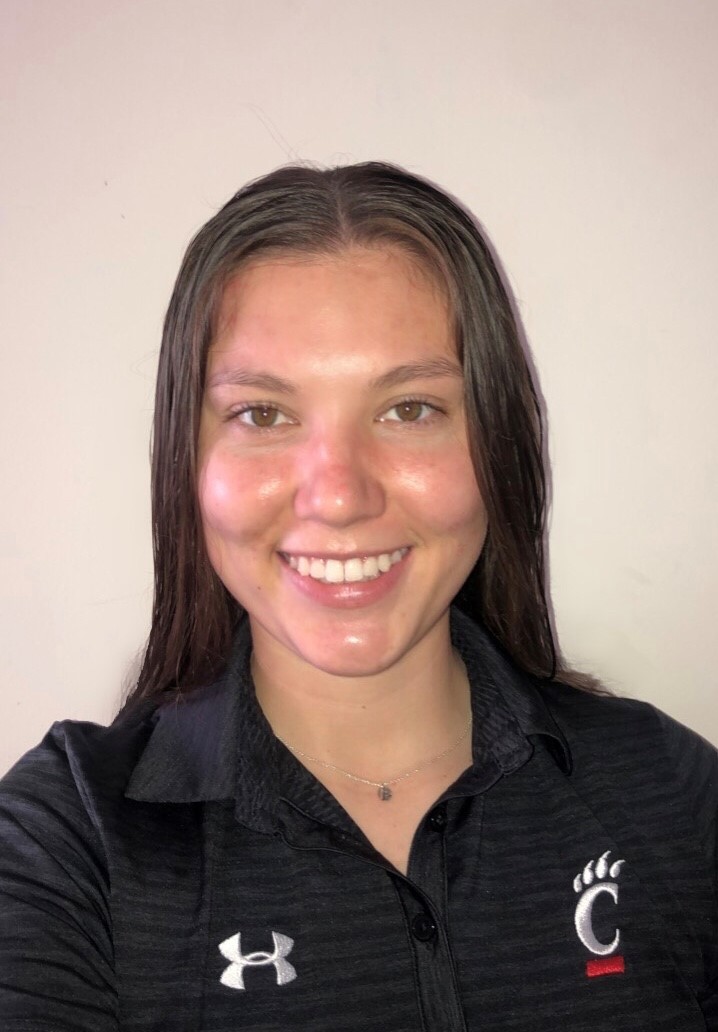 "I didn't have anyone in my family working in any branches of the federal government, so I didn't think I could attain my goal of one day being a special agent," Penn said.
Penn is a star athlete for UC's track and field team, where she was responsible for three Top-10 finishes in school history, including No. 2 in the 1,000-meter run.
During her time as a student at UC, Penn has volunteered for the Criminal Justice Society. This past semester she interned for the UC Police Department — an experience she described as amazing.
After graduation, she will begin working on her master of science degree in criminal justice. Penn also applied to work as a special agent with the U.S. Bureau of Alcohol, Tobacco, Firearms and Explosives.
"I know it sounds cliche, but I want to make a difference," Penn said.
UC College of Allied Health Sciences graduate Anita Ney isn't sure when she decided to be a doctor. The seeds were planted as a child while watching an in-home nurse care for her grandmother after her eye surgery.
"I would watch the nurse change my grandmother's dressings. Neither of my parents could stomach it, but I was fascinated by the whole procedure," she said. "My grandmother also helped me do her finger-pricks for her diabetes and I was a little health care helper in sixth grade."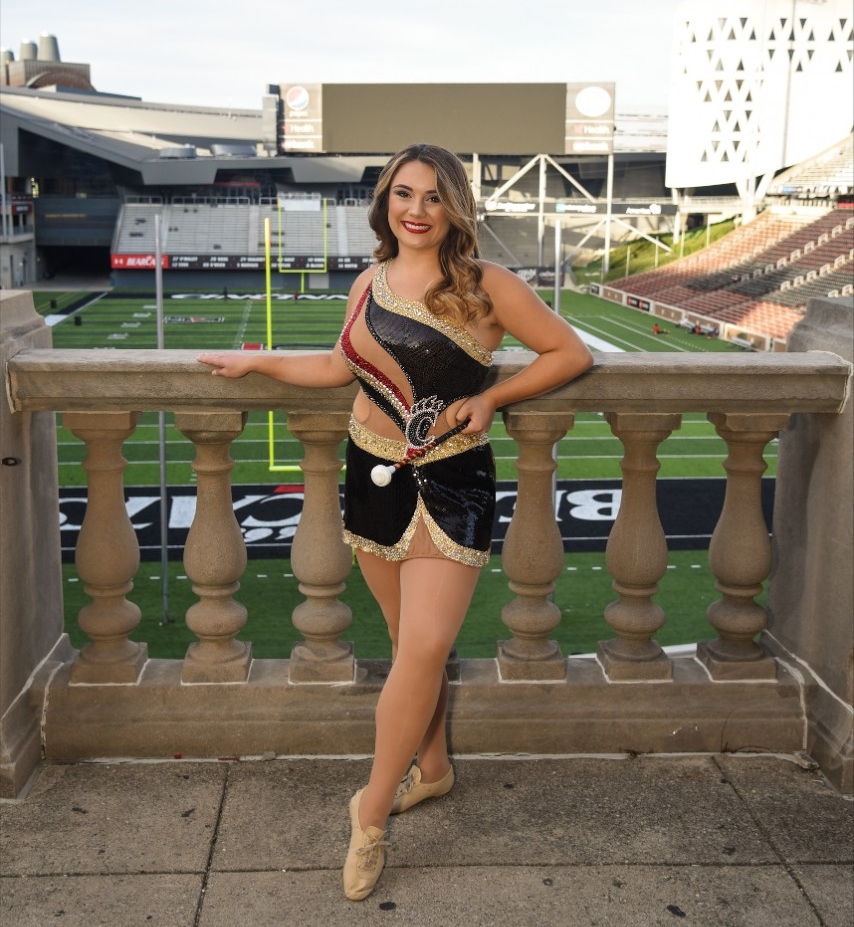 At UC, Ney worked as a contact tracer for COVID-19, helping to inform people about their possible exposure to the virus responsible for the global pandemic.
"It's opened my eyes to public health concerns," she said.
Now Ney is applying to medical schools after majoring in health sciences with a minor in medical sciences. She will lead her college's procession as marshal during commencement. But she is used to taking the lead as a twirler in the UC Bearcat Marching Band, where she has won two silver medals in international competition.
"I've been twirling since I was 9. It's been a big part of my life," she said.
Performing at such a high level requires hours of daily practice, she said. Despite all of her experience, performing before tens of thousands of people gives her butterflies in her stomach every time.
"One of my favorite professional dancers talked about the difference between being nervous and being excited," Ney said. "Both give you the same feeling in your body. If you tell yourself you're nervous, you'll be nervous. If you tell yourself you're excited, that helps."
Ney said she will miss her Bearcat band family.
"It's a sappy senior moment, I know, but the opportunities I've been afforded as a member of the band have been incredible," she said. "I've been honored to be a part of it."
Environmental studies major Erin Kelleher said she thinks the internships she got through UC's College of Arts and Sciences will be a springboard to a career in sustainable food production.
Like many first-year students, the North Carolina native and Cleveland resident wasn't sure how to apply her varied interests to college. Kelleher enrolled in UC's Exploratory Program, where she could take core classes while learning more about different career paths.
"I fell in love with one geology class and took a couple environmental studies classes and really liked them," she said. "It felt like I fit in. The professors are really engaged with the students and love helping them along."
Kelleher minored in business analytics and completed internships for manufacturer ShurTech Brands and the Fortune 500 food processing company Archer-Daniels-Midland Co.
"I worked in the regulatory communications for their food production. But I got to work with a lot of different departments," she said. "I'd like to work in food production on the sustainability side."
She is pleased to have an in-person commencement again this fall because she has family coming from Florida to help celebrate.
"I'm really happy to have my friends and family beside me for commencement because they've been along for my entire journey," Kelleher said.
UC College of Education, Criminal Justice, and Human Services assistant director of marketing Nicole Washington contributed to this story.
Featured image at top: UC graduates celebrate summer commencement. Photo/Andrew Higley/UC Creative + Brand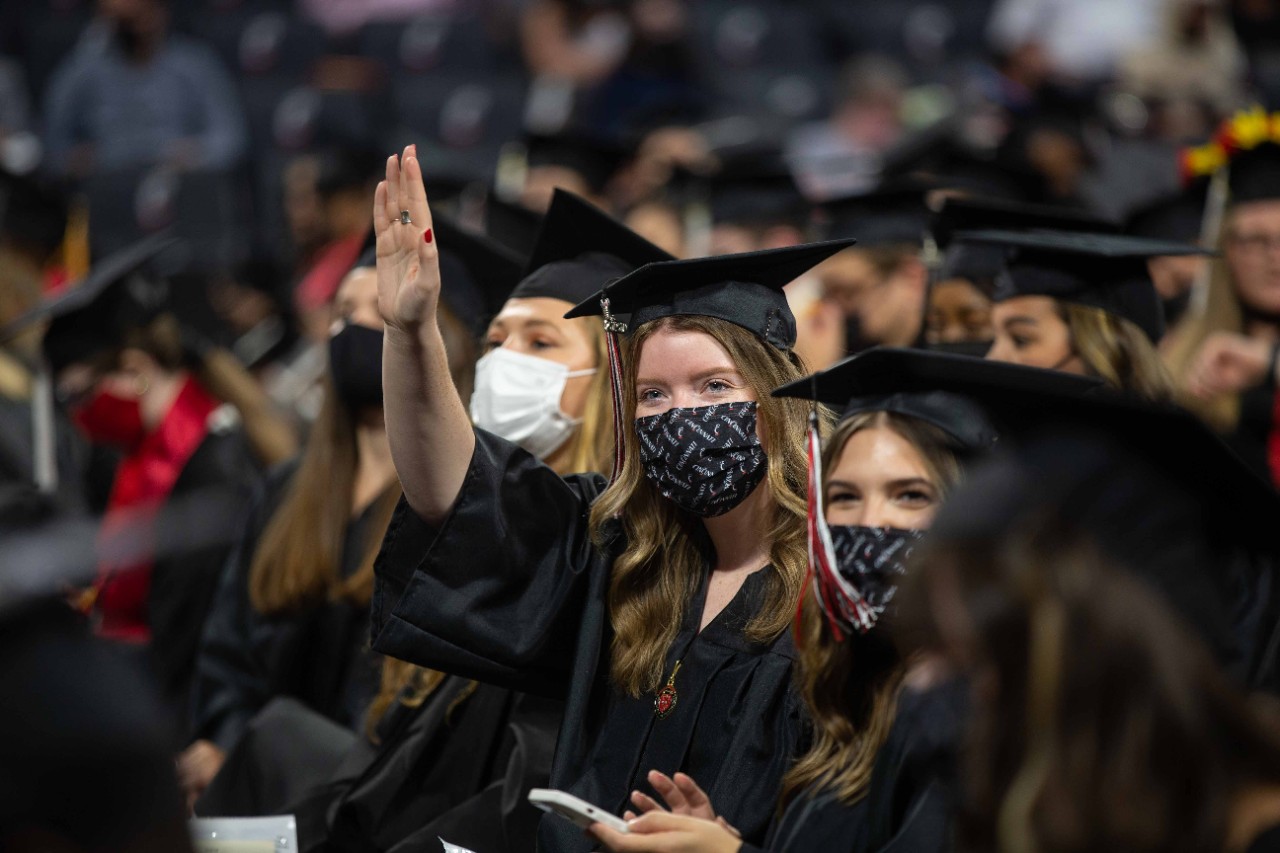 Become a Bearcat
Whether you're a first-generation student or from a family of Bearcats, UC is proud to support you at every step along your journey. We want to make sure you succeed — and feel right at home.
1
WVXU: Tech CEOs talk AI with lawmakers
September 22, 2023
Professor Richard Harknett is a guest speaker on WVXU's Cincinnati Edition on the topic of AI and the need, or lack thereof, for government regulations. Professor Harknett is the head of UC's School of Public and International Affairs and is an often sought out media resource on technology, cybersecurity and governmental affairs.
3
Drugs.com: Lowering blood pressure after clot removal may not be...
September 22, 2023
Drugs.com and HealthDay highlighted University of Cincinnati research recently published in JAMA that found using blood pressure medications to lower the top number of blood pressure readings (systolic blood pressure) may not be safe or effective among people who have an acute ischemic stroke and undergo a successful mechanical clot removal.
Debug
Query for this