UC Niehoff Center for Film and Media Studies flourishes first year after donation
Pandemic does not slow down progress
While the COVID-19 pandemic put many things on hold, it didn't stop the needs or the creativity of University of Cincinnati students and the local film community.
Thanks to a $2.8 million gift in 2020 from Peter, A&S '09, MA '14, PhD, '20 and Betsy, A&S '11 Niehoff, progress at the Niehoff Center for Film and Media Studies has continued. Faculty and students have been able to move forward with community partnerships, research projects, equipment needs and internships, thanks to this support.
"I'm proud that we gave a gift during the height of the pandemic because we recognized that the needs of the university, students and faculty didn't stop," said Niehoff, an adjunct professor in Film and Media Studies. "It's incredible that in a socially distanced world we were able to give students real-world experiences. It is amazing what has been accomplished."
When the Niehoff Center pivoted to virtual events, it successfully collaborated with local partners to focus on the pandemic's impact on film.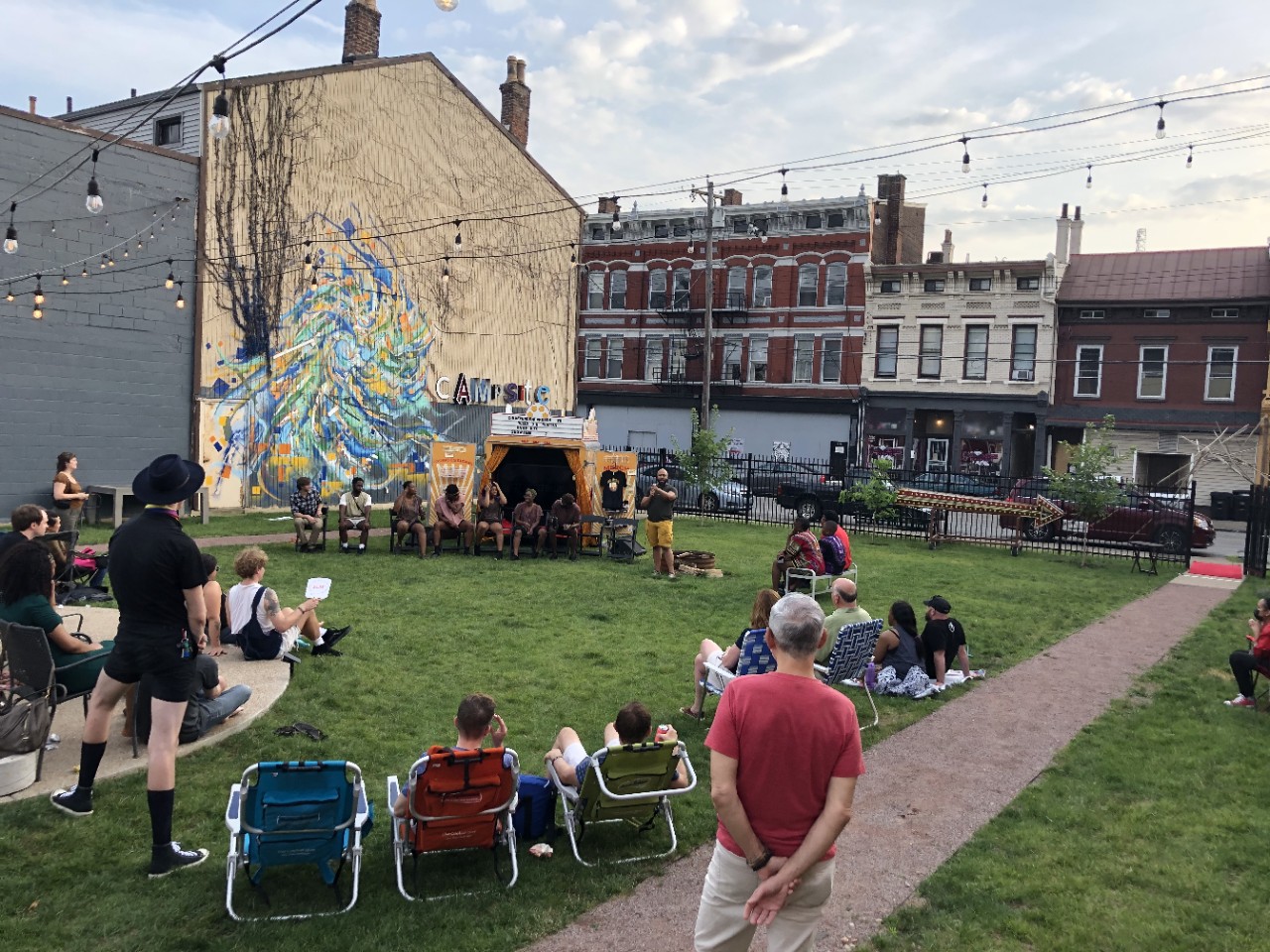 Representatives from Film Cincinnati, Women in Film Cincinnati, Cindependent Film Festival and the Black Cincinnati Cinema Collective discussed how they had adjusted to the constraints of the pandemic as a panel. Additional film screenings were made available to the public, and students attended discussions with directors Rozalie Kohoutova of the Czech Republic and Jeanne Leblanc of Canada.
"The Center functions as the hub that connects students with the Cincinnati film scene and the world of film," said Michael Gott, Niehoff Professor and director of programming at the Niehoff Center. "They get practical experience and make connections with filmmakers and community partners. Most of the things we do would not be possible without the Niehoffs' gift."
This includes Deja Shanks' internship with Cindependent's Reels on Wheels, a program that travels to Cincinnati neighborhoods and holds outdoor screenings. Shanks, a Film & Media Studies student, helped organize a virtual screenplay reading event featuring students, aspiring local screenwriters and industry guests.
"I am so thankful to the Niehoffs for opening up these opportunities for students that we will carry beyond graduation," Shanks said. "Philanthropy is so important to the film community because there are generations of local storytellers, artists and film lovers that get to study their passions in depth. This generosity has made that happen for me and others who have decided to walk this path."
It's incredible that in a socially distanced world we were able to give students real-world experiences. It is amazing what has been accomplished.
Peter Niehoff adjunct professor, Film and Media Studies
The gift has also made new research possible, attracting applicants across colleges. The theme, "Persuasion, Manipulation, and Disinformation: Media and Democracy in the 21st Century," addresses the state of media in government and international relations.
Projects include exploring the conflicting histories of a few small towns and examining social media's effects on mental health of African American teen girls. The 15 faculty and graduate student recipients were awarded funds for travel, research, filmmaking equipment and other supplies.
"One of my goals for the Center is that we not only educate the next generation of film studies students and makers, but that it can also play a social role," Niehoff said. "People rightfully blame the media for creating social divisions, but I hope that media and film can start serving as a bridge."
Recipients will share their findings at a public event in fall 2022.
The Niehoff Center was launched in 2015 and is part of UC's College of Arts and Sciences. Representatives across campus were part of the initial planning of the Center.
The Niehoffs' donation supports Next, Now: The Campaign for Cincinnati, the comprehensive fundraising effort for UC and UC Health.
Featured image at top: UC student Deja Shanks, center, far left, organized virtual screenplay readings as a Reels on Wheels intern. Photo/provided.
Who will you empower NEXT?
Scholarships, fellowships and enrichment programs provide opportunities for students to attend, grow and graduate from UC. You can empower our next leaders through support for scholarships and signature programs in career-based education, co-op or professional development. Learn more at nextnow.uc.edu.