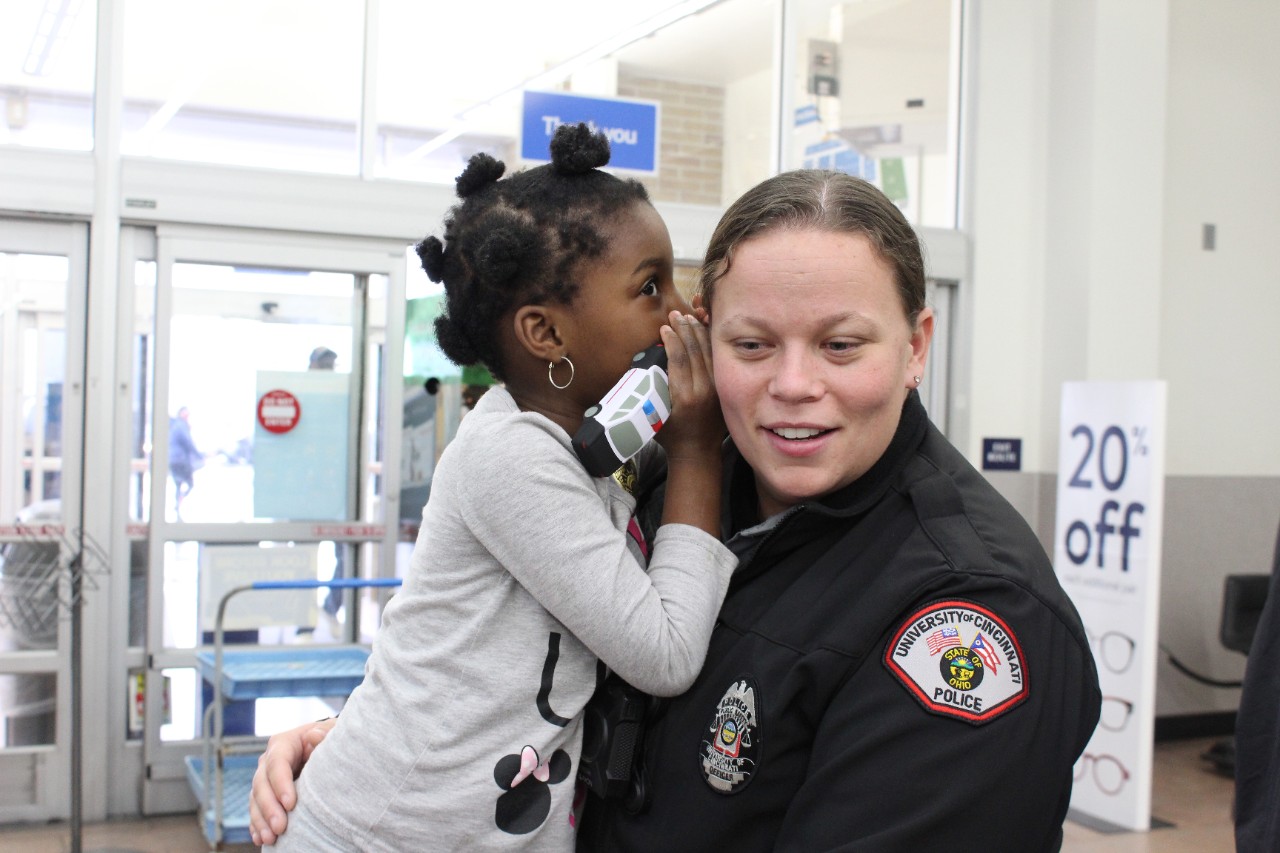 UC Public Safety wins Photo Contest
The University of Cincinnati Public Safety Department is December's featured winner of the Office of Community Oriented Policing Services' Community Policing in Action Photo Contest.
The annual photo contest asks law enforcement agencies to submit a photo that reflects the agency's positive community engagement and trust building. The office selects 12 winners a year, and features one a month.
The UC Public Safety Department submitted a photo from the UC Police Division's annual Shop with a Cop, an event that benefits community members, providing toys, clothes and other items for children who may not otherwise get Christmas gifts. The photo, taken by UC Public Safety Senior Public Information Officer Kelly Cantwell, shows C'Zaya Johnson whispering in the ear of former UCPD Officer Wendy Martin during the Shop with a Cop event.
"C'Zaya was whispering in my ear the presents that she wanted to get her brothers and her mother for Christmas," Officer Martin said. "We had a blast shopping together."
Shop with a Cop has been a wonderful opportunity for UCPD Officers to connect with members of the community, something that, as a campus law enforcement agency, the UCPD places a strong value on. UCPD officers look forward to this event each year, and many officers make an effort to participate every year.
"We're very excited to be one of the winners of the Community Policing in Action Photo Contest. Shop with a Cop is a great representation of what community policing looks like for the UCPD, and this photo reflects that," said UC Public Safety Director and Chief of Police James Whalen. 
Featured image at top: C'Zaya Johnson whispers into the ear of University of Cincinnati Police Officer Wendy Martin during the UC Police Division's annual Shop with a Cop event on Dec. 14, 2019.
2
Get ready in case it snows
January 23, 2023
Learn how the university communicates when inclement weather threatens and what you can do to prepare.
3
UC police officer searching for kidney donor
October 10, 2022
UCPD Officer Darryn Chenault has been unable to work due to chronic kidney disease. Now Officer Chenault's donor champions are helping search for a living kidney donor to help him continue living a long, active life.
Debug
Query for this