Volunteer as a "Helping Hand" during move-in Aug. 14-15
After brief hiatus, memorable program for faculty and staff makes a return this fall
For new Bearcats and their families, moving into residence halls for the first time is exciting and anxiety-provoking. Presenting a welcoming face to new students and their families can only be achieved with the help of a large number of volunteers. Here's the chance to become part of an iconic college experience, and make it positive for students on their very first day. Register for Helping Hands!
Helping Hands, comprised primarily of faculty and staff, have been assisting Bearcats in this process for decades. First-year students are scheduled to move in this year on Sunday, Aug. 14 and Monday, Aug. 15.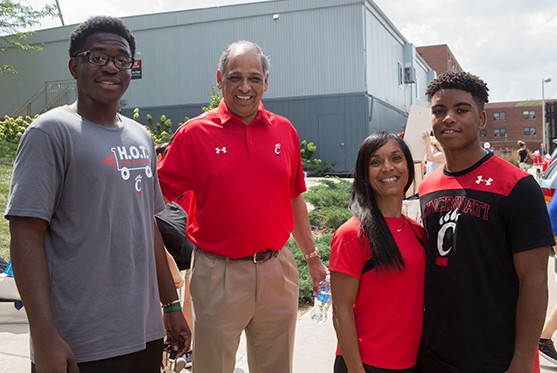 While the student and family will perform the physical move-in (unloading cars, moving students' possessions), the university needs Helping Hands volunteers to:
Welcome students and families
Assist with directions
Answer questions

Provide water
Each hall location will provide volunteers with a Helping Hands button to wear. 
Register for Helping Hands by Aug. 8
In appreciation, all volunteers will receive:
FREE lunch at CenterCourt or On the Green (OTG) on the day served
FREE day pass to the Campus Recreation Center on a day of choice
Be sure to log into the UC Be Well portal to receive your volunteer points for participating in a UC event.
Attend the "All Hands" Teams meeting
Plan to attend the "All Hands" Teams meeting on Wednesday, August 10, from 11 a.m.-noon to review the hall opening plans. Once you register, a meeting invite with a link to the Teams meeting will be sent to you.
Communities moving in by date
Bellevue Gardens 
Campus Recreation Center Hall 
Dabney Hall 
Daniels Hall 
Marian Spencer Hall 
Morgens Hall 
Schneider Hall 
Scioto Hall 
Siddall Hall 
Stratford Heights 
Turner Hall 
University Park Apartments 
101 Corry
CP Cincy 
Graduate Cincinnati
The Deacon 
The Eden 
University Edge 
Bellevue Gardens 
Campus Recreation Center Hall 
Dabney Hall 
Daniels Hall 
Marian Spencer Hall
Morgens Hall  
Schneider Hall 
Scioto Hall 
Siddall Hall 
Stratford Heights 
Turner Hall 
University Park Apartments 
101 Corry 
CP Cincy
Graduate Cincinnati
The Deacon 
The Eden
University Edge 
USquare