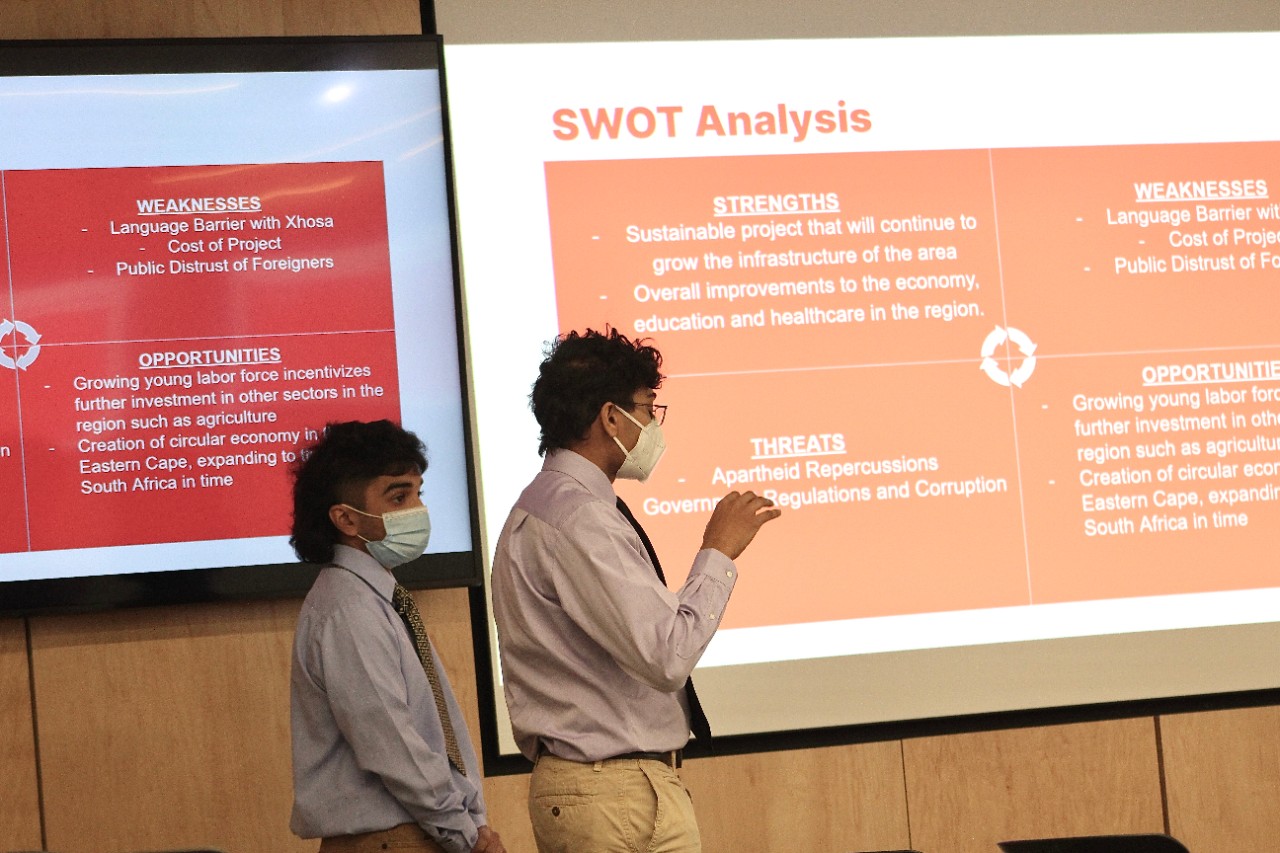 Student group brings global health competition to UC 
Interdisciplinary team gains real-world experience, competes to advance nationally
A group of UC students is competing in the second Global Health Case Competition at the University of Cincinnati, with the hope of advancing to compete internationally.
As participants in the challenge, the students bring scholarship from multiple academic disciplines—among them political science, medical sciences, neuroscience, English, chemical and environmental engineering and more—to find innovative solutions to global health crises.

The competition first came to UC's campus in 2021, led by Sanath Chandramouli, a fourth-year student in the College of Arts and Sciences double majoring in political science and neuroscience. Chandramouli was inspired to participate in the Global Health Competition founded at Atlanta's Emory University.

"Emory University's Global Health Case Competition looked interesting, and I was frustrated that it wasn't present at UC." said Chandramouli, "so, I built a team, and we made it happen."
Chandramouli explains benefits of the competition to students: "It gives students an opportunity to develop research, presentation and critical analysis skills in a low-stakes high-reward environment. Additionally, it provides exposure to the field of public policy, budgeting, and public health which virtually every major can benefit from experience in."

The Case Competition involves multiple teams of about four to six students, the only requirement being that each team represents at least two colleges on campus. Each team is given the same case on a global health crisis, and they must form their own solution to the crisis. They then take their solution to compete against one another. 
The global health crisis that the teams are given varies each year. Last year, the crisis revolved around the collapse of the emergency medical system in the Eastern Cape of South Africa. The global health crisis always aligns with the one also being used for the case competitions at Emory University.

What makes the program important 
Chandramouli is co-president of the executive board they have created, serving with medical sciences major and economics minor Ashvin Babu. When Chandramouli knew he wanted to start this program at UC, he enlisted the help of peers: Saiprasad Naidu, medical sciences; Sharif Johnson, finance; and Lindsey Learned, marketing. Serving as the advisor is Russel Durst, professor emeritus in English for the College of Arts and Sciences.
"Three things, in my opinion, make this program crucial," says board vice president Sharif Johnson. "Students get the chance to gain real-world experience, they work on projects that are practical, and they complete assignments that they can discuss in [future] interviews." 
Johnson feels that this program is going to continue having a positive impact on UC. Johnson states, "Hearing that UC not only has one of the top health programs, but also offers competition case studies to students in all majors sounds fascinating."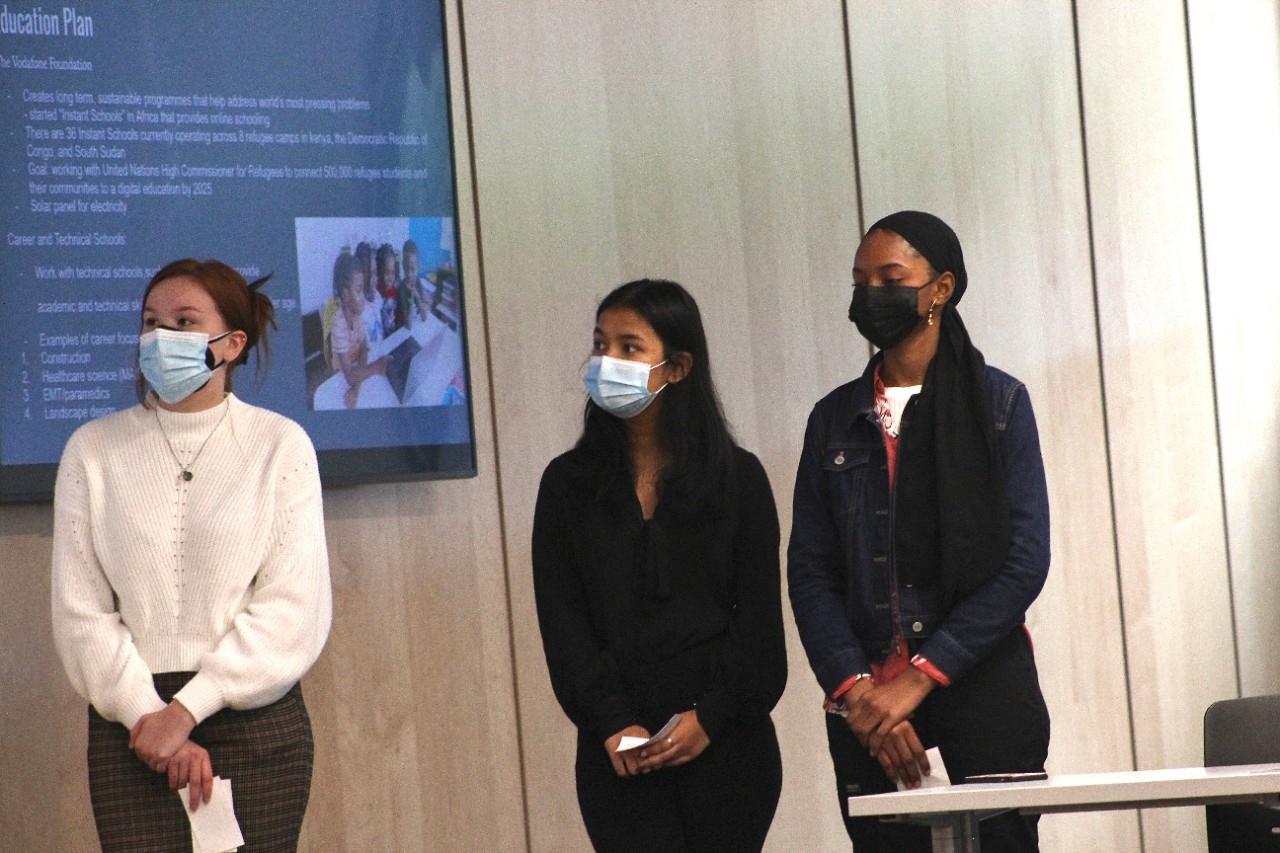 Upon first bringing the competition to UC, Chandramouli reached out to public health-care provider CareSource to seek sponsorship. CareSource was eager to sponsor, Chandramouli says, and has since been able to match Emory University in the awards they provide to the winning team. This year, CareSource will award a $3,000 scholarship to the winning team.
"We are attempting to organize an international round of the competition so that our winning team from UC can go compete at Emory University," explains Chandramouli, "Our org hosts an intramural round and Emory hosts an international round." The executive board hopes that they will be able to compete in the final round at Emory. 
Participating students will be given five weeks to work on their solution, and then present it at the competition. This year, the competition takes place from October 10 through November 12.
Featured image at top: UC students compete at the 20201 Global Health Case Competition. Photo/Provided
By Hayley Garr
Student Journalist, Marketing and Communication, College of Arts and Sciences
artscinews@ucmail.uc.edu
1
UC offers new social justice, Latin American studies degrees
October 7, 2020
University of Cincinnati students can now enroll to earn a Bachelor's degree in two new humanities programs: Social Justice, and Latin American, Caribbean and Latinx Studies, offered through UC's College of Arts and Sciences.
2
UC to host symposium on socially just community research
Event: March 5, 2021 9:30 AM
On Friday, March 5, The Cincinnati Project (TCP) will host its seventh-annual symposium titled "The Art and Science of Socially Just Community Partnered Research," sponsored by UC's College of Arts and Sciences and The Taft Research Center. Director of the Center for Culture-Centered Approach to Research and Evaluation (CARE) Mohan Dutta will deliver the keynote speech. Based in New Zealand, CARE is a global organization dedicated to developing community-based solutions for social change, advocacy and activism, inspired by the conviction that health is a human right. Founded in 2016, TCP unites researchers from UC's College of Arts and Sciences with community partners to benefit marginalized communities in Cincinnati, tackling economic, race, gender and health issues. Past TCP research has focused on high eviction rates in Hamilton County, resulting in city legislation to protect the rights of renters through an eviction prevention plan. In addition to the keynote speaker, the symposium will include discussion panels from area organizations such as Housing Opportunities Made Equal (HOME), the Urban League of Greater Southwestern Ohio, the Center for Closing the Health Gap, and UC faculty researchers. Topics will include ways in which community-based research can be conducted in socially just ways, in order to benefit the communities it is designed to serve. The symposium will be held virtually via Zoom from 9:30 a.m. to 1:30 p.m., and is free and open to the public. For more information or to register, please visit The Cincinnati Project.
3
UC student body leaders use platform to empower others
October 28, 2021
University of Cincinnati student body leaders have taken on a full slate of undergraduate activities, including classes, studies, Bearcats games and leading student government for UC. Elected as president and vice president earlier this semester, the students set to work delivering on their platform of diversity and inclusion, sustainability, campus spirit, mental health and accessibility.  Initiatives so far include a Mental Health Advocacy Week, a career-ready clothing drive and civil discourse training.
Debug
Query for this