Data Science Symposium 2022 touts analytics advances, technologies
Annual UC Business Analytics Center event welcomes attendees to Lindner Hall
A sold-out crowd packed the Carl H. Lindner College of Business last week for Data Science Symposium 2022, which demonstrated advances in data science tools, technologies and methodologies.
Presented by the UC Center for Business Analytics — celebrating its 10th anniversary in 2022 — the symposium featured distinguished speakers exploring the latest industry trends and networking opportunities for over 250 attendees to collaborate with their industry colleagues.
"Analytics is everywhere. We look at data science and analytics as an ecosystem that we want to support," Center for Business Analytics Executive Director Glenn Wegryn said in his opening remarks. "It's about faculty who want to pursue their research and teaching interests. It's certainly about students, who are here to learn new skills and apply them effectively. We're also here for practitioners; many of them are people who roll up their sleeves and get real analytics and data science done on a day-to-day basis." 
Following Wegryn's remarks, Andrew Harrison, PhD, associate professor and interim department head of the department of operations, business analytics, and information systems (OBAIS), and Michael Fry, PhD, an OBAIS professor and the Center's academic director, extolled the quality of Lindner's OBAIS students, faculty and their collective expertise.
The three keynote speakers were Stefan Karisch, director air and science technology, Amazon; Ethan Swan, an OBAIS adjunct instructor and a software developer for ReviewTrackers; and Bill Inmon, CEO of Forest Rim Technology and known as the "father of data warehouse."
"Stefan, Ethan and Bill are all well-known as excellent speakers and leaders in the analytics field," Fry said. "But they also provided an excellent balance and diversity of perspectives."

Karisch's presentation, "Operations Research & Analytics at Amazon," lent insight into the algorithms and analytics that streamline Amazon's transportation network. Karisch reviewed the history and breadth of operations research (OR) at Amazon. Examples of Amazon's OR involve labor scheduling, demand forecasting, automated buying and inventory management, and Amazon Robotics.
Swan's talk, "From Models to Value through ML Engineering," examined how and why analytics jobs are changing and the importance of developing machine learning (ML) engineers who can process data science models and put them into production for companies.
"Turning data science into business value requires solving a lot of tech problems along the way," said Swan, a frequent instructor for the Center's analytics training courses. "This is the essence of ML engineering."

Inmon — who recently co-authored "Integrating Data" with OBAIS associate professor David Rapien — closed proceedings with "Accessing Data in the Lake." Inmon's address centered on the evolving concepts of data warehousing and data storage, and helping people separate an achievable reality from these technologies from fiction.
"Data architecture is like the sun," Inmon said. "If you wait 30 minutes, the sun is in a different place. Data architecture is the same."
OBAIS associate professor Dungang Liu, PhD, was among the speakers in the eight "Tech Talk" sessions spread throughout the day. Liu's presentation, "Sing a song without p-values: Embracing Analytics Tools Leading to Insights and Actions," began with basics of the p-value: a summary statistic of the evidence against the null hypothesis; a value between zero and one; and a small value (<0.05) is deemed as an indication of the hypothesis being wrong.
"P-value may provide limited information," Liu said. "Other tools — R-squared measure and diagnostic plots — can generate actionable insights and deepen our understanding of the subject matter."
People, process and systems were highlighted in the session "How to Prepare Your Data Science Teams for a Recession," by Geoff Marsh and Doug Meiser from AMEND Consulting.
"Data science in a recession requires creating value," Marsh said.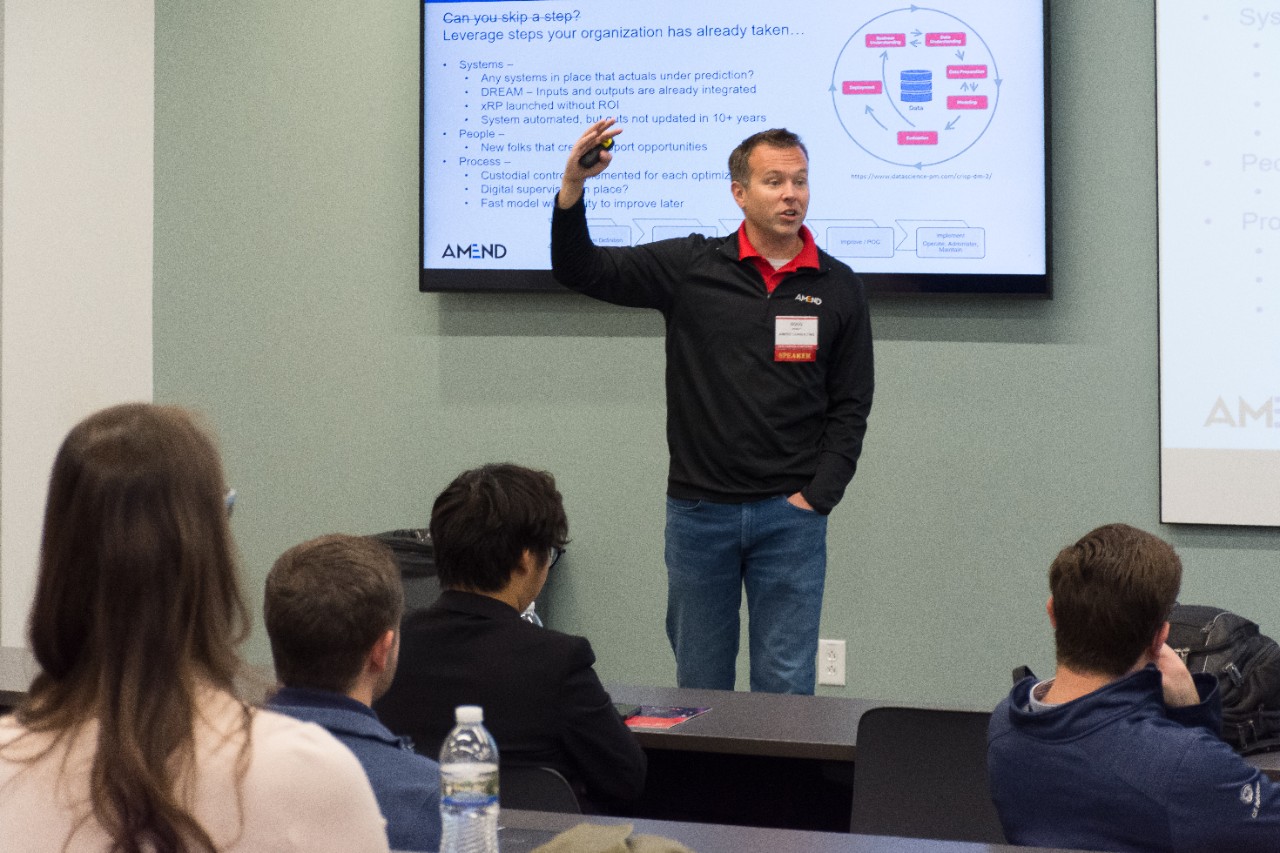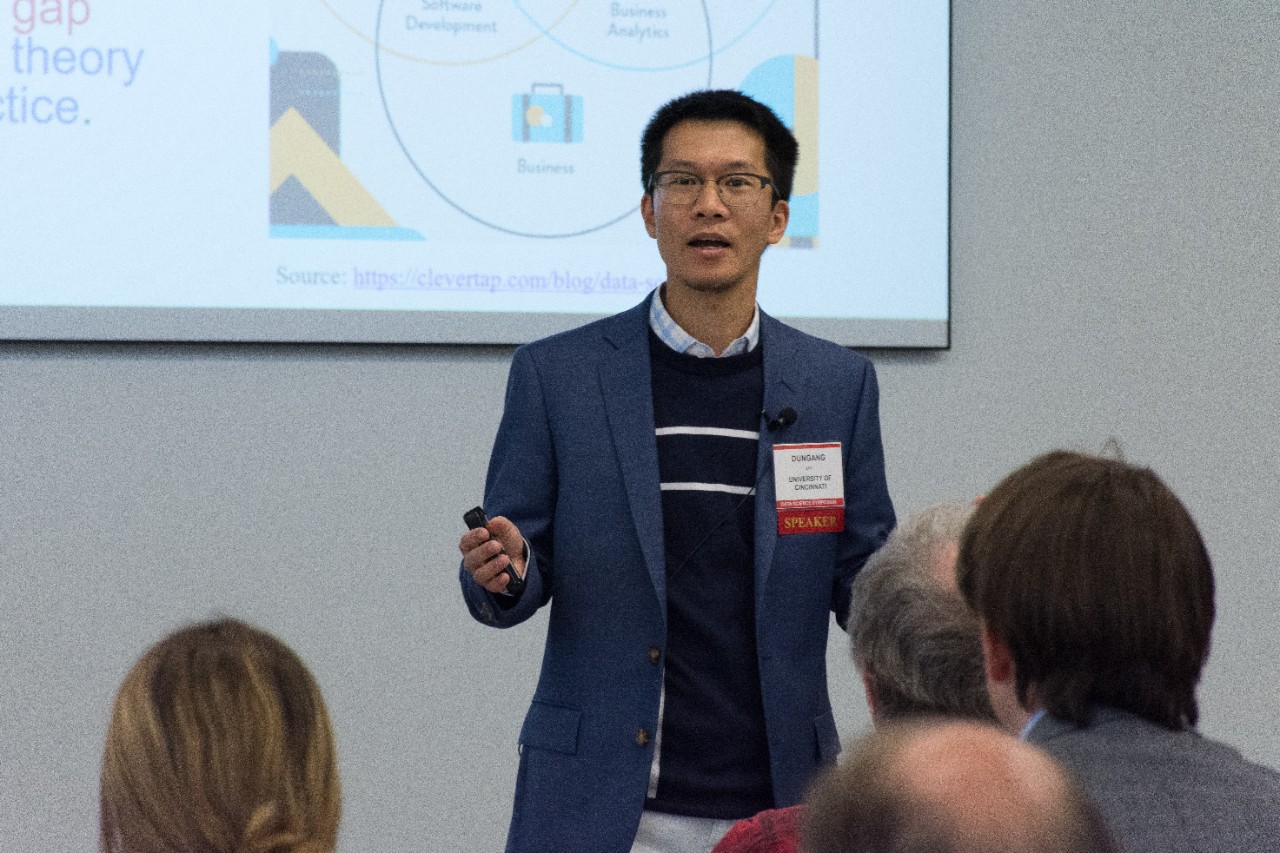 There were six other Tech Talks:
"Advances in Geographic Data Science for a Secure and Sustainable Planet: Geospatial Science and Human Security Research at Oak Ridge National Laboratory" by Jesse Piburn, Oak Ridge National Laboratory
"The Sounds of Silence: Reducing Noise One Iteration at a Time with Transfer Learning and Sympathetic Data" by Kris Still and Johnny Avant, CoStrategix
"Enabling Power BI with Snowflake" by Spencer Baucke, phData
"Collaboration with Jupyter Notebooks" by Jeff Gunderson, Delta Analytics
"Leveraging Data, Insight and Analytics to Help Build a Better Sustainable World" by Yan Fu, Ford Motor Company
"A Two-Part Talk: Emerging Trends in Analytics & Python Environments Fundamentals" by Derrick Martin and Darryl Gleason, Nationwide Mutual Insurance Company
Wrap-up + Analytics Summit
Wegryn shouted out the Center for Business Analytics' student volunteers and its staff, notably Marilyn Kump, program coordinator, Larry Porter, training and marketing manager, and Bill Bresler, program manager.
"While Mike and I co-lead the Center, it's really Marilyn, Larry and Bill's efforts that make these events so successful," Wegryn said.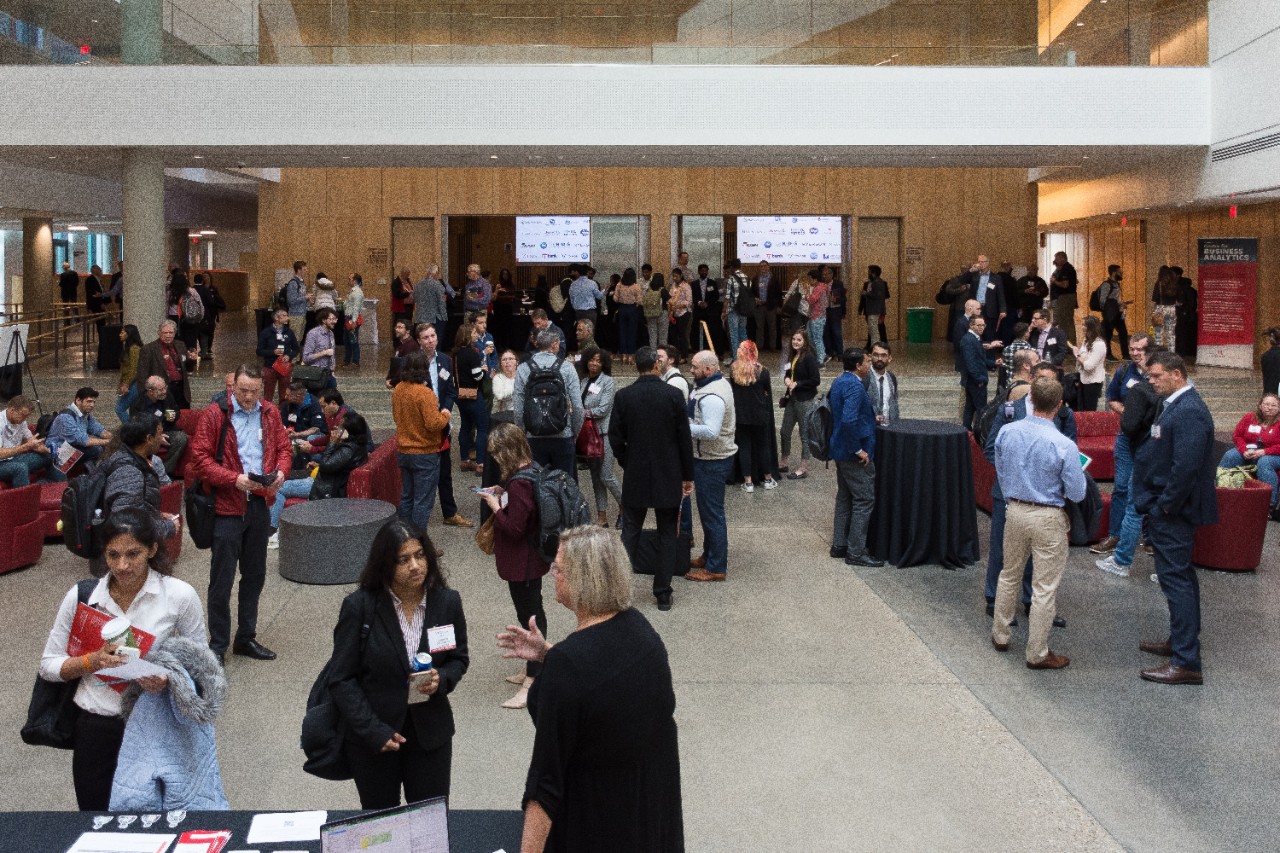 Fry was thrilled to witness faculty, students and leading analytics industry professionals interacting for an in-person event at Lindner.
"The excitement and enjoyment of the attendees was obvious, and it was great to highlight UC and Lindner as leaders in analytics," he said. "I'm very confident that everyone who attended our event left with a very positive impression of our Center, Lindner and UC."
The Center for Business Analytics' next major event is the 11th annual Analytics Summit, scheduled for May 2 in Cincinnati at the Sharonville Convention Center.
The Center for Business Analytics would like to thank its members for their support: 
84.51°
altafiber
American Modern Insurance Group
Ameritas
Cincinnati Children's Hospital Medical Center
Cincinnati Reds
CNG Holdings, Inc.
Fifth Third Bank
GE Aviation
G&J Pepsi-Cola Bottlers Inc.
Great American Insurance Group
Hillenbrand
Hoxworth Blood Center
HSD Metrics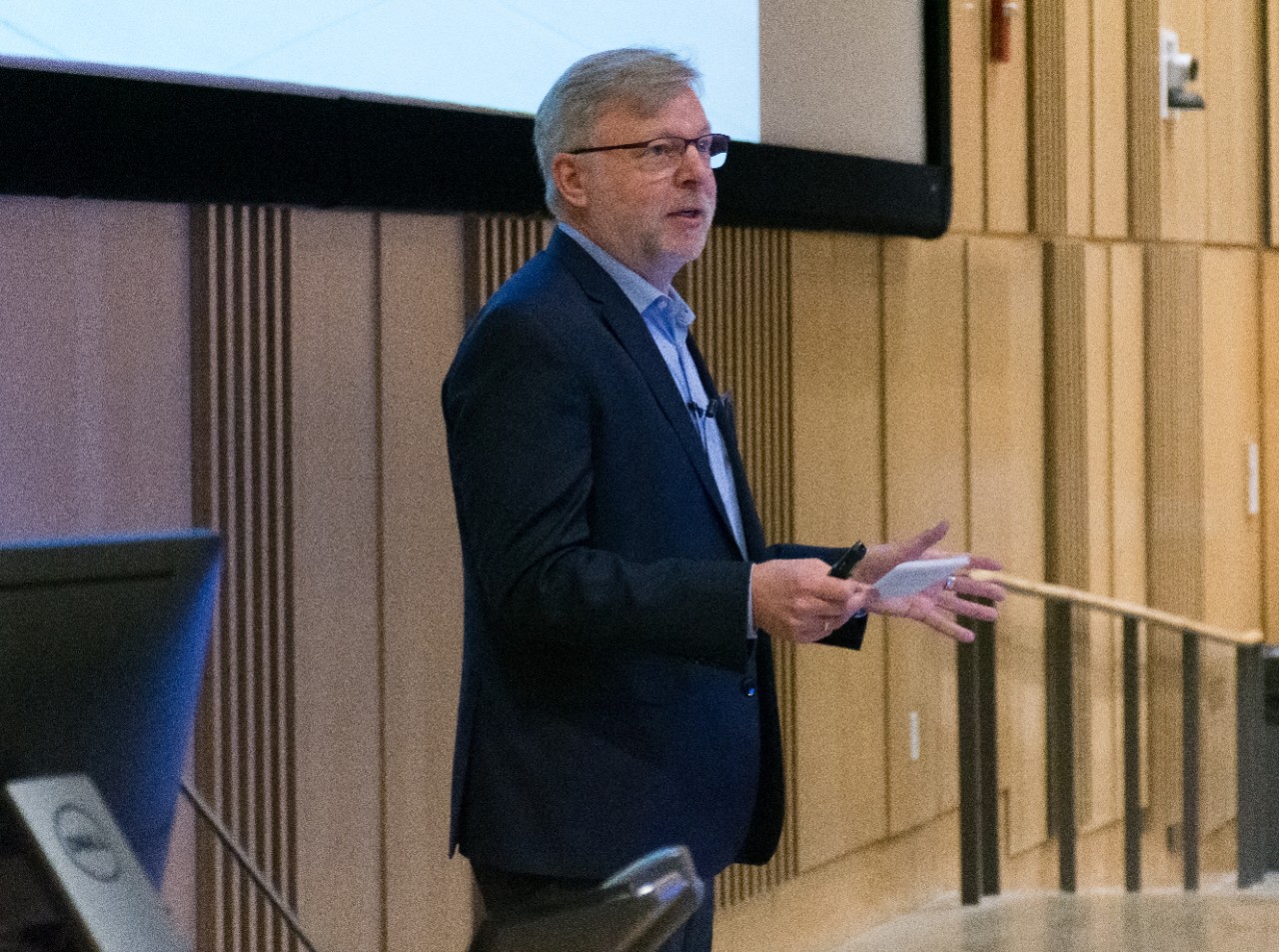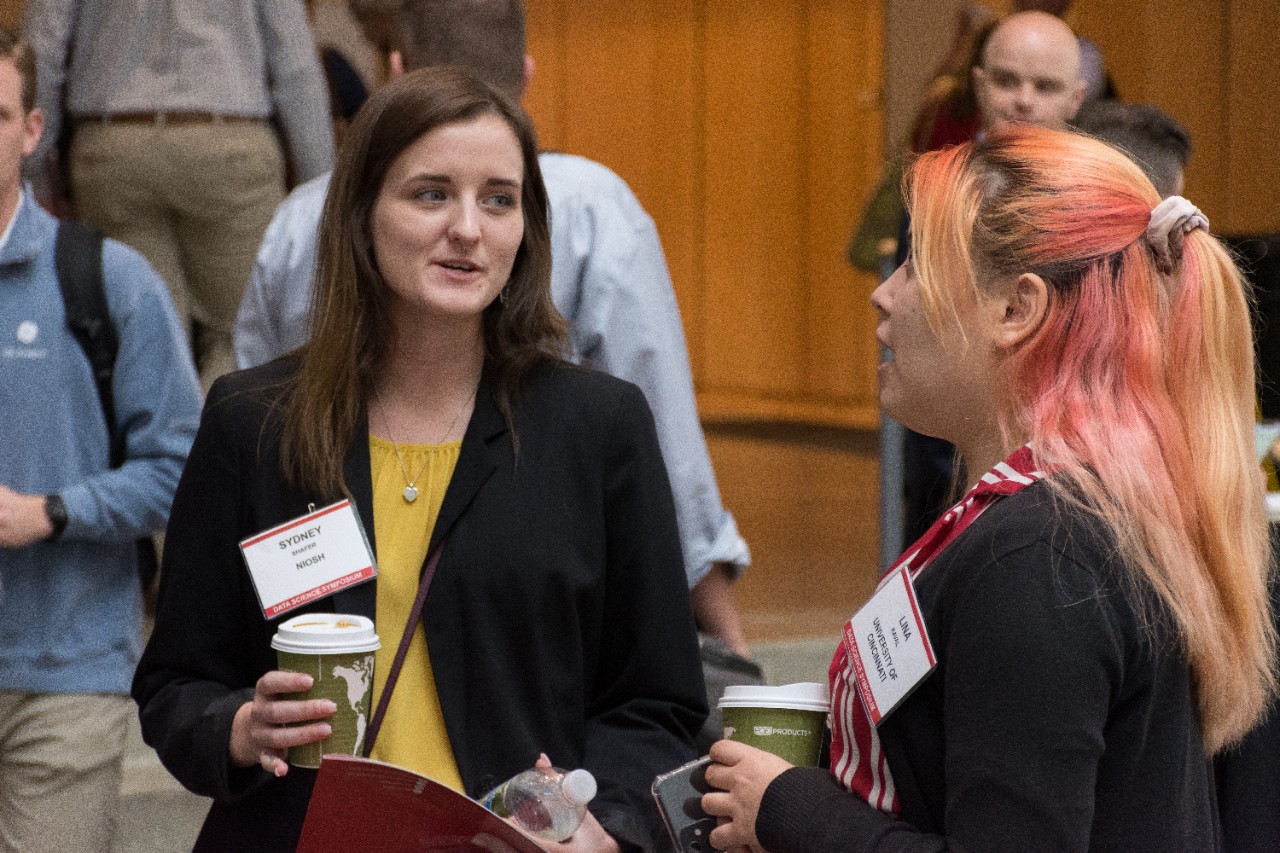 Kroger
Macy's Inc.
Nestle
National Institute for Occupational Safety and Health
Procter & Gamble
Recovery Decision Science
Ryerson
ScottsMiracle-Gro
UC Health
US Bank
Vonage
Western & Southern
Worthington Industries
Featured image: Stefan Karisch, director air and science technology, Amazon, delivers the opening keynote address at Data Science Symposium 2022. All photos by Dave Bauer.
About the UC Center for Business Analytics
The Center for Business Analytics unites organizations and a world-class, multidisciplinary group of faculty and students to educate and exchange ideas and best practices on applying analytical methods to enhance business performance. To inquire about membership, sponsorship or speaking opportunities, email UCBusAnalytics@ucmail.uc.edu.  
1
UC Business Analytics director named INFORMS fellow
October 9, 2020
Glenn Wegryn, executive director for the Center for Business Analytics at the University of Cincinnati's Carl H. Lindner College of business, has been named a fellow for The Institute for Operations Research and the Management Sciences (INFORMS), the largest international association of operations research and analytics professionals and students.
Debug
Query for this