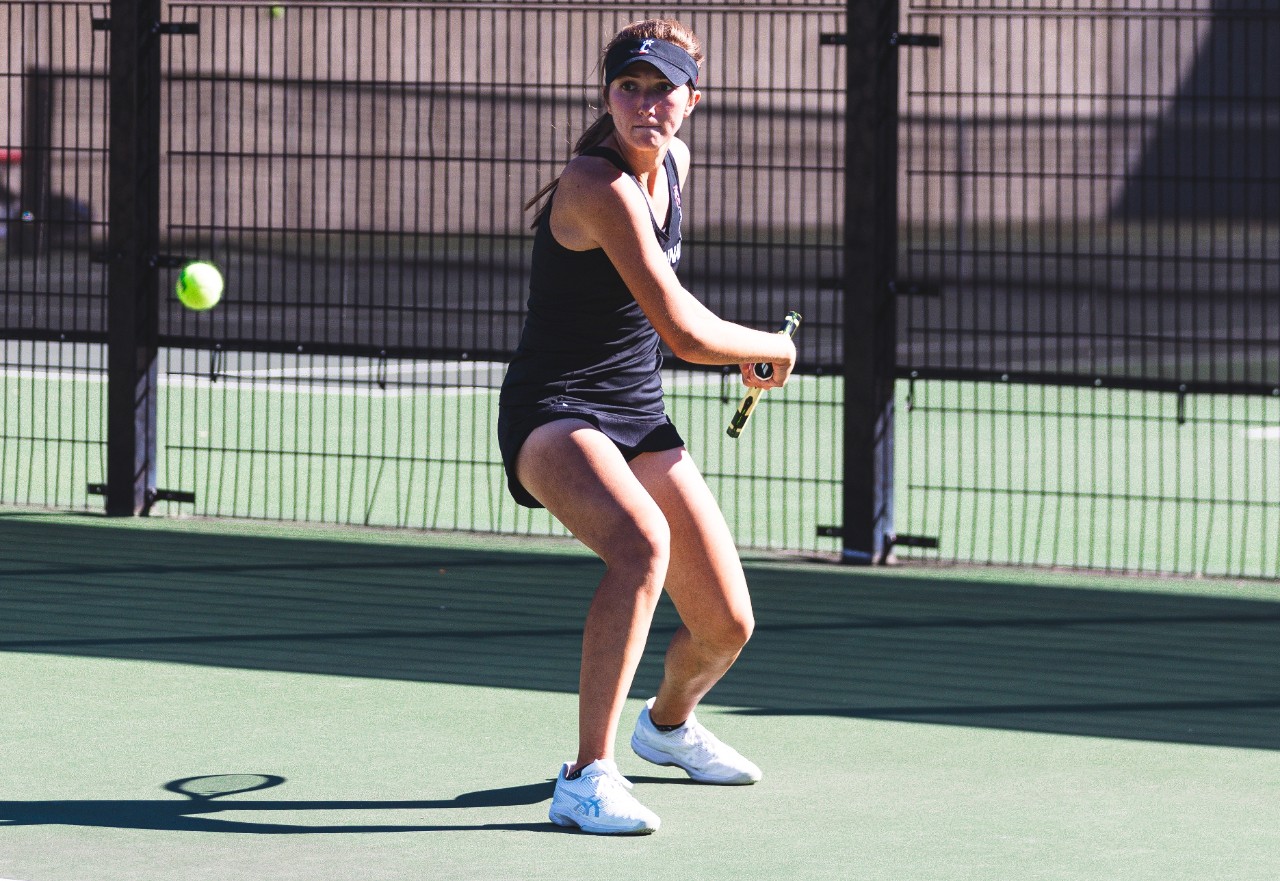 Maria Santilli aces tennis opponents, master's classes
Member of the varsity tennis team is pursuing her third Lindner degree
Now in her fifth academic year at the Carl H. Lindner College of Business and the University of Cincinnati, women's tennis player Maria Santilli is on the verge of earning her third degree from Lindner, all while balancing the duties required of a high-achieving collegiate student-athlete.
As it turns out, averaging more than one degree for every two academic years isn't quite enough schooling for Santilli, BS '21, MS '22 '23. Following the expected collection of her master of science in taxation after the spring semester, Santilli plans to return home to Pittsburgh to pursue an MBA from Carnegie Mellon University.
"I like school a little too much," Santilli joked.
At Norwin High School, Santilli was a state champion singles player, a two-time all-American and the No. 2-ranked women's tennis recruit in Pennsylvania during her senior season. Despite her athletic accolades, Santilli already had an eye on life after collegiate tennis.
"The main reason I picked UC was because I knew there was going to be a new business school, and I knew it was one of the top-ranked business schools in the country. I was reading good things about their accounting department. As much as I love tennis, unfortunately I'm not going to be a professional tennis player, so I was going to need a job," she said. "It's hard to make it in pro sports, so when you're looking at all these colleges, you really have to consider what is going to be the best for you in your career."
Five years after deciding to attend Lindner and UC, Santilli said she made the right call.
"I've met so many individuals that have helped me grow as a person and as an athlete or have mentored me in my accounting career," Santilli said. "I've loved all of it." 
Flexibility is a key trait for any student-athlete, but especially critical for a student as committed as Santilli.
"I've had to learn to adapt my study regimen. In high school, I would go sit in my room and study whenever I wanted," Santilli said. "Now, I'm studying on an airplane. I'm studying on a bus, in a van or in the locker room. Wherever I can get in a few extra minutes to review accounting, I do."
The women's tennis team wrapped up its fall season in late October. Santilli, primarily a singles player entering the 2022-23 season, added doubles play to her repertoire this fall.
"We had a really great fall season," Santilli said. "Spring season is my last one as a Bearcat before I move full-time into recreational tennis." 
The main reason I picked UC was because I knew there was going to be a new business school, and I knew it was one of the top-ranked business schools in the country.
Maria Santilli, BS '21, MS '22 '23
Santilli's path into the accounting and tax field as a student-athlete feels preordained. Her father was an accountant, and an uncle worked in the tax department of an accounting firm. And Santilli's mother played varsity tennis at Duquesne University in Pittsburgh.
After arriving at UC in 2018, Santilli required just three academic years to complete a bachelor of business administration in accounting. She spent her final undergrad semester as a private equity tax intern with Deloitte in Cincinnati. After obtaining a master of science in accounting, Santilli worked in Pittsburgh as a wealth management tax services intern with PricewaterhouseCoopers.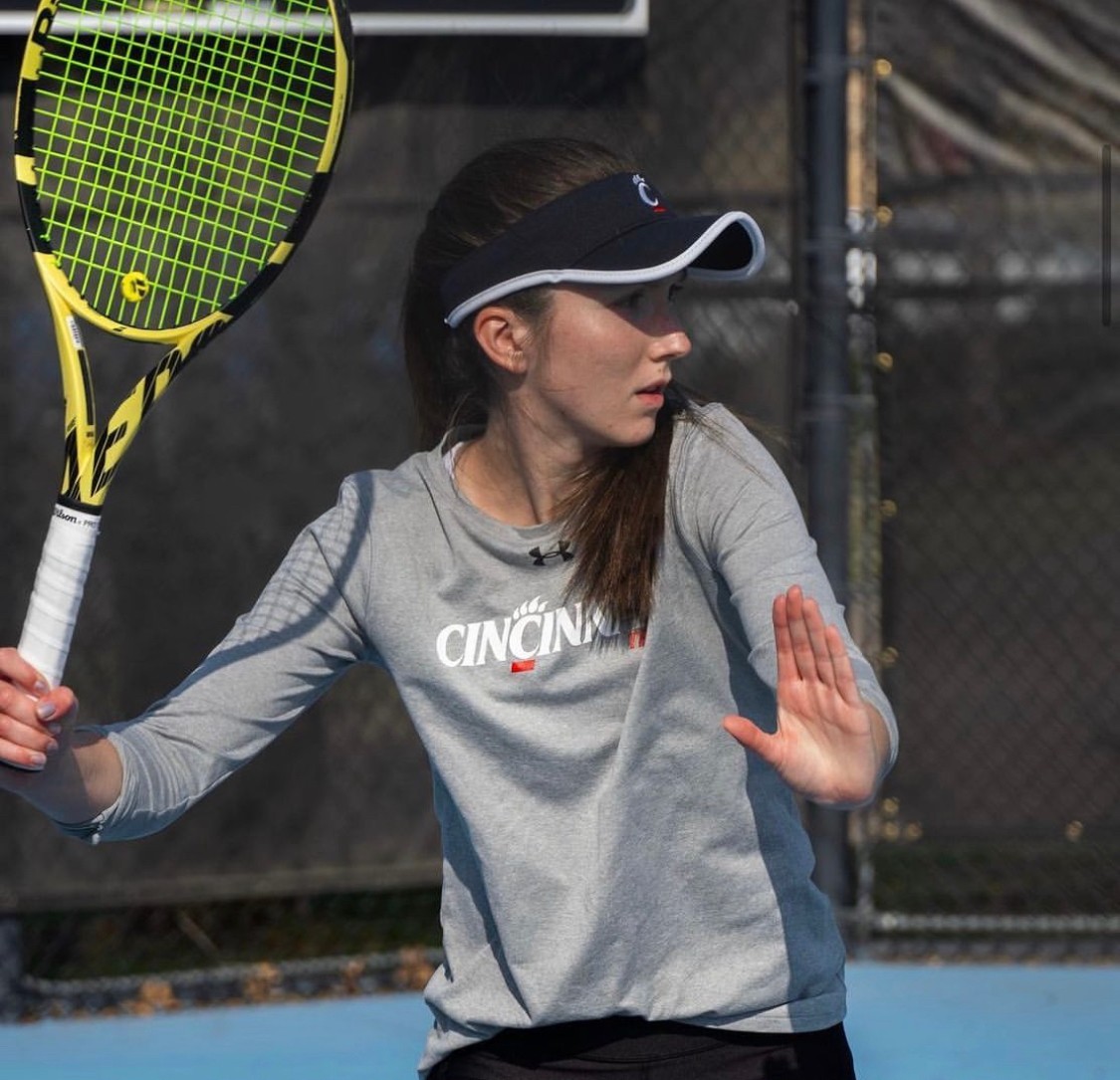 "I have learned how it is in the real working world. As much as I enjoy school — and I really love my classes — it's not quite like working and doing hands-on material, because what I might learn in my estate class might not be exactly what I'm doing on an estate tax return. So, that's been fun," Santilli said of her internships. "I've had to learn to be adaptive and meet a bunch of different people and come out of my shell, which has been exciting."
Santilli is using her final season of tennis eligibility to acquire a master of science in taxation, a program constructed to develop the technical competencies needed for advancement in tax accounting, plus softer skills such as leadership, communication and cultural awareness.
"It's phenomenal. It's all online, so you can learn at your own pace, which is great — especially with tennis," Santilli said. "I don't sometimes know what my schedule is, so I can sit down and learn the material at my own pace. I can work ahead, which is great if we have a match."
High praise from Lindner alum, instructor
Will Schwartz, BBA '64, MBA '70, was never employed as an accountant but has used the knowledge gained from his undergraduate accounting degree every day of his life.
A member of Lindner's Keating Society who previously served on the college's Business Advisory Council, Schwartz has supported a pair of scholarships at Lindner. Santilli has been the beneficiary of the Will & Jean Schwartz Athletics Scholarship Fund, an annual scholarship awarded to a Lindner student-athlete.
Schwartz and Santilli have developed a bond, as Schwartz has attended Santilli's matches, met her parents and penned letters of recommendation for Santilli.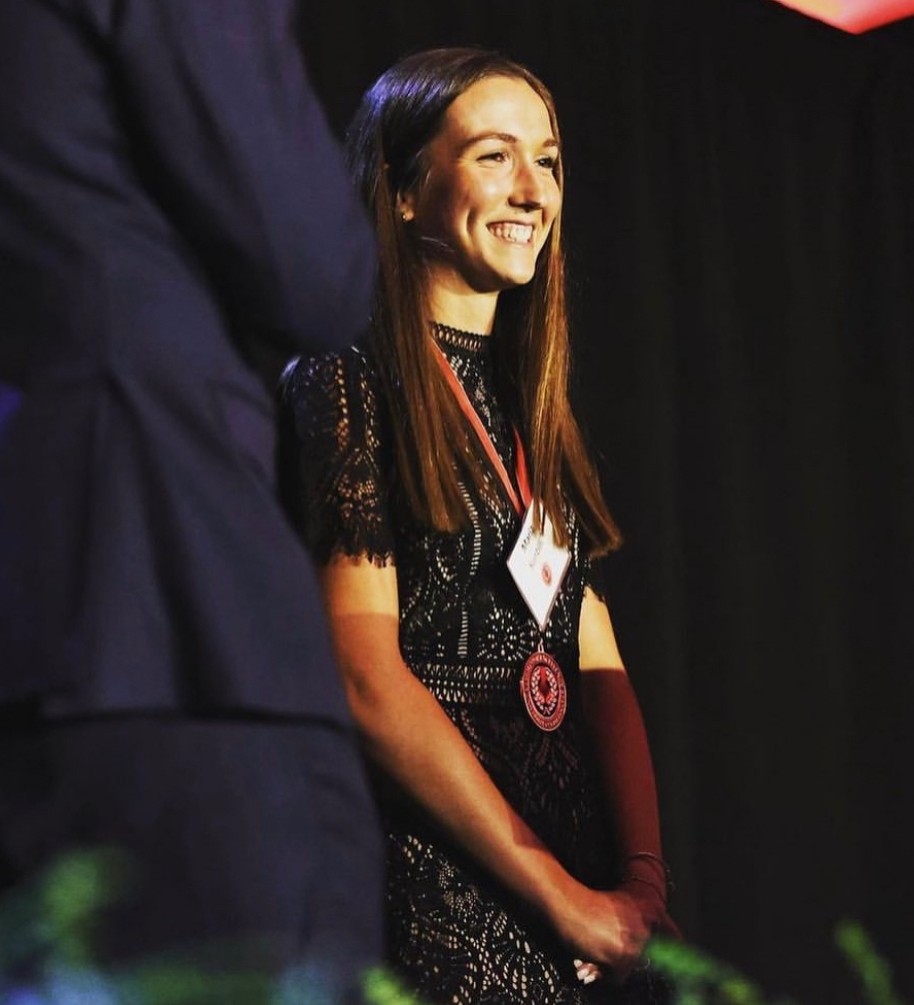 "She could not have accomplished what she has accomplished had she not been driven, and not only driven — you can be driven and not accomplish much — but you need the time-management skills," Schwartz said. "You need the tools to do that. She's one of those people who knows what she wants to do, she goes about doing it, and she succeeds at it."
Kim Girling, an adjunct instructor in Lindner's accounting department, has taught Santilli in a pair of high-level courses: ACCT 6072 (Taxation of Business Entities) and ACCT 8023 (Individual Tax: Structure). Girling said Santilli has "outstanding" work ethic.
"My numerous interactions and discussions with her have allowed her to demonstrate her sharp mind, curiosity and eagerness to learn, and first-rate written communication skills," Girling said. "What makes her a good student is a positive attitude toward her peers and (her) hard-working (mentality). But what makes her a great student is her self-discipline and time management."
Schwartz summed up Santilli's commitment by referencing former UC athletic director Bob Goin. 
"Bob used to say that a student-athlete is really in an honors program," Schwartz said. "With Maria, she's effectively in two honors programs because she's excelling at Lindner and also doing everything necessary to be a starter on the tennis team."
Featured image: Maria Santilli prepares to hit a backhand shot during a match. Photo by UC Athletics.
Study Accounting at Lindner
The accounting department at the Carl H. Lindner College of Business presents students with multiple degree options and the opportunity to learn from faculty who conduct research and publish in esteemed academic journals. Students also can benefit from Lindner's partnerships with leading firms through co-ops and internships to determine their passion in the accounting field.