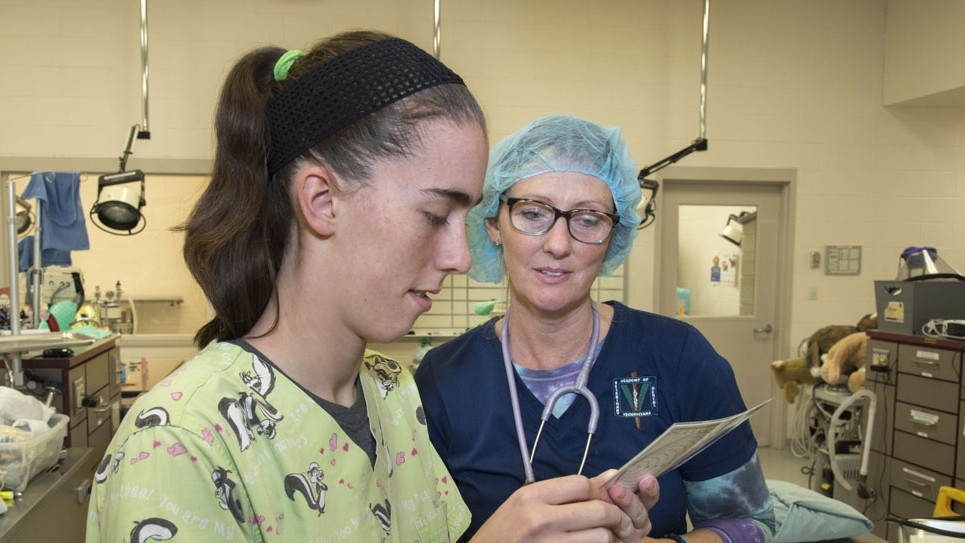 UC Blue Ash professor wins national award for expertise in veterinary dentistry
Kelly Vearil continues to establish herself as a leading expert in veterinary dentistry. After becoming the first person in Ohio to earn a Veterinary Technology Specialty (VTS) in dentistry eight years ago, Vearil was recently honored with the 2022 VTS-Dentistry Excellence in Dentistry Education Award by the National Association of Veterinary Technicians in America (NAVTA).
Vearil serves as an assistant professor of veterinary technology at the University of Cincinnati Blue Ash College. She is an alum of the program and has worked and taught at the college for the past 15 years. She says she began pursuing dentistry as a specialty right from the start.
"Teeth are my passion, so I basically asked to be a part of teaching that content on my first day as a staff member," says Vearil. "I've been doing it ever since."
Dentistry is a large portion of the veterinary technology curriculum. Training in this specialty is a requirement by the American Veterinary Medicine Association and is critical for success on the Veterinary Technology National Exam (VTNE).
The award is a tribute to the expertise Vearil has developed over the years in teaching veterinary dentistry, as well as her dedication to giving back and helping others.
"I was humbled and honored," said Vearil. "This volunteer service to my academy and the education I provide the veterinary community is very important to me because it allows me to give back and serve those in my discipline. It was nice to be recognized for the hard work."
Thanks to the hard work and expertise of Vearil and her colleagues in the veterinary technology program, graduates of the program consistently perform well above the national average in passing the VTNE.
Featured Image: Kelly Vearil (right) works with a student in the veterinary technology lab at UC Blue Ash.
About UC Blue Ash College
UC Blue Ash College is a regional college within the University of Cincinnati. It offers one of the best values in higher education with access to a nationally recognized UC education in more than 50 degree and certificate programs, as well as tuition that is about half of most colleges and universities. The college is located on a scenic 135-acre wooded campus in the heart of Blue Ash, Ohio. To learn more, call 513-558-9495, visit us online, like us on Facebook or follow us on Twitter and Instagram.
3
UC Blue Ash professor finds inspiration in documents from...
August 21, 2020
A 1925 property deed owned by her late grandfather inspired Rhonda Pettit to address racial segregation and institutional racism in her poem 'A Deed Supreme.' It is one of two poems by Pettit included in the Anthology of Appalachian Writers Crystal Wilkinson Volume XII, which was recently released by the Shepherd University's Center for Appalachian Studies and Communities.
Debug
Query for this