Could an energy audit save you money?
Absolutely, say UC engineering students who are showing Cincinnati clients how
Architectural engineering students at the University of Cincinnati are helping community partners save on monthly utility bills through energy audits.
UC College of Engineering and Applied Science assistant professor Amanda Webb is an expert in the field, having worked professionally as an energy auditor before coming to UC.
Her students learn to identify not only low-hanging fruit like drafty windows or insufficient attic insulation but also to put together the cost-benefit analyses needed to determine whether investments in energy efficiencies or renewable alternatives can save money over time.
Webb said energy audits have the potential to save virtually any owner of a home or business money.
"Any building owner can benefit from understanding how their building uses energy," she said. "The vast majority of audits you'll find measures that are cost effective and can result in savings."
It's an especially timely topic with federal regulators predicting the price of oil and natural gas to remain high this winter.
Her UC students work with community partners such as the city of Cincinnati to find cost savings. First, they examine the client's utility bills to understand the rate structures.
"That's the foundation of a good energy audit," Webb said.
Then they conduct a site visit to inspect the utility systems and talk to the people who actually use the building. Depending on the situation, they can make recommendations about ways to improve energy use and performance.
"The most important goal for most clients is reducing energy costs," she said. "But if a building is already performing well, they might want to go to the next level."
Students learn how to determine whether a building is meeting benchmarks for performance based on factors like its age, occupancy and energy use.
"We do a lot of work on benchmarking," Webb said. "How do I say if a building is a good performer or bad performer?"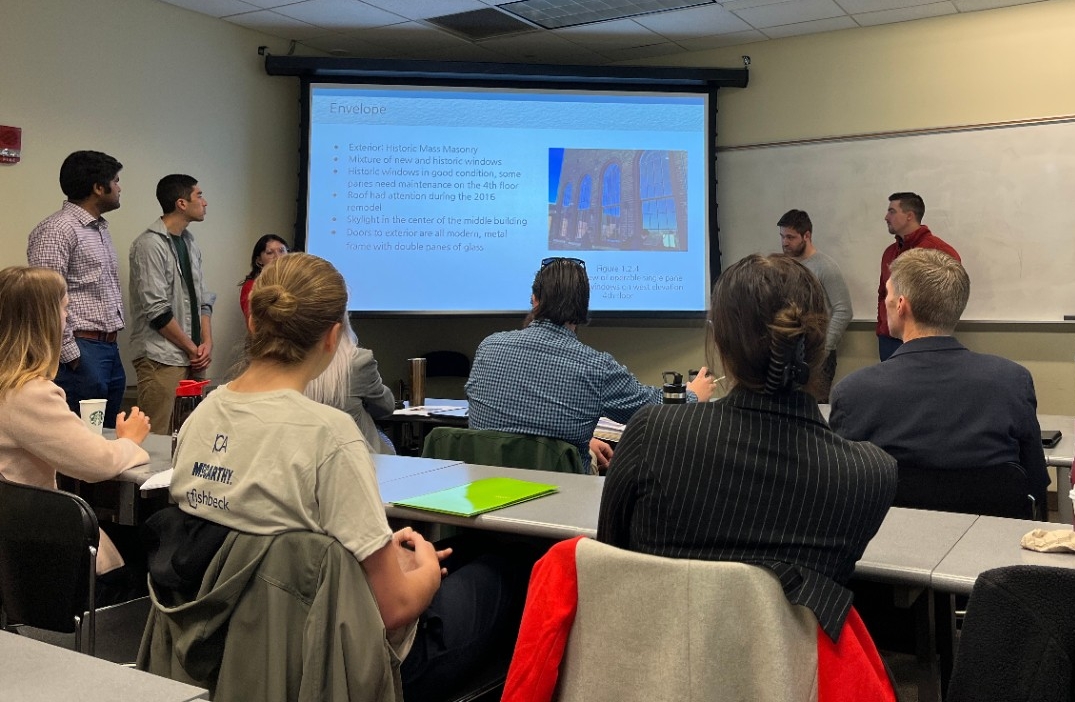 Students Grace White and Molly Denton were on a team that examined a newer fire station in the Cincinnati neighborhood of College Hill that has state-of-the-art utility systems. Unlike an office building, where the city might shut off lights or turn down the thermostat at night, the fire station is in operation 24 hours per day.
"I thought we were going to be looking at some old shack in the woods and here's this new building that's already doing pretty well," White said.
The students recommended installing a building automation system to optimize energy use.
Robert McCracken manages energy use for Cincinnati's Office of Environment & Sustainability. By ensuring buildings are optimized to use energy efficiently, the city can save money, he said.
"Any money we can save on energy usage by making sure buildings are operating efficiently can be reinvested in other expenses," he said. "The students were fun to work with and their suggestions were useful."
If we want to reduce carbon emissions, we have to pay attention to existing building stock. Well over half of the buildings that exist today will still be here in 2050. That's a huge piece of the pie.
Amanda Webb, UC assistant professor of architectural engineering
UC student Heather Cheng was on a team that looked at a business incubator called Union Hall in Over-the-Rhine, one of the city's oldest neighborhoods.

"Union Hall is a classic 1800s Over-the-Rhine building that was recently renovated," Webb said. "The building was performing really well in benchmarking against similar buildings." 
"Union Hall already has a pretty advanced building automation system controlled with a computer interface," Cheng said. "The client's goal was to do something to demonstrate they were a leader in sustainability."
Cheng and her classmates recommended keeping the historic glazed windows but adding new storm windows. And they suggested installing a new solar canopy on top of the building.
"What's interesting to me about this project is it's a win-win-win," professor Webb said. "It provides a hands-on learning experience for students. Students also get a chance to make connections to local sustainability initiatives. And it also provides valuable information for local client partners."
Students said they've applied the lessons they've learned in Webb's class to their co-op jobs. Students in UC's College of Engineering and Applied Science spend some semesters in the classroom and others working for employers in their chosen field. UC pioneered this system in 1906 and it has since been adopted by universities around the world.
While at the Michigan architectural firm Fishbeck for a co-op, UC student Denton said she assessed buildings to determine if they were meeting energy efficiency codes.
"I found a lot of the class to be relatable," she said.
White co-oped at the Boston engineering-consulting firm CMTA, where she analyzed automated building systems to see if they were performing optimally.
"It's interesting to see how these systems work together. That's not something that we can always see in the classroom," she said. 
Many newer buildings have heating, lighting and electrical systems designed to work in concert. But sometimes they're not optimized, she said.
"You need the ability to control these systems to make sure they're working properly together," she said.
But Webb is less concerned about new buildings, which are designed to meet energy efficiency standards, than older ones that can be a drain on energy. Buildings are responsible for using three-quarters of the electricity consumed in the United States. 
"If we want to reduce carbon emissions, we have to pay attention to existing building stock. Well over half of the buildings that exist today will still be here in 2050," she said. "That's a huge piece of the pie."
Webb said many cities in the United States require larger commercial buildings or multifamily housing to report energy use to encourage investments in energy efficiency. Others are pushing property owners to meet new efficiency goals.
"It's pretty incredible what's happening," Webb said. "Part of the goal of my class is to prepare students not just for the design side of things. I want students to be prepared for the policy landscape when they enter the workforce."
UC student White said climate change is motivating some people to take action to reduce their carbon footprint and cut energy usage wherever possible.
"We are consuming way more than we can replenish. It's not sustainable," White said. "There's only so much we can do to expand our infrastructure, so we need to improve on what we have."
But Denton said companies and homeowners no doubt are thinking about the bottom line as well. She is pursuing a master's of business administration simultaneously with her bachelor's degree in architectural engineering through UC's Accelerated Engineering Degree program.
"Having these more efficient systems lowers your operation and maintenance costs and saves money over time," Denton said. "There might be higher upfront costs, but the payback is less than five years, which is really attractive for companies."
Featured image at top: UC students examine utilities, windows, insulation, light fixtures and more while working on an energy audit of Union House. Photo/Heather Cheng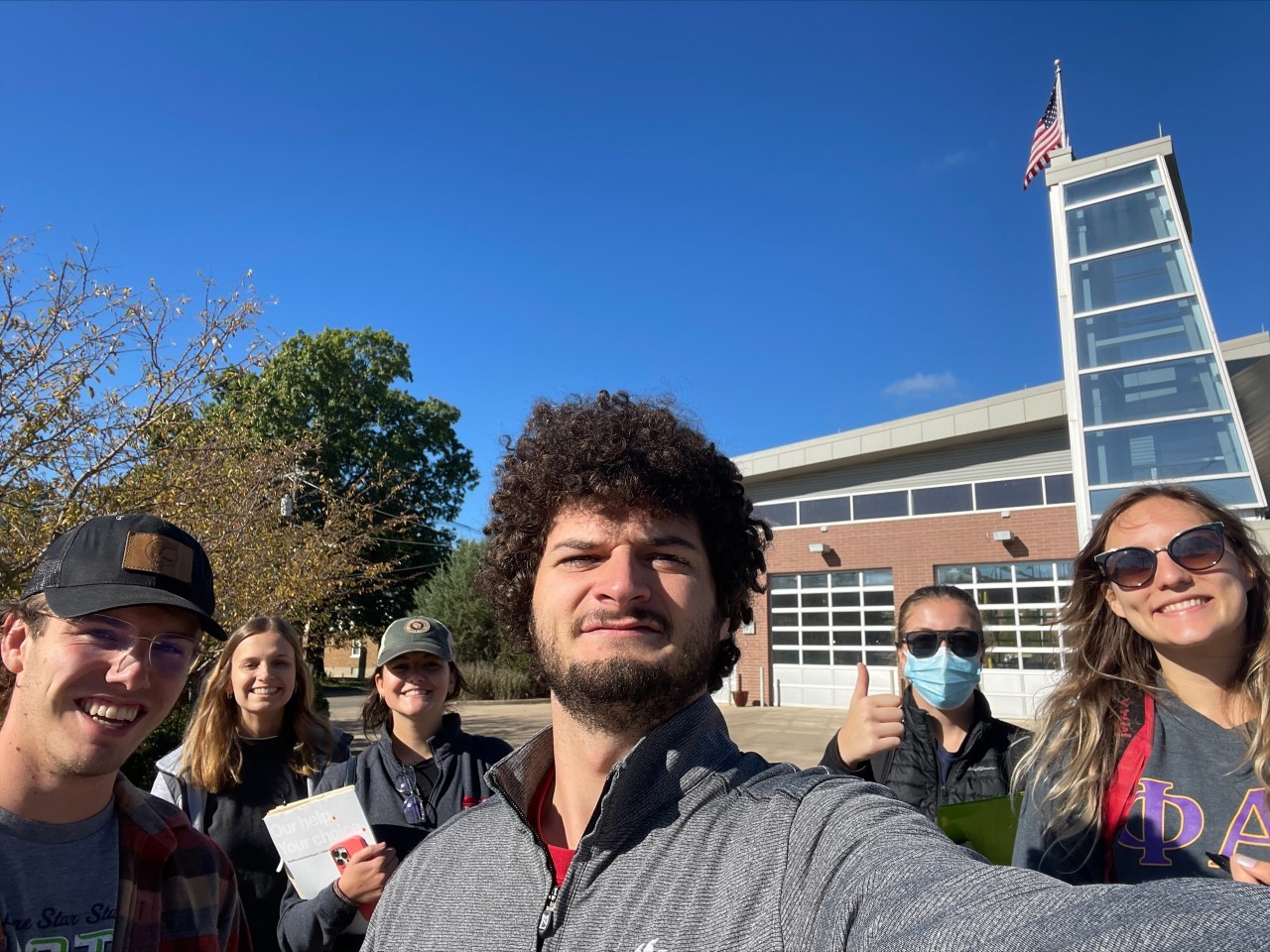 Impact Lives Here
The University of Cincinnati is leading public urban universities into a new era of innovation and impact. Our faculty, staff and students are saving lives, changing outcomes and bending the future in our city's direction. Next Lives Here.
1
Engineering students showcase capstone projects at CEAS Expo
May 6, 2022
Graduating engineering undergraduates from the University of Cincinnati's College of Engineering and Applied Science gathered for the inaugural CEAS Expo in April to showcase their senior capstone projects to more than 500 attendees, including faculty, staff, alumni and industry representatives. The event, organized by the college and CEAS Tribunal student government, was held in downtown Cincinnati at the Duke Energy Convention Center.
Debug
Query for this