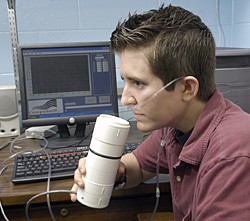 Get a Whiff of This: Smell Test Could Sniff Out Serious Health Problems
A new medical device in development by University of Cincinnati researchers may sniff out olfactory disorders that could be an early warning of Alzheimer's disease, Parkinson's disease and other problems outside the typical sensory loss associated with aging. The Sniff Magnitude Test (SMT), an invention of UC Psychology Professor Robert Frank and Professor Emeritus Robert Gesteland of the UC Department of Cell Biology, is now under further development with the WR Medical Electronics Company in Stillwater, Minn. The company will manufacture and market the test.
The Sniff Magnitude Test project, a creation that was seven years in the making, was awarded a total of $1,340,098 from the National Institutes of Health in developmental funding. UC Psychology Professor Robert Frank says that in the near future, UC researchers will begin testing five different prototypes of the SMT built by WR Medical Electronics. Currently, Frank says an earlier model of the SMT is being tested in a high-profile clinic in Germany as well as at the University of Pennsylvania. Frank says the SMT customer base would be primarily otolaryngologists and neurologists.
"The whole test is based on the very simple observation that when you sniff and you detect a smell, you take a smaller sniff than if you inhaled and didn't detect a smell," Frank explains. "For someone with normal sense of smell, the size of the sniff when detecting an odor is cut in half. For someone who cannot detect odor, the size of the sniff for just air and the size of the sniff for an odor are the same."
In humans, Frank says the sense of smell is one of our less robust senses. He says it's more susceptible to harm because there is less neurological machinery in the brain devoted to processing the sense of smell. "So, that's the reason it might be acting a little bit like the canary in the mineshaft. Because it's more fragile, when you have insult to the brain, it may be sensitive to loss earlier in the disease process."
Frank adds that because smells don't have to be identified as part of the Sniff Magnitude Test, the test can be used on adults as well as children (who may be too young to link a smell with a name) and people representing international cultures (who are unfamiliar with some common odors in the U.S.). "What's also unique about this test is that it does not require a good memory, which is an issue in testing people with Alzheimer's or some other dementia-related disease," Frank says. "For instance, other tests ask, 'Does this smell like garlic?' or, 'Does this smell like tar, or roses?' Once there's a problem with memory, this kind of test would be difficult."
So what does it mean if a child, or someone unlikely to have an age-related disease, flunks the sniff test? "If they fail our test, that's a pretty good indication that there's something wrong with their sense of smell. Maybe there's an obstruction – a deviated septum or polyps," Frank says. "Perhaps the olfactory nerve has been damaged due to a head injury or a viral infection."
For those who are proud of their keen sense of smell, this is not a test to tickle their senses. Because the really nasty smells worked best for the Sniff Magnitude Test, Frank says the test subjects get a whiff of three odors: a blend of ripe cheese and rancid meat, a fragrance that combines a burning smell with a skunk-like smell, and amyl acetate, which smells like banana. "You have to get people to really suppress the sniff and that's why the bad odors work so well," explains Frank. "To a certain extent, we put the banana smell in there to give them a little break."
Frank adds that his current research is exploring the patterns of loss of smell that could be an indicator of Alzheimer's. He says the Sniff Magnitude Test is also getting a look by researchers at the Rush University Medical Center in Chicago as part of a major epidemiological study on aging, Alzheimer's disease and sense of smell.
1
NatGeo: Pompeii has secrets to uncover — should we keep digging?
September 28, 2023
UC Classics Associate Professor Steven Ellis talks to National Geographic about the controversial topic of excavations at Pompeii. Some researchers say there is more to learn by unearthing the city. Ellis said preserving what is there is key.
2
Finding an unexpected passion at UC
September 27, 2023
Lane Bokros '25, grew up in a household that showcased what intelligence and a strong work ethic can do. Today, Bokros is following in the family tradition of success, but with a difference: He is a first-generation college student who aspires to post-graduate education and a career in medicine.
3
UC presents lecture on liberal arts featuring Michael W. Twitty
Event: October 10, 2023 7:30 PM
The University of Cincinnati welcomes Michael W. Twitty, award-winning author of "The Cooking Gene: A Journey Through African American Culinary History in the Old South," for a presentation next month. Twitty will share his views on the value of liberal arts study at a time when headlines show the discipline may be in decline. Titled "What's It Got to Do With Me? The Importance of the Humanities to Contemporary American Life," the event will be held Tuesday, October 10 at 7:30 p.m. at UC's Probasco Auditorium, 2839 Clifton Ave. Presented by UC's College of Arts and Sciences, and sponsored by Taft Research Center, The Jewish Foundation of Cincinnati, and a host of other supporters, the event is free and open to the public.
Debug
Query for this