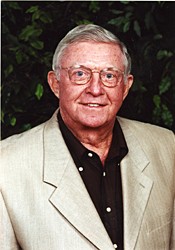 Tennis Great Tony Trabert to Receive Honorary Doctorate from UC
U.S. and world tennis champion Marion Anthony "Tony" Trabert will receive an Honorary Doctor of Humane Letters at the
University of Cincinnati Commencement Ceremony at 9:30 a.m., Saturday, June 9, in Fifth Third Arena at Shoemaker Center.
A member of the International Tennis Hall of Fame, Trabert won the NCAA singles title and the U.S. Clay Court Championship while he was a student at UC (1948-52). He also played on the 1950-51 UC Men's Basketball Team.  He claimed three of the four Grand Slam singles titles in 1955: the French Open, Wimbledon and the U.S. Open.
As a member of the U.S. Davis Cup Team from 1951-55, Trabert holds the record for the most victories by a captain. Trabert later became a successful tennis commentator for CBS Sports, where he was known as the voice of the U.S. Open.
He was named to the Hamilton County Hall of Fame in 1968; the National Lawn Tennis Hall of Fame in 1970; the College Tennis Hall of Fame in 1983; and the Cincinnati Tennis Hall of Fame in 2002. He was National Clay Court Singles Champion in 1951 and 1955; National Clay Court Doubles Champion in 1951, 1954 and 1955; National Hardcourt Champion (Singles in 1954 and Doubles in 1950 and 1953); and National Indoor Singles and Doubles Champion in 1955. He took the World Pro Doubles Title in 1956.
Born and raised in Bond Hill, Trabert attended Walnut Hills High School, where he played both basketball and was undefeated in tennis, winning the Ohio Singles Championship in 1946, 1947 and 1948.
In 1994, Trabert was honored with the William Howard Taft Medal – the highest honor from the UC Alumni Association. UC's new Trabert-Talbert Tennis Center in UC's Varsity Village is named in honor of Trabert and his childhood mentor and championship doubles partner, Bill Talbert, who was a UC tennis star in the late '30s.
1
Ambassadors represent interests of full-time MBA students
December 4, 2023
The Carl H. Lindner College of Business full-time MBA class of 2024 elected three students to serve as program ambassadors to represent their interests and serve as a conduit between the cohort and the graduate programs office (GPO).
2
WVXU: Health benefits and risks to recreational marijuana
December 1, 2023
The University of Cincinnati's LaTrice Montgomery joined WVXU's Cincinnati Edition to discuss the potential health benefits and harms associated with expanded cannabis access after Ohio voters approved legalizing recreational marijuana in the November election.
3
Public gardens contribute to invasives problem
December 1, 2023
University of Cincinnati botanists found that plants at arboretums and public gardens inadvertently can seed wild areas with nonnative plants. Their study was published in the journal Ecological Restoration.
Debug
Query for this