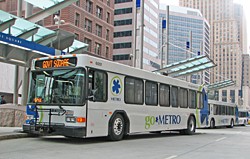 New UC/Metro Partnership a Sizzling Summer Success
New figures show the UC community is taking the bus and easing the traffic crunch in the Uptown – a result of a partnership launched in the spring. Metro reports that the UC/Metro partnership that provides free rides for the UC community has resulted in more than 100,000 rides for UC faculty, staff and students since the service first got underway on April 30. During the weekdays, nearly 2,000 UC riders per day are riding the bus, according to Metro.
The two-year partnership is funded by UC Student Government and the university administration and provides free rides on any Metro bus, at anytime, on any Metro route for UC students, faculty and staff who produce their photo ID at the bus stop. The partnership aims to ease traffic congestion in Uptown as well as help riders save on gas and parking.
During the hot summer months that can trigger heat and pollution alerts, the partnership is also allowing UC riders to become friendlier to the environment. Metro busses in the Uptown run on biodiesel made from Ohio soybeans which burns cleaner than conventional diesel fuel. Metro adds that each person who opts to ride the bus instead of driving the car to work conserves more than 200 gallons of gas per year, so as gas prices soar to more than three dollars a gallon, that's a savings of over $600.
UC Student Body President James Radley says Student Government is spreading the word about the service to incoming freshmen at Bearcat Bound Orientation. "We're adding posters, fliers and other promotions about the partnership to our Student Spotlight display at Orientation, and we also met with the 30 Student Orientation Leaders (SOLs) so that they can help us promote the program to our new students," Radley says.
Special Metro services to Riverfest, Oktoberfest and Bengals games are not included in the partnership. For information on Metro routes and bus schedules, call Metro at 513-621-4455, weekdays from 6:30 a.m.-6 p.m.; Saturdays 8 a.m.-4 p.m.; or check www.go-metro.com
Metro routes serving UC's Uptown campus and the Uptown:
Route 17 Seven Hills, Mt. Healthy, Northgate, Mt. Airy, North College Hill, College Hill, Northside
Route 18 Northgate, White Oak, Monfort Heights, Mt. Airy
Route 19 Colerain Ave. corridor from Northgate
Route 24 Anderson Township, Mt. Washington, Mt. Lookout, Hyde Park
Route 31 Evanston, Walnut Hills, West End, Lower Price Hill
Route 39 Western Hills Plaza, Cheviot, Westwood
Route 51 Oakley, Hyde Park, Norwood, Evanston, Avondale
Route 75X Amelia, Cherry Grove, Anderson Township
Route 78 Tri-County, Springdale, Lincoln Heights, Woodlawn, Lockland, Wyoming, Hartwell, Elmwood Place, Bond Hill, St. Bernard
1
National media highlight newest U.S. World Heritage site
November 28, 2023
For nearly two decades, professor emeritus John Hancock helped lead a team of archaeologists, historians and Native American scholars, including staff at the National Park Service and Ohio History Connection, to have the Hopewell earthworks recognized on par with other World Heritage sites such as the Great Wall of China and Stonehenge.
Debug
Query for this