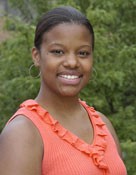 Award-Winning Lindner Honors-PLUS Students Are the Faces of UC
What's with the "PLUS"?
P = Promise as a business professional
L = Leadership in school and community activities
U = Understanding of the global marketplace and diverse cultures
S = Success through talent, commitment, dedication, and effort
Now, the UC College of Business is celebrating
T = Teaching
E = Enriching
N = Networking
Y = Young
E = Enthusiastic and
A = Academically
R = Responsive and Responsible
S = Students
The Carl H. Lindner Honors-PLUS program will mark a decade at the University of Cincinnati College of Business (CoB). Ten years into this exemplary program, CoB faculty and staff take time to celebrate the successes of the past, highlight the accomplishments of program alumni, and thank the generous donors who make the program possible. The CoB Carl H. Lindner Honors-PLUS Program 10th Anniversary Celebration is Thursday, Nov. 8, 2007, at 6 p.m. in the Great Hall of the Tangeman University Center.
All students admitted to the Lindner Honors-PLUS Program receive merit scholarships sufficient to cover all in-state academic and general fees. As with other University Honors students, students are chosen based on test scores, grade point average and class ranking. In addition, Lindner Honors-PLUS criteria seek to attract students whose academic measures place them in the top 10 percent nationally, whose extracurricular activities indicate excellent leadership potential, and who are motivated to become business and community leaders.
Their leadership shines through even before graduation.
"Last year we swept the outstanding co-op student awards in business, and we're well represented this year also," says Jeri Ricketts, director of the Carl H. Lindner Honors-PLUS Program in UC's College of Business. She also goes on to say that what makes this so remarkable is that they only accept 25 students each year straight out of high school (and sometimes transfer in two or three at the end of freshman year), for a total of about 125 students in the program.
"The awards garnered by our 25 students — out of 600 College of Business grads and 4,000 UC grads each year — make it clear that they are making a huge contribution to UC's campus leadership," Ricketts notes with pride. "Our hope is that their service to the college and university makes a significant positive difference in the experiences of many other UC students."
Beyond that, Ricketts hopes that the students' leadership on campus is carried over to leadership in the community. For instance, Jay Hummel was honored in the Cincinnati Business Courier's "40 Under 40" last year.
"Most [40 Under 40] recipients are at the high end of the 35–40 age range," Ricketts says. "Jay was 26 when named (one of the youngest ever), primarily for his work as president of "Give Back Cincinnati" — a community service organization of literally hundreds of young professionals in Cincinnati."
"Of course this isn't happenstance," explains Ricketts. "We take deliberate steps to develop professionalism and leadership in our students from the day they arrive on campus. They all receive full in-state tuition scholarships, and we make it clear that their scholarship comes with strings attached, much like an athletic scholarship. We expect our students to set the bar high in terms of academics, co-op performance, leadership on campus and community service. The support they provide each other, the networks they have developed, the positive peer pressure, and the support we give them all contribute to their success."
Presidential Leadership Medal of Excellence
C – Ring
Homecoming King / Queen
Mr. Bearcat
Student Government
Dom Berardi —Vice-President — 2005-06
Justin Shafer —President — 2004-05
Ben Hines —Vice-President — 2004-05
Presidential Fellows
Just Community Awards
THURSDAY: Ten Years of Teaching Talent — UC's College of Business Celebrates the Lindner Honors-PLUS Program
When BusinessWeek Surveyed UC College of Business Undergrads, They Raved About Lindner Honors-PLUS
The University of Cincinnati, home to more than 36,500 students, offers students a balance of educational excellence and real-world experience. Since its founding in 1819, UC has been the source of many discoveries creating positive change for society, including the first antihistamine, co-op education, the first electronic organ, the Golden Gate Bridge designer and the oral polio vaccine. Each year, this urban, public, research university graduates 5,000 students, adding to more than 200,000 living alumni around the world. UC is the largest employer in the Cincinnati region, with an economic impact of more than $3 billion. The University of Cincinnati is located in Cincinnati, Ohio. For more information visit www.uc.edu.
1
Duo universal prompt rollout begins Dec. 14
December 5, 2023
The University of Cincinnati's Digital Technology Solutions will begin rolling out the new Duo universal prompt for two-factor authentication in December.
2
Construction management alumna honored for impact in her field
December 5, 2023
Gloria Samuel entered the construction industry more than 20 years ago as a University of Cincinnati co-op student and never looked back. Since then, she has earned both undergraduate and graduate degrees at UC and has taken great pride in giving back to the college by sharing her education and experiences with others as an adjunct faculty and serving on numerous community boards and committees. Currently, she is the Senior Vice President and Director of Construction Program and Project Management for Fifth Third Bank.
3
VIDEO: What is co-op really like?
Career Paths
Welcome to "Beyond the Classroom", a monthly series where we give you a behind-the-scenes look at a day in the life of Cincinnati co-op students across a variety of majors and industries.
Debug
Query for this