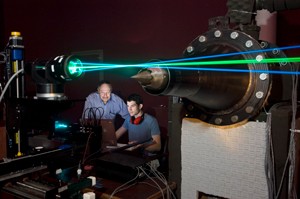 UC Aerospace Awarded $28 Million by Ohio Board of Regents
The University of Cincinnati will lead a $28 million aerospace research program focusing on power and propulsion under a grant awarded Monday by the Ohio Research Scholars program. The grant, also involving Ohio State University (OSU) and the University of Dayton (UD), is part of the state's investment in research for economic development.
The grant to the UC-led consortium was announced by Ohio Lt. Governor Lee Fisher and Ohio Board of Regents Chancellor Eric Fingerhut as part of $143 million in Ohio Research Scholar awards. The collaboration was recommended to the Ohio Controlling Board for $28 million in funding. Researchers at the three universities will study power and propulsion systems; low-emission energy sources; and aerospace system issues such as acoustics, turbine aerodynamics and heat transfer. The proposal includes recruiting three Ohio Research Scholars at UC, one Research Scholar at OSU, and one Research Scholar at UD.
UC proposed the establishment of a research cluster to ensure Ohio's continued research eminence in power and propulsion. The cluster will support the development of future intelligent adaptive power and propulsion systems with advanced energy sources for low emission and superior reliability through service life and thermal management.
"Our research will strengthen the state's competitive position through robust academic, business and government collaborations to ensure continued international prominence in this field," said Dorothy Air, associate senior vice president of entrepreneurial affairs.
The funding will strengthen a strong aerospace research focus at UC and the associated universities. In October 2007, UC received an anonymous $20 million gift to establish the Thomas Jefferson Endowed Chair in Space Exploration and the Alan B. Shepard Endowed Chair in Space Exploration, as well as a fund earmarked to create a Space Exploration Research Fund. In July 2007, UC received the only two Ohio Eminent Scholars awarded by the State of Ohio — with one focused on aerospace power and propulsion research.
"Nearly half of the $35 billion annual revenues generated by the U.S. aircraft engine industry is attributed to Ohio-based companies, with more than 20,000 aero-propulsion jobs within the state. Continued partnership with the numerous leading industrial companies and federal laboratories in Ohio will guide line scientific research with promising technology developments and will move these nascent technologies toward commercialization," said Sandra Degen, UC's vice president for research. "With this grant strengthening even more the bonds between OSU, UD and UC, there is no doubt that Ohio is not only the birthplace of aviation pioneers but also the future of aerospace engineering."
"The award clearly signals UC's state-wide leadership position in aerospace/power and propulsion programs and recognizes the College of Engineering's strength in the multiple disciplines involved in these complex systems," said Awatef Hamed, department head and Bradley Jones Professor of Propulsion and Heat Transfer and Fluid Dynamics. "The award reflects the outstanding research achievements of the Aerospace Department faculty, staff and students in partnership with the power and propulsion industry and their continued efforts in developing revolutionary systems to meet the challenges of future power and energy needs."
Hamed added, "We look forward to the contribution that additional scholars and facilities will make to meeting our goals of training a highly skilled future workforce, conducting leading edge research in power and propulsion and offering great learning experience to our students."

1
How one student found his home at UC
September 27, 2023
When Raj visited UC the summer before his freshman year, the university stepped up to help him meet the many challenges he faced as a first-generation college student.
2
UC engineering student researching game controller behaviors
September 25, 2023
University of Cincinnati engineering student Brian Swanson wanted to stay close to home when he began pursuing his doctoral degree. With Bearcat alumni in his family and the university's renowned College of Engineering and Applied Science, UC was the right choice. Swanson is a member of the Intelligent Sensing and Controls Laboratory, a teaching assistant within the Department of Electrical and Computer Engineering and was recently named Graduate Student of the Month by the College.
Debug
Query for this