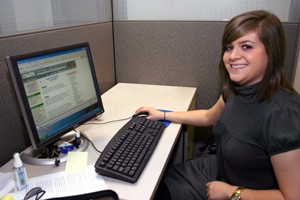 McMicken Student Wins Ohio EPA Scholarship
It was her experiences as a high school rower that pushed Lourdes "Lo" Perrino to pursue environmental studies in the McMicken College of Arts and Sciences. The Wyoming, Ohio, native remembers rowing on the Licking River, committing to memory the graphic images of dead animals floating amongst the garbage atop the river.
She shook her head. "It was absolutely disgusting," she said.
The UC senior and Darwin T. Turner scholar also attributes her interest in environmentalism to an advanced Environmental Studies class she took at Summit Country Day High School. She went on regional trips with the class, testing area water sources and discovering first hand the problems facing our environment.
 "Every city has their problems, but getting that hands-on contact made me see that these things are happening right here in Cincinnati, in our own backyards."
These experiences were the focus of Perrino's essays when she applied for a scholarship given by the Ohio Environmental Protection Agency for the 2008-2009 academic year. Her love for science, her advice from departmental faculty and her passion for the cause helped her win the $2,500 award.
While she's the only McMicken student to win the award this year, it is not uncommon to see arts and sciences students on the recipient list for Ohio EPA's Environmental Education Fund.
"In fact, UC and students from the Center for Environmental Studies have done quite well in this annual competition since it started five or six years ago," said Eric Maurer, director of the Environmental Studies program and a professor of Perrino's.
The scholarship, given to 22 environmental science and engineering students at Ohio colleges and universities, is given to scholars who demonstrate their goals and commitment to environmental protection.
To those close to Perrino, it was no surprise that she would receive such an award.
"I've been on the review committee for the scholarship since the beginning, and I must say Lo wrote some of the better essays I've read," Maurer said.
Perrino's ecology professor praised her as well. Since her sophomore year, Lo has helped Biological Sciences Associate Professor Ken Petren conduct biological research on invasive geckos in Florida, and—according to him—has been a model researcher.
"She's dynamic and interactive," Petren said. "She doesn't require a lot of supervision and I can trust her with a lot of animal care which is an important part of the project. She's amassed a nice data set on her own."
While she is a self-proclaimed science aficionado, Perrino decided not to pursue a graduate degree in the sciences. Instead, she plans to go to law school—a direction inspired by her coursework as an environmental studies major.
"In my upper-level ecology classes, I realized there is a big intersection with science if you go into environmental law," Perrino said. "I've always been very interested in science and never wanted to deviate from it. So I was really happy in that class to find that you can have the science background, but do something not necessarily in the science field."
Perrino may no longer be spending her time in laboratories doing research, but her professors enthusiastically support her decision to go to law school anyway.
"You could probably do as much for the environment in law school than you can anywhere else," Petren said. "We know a lot of the basics to conserve species but getting it done is the challenge. So we need more people like Lo in the field."