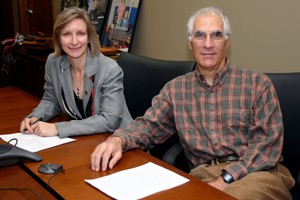 UC's New Budget Model Puts Colleges to the Test
The University of Cincinnati is gearing up to implement a new budgeting model that will make individual colleges more accountable for their resources while also rewarding them for increasing their profits.
The model, called performance-based budgeting, will replace the historical allocation of resources that depended largely on the previous year's budget, regardless of college and departmental changes such as increased enrollments and other modifications that could heavily affect finances.
"Performance-based budgeting is a good thing," McMicken Dean Valerie Gray Hardcastle said. "It allows us to control our own destiny and it allows us to get resources as we grow, which has not historically been the case."
The university created a task force more than two years ago to overhaul the way resources were distributed to the many colleges and auxiliaries on campus. After researching a number of performance-based budgeting models at other universities, members of the task force discovered that the most successful models were resource- and enrollment-driven, where issues of reputation and centrality to the university's mission took part in setting revenue goals.
"Every college will be assigned a threshold number that you have to reach," Hardcastle said. "Because we're going to be entering a budget cut, you can manage that by increasing enrollments or decreasing costs. Performance-based budgeting really allows colleges to take charge of their own financial futures."
If a college is able to offset its running costs (such as salaries, scholarships and other expenditures) with the revenue it receives from tuition, fees and state subsidies, it will gain a profit. If that profit exceeds the previously determined threshold number, the college will get to keep a chunk of that extra cash—an incentive that was not previously included in the university's budget model.
"The central administration used to swallow all those extra profits, but not anymore," said Daniel Langmeyer, undergraduate director of psychology. He's been on the performance-based budgeting model task force since its inception.
"The intention, like all market-based models, is to encourage and give incentives for growth, through entrepreneurial activity and cleverness."
Performance-based budgeting will also give academic units the resources to attend to students from other colleges taking their classes—something that McMicken, especially, found difficult in the previous plan.
"One thing that's really been a struggle for this college is that our enrollment grows if any other college grows on campus...because their students do their general education in our college," Hardcastle said. "The problem is that other colleges have grown but we haven't gotten additional resources to accommodate those students. And so one good thing about this model is that will no longer happen. If more students are signing up for our classes, we will be generating additional revenue."
These features of performance-based budgeting cause the model to affect individual colleges differently. What strategies work for the College of Nursing won't necessarily work for the College of Engineering.
For McMicken, the new model means bringing in more revenue by increasing enrollment. The college has already implemented new recruitment strategies to bring in more students and is looking at creating new majors as well.
"We're not going from classes of 20 to classes of 200," Hardcastle said, when asked about how the college will effectively adhere to the budget without losing personnel. "We're essentially trying to keep the pedagogy the same, but become much more efficient in how we manage our courses."
These plans could include filling up empty but open seats in classes and merging together similar courses across departmental lines. Other tentative ideas are being discussed by administrators and faculty, such as the possibility of creating graduate certificate programs for mid-career professionals.
Academic units will have until February to submit their plans on how to meet threshold shares. The plans will be reviewed for approval before the model is implemented in July.
1
Public gardens contribute to invasives problem
December 1, 2023
University of Cincinnati botanists found that plants at arboretums and public gardens inadvertently can seed wild areas with nonnative plants. Their study was published in the journal Ecological Restoration.
2
UC Learning Lab inspires College of Medicine to SIT
November 29, 2023
In a convergence of academic integration, the University of Cincinnati's renowned colleges — Design, Architecture, Art, and Planning, Lindner College of Business, College of Engineering and Applied Sciences and College of Medicine — recently joined forces at the 1819 Innovation Hub for an ideation session that exemplifies the institution's commitment to interdisciplinary collaboration.
Debug
Query for this