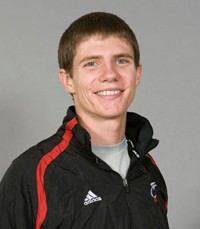 Eric Finan Is UC Scholar-Athlete of the Month for February
As the Bearcat's top distance runner, Eric Finan is used to leading the pack as he strives for ever faster competitive times in track and cross country. In this year's first indoor track meet, Finan won the 3,000 meter event and now owns the third-best time on the UC all-time list. 
Finan also holds a position on the Dean's List despite a crushing schedule and is the UC Scholar-Athlete of the Month for February. Finan maintains a 3.924 GPA as a mechanical engineering major in the College of Engineering and Applied Science.
1
UC Learning Lab inspires College of Medicine to SIT
November 29, 2023
In a convergence of academic integration, the University of Cincinnati's renowned colleges — Design, Architecture, Art, and Planning, Lindner College of Business, College of Engineering and Applied Sciences and College of Medicine — recently joined forces at the 1819 Innovation Hub for an ideation session that exemplifies the institution's commitment to interdisciplinary collaboration.
3
Engineering student aims to develop a more sustainable world
November 20, 2023
As an aspiring power engineer, University of Cincinnati student Matt Smeal hopes to contribute to a more sustainable world by working towards better energy solutions. Smeal is a fifth-year electrical engineering student at the College of Engineering and Applied Sciences (CEAS) specializing in electric energy systems with a minor in environmental studies. Currently, he serves as vice president for Clean Up Cincy, a volunteer litter clean-up organization, and is a member of Beta Theta Pi fraternity and Theta Tau engineering fraternity. He is also one of the first students to enroll in CEAS's new Master of Engineering in Sustainable Energy, through the ACCEND program. ACCEND enables undergraduate students to earn bachelor's and master's degrees concurrently.
Debug
Query for this