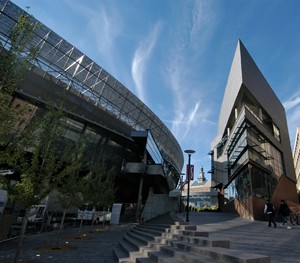 Forbes: UC Named Among the World's Most Beautiful College Campuses
Forbes just named UC among the world's most beautiful college campuses.
Others making that short list were Oxford University in England as well as Princeton University, Stanford University, Yale University, and the University of Virginia.
Of UC's campus, Forbes stated: "Architecture students at UC need only step outside the classroom to observe some of the more cunning modern architecture of their day. Kevin Lippert, publisher of the Princeton Architectural Press,
says the school has positioned itself for the 21st century with a wholly renovated campus.
"
See
the
.
View
a UC slide show of
.
See a timeline
of UC's
.
1
WVXU: Tech CEOs talk AI with lawmakers
September 22, 2023
Professor Richard Harknett is a guest speaker on WVXU's Cincinnati Edition on the topic of AI and the need, or lack thereof, for government regulations. Professor Harknett is the head of UC's School of Public and International Affairs and is an often sought out media resource on technology, cybersecurity and governmental affairs.
3
UC celebrates Marian Spencer Scholars
September 22, 2023
The University of Cincinnati celebrated the legacy of UC alumna Marian Spencer by recognizing 20 students awarded her namesake scholarship during a Sept. 9 induction ceremony. The Marian Spencer Scholars are all high-achieving graduates of the Cincinnati Public School system.
Debug
Query for this