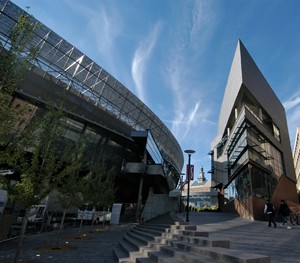 Forbes: UC Named Among the World's Most Beautiful College Campuses
Forbes just named UC among the world's most beautiful college campuses.
Others making that short list were Oxford University in England as well as Princeton University, Stanford University, Yale University, and the University of Virginia.
Of UC's campus, Forbes stated: "Architecture students at UC need only step outside the classroom to observe some of the more cunning modern architecture of their day. Kevin Lippert, publisher of the Princeton Architectural Press,
says the school has positioned itself for the 21st century with a wholly renovated campus.
"
See
the
.
View
a UC slide show of
.
See a timeline
of UC's
.
1
Widespread naloxone distribution not enough to impact overdose...
September 28, 2023
The highest ever number of opioid-related overdose deaths in the United States was recorded in 2020 at 68,630, a 68% increase in just two years. Naloxone is a medicine that can rapidly reverse an opioid overdose, but a new study out of the University of Cincinnati finds that widespread community distribution of naloxone through a take-home naloxone program did not significantly impact the median monthly opioid overdose rates.
2
Lindner First-Year Experience spotlights project-based learning
September 28, 2023
The Carl H. Lindner College of Business' First-Year Experience (FYE), which prepares students to become business problem solvers from day one, has been revamped to center on project strategy. This concentration challenges students to perform a strategic analysis of a business' operations.
Debug
Query for this