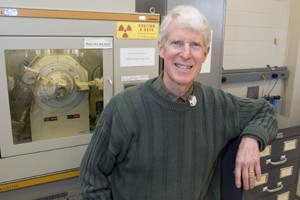 FRIDAY: 'Exploration of Mars: Problems and Progress'
Each year, the night before the Science and Engineering Expo (SEE), the University of Cincinnati offers a Friday evening STEMM Speaker Series in a topic of science, technology, engineering, math or medicine (STEMM). This year's STEMM Speaker Series presentation is "Exploration of Mars: Problems and Progress" presented by UC Professor Warren Huff
As this year's SEE keynote speaker is Kobie Boykins, NASA engineer who designed the solar panels on two of the Mars rovers, who better to give the Friday talk than Warren Huff? In 2007, NASA officials invited a core team of researchers to listen to presentations about the proposed landing sites. Huff, a professor of geology in the McMicken College of Arts & Sciences, was sought because of his world-renowned expertise in k-bentonites, a type of clay mineral.
Huff will give a presentation on Friday night,
which is free and open to the public
, that delves into the challenges of our sister planet.
Is it possible that one day we might be living and vacationing on Mars? Mars, or the "Red Planet," is the planet most similar to earth in several ways. Missions to Mars have been a mix of failure and success. Since we received our first close-up photographs of Mars, when Mariner 4 flew by it in 1965, our nearest neighbor has appeared to be much like our own planet in many ways, but also distinctly different. Mars is about half the size and has about 40 percent of the gravity of Earth. It's at least 55 million kilometers away and it currently takes at least nine months to get there. But like Earth, Mars has polar ice caps, clouds in its atmosphere and seasonal weather patterns. It has familiar geological features, such as volcanoes and canyons.
However, although there are signs of floods in the ancient past, Mars is now apparently a barren world. What is the history of liquid water on Mars? Has water ever been stable on its surface (or in its near subsurface) for a geologically significant period of time? Was Mars warm and wet in ancient times? If so, what triggered the apparent change in climate? And could primitive terrestrial life forms evolve in the present or past Martian environment?
These are the main questions that have driven the exploration of Mars since the mid-1960s. In addition, if humans ever tried to travel to, or even set up an outpost on, another planet, Mars would likely be the first choice, so there's even more reason to learn as much as possible about our neighboring planet.
What
: STEMM Speaker Series, "Exploration of Mars: Problems and Progress" by Prof. Warren Huff
When
: 7 p.m., Friday, March 12, 2010
Where
: 450 Richard E. Lindner Center on the UC Uptown Campus
This presentation is free and open to the public.
Possible Extra Credit for Attending Friday Night
We will be offering students extra credit certificates as proof of their attendance at our Friday night presentation. We are offering this as an option to teachers and students to discover science in a fun and more interactive way. (Many teachers are aware of this already.)
Read more about Professor Huff:
NASA Invites UC's Huff to Advise on Mars Landing Site
The National Aeronautics and Space Administration has invited a prestigious group of leading researchers to provide counsel on the ideal Mars rover landing site, including a University of Cincinnati geology professor.
This view from the panoramic camera on NASA's Mars Exploration Rover Spirit shows the terrain surrounding the location called "Troy," where Spirit became embedded in soft soil during the spring of 2009. The hundreds of images combined into this view were taken beginning on the 1,906th Martian day (or sol) of Spirit's mission on Mars (May 14, 2009) and ending on Sol 1943 (June 20, 2009).
Near the center of the image, in the distance, lies Husband Hill, where Spirit recorded views from the summit in 2005. For scale, the parallel tracks are about 1 meter (39 inches) apart. The track on the right is more evident because Spirit was driving backwards, dragging its right-front wheel, which no longer rotates.
The bright soil in the center foreground is soft material in which Spirit became embedded after the wheels on that side cut through a darker top layer. The composition of different layers in the soil at the site became the subject of intense investigation by tools on Spirit's robotic arm.
Spirit has worked on Mars for more than 69 months in what was originally planned as a three-month mission.