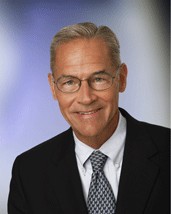 Retired P&G CEO John Pepper to Keynote UC Economics Center Annual Luncheon
The annual awards luncheon for the Economics Center for Education & Research at the University of Cincinnati takes place on March 25, 2010. John E. Pepper Jr., retired chairman and CEO of the Procter & Gamble Company, presents the keynote address, entitled "Our First Priority: Development and Education of Our Youth — Lessons Learned and Suggestions for the Future."
Pepper spent a 40-year career in numerous positions at Procter & Gamble, including chief executive officer and chairman from 1995 to1999 and chairman of the Board from 2000 to 2002. He served as director of Procter & Gamble from 1984 to 2003 and president from 1986 to 1995.
Pepper currently serves as chairman of the Board of the Walt Disney Company and co-chairman of the Board of the National Underground Railroad Freedom Center. Prior to that, he served as CEO of the National Underground Railroad Freedom Center from January 2006 to May 2007 and vice president of Finance and Administration at Yale University from January 2004 to December 2005.
For questions regarding the event, contact Jaclyn Smith at 513-556-2986.
RSVP deadline: Friday, March 12, 2010.
1
Ambassadors represent interests of full-time MBA students
December 4, 2023
The Carl H. Lindner College of Business full-time MBA class of 2024 elected three students to serve as program ambassadors to represent their interests and serve as a conduit between the cohort and the graduate programs office (GPO).
2
WVXU: Health benefits and risks to recreational marijuana
December 1, 2023
The University of Cincinnati's LaTrice Montgomery joined WVXU's Cincinnati Edition to discuss the potential health benefits and harms associated with expanded cannabis access after Ohio voters approved legalizing recreational marijuana in the November election.
3
Public gardens contribute to invasives problem
December 1, 2023
University of Cincinnati botanists found that plants at arboretums and public gardens inadvertently can seed wild areas with nonnative plants. Their study was published in the journal Ecological Restoration.
Debug
Query for this