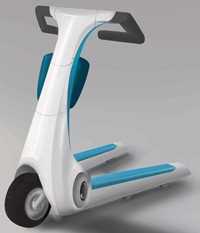 Video and Slide Show: UC Students Innovate Better Canes, Crutches, Walkers
Twenty-four industrial design students from the University of Cincinnati's
and
School of Design are redesigning walkers and other mobility aids, adapting the devices for the 21st century.
Design faculty and students from UC's College of Design, Architecture, Art, and Planning (DAAP) have teamed up with the university's College of Nursing to re-examine and redesign often overlooked items key to comfort and care in both medical and home environments.
CHECK OUT THE SLIDE SHOW for a first-time look at the UC students' draft concepts for better walkers, canes, alternatives for crutches and more.


The public will be able view full-scale models of the designs from
9 a.m.-7 p.m., Tuesday, March 16, 2010
, at the Dorothy W. and C. Lawson Reed, Jr. Gallery, located on the fifth floor of UC's College of Design, Architecture, Art, and Planning (DAAP). Images of the designs will later be displayed in UC's College of Nursing.
Leading the project are Jean Anthony, assistant professor of nursing; Steve Doehler, assistant professor of design; Robin Lee, assistant professor in the College of Nursing; and Jamey Frasure, assistant professor in the College of Nursing.
The UC students are researching and designing devices for different audiences, including children, the elderly and even brace devices for athletes.
A "MOTO-SCOOTER" WALKER FOR THE ELDERLY
"Baby boomers do not want to look old,"
according to UC design student Anouk Moulliet, 25, of Dallas, Texas, who – as a result – is designing a walker that bears some resemblance to a Vespa Motor Scooter.
In visiting elderly users of walkers both in institutions and in their homes, Moulliet found that some features were absolutely required, including storage, height adjustment for the device, and a fold-down, adjustable seat so the user could stop and rest if need be.
She also found that users would have preferred a wider variety of selections related to walkers, and that's where her design comes in.
It does away with the square "box" of most walkers currently in use. Instead, the design – which she envisions as made of lightweight plastic vs. aluminum steel tubing – incorporates a gently curving front column (imagine the vertical pole at the front of a bicycle). Horizontal supports extend slightly outward and back from that front column at floor level.
While a more aesthetically appealing device, it actually maintains the size or "footprint" standards of current walkers. It measures just over two feet in length and just over two feet wide in order to accommodate the turning radius and space limitations common with home-use of walkers.
A WALKER FOR CHILDREN
Industrial design pre-junior Alex Broerman, 21, of Indianapolis, is designing a walker for children with cerebral palsy. In interviewing physical therapists, clinical neurologists, nursing students and others who routinely interact with children who have cerebral palsy, Broerman explained, "Current walkers for children look very medical, have sharp points. They need to be more fun, if you will. They also need to do away with sharp edges and points, while also incorporating adjustable and collapsible features to accommodate growth, transport requirements and different levels of ability."
The design he is creating incorporates these needs plus a seat that functions not unlike a movie-theater seat. When not in use, the seat rests in a vertical position that does not impede the walker's use.




A "WALKER" TO SERVE AS AN ALTERNATIVE TO CRUTCHES
The design by UC's Tony Cohen, 21, of Miami, Fla., takes the concept of a walker and reduces it to an innovative leg support that permits full use and freedom of motion of the hands.
"The support is for use by those with a temporary injury or after surgery. Importantly, it provides an alternative to crutches where the user can still have full freedom and use of his or her hands," explained Cohen.
Often, after a lower-leg, ankle or foot injury or surgery, patients must keep weight off of a leg – thus requiring crutches. Stated Cohen, "But that ties up people's hands. Even with an injury, people still want their independence. They hate to ask for help."





A BETTER KNEE BRACE FOR ATHLETES AND OTHERS
UC's Jacklyn Woniger, 21, of West Chester, Ohio, is creating a working prototype of a better knee brace – one that can be repeatedly molded to fit the needs of an individual throughout the stages of recovery.
Woniger is basing the brace on her own needs, since she is an athlete with a knee injury – and she finds that the current knee-brace options available to her and fellow athletes cannot meet the needs of patients throughout what is usually a lengthy recovery.
"Anyone in recovery from a knee injury needs a brace that moves with you and fits well. When those needs aren't met, people don't wear their braces," she explained.
So, Woniger is taking fiberglass cloth that is currently used to make heat-moldable shin guards and using it to create a knee-brace design.
"When dipped in water, the fiberglass cloth becomes moldable. When it's dry, it's epoxy hard and provides great protection and support. Importantly, it can be dipped in water at any time for remolding. So, I'm able to use it to make a knee brace that is individually customize-able for anyone in any stage of recovery – whether you're just out of surgery and experiencing a lot of swelling or weeks out of surgery with little to no swelling," she said.
It would mean that athletes and others using knee braces would not have to buy a range of such devices throughout a recovery period.



FUTURE DEVELOPMENT
The university partnership administrating this project – the
– will explore possibilities involving both corporate and non-corporate partners to further real-world adoption of the students' design ideas. One previous project created a new series of hospital gowns. Another created better hospital tray tables.
The Live Well Collaborative at UC is an unusual business-university model: International firms that are part of the Live Well consortium work with UC students and faculty in conducting research and developing ideas to specifically benefit the 50+ age group.
2
Why we still need Black History Month
January 26, 2023
While Black History Month is an opportunity for all Americans to consider concepts central to the founding of the nation — democracy, freedom and equality — the University of Cincinnati propels the diversity, equity and equality momentum by honoring Black Americans' extraordinary impact through engaging lectures, open classes, food, galas and off-campus activities.
3
UC's 1819 Innovation Hub nurtures startups
January 26, 2023
Located within the 1819 Innovation Hub — the nerve center of the Cincinnati Innovation District — the Venture Lab provides resources and mentoring to help innovators launch scalable startups.
Debug
Query for this