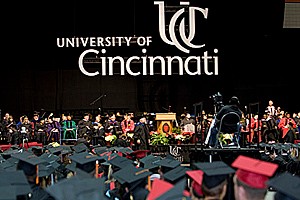 Four Outstanding Seniors Receive UC s Highest Honor for Undergraduates
Four University of Cincinnati graduates have the distinction of holding the university's most prestigious honor for undergraduates. The 2010 recipients of UC's Presidential Leadership Medal of Excellence are Anndréa Moore, Paul Kruchoski, Alexzandra Spatholt and Li Tan.
Each are honored for their high academic excellence, their commitment to co-curricular activities, their citizenship in support of the university's goals and values, their dedication to supporting diversity and their potential for future success and achievement. The 2010 Presidential Leadership Medal of Excellence recipients – all of whom are graduating seniors – will receive special recognition at UC's All-University Commencement ceremonies, Saturday, June 12, in Fifth Third Arena at Shoemaker Center.
The 2010 honorees were selected from 38 nominations of graduating seniors from across the university and 12 finalists. At Commencement, each of them will wear a special bronze medal – featuring the university's crest on the front and the honored graduate's name on the back.
Here are more details about the 2010 recipients of the Presidential Leadership Medal of Excellence
Anndréa Moore
– The Pickerington, Ohio, resident and graduate of Pickerington Central High School is earning a bachelor's degree in marketing and international business. She has lined up a job as an analyst for The Nielson Company at its office in Paramus, N.J. The University Honors Program graduate is a scholarship recipient of the Carl H. Lindner Honors-PLUS program, the Darwin T. Turner Scholarship program and UC's Cincinnatus Scholarship program. Her five-week international experience with the Lindner Honors-PLUS program to explore international business practices took her to Austria, Germany, the Czech Republic, The Netherlands and Switzerland. A winter quarter experience in the India International Business Competency Program included corporate visits in Calcutta, New Delhi, Haldia and Jamshedpur. Her internships and cooperative study/work experiences have included positions with The Nielsen Company-BASES, Paycor and the U.S. Department of Housing & Urban Development. Her student leadership experiences at UC have included working as a resident advisor, teaching assistant and mentor for the Brothers and Sisters Excelling (BASE) program to support the retention of UC's African-American students. Her work with the UC Career Development's ADVANCE program to educate students of color about the corporate world led to a 2009 spring break trip to visit eight high-profile industries in Charlotte, N.C. She has served as a student ambassador for the UC College of Business and is a member of The Lambda Society women's honorary; Cincinnati Women in Excellence and Spirit Together (CWEST) women's honorary; and Sigma Phi women's honorary. She was UC's African-American Cultural and Research Center's (AACRC) 2008-2009 Miss Kuamka, the student leader and ambassador of the organization. "Anndréa is one of our best leaders in the AACRC and she has been heavily involved across the campus community," says Ewaniki Moore-Hawkins, assistant director of the AACRC. "She is truly respected by those that she is around, works extremely hard to get where she is and is always willing to help others." Her numerous honors and awards include receiving the Fred Shuttlesworth Award of Excellence. Her dedication to service has included participation in Walk for a Just Community; UC's Relay For Life fundraiser to support the American Cancer Society; Into the Streets; and volunteering and collecting items for the FreeStore Foodbank in Over-the-Rhine and the Bethany House women's shelter, as well as participation in the Hillel Jewish Student Center sponsored Operation Warm-Up to assemble care packages for Cincinnati's homeless.
Paul Kruchoski
– The Albuquerque, N.M., resident and graduate of Highland High School is earning a bachelor's degree in individualized interdisciplinary studies with a focus on cross-cultural communication and a certificate in international human rights. Currently working as a foreign affairs officer through a special program at the U.S. Department of State's Bureau of International Organization Affairs in Washington, D.C., the University Honors student plans to continue working for the State Department on human rights issues. His most recent work took him to Geneva, Switzerland, where he represented the U.S. at the United Nations Human Rights Council. He also played a crucial role in coordinating the U.S. and U.N. responses to the January earthquake in Haiti. Other work with the State Department includes drafting the first Report to Congress on the United Nations Human Rights Council and drafting briefing papers for Secretary of State Hillary Clinton's confirmation hearing. During the 2008-2009 academic year, he served as president of UC's Model U.N. Team and the Political Science Students Association. He played a key role in raising $18,000 to take a student team to the World Model U.N. competition in The Hague – UC's first trip to the international competition. Passionate about housing issues, Kruchoski organized the 2008 Peace or Hunger Conference in his role as acting treasurer of the UC Peace Village, enabling students to complete a day of community service assisting Cincinnati's homeless while raising awareness about homelessness by sleeping in a shantytown of cardboard boxes they had set up on campus. He also spent one of his spring breaks reconstructing homes in eastern Kentucky through a service-learning spring break trip to serving Appalachian families. "In the most graphic sense, Paul leads by serving others," says MJ Woeste, associate professor of communication. "His servant leadership style may be subtle, but is effective with peers and those who are naturally drawn to his genuine caring spirit. His engaged scholarship work in Appalachia, in the Greater Cincinnati Community and with the UC Model U.N. Team serves as testimony to his genuine desire to contribute as he achieves his degree." The talented musician, who started out in UC's College-Conservatory of Music (CCM), has also played cello for the CCM Concert Orchestra and was Principal Cellist from September to December 2006. The graduate of the McMicken College of Arts & Sciences is the 2010 recipient of the college's Robert Patterson McKibbin Medal for Outstanding Undergraduate Male Senior.
Alexzandra Spatholt
– The resident of Columbiana, Ohio, and graduate of Columbiana High School is earning a bachelor's degree in biomedical engineering (biomechanics).  The University Honors student has already started working for P&G – where she previously co-oped – in the FemCare division as a modeling and simulation engineer. Other co-op experiences have included working as a quality engineer for Atricure in West Chester, and as a cushioning engineer for Nike in Beaverton, Ore. Spatholt took advantage of UC's undergraduate research opportunities for women through a 2006 summer internship experience in UC's Women in Science and Engineering (WISE) program. Working as a research assistant under the guidance of faculty mentor, she developed a nano-scale based biosensor for protein detection in fluids. A senior research experience explored engineering tissue for treatment of tendon and ligament injuries. She is involved in a number of engineering honorary and service organizations and is also a member of the honorary, Cincinnati Women in Excellence and Spirit Together (CWEST). She currently serves as president of the engineering honorary, Tau Beta Pi. She holds scholarships from UC's Cincinnatus fund, Tau Beta Pi and Duke Energy and was the 2009 recipient of a UC Engineering Alumni Scholarship. A member of the Society of Women Engineers, she is actively involved in promoting science and engineering to young women and has worked on many outreach projects. Those projects included developing take-home science kits, promotional posters and leading a "Women in STEMM Leadership Day." She organized a student session for the UC Diversity Conference based on that work. Her work with the student Engineering Ambassadors has included developing a blog for prospective students and leading tours for the college. Her numerous service activities include mentoring a young girl with Big Brothers and Big Sisters of Greater Cincinnati and leading a team for UC's 2009 Relay For Life that raised more than $2,000 for the American Cancer Society. She is also involved with the Susan G. Komen Race for the Cure. Last year, she raised more than $2,300 and walked in a 60-mile tour in Cleveland to increase breast cancer awareness. A December trip to El Salvador with the UC student group "Serve Beyond Cincinnati" involved construction of new housing and cleanup in flooded areas. "Her leadership style is one of high expectations of herself and relationship building," says Kathleen Johnson, director of undergraduate student enrollment for the UC College of Engineering and Applied Science. "She inspires others to follow her example."
Li Tan
– Born in Chengdu, China, and a graduate of Cincinnati's Sycamore High School after moving to Cincinnati nearly seven years ago, Tan is graduating with a 4.0 GPA and is earning a bachelor's degree and master's degree in chemical engineering through the College of Engineering & Applied Science's Accelerated Engineering Degree (ACCEND) program. After graduation, he will begin his PhD program in the Department of Chemical Engineering at the Massachusetts Institute of Technology (MIT). He is a new national recipient Tau Beta Pi Fellowship to advance the engineering profession. The University Honors student says the undergraduate research and co-op experiences at UC exemplify why his alma mater is one of the top public research universities in the country. Those opportunities included a freshman UC research experience where he studied in-vitro cell migration. His co-ops included working at the UC/P&G Simulation Center and Pfizer, Inc., in Groton, Conn., where his research was aimed at moving drug treatments onto the market more quickly, reducing drug cost by accelerating process development. "With UC's help, a solid foundation has been laid down for my future career," he says. He is lead author on a paper that was accepted for a peer-reviewed journal, a significant achievement for an undergraduate. "I can state unequivocally that Mr. Tan was without question the top student in my class. It has been my pleasure to work with him, both personally and professionally," says Assistant Professor Anastasios Angelopoulos, Department of Chemical and Materials Engineering. Because of the opportunity at UC, Tan says he realized the moral obligation of giving back, and served as a tutor at Hughes High School. As Tau Beta Pi tutoring chair, he managed peer tutors at UC's Learning Center for the College of Engineering & Applied Science during the 2008-2009 academic year. He has also done service through Cincinnati Habitat for Humanity, the Over-the-Rhine Community Housing Program and Housing Opportunity for Northern Kentucky. "He is one of the most responsible students I have been around, very considerate of faculty and fellow students, and an extremely diligent working student," says Rodney Roseman, associate professor, engineering education. "Li is also the type of person who believes in giving back and helping wherever possible." His UC scholarships include Cincinnatus, Clarence I. Rossiter Memorial Scholarship and the Robert Delcamp Engineering Scholarship. His student leadership roles have included corporate liaison for the UC student chapter of the American Institute of Chemical Engineers (AIChE) and vice president of the Tau Beta Pi engineering honorary.

UC's Presidential Leadership Medal of Excellence has been a UC tradition since 2002.
2
VOTE: BroadwayWorld Cincinnati Awards highlight CCM Excellence
December 5, 2023
Each year, the BroadwayWorld Cincinnati Awards honor excellence in the city's performing arts scene. This year, the faculty and students of the University of Cincinnati College-Conservatory of Music (CCM) are nominated 20 times in 11 categories—including Best Musical, Best Opera, Best Choreography, Best Sound Design, and more!
3
Local media spotlights CCM's fall performances
December 5, 2023
UC's College-Conservatory of Music kicks off its fall performance season in September with a variety of concerts starring the next generation of performing and media artists. Local media featured the college's upcoming events in preview coverage shared by CityBeat, Movers and Makers, Behind the Curtain Cincinnati and All About the Arts.
Debug
Query for this