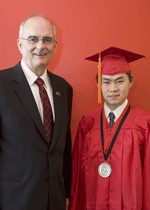 UC Graduate Achieves by Going for the Goal
It is said that the University of Cincinnati's engineering programs can be very challenging. It is said that some students struggle balancing the demanding coursework with the mandatory co-op quarters while trying to graduate in five years.
Li Tan never said that.
Li is about to graduate from UC with a bachelor's degree AND a master's degree in chemical engineering after just four years. He also graduates with a
Presidential Leadership Medal of Excellence
.
Li moved from his hometown of Chengdu, China, at the young age of 16 to experience what he hoped would be the "land of opportunity." He diligently attacked his high school studies at Sycamore High School, becoming a fluent English speaker and earning 73 advanced placement credits.
When he got to UC, his advanced placement standing allowed him to participate in many of UC's best engineering programs and opportunities. He joined the
ACCEND (ACCelerated ENgineering Degree)
program, where with additional coursework he could earn a master's degree while earning his bachelor's.
Choosing UC in the first place was an easy decision.
"Most important, the co-op program is a very unique program that I consider to be invaluable," Li says. His father works for UC, so they can take advantage of tuition remission, but must still pay other expenses. "The cost of education is important to consider, but gaining experience through the co-op program is important — especially for international students. Such opportunities don't come by easily."
Li also worked in the
, a joint venture with P&G, where UC students work side by side with P&G engineers solving real design problems in a virtual world.
"Working in the Simulation Center was a very good opportunity to do interesting work with people who do the technical work for P&G," Li says. "It was a very positive experience for me."
He didn't always want to be an engineer.
"When I was little, I didn't know what engineering was. I wanted to be a rocket scientist!" he says, laughing. Then as he got older and more practical, he realized that his favorite teachers in school were his chemistry teachers and that his favorite subject was math. "So I thought that chemical engineering would be a good fit."
Here at UC, he has worked closely with Assistant Professor Anastasios Angelopoulos, researching fuel cells.
Withrow High School Students Learn About Fuel Cells from Prof. Angelopoulos and Li Tan
"Dr. Angelopoulos is a great professor," says Li. "He places a very heavy emphasis on student growth so that they become great researchers, great writers and great thinkers. His teaching style is effective: he gives you enough information so that you can learn how to find the key. And he has very high ethical and moral standards."
Li appreciates the Chemical Engineering Department in UC's College of Engineering and Applied Science.
"It's small enough that I know almost everybody. It's easy to get personal attention and not get lost," he says. "I have a group of classmates who are smart, very intelligent."
He also points out that the staff in the Office of Professional Practice has been extremely helpful, especially in the last couple of years when the rough economy made it difficult to obtain co-op positions. "They also helped me prepare a very strong application for graduate school," he adds.
"The people in the International Student Office have also been amazingly helpful in ensuring that the international student experience is smooth," he adds.
Li found that his high school experience was lacking in something: community involvement. So while at UC, he has immersed himself in a number of volunteer activities, focusing on two areas: tutoring and community housing. He tutored at Hughes High School. He became the tutoring chair of Tau Beta Pi Engineering Honor Society and took over the responsibility to establish and run the engineering learning center. He has also participated in Habitat for Humanity and worked in Over-The-Rhine.
Li says that he entered UC in September 2006 with three goals in mind: to excel in his studies, to engage in school and the local community and to decide on the career path he would take for his future.
He has now been offered fellowships for doctoral programs in chemical engineering at the Massachusetts Institute of Technology (MIT), the California Institute of Technology (Caltech) and Princeton.
Come fall, Li will be headed to Massachusetts. His goal: PhD in chemical engineering.
1
UC Learning Lab inspires College of Medicine to SIT
November 29, 2023
In a convergence of academic integration, the University of Cincinnati's renowned colleges — Design, Architecture, Art, and Planning, Lindner College of Business, College of Engineering and Applied Sciences and College of Medicine — recently joined forces at the 1819 Innovation Hub for an ideation session that exemplifies the institution's commitment to interdisciplinary collaboration.
3
Engineering student aims to develop a more sustainable world
November 20, 2023
As an aspiring power engineer, University of Cincinnati student Matt Smeal hopes to contribute to a more sustainable world by working towards better energy solutions. Smeal is a fifth-year electrical engineering student at the College of Engineering and Applied Sciences (CEAS) specializing in electric energy systems with a minor in environmental studies. Currently, he serves as vice president for Clean Up Cincy, a volunteer litter clean-up organization, and is a member of Beta Theta Pi fraternity and Theta Tau engineering fraternity. He is also one of the first students to enroll in CEAS's new Master of Engineering in Sustainable Energy, through the ACCEND program. ACCEND enables undergraduate students to earn bachelor's and master's degrees concurrently.
Debug
Query for this