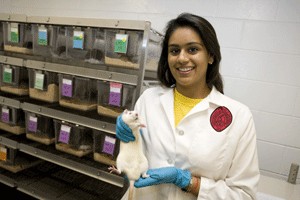 Neha Maheshwari: 2010 University of Cincinnati C-Ring Recipient
The C-Ring is presented to an outstanding graduating undergraduate woman at a banquet held each May at the University of Cincinnati. From this year's initial field of 31 worthy nominees, only one could be chosen. That one is Neha Maheshwari.
"The C-Ring recognizes women who work to improve the quality of life in our communities and who feel a responsibility to the greater world," said Kimberly Bauer, 2009 C-Ring recipient. "Our 2010 C-Ring recipient is a stellar example of the C-Ring qualities we honor — academic excellence, service, leadership and advocacy for women and girls." She then presented the C-Ring to Neha Maheshwari, one of the five remaining finalists.
Neha Maheshwari came to UC after being awarded one of only 10 full Cincinnatus Scholarships and, while still a senior in high school, she was guaranteed admission to the UC College of Medicine upon completion of her undergraduate career under UC's dual admissions program. She was named an honorary member of the Darwin T. Turner Scholars and she received a full scholarship to participate in the spring 2010 Semester at Sea Study Abroad program, visiting 11 countries in just over four months.
Neha was selected to participate in the Women in Science and Engineering (WISE) summer research program at the end of her freshman year. The quality of her research led faculty mentors to offer her a part-time research assistant position in the Neurology Lab at Cincinnati Children's Hospital Medical Center. She was first undergraduate student to be invited to present her research at the National Neuroscience convention in 2007 in San Diego. 
Her nominator, Lucinda Cohen, wrote, "Since her freshman year, she has continuously sought out opportunities to make the University of Cincinnati community a more diverse, culturally rich, service driven and cohesive student body."
As service chair and vice president of the University Honors Program, Neha has led student teams on a bi-weekly basis to paint and remodel homes in Over-The-Rhine, an inner-city Cincinnati neighborhood. She was instrumental in revitalizing the Asian American Association at UC and worked collaboratively with the other ethnic student organizations — Vietnamese, Hispanic, African-American — to host an end-of-the year formal.
During her Semester at Sea, she led a group of fellow seafaring students to her hometown in India, Hyderad, to visit her grandmother's college, Suman's Girls College.
"We were a diverse group, including Nigerian, Indian and Jewish students," she recalls. "We talked with the girls about the value and importance of education. Then we all talked about overcoming obstacles. Our struggles may have been different from theirs, but it united us on a deeper level."
An aspiring physician, Neha now graduates from the McMicken College of Arts & Sciences with a major in cell and molecular biology and a minor in chemistry. She also graduates with a 3.83 grade point average.
She has already been accepted into medical school in UC's College of Medicine through UC's dual admissions program, as has her brother — who enters UC as a freshman in the fall. Whereas she is especially interested in pediatric cardiology, her brother Neeraj hopes to go into surgery.
"My dad has had several surgeries on both his knees, and despite the number of doctors visits, they have never completely healed," Neha says. "Neeraj wants to fix them for him!"
Neha is very proud of her brother and looks forward to having him in Cincinnati with her as they attend UC together.
"We'll have two Bearcats in the family!" she says.
 
Neha is clearly devoted to her family, especially her parents and grandmother. Her mother, Anna, is the dean of the English Department at Schoolcraft College in Livonia, Michigan.
Further action is required to make this image accessible
One of the below criteria must be satisfied:
Add image alt tag

OR

Mark image as decorative
The image will not display on the live site until the issue above is resolved.
"My parents faced many obstacles that my brother and I will never face, like having to get visas, facing prejudices. They did the hard work for us and now have showered us with opportunities," she explains. "Mom was teaching English, for example, and the kids did a double take and said, 'Is this Indian lady teaching us English?' My mother taught us that anything is possible."
Neha's father, Neal, is a mechanical engineer at Ford Motor Company and then earned his MBA from the University of Michigan. He has always encouraged Neha to never stop learning.
"'Education will never go to waste,' he told me," she says. "So I tell my brother, 'Get every minor you can get; take every class you can take at UC.'" She also hopes to earn a master's degree in public health someday.
Neha says that her grandmother, Saroj Bajaj, is "an inspiration for everything I do."
After being married at the age of 16 in an arranged marriage, she went back to school and became a professor of Hindi at Osmania University in Hyderabad, India. She started saving money from her paychecks and eventually was able to start the women's college, with free room and board for more than 400 young ladies, especially impoverished women, orphans and unwed mothers who had been shunned by their families.
Her grandmother opened a bank where she would offer low-interest loans to families so that even the poorest families could take advantage of microfinancing. Bajaj was honored with the best citizen award from Mother Teresa in 2004.
"Many people have benefitted from her presence, as many have been able to set up small businesses and further the education of their children," says Neha. "The last time I was there, the president of India came down to inaugurate the second floor of the women's college. It's still running completely on private donations."
Neha's dream is to open a nonprofit healthcare facility near her grandmother's college. Throughout her life runs the common thread of improving the status of women and girls. She says that she feels driven to helping people in poverty who don't have access to education and healthcare, whether in the United States or India. Every other summer for the last nine years, for example, Neha has traveled to her family's homeland in India to volunteer and set up education seminars, health clinics and blood drives at her grandmother's college.
"After graduating, the girls give back to the college," Neha says with pride. "If I can affect one person, that person can affect others when I'm out of the picture, that's really succeeding."

Read More C-Ring News
4/27/2010   And Then There Were Five
From 31 nominees, the selection committee has narrowed the field to five finalists for the C-Ring, one of the oldest and most prestigious awards given at the University of Cincinnati.

6/14/2009   She's Walked in Commencement, Now C-Ring Winner Shadows Doctors in Burn Clinic in South America
Kimberly Bauer knows when you're helping people with their health care that you need to speak their language. She has just the right personal chemistry to do that. It also helps that she's graduating with a double major in chemistry and Spanish.
1
WVXU: Health benefits and risks to recreational marijuana
December 1, 2023
The University of Cincinnati's LaTrice Montgomery joined WVXU's Cincinnati Edition to discuss the potential health benefits and harms associated with expanded cannabis access after Ohio voters approved legalizing recreational marijuana in the November election.
2
Public gardens contribute to invasives problem
December 1, 2023
University of Cincinnati botanists found that plants at arboretums and public gardens inadvertently can seed wild areas with nonnative plants. Their study was published in the journal Ecological Restoration.
3
Local 12: New research could help treat cocaine use disorder by...
December 1, 2023
New research out of the University of Cincinnati takes a different approach to cocaine addiction. Local 12 produced a story on the study, interviewing lead researcher Andrew Norman, PhD, of the Department of Pharmacology and Systems Physiology at the UC College of Medicine.
Debug
Query for this