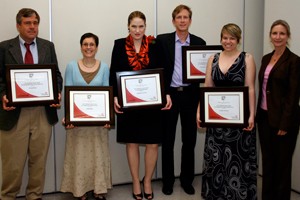 A&S Honors 2011 Dean's Award Winners
On Monday, June 6, McMicken College of Arts & Sciences Dean Valerie Gray Hardcastle honored A&S faculty for their hard work and dedication to the college.
"The A&S Dean's Awards recognize the outstanding work of the McMicken faculty, which too often goes unsung," says Hardcastle. "This year's winners represent the very best in faculty — better, I would say, than you could find at any other institution. They all do UC proud!"
The winners of the 2011 Dean's Awards are:
Edith C. Alexander Award for Distinguished Teaching
Elissa Yancey, Journalism
Elissa Yancey is the assistant director of the journalism program, and she still teaches three journalism courses each quarter. After observing her class a colleague commented, "Not only are we very lucky to have someone with Elissa's intensity, exuberance and obvious skill teaching in our department, but we should be grateful she's chosen to bring all of her qualities to the journalism classroom."

McMicken Dean's Award for Distinguished Adjunct Service
Carolyn Peterson, Women's, Gender, and Sexuality Studies
Carolyn Peterson, adjunct professor in the Department of Women's, Gender, and Sexuality Studies, has taught human sexuality since the department took over responsibility for the course in 2010. She is an "absolutely marvelous instructor," according to Department Head Deb Meem. "She is open about all subjects related to sexuality in ways that allow students truly to learn without prejudice and inhibitions. Creative and personable, intense and funny, Carolyn exemplifies the ideal teacher for a big class."
The McMicken Dean's Award for Distinguished Scholarship
Chris Gauker, Philosophy
Chris Gauker is the recipient of the Dean's Award for Distinguished Scholarship, awarded to professors whose research and scholarship in the last five years have gained national recognition. In the past three years, Gauker has published 13 refereed essays, all in premiere venues, such as Synthese, Nous, Mind and Language and the Journal of Semantics. He his book, "Words and Images: An Essay on the Origin of Ideas" is forthcoming this year from Oxford University Press. He has made numerous professional presentations, including invited lectures at such international venues as the University of Sydney, Australian National University, the University of Kent, Stockholm University and the University of Oslo.
The McMicken Dean's Award for Distinguished Early Career Scholarship
Richard Beck, Geography
The Dean's Award for Distinguished Early Career Scholarship honors tenure-track professors whose research and scholarship demonstrates not only stellar achievement but also significant promise for the future. Richard Beck from the Department of Geography has truly impressive accomplishments in securing external research funding from the National Science Foundation and from the U.S. Army. In the past five years he has been the principal investigator on grants totaling $2.2 million.
McMicken Dean's Award for Distinguished Service
LisaMarie Luccioni, Communication
LisaMarie Luccioni in the Department of Communication received the distinguished service award, which honors professors who have given time, energy and creativity to college, university and community issues above and beyond the contributions expected of all faculty. Luccioni, an etiquette expert, image professional, corporate presenter and Psychology Today blogger, is also the founder and president of The Image Establishment, an image/impression management firm empowering companies/individuals to present their professional best in areas necessary for advancement in today's global economy. In the last two years alone she has made dozens of presentations for on-campus and off-campus groups.
McMicken Dean's Award for Distinguished Administrative Service
Paula Shear, Psychology
This new award honors administrators (heads, directors, coordinators) who have provided outstanding service in their administrative roles. Paula Shear, director of clinical training, has a joint appointment in the Department of Psychiatry. Shear has enhanced the presence and prominence of women in neuropsychology. She founded Division 40-Women in Neuropsychology Interest Group (WIN) and served as its first chair. She has also served on the American Psychological Association's Ethnic Minority Affairs subcommittee. She excels as a mentor to clinical doctoral students. Every year she reviews student applications for highly competitive APA-approved internships. In the words of department head Steve Howe, "We don't even blink anymore when we learn that another of our students ends up at Yale, or Chicago, or San Diego, or Florida."